15 Minutes Creme Fraiche Raspberry Peas Lemony Pasta
---
Monday is a Fun day! Especially when you get to eat pasta on a Monday! 🙂
Let me ask you, DO you guys love pasta?
I know you do. Either you just love pasta or you love it less! But you can not hate pasta. No one can actually hate pasta, at least this is what I think about Pasta! 😉
Would you say 'no' if someone serves you a classic looking plateful pasta?
If you ask me, I would say: Yes, please! I can't allow myself to say NO to a Pasta plate.
Talking about the weekend — we had an awesome weekend. And if you want to know about weather here, it was mixed with sunlight and rain. So we experienced a nice mix of warm and cold winds throughout the weekend.
It was kind of funny. Why funny? It was funny because we wore our jackets when it was raining, and soon when it turned sunny, we suddenly felt hot and had to remove our jackets. 🙂 Whole weekend went like this. Weather was switching almost every other hour, and so did our jackets! Imagine yourself doing so, and you will know why it was funny! 😉
For me weekend means relaxation. Saturdays are the days when we are out doing some fun activities or socializing.
On Sundays, we stay at home usually. We have declared Sunday as a Family day. We do some fun activities, chat and play with Adoria. And that's so much RELAXING. And plus, I don't cook for long hours, so that cooking time is saved for relaxation too! 😉
As the weather was switching all the time, it was hard for us to decide what we actually wanted to eat. We were really so confused and could not decide. Abhishek suggested, "Let's ask Adoria, and whatever she says we will have that for dinner".
I asked to Adoria, "What do you want for dinner"? And her first response was 'pasta'. SO pasta it was.
Like weather, I too wanted a mixed feeling in the food. So the result was this summery yet cozy pasta, which was classic, fruity, creamy, and lemony with a hint of garlic! Uuuumm, I think it was the best. What else would you need in a summery pasta?
Well, pastas are always great for me. They are so quick, easy and full of flavors. A delicious meal is cooked in no time! Awesome, isn't it?
When you are in a dilemma on what to eat. A warm or cold summery fruity pasta would do the magic. The one that did its magic this weekend for us was – 15 Minutes Creme Fraiche Raspberry Peas Lemony Pasta. This one fits well in such situations.
For me dishes are so good when they need few ingredients and take no time to make, and also they are so full of deliciousness. This is an added benefit. Wow!
Who wouldn't love a meal which comes with so many benefits. Right?
And this pasta tastes awesome too.
The Pasta sauce has the raspberries, and creme fraiche sauce which is kind of awesome. And the sauce is uncooked. Who would like to cook raspberries anyway! 😉
Most of the times raspberries are best uncooked! So I also kept my raspberries uncooked in this pasta sauce.
And it has some lemon zest, and ground pepper too. This sauce would be ready in only 2 minutes. And you will sure adore this summery touch in your favorite pasta. And this is healthy too! Just try this pretty pink pasta and you will love it. I mean it. YUM.
I felt like a little green would be nice, so I also added peas and arugula. Addition of fresh arugula and a little lemon juice makes it super light and summery.
Oh, YUM! It is pretty, and it is pink. Altogether it's a healthy pasta for everyone and anyone who loves to enjoy pasta.
Serve the pasta warm or cold — choice is up to you. I love to have it warm.
The added raspberries are the winner in this pasta. Wouldn't you love to know how to make this 15 Minutes Crème Fraîche Raspberry Peas Pasta?
Okay! Let's learn to make this easy peasy pink pasta now.

Bring a large pan water with ½ tsp salt. Add fusilli to the boiling water and cook according to the packet instructions. Add crème fraîche, raspberry, arugula, sugar, lemon zest, chili flakes, salt and pepper in a mixing bowl. Whisk well, and keep aside.

Heat another pan and add olive oil to it. Add green peas, salt, pepper, garlic powder, and lemon juice. Saute for 3-4 minutes and remove from heat. Drain the pasta add to the peas pan with the crème fraîche sauce. Toss to coat well and transfer to the serving plates. Sprinkle some chili flakes and ground pepper. Serve along with some bread.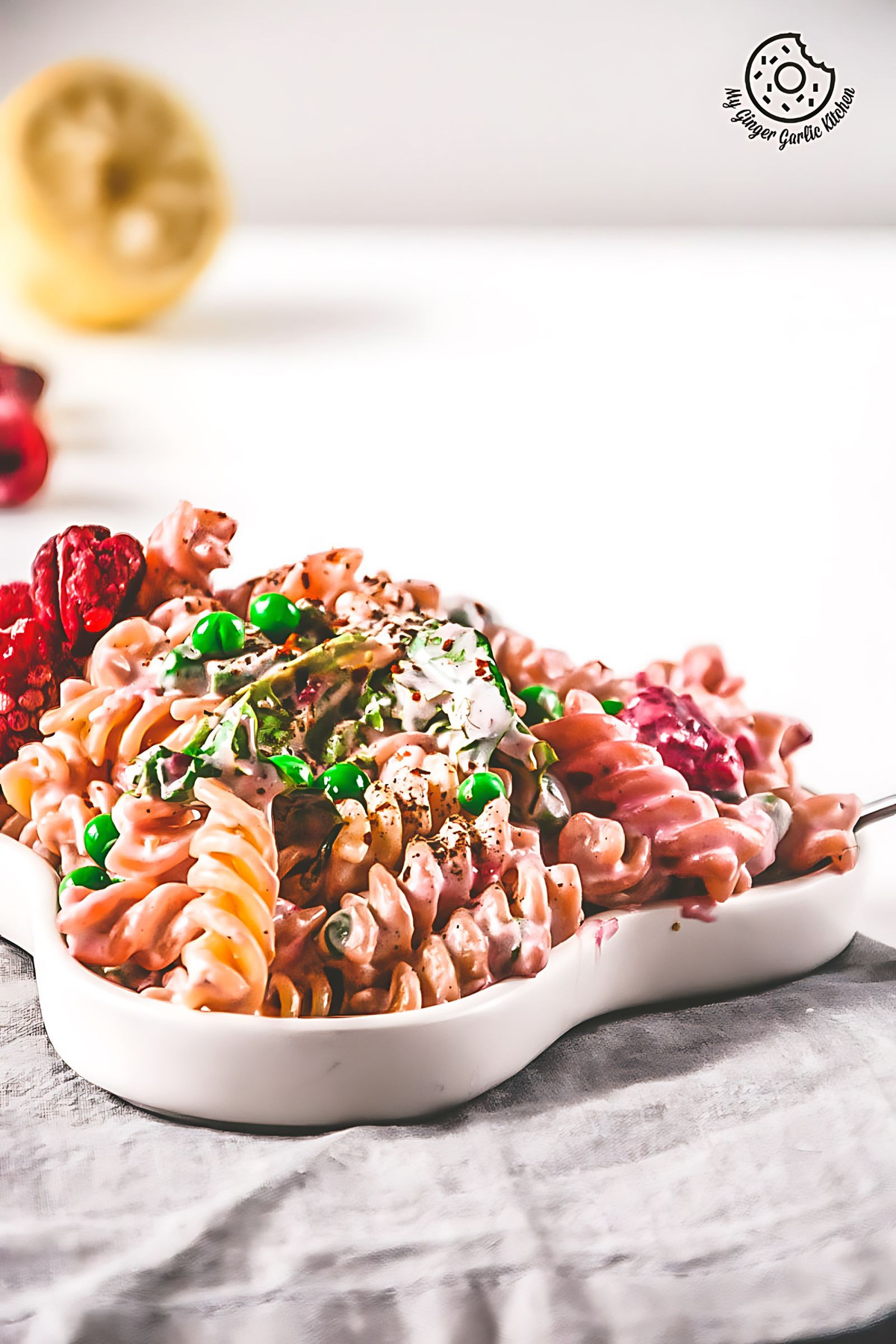 Happy Cooking!
15 Minutes Creme Fraiche Raspberry Peas Lemony Pasta
Author:
Prep time:
Cook time:
Total time:
15 Minutes Creme Fraiche Raspberry Peas Lemony Pasta
Ingredients
<ul class="ingredients">
  <li class="ERSeparator">
    for sauce:
  </li>
  <li class="ingredient">
    crème fraîche - ¼ cup
  </li>
  <li class="ingredient">
    lemon zest - 1 tsp
  </li>
  <li class="ingredient">
    ground pepper - 1 tsp
  </li>
  <li class="ingredient">
    frozen or fresh raspberries - ¼ cup
  </li>
  <li class="ingredient">
    salt - ¼ tsp
  </li>
  <li class="ingredient">
    chili flakes - ½ tsp
  </li>
  <li class="ingredient">
    fresh arugula leaves - ¼ cup
  </li>
  <li class="ingredient">
    sugar - ½ tsp (optional)
  </li>
  <li class="ERSeparator">
    for pasta:
  </li>
  <li class="ingredient">
    fusilli - 1 1/2 cup
  </li>
  <li class="ingredient">
    peas - ¼ cup
  </li>
  <li class="ingredient">
    salt - ½ tsp
  </li>
  <li class="ingredient">
    garlic powder - 1 tsp
  </li>
  <li class="ingredient">
    ground pepper - ½ tsp
  </li>
  <li class="ingredient">
    olive oil - 1-2 tsp
  </li>
  <li class="ingredient">
    lemon juice - ¾ tsp
  </li>
</ul>

Instructions
<div class="instructions">
  <ol>
    <li class="instruction">
      Bring a large pan water with ½ tsp salt. Add fussillo to the boiling water and cook according to the packet instructions.
    </li>
    <li class="instruction">
      Add crème fraîche, raspberry, arugula, sugar, lemon zest, chili flakes, salt and pepper in a mixing bowl.
    </li>
    <li class="instruction">
      Whisk well, and keep aside.
    </li>
    <li class="instruction">
      Heat another pan and add olive oil to it.
    </li>
    <li class="instruction">
      Add green peas, salt, pepper, garlic powder, and lemon juice. Saute for 3-4 minutes and remove from heat.
    </li>
    <li class="instruction">
      Drain the pasta add to the peas pan with the crème fraîche sauce.
    </li>
    <li class="instruction">
      Toss to coat well and transfer to the serving plates. Sprinkle some chili flakes and ground pepper. Serve along with some bread.
    </li>
  </ol>
</div>

---
Filed under: All-Recipes, Fruit Recipes, Healthy Recipes, Kids Recipes, Lunch Recipes, One Pot Recipes, Summer Recipes Summer Recipes
---