This mushroom fettuccine with creamy sauce is warming and delicious easy dinner idea. Fettuccine alfredo with mushrooms is a perfect restaurant-worthy vegetarian pasta dish that is a meld of cheesy, creamy and natural flavors.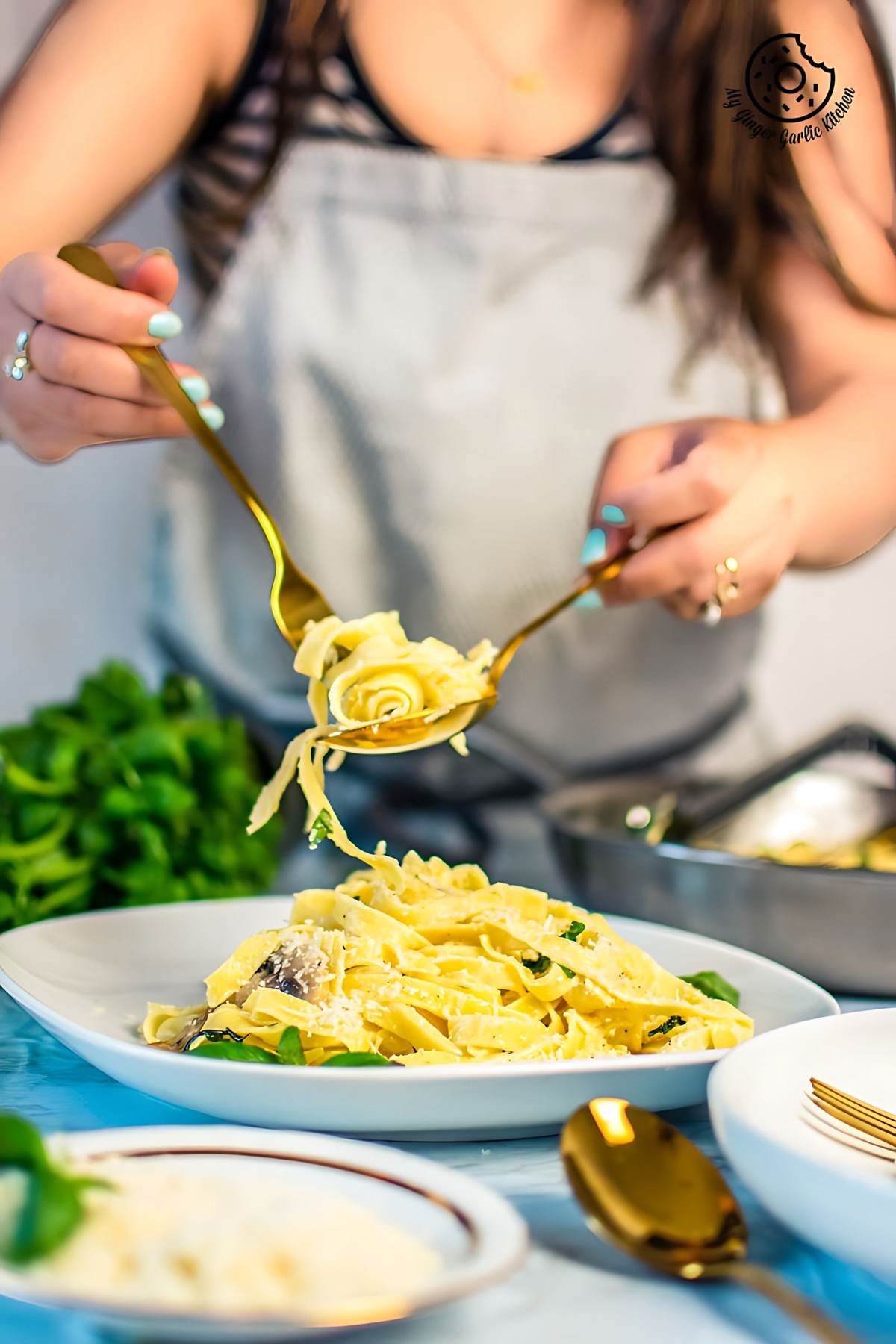 The step-by-step video guide on this page would help you make restaurant-level deliciousness in just 30 minutes or less. It's excellent for quick and satisfying weeknight dinners. 
If you love cooking and eating restaurant-style food at home, then this is a must-try recipe for you. 
Who wouldn't love luxurious silky smooth pasta coated in just the right amount of velvety and cheesy white sauce combined with garlicky pan-roasted mushrooms? 
Restaurant-quality Fettuccine with Mushroom Alfredo Sauce is a simple and delicious dinner that is ready under 30 minutes. This super creamy and always satisfying pasta is surprisingly easy to make at home. 
Adding a handful of fresh basil leaves at the end is all you need to bring out extra flavorings and beautiful colors. 
If you love mushrooms like me and my family, then you are certainly in for a classic gourmet Italian dish.
I bet you'll adore this creamy mushroom pasta recipe.
Previously, I posted the best homemade alfredo sauce. That easy and creamy Alfredo sauce is the base for this Fettuccine with Mushroom Alfredo Sauce. 
This recipe is made using that homemade alfredo sauce and turned it into a quick dinner that you can have on the table in less than 30 minutes.
Do you love alfredo? Then don't forget to check our best homemade alfredo sauce recipe. You won't believe that making alfredo sauce from scratch is so easy.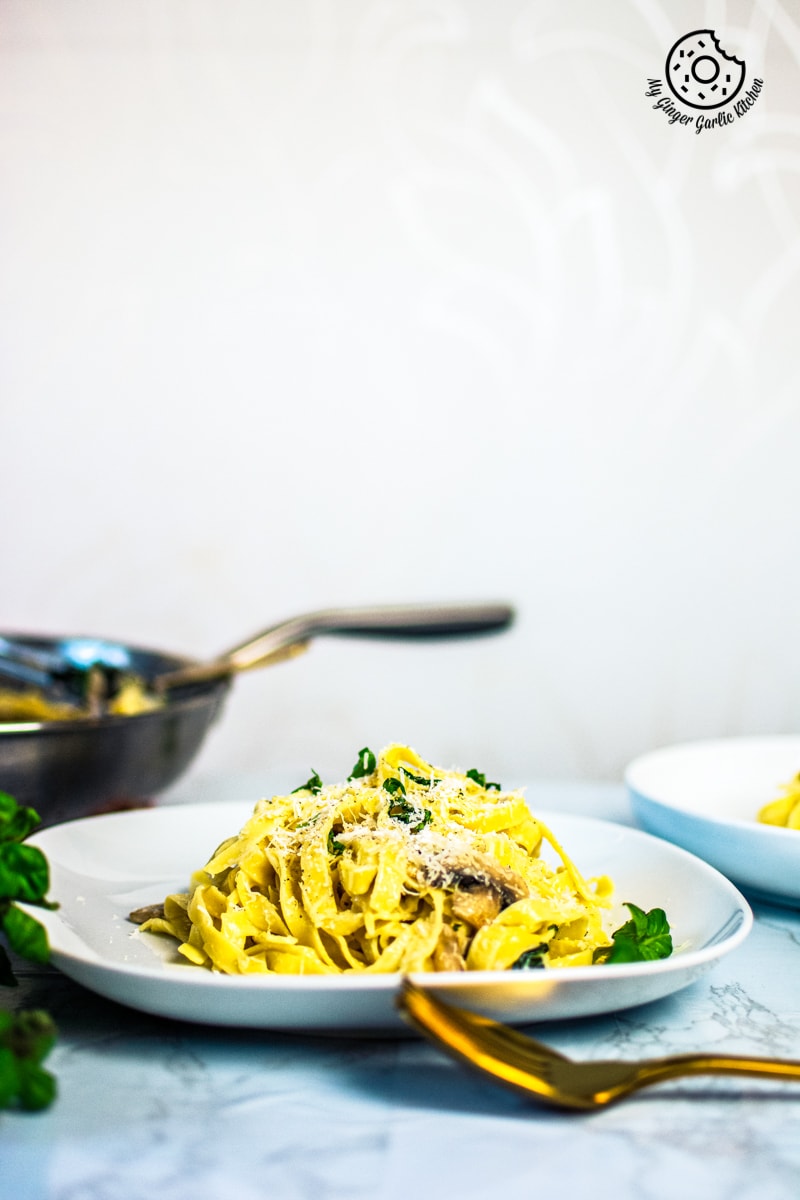 What are the Best Mushrooms for Pasta?
For this fettuccine pasta dish, I have used regular white mushrooms. This type of mushroom is also known as common mushroom, button mushroom, champignon mushroom, table mushroom, cultivated mushroom.
These low-fat mushrooms are rich in protein, vitamins, minerals, and antioxidants. They are also cholesterol-free. A humble mushroom has various health benefits.
Can I use Brown mushroom for this Fettuccine recipe?
Yes, certainly. You can easily replace white mushrooms with brown mushrooms. Brown or cremini mushrooms taste meaty and delicious, just the way it should taste. 
For this pasta recipe, you can use any of the mushrooms below:
Porcini Mushroom
Italian brown mushroom, or crimini mushroom
Maitake Mushrooms
Oyster Mushrooms
Crimini Mushrooms
Chiodini Mushrooms 
What are the ingredients used in Fettuccine with Mushroom Alfredo Sauce?
Fettuccine with Mushroom Alfredo Sauce is made with just a few pantry basic ingredients. These are:
Olive oil
Sliced mushrooms
Freshly chopped minced garlic
Fettuccine
Alfredo sauce
A handful of chopped basil leaves or parsley 
Grated Parmesan cheese and chopped greens for topping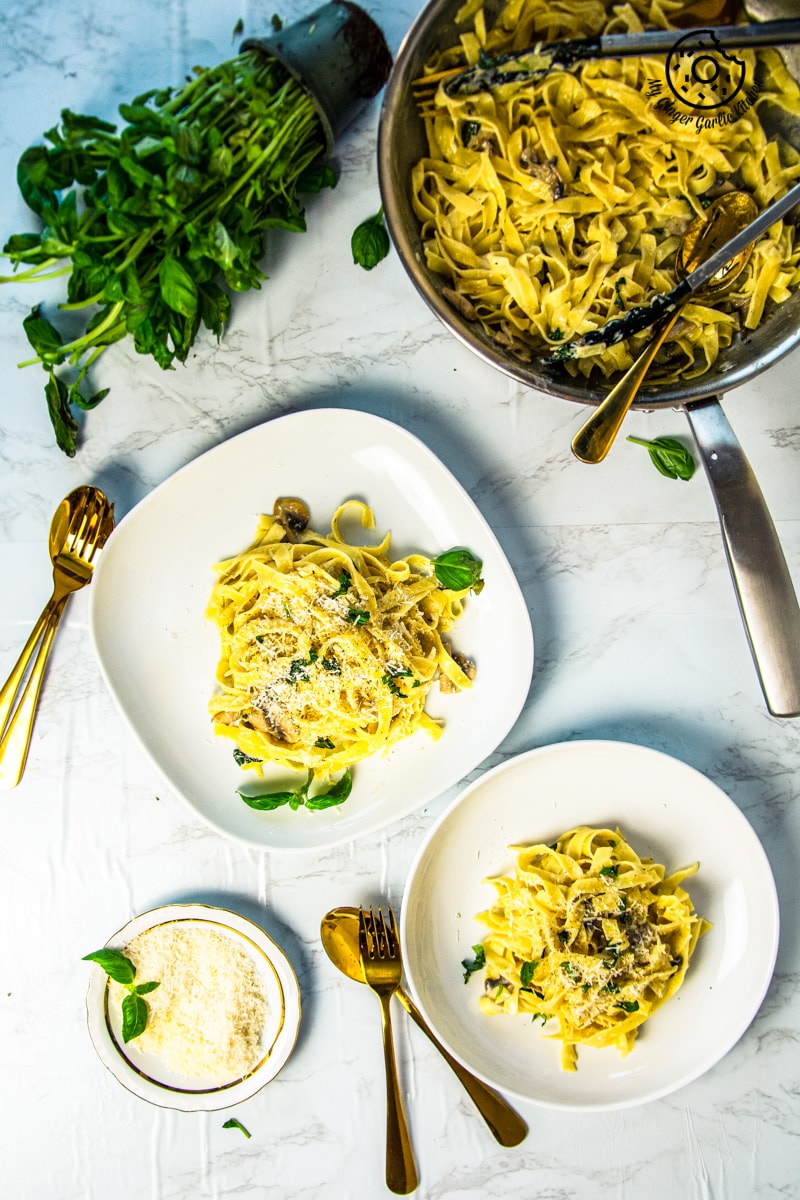 How to make Fettuccine with Mushroom Alfredo Sauce?
Making this Fettuccine with Mushroom Alfredo Sauce is so simple when you have the sauce ready.
Step 1: Boil pasta in salted water until al dente, or according to packet instructions. 
Step 2: Slice mushrooms thinly, and chopped garlic.
Step 3: Add sliced mushrooms to skillet with a little bit of olive oil. Sauté for 3-4 minutes and add some chopped garlic and sauté until mushrooms are completely cooked. This sautéeing will help bring out more flavor.
Step 4: After you've sautéed mushrooms, add hot boiled fettuccine, alfredo sauce, and chopped basil leaves.
Step 5: Toss everything together and your easy peasy romantic dinner is ready. With homemade alfredo sauce, this recipe is ready under 30 minutes, making it an easy weeknight dinner! 
Step 6: Finish with the last touch of chopped basil leaves of parsley, and a sprinkle of grated parmesan cheese on top. Hot, steamy, creamy and delicious pasta is ready. 
Check out the detailed recipe in our recipe box on this page.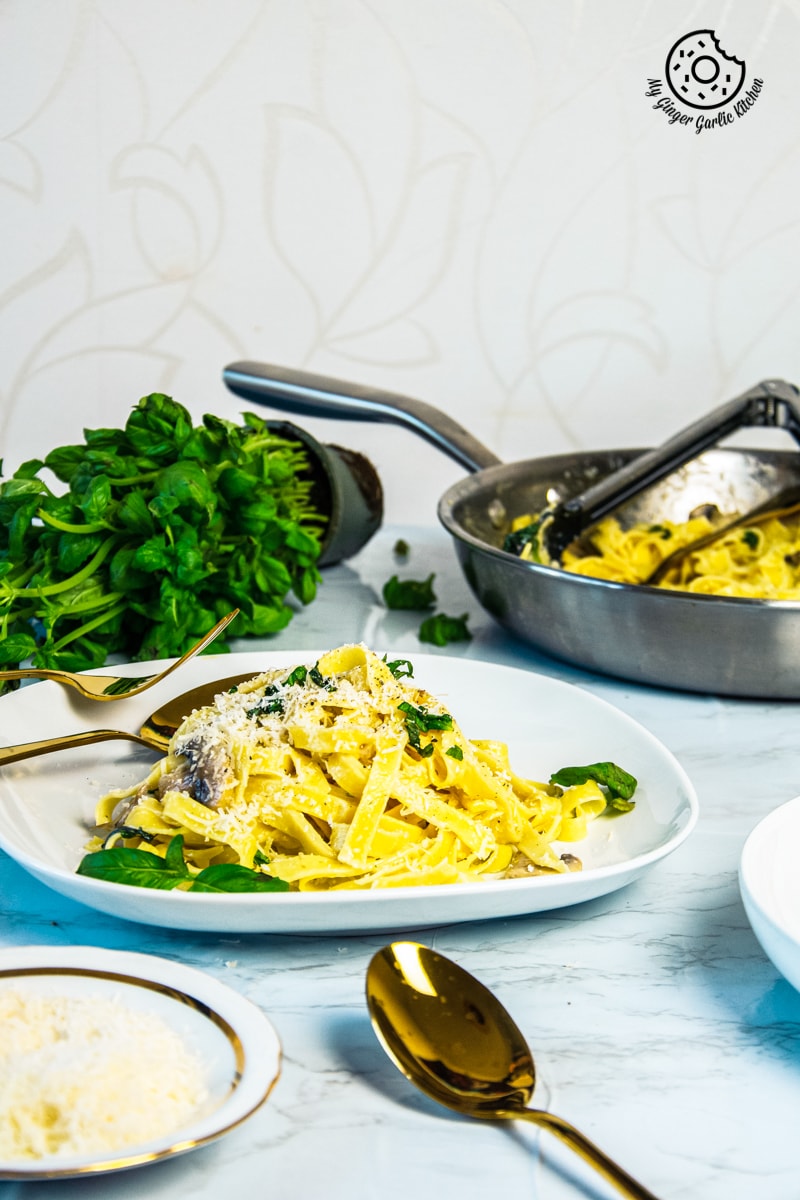 How much Alfredo sauce is needed for this pasta?
This pasta is creamy and luscious but not overwhelming with the richness of cream and cheese. So try to add a little sauce at first. Start with ¾ cup of sauce and taste. If needed more, surely go for it. The key is not to overpower the creamy sauce.
Can I prepare the Mushroom Fettuccine Alfredo ahead of time?
Yes, you can make the entire pasta dish ahead of time. Store it in an airtight container in the refrigerator for up to 2-3 days. Also, add some water or milk and heat through. 
When you need to eat it, just reheat it in a skillet on the stove over low heat. To adjust consistency, add some water or milk to it. Also, you can add seasoning. 
How to clean mushrooms?
To clean mushroom, use a damp cloth/paper towel or a soft mushroom brush. Wipe each mushroom, clean the black spots and to remove any dirt. Clean one mushroom at a time.
After cleaning the mushrooms, lightly rinse them for a few seconds with cold water. You can either rinse them under running water or in a bowl. Discard the water and pat them dry with a clean paper towel. Mushrooms are ready for use.
Never soak the mushrooms in water, because they absorb the water and mushrooms won't turn nicely brown when cooked if they are so full of water.
How to serve Fettuccine with Mushroom Alfredo Sauce?
You can serve this pasta straight out of the pan along with some fresh green salad such as , or .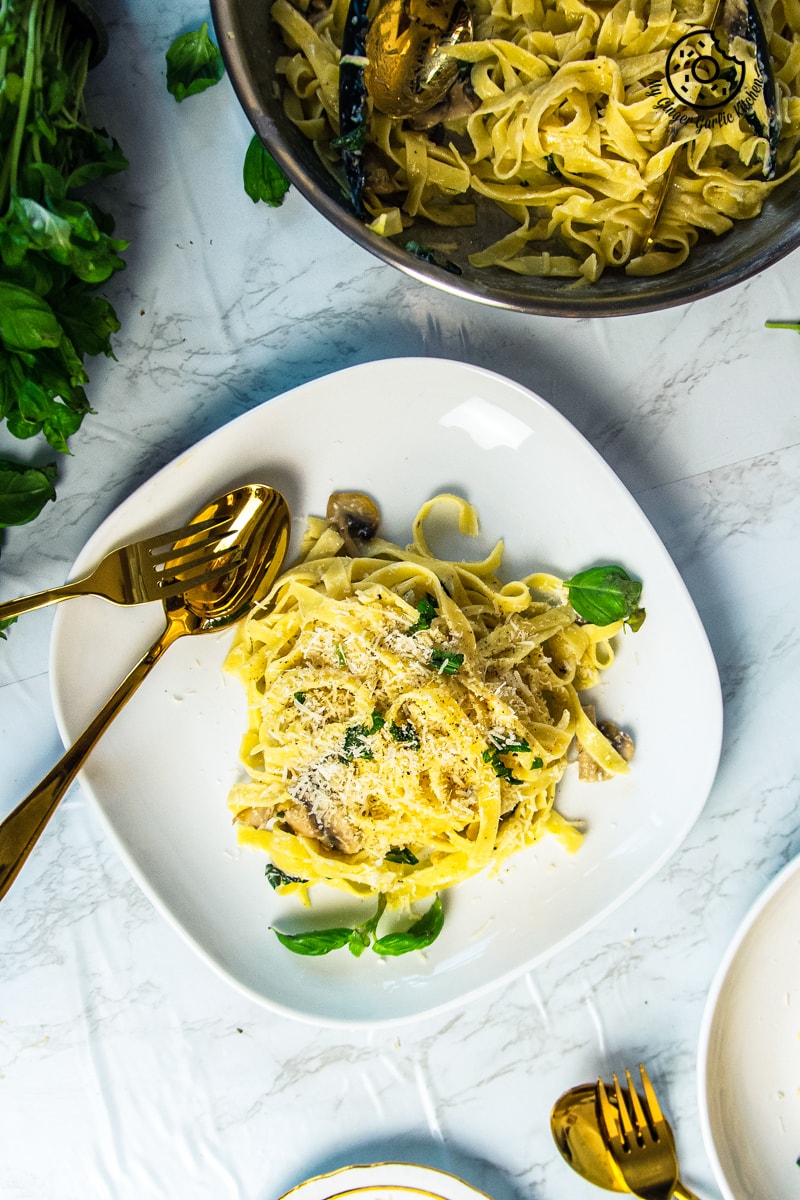 Tips and variations to make the best Fettuccine with Mushroom Alfredo Sauce:
If you want to adjust the consistency of pasta, then add some reserved pasta water to it. This would help in getting the right type of pasta consistency. 
Adding some kind of fresh leafy green is recommended. You can choose either Parsley, basil leaves, thyme, arugula or baby spinach.
You can also add some corn kernels or broccoli to make it veggier.
Feel free to adjust the amount of seasoning. You can also add a sprinkle of red pepper flakes if you like it hotter.
To make it low-carb and keto-friendly you can use carrot fettuccine or zucchini noodles in place of fettuccine.
I have used homemade alfredo sauce for this recipe, but if you don't want to make the sauce at home then you can use store-bought alfredo sauce.
I have added 1 cup of sliced mushrooms here. You can use up to 1-2 cups of mushroom for this recipe.
You can either use dried fettuccine or fresh egg pasta.
You can also replace fettuccine with the same amount of spaghetti of your choice.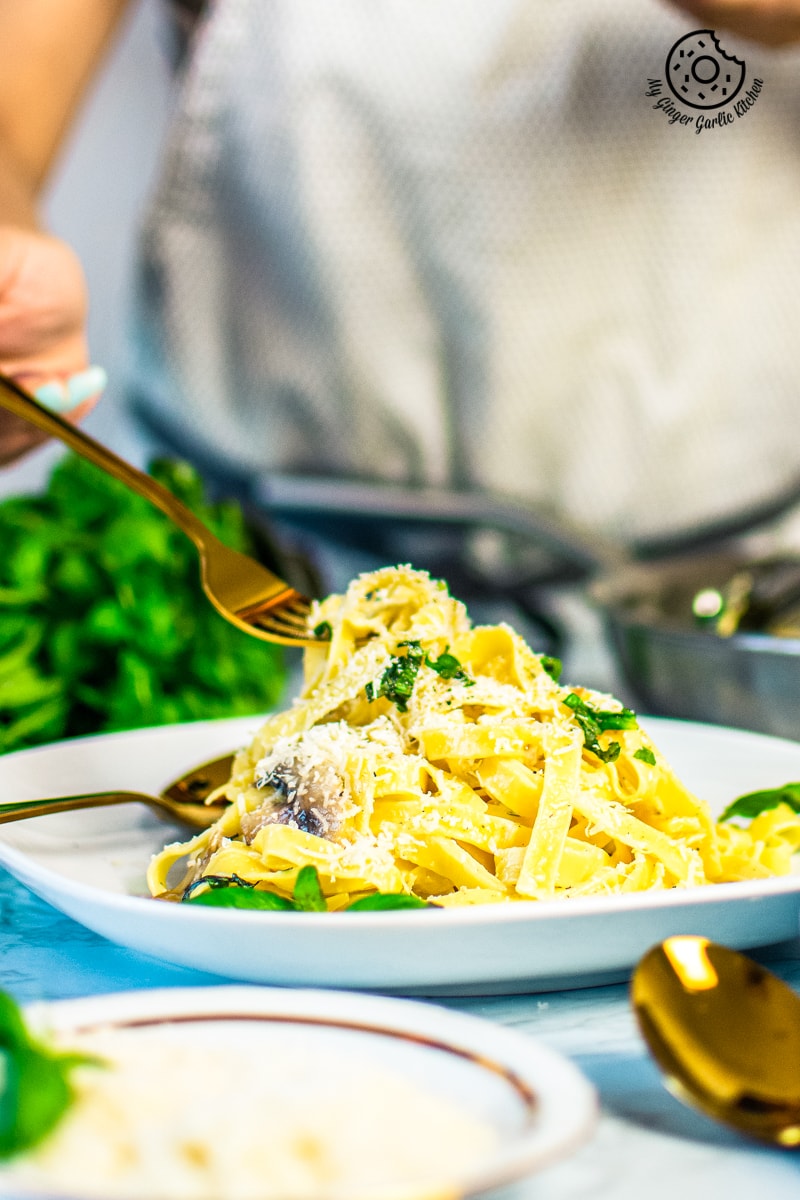 Mushroom Fettuccine with Alfredo Sauce

[Recipe]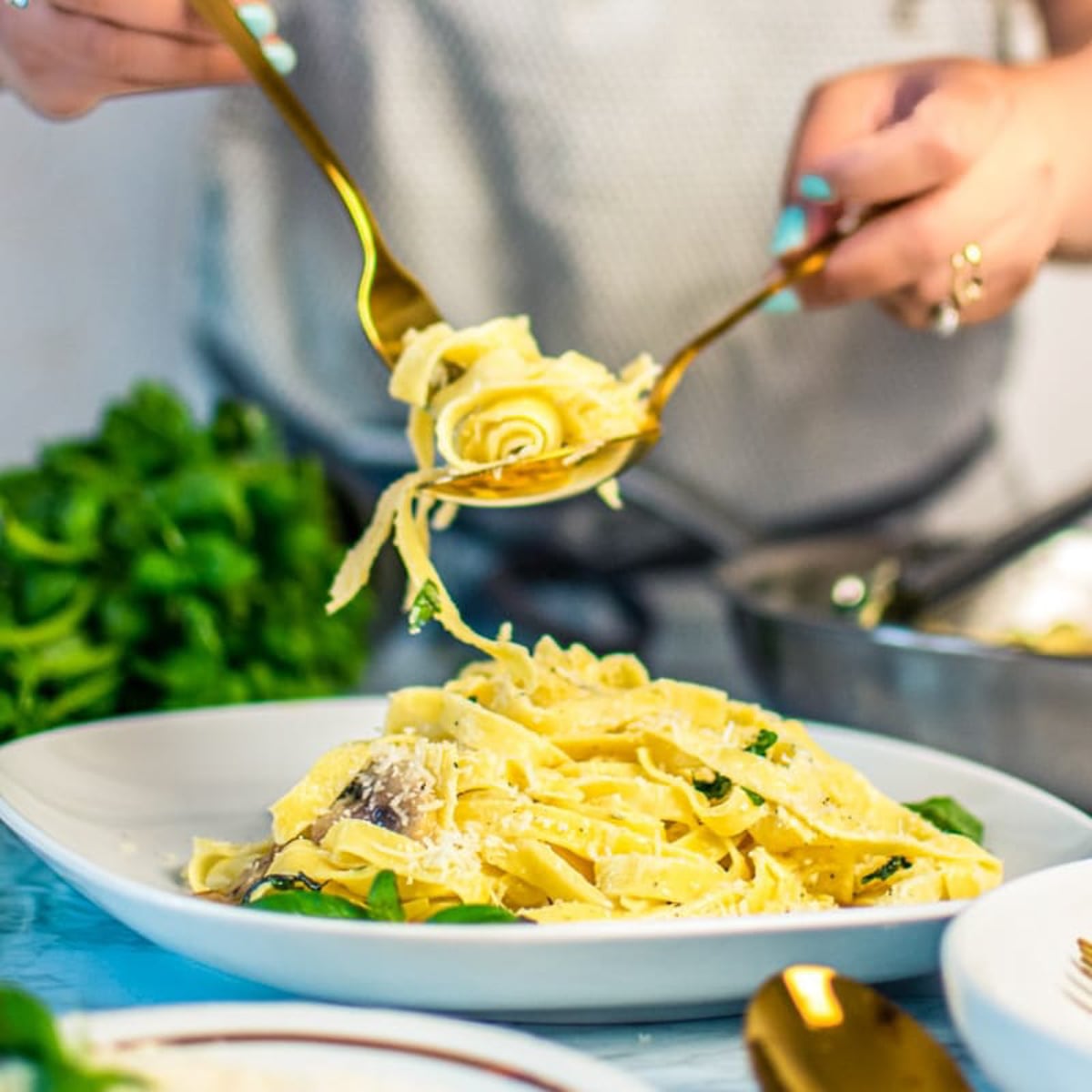 This easy to make fettuccine alfredo with mushrooms is a perfect restaurant-worthy vegetarian pasta dish that is a meld of cheesy, creamy and delish flavors.
---
★★★★✰
(Rating:
4.7
from
6
reviews)
---
| Prep time 🕐 | Cook time 🕐 | Total time 🕐 |
| --- | --- | --- |
| | | 30 mins |
| Category ☶ | Cuisine ♨ | Serves ☺ |
| Main | Italian | 6 |
| Nutrition Info ⊛ | | Serving size ⊚ |
| 345 calories | | 1 searving |
---
INGREDIENTS
For Mushroom Fettuccine with Alfredo Sauce //
1 tablespoon olive oil
1 cup sliced mushrooms (feel free to add more if you love mushrooms)
1 teaspoon freshly chopped minced garlic
12 ounces (340 grams) fettuccine
1 cup alfredo sauce (or as needed)
A handful of chopped basil leaves or parsley
For Serving //
Grated Parmesan cheese for garnish
Chopped basil or parsley for garnish
---
INSTRUCTIONS:
Cooking Fettuccine //
Add water and salt to a large pot or pan and stir it. Let it boil.




Once water is boiling, add fettuccine to boiling salted water and cook until al dente or cook the fettuccine according to package directions. Keep stirring occasionally.




Drain, reserving 1/2 cup of pasta cooking water, you may need it later.



How To Cook Mushroom Fettuccine With Alfredo Sauce //
In a large skillet, heat the olive oil over medium heat.




Add the sliced mushrooms to the skillet and cook for 3-4 minutes.




Then add chopped garlic and mix well, cook until the mushrooms are tender and soft with a deep brown color. This would take about 4-5 minutes.




Next, add the cooked pasta, alfredo sauce, chopped greens and toss everything well until all of the pasta is coated with the creamy alfredo sauce. At this point, you can add reserved pasta water, if needed. Also, check for the seasoining, if needed more seasoining, then you can add salt and pepper at this point.




Serve immediately. Garnish with basil, parsley, or chives, if desired. Pair it with a glass of white wine and you are all set for a gourmet dinner.



---
WATCH VIDEO:
---
NOTES:
I have sautéed mushrooms in olive oil, but you can also use butter.

You can replace fresh garlic with garlic powder.
---
If this recipe helped you, then please spread the word by sharing and
subscribing
to us on YouTube to get more such Recipe Videos.
---
Your feedback is so helpful for me and other MyGingerGarlicKitchen readers. So, for Facebook and Instagram, please mention
@MyGingerGarlicKitchen
or
#mygingergarlickitchen
. I would love to see your photos. :)
---
Author:
Anupama
Recipe Source Link:
https://www.mygingergarlickitchen.com/mushroom-fettuccine-alfredo/
Date Published:
2020-01-17
• • • • • • • • • •