Alfredo Sauce is a delicious sauce. It's smooth, rich, creamy, and so full of parmesan cheese and garlic flavor. It is simple and easy to make and ideal with your favorite pasta or chicken. Furthermore, it's ready in under 15 minutes.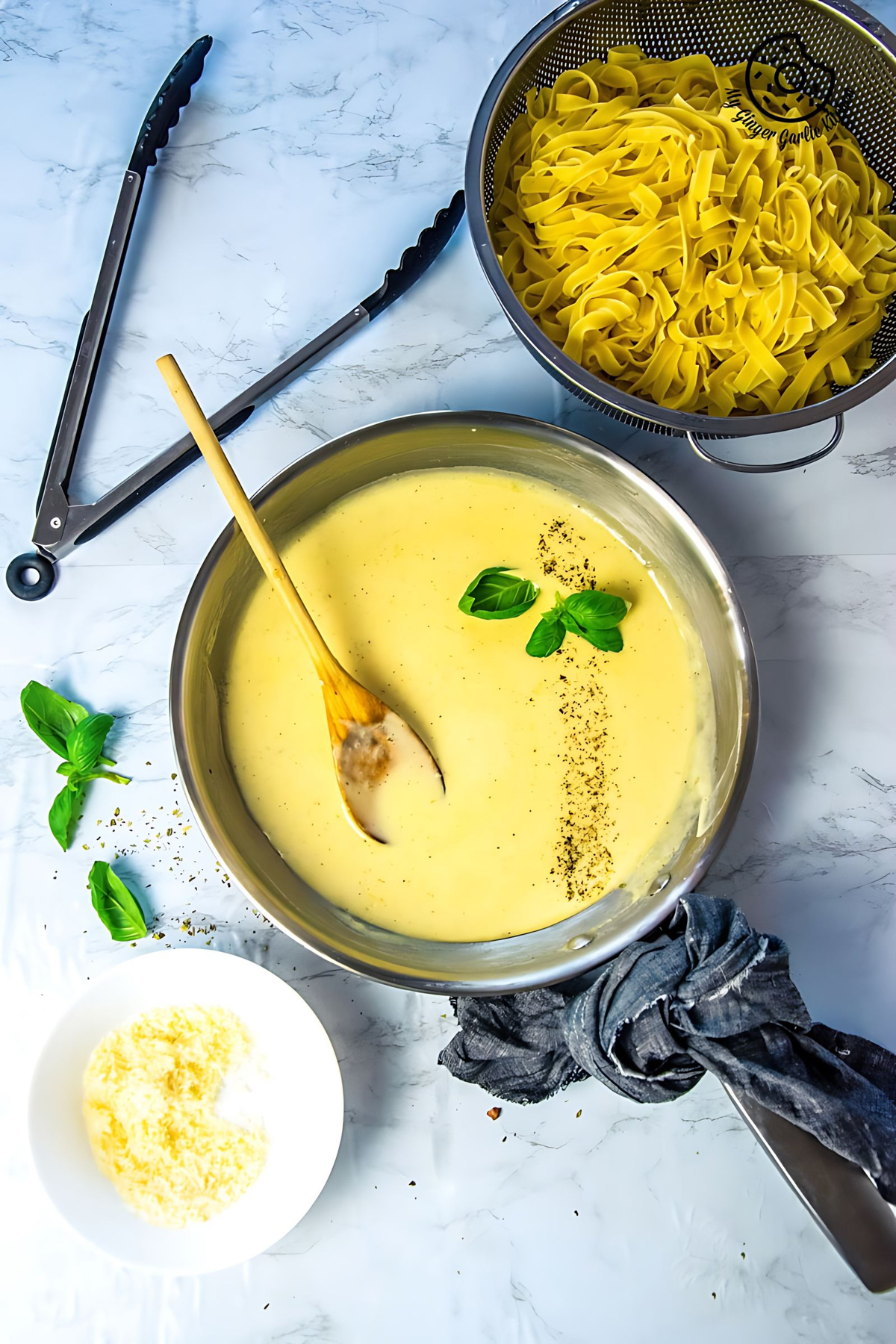 This mouth-watering and flavorful alfredo sauce is thick, smooth and the flavor is so exquisite. Making this sauce is super easy and simple that anyone can make at home. 
With this easy and hanker-worthy sauce you can make Fettuccine Alfredo anytime. I bet that this sauce is too appetizing that everyone would want to go for second and third servings.
It is the most creamy and delicious homemade alfredo sauce that you will ever make! 
With this tried and tested recipe, you will be able to make the best Alfredo sauce at home each time. Because this Homemade Alfredo sauce recipe makes the restaurant-grade sauce, when you would use it in your dishes they would turn out so delightful. 
We recently had a dinner party at our home and I made Creamy Mushroom Fettuccine with this Homemade Alfredo sauce, and it was a big hit amongst the guests.
It is made with basic ingredients like heavy rich cream, butter, and flavorful parmesan. There's also a touch of garlic to amp up the flavorings.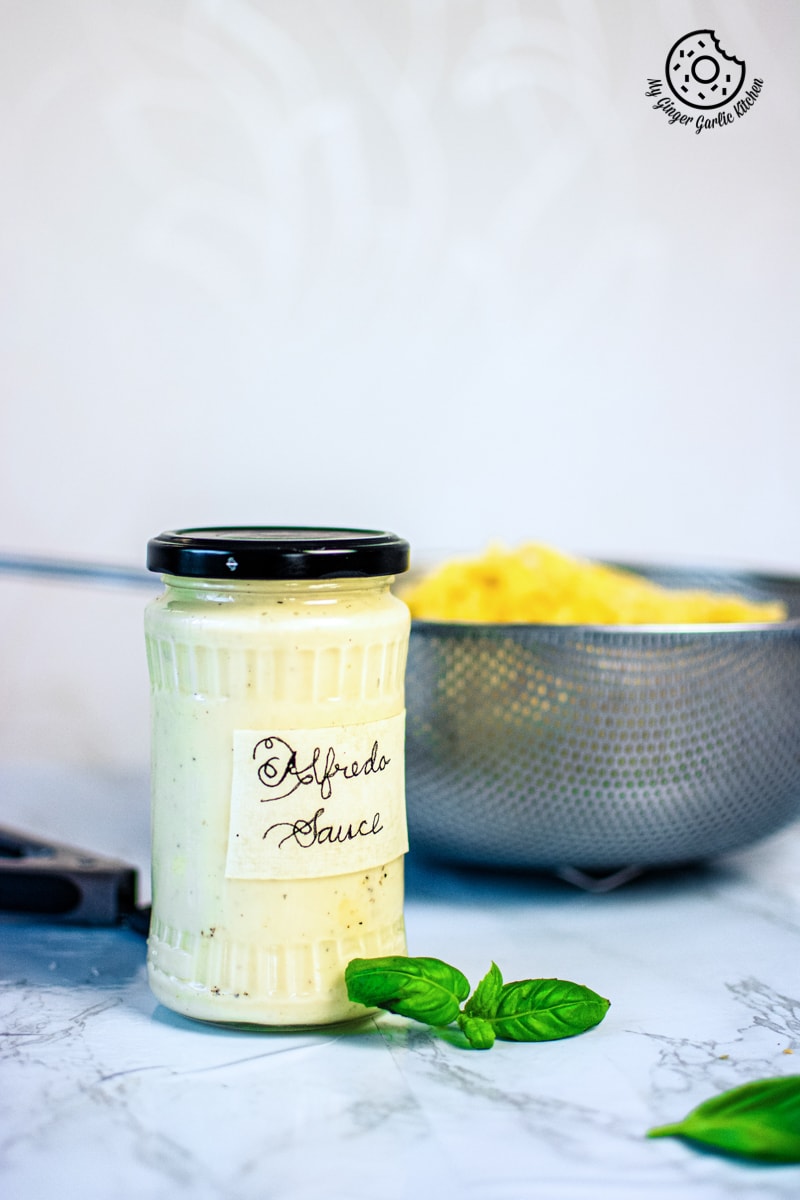 What is Alfredo Sauce?
Alfredo sauce is a simple but elegantly creamy white sauce made from butter, heavy cream, parmesan cheese, garlic, salt and pepper, and Italian herbs. 
Alfredo sauce is commonly used as a pasta or noodle sauce. The addition of the sauce to any pasta or noodle dish makes it so satisfying and irresistible.
You can also add this alfredo sauce to your meat dishes to make them taste even better.
Homemade Alfredo Sauce:
Homemade Alfredo sauce is one of the best things to have with a bowl of pasta and noodles. This is because it makes a creamy, rich and indulgent treat for dinner. The great thing about the homemade sauce is that it only takes 15 minutes to whip up a batch of this sauce.
Nothing can beat a homemade version of Alfredo because this is way better than a store-bought bottled Alfredo.  
Anyone who loves eating fresh and cooking from scratch would love making this easy peasy Homemade sauce that goes along with your pasta.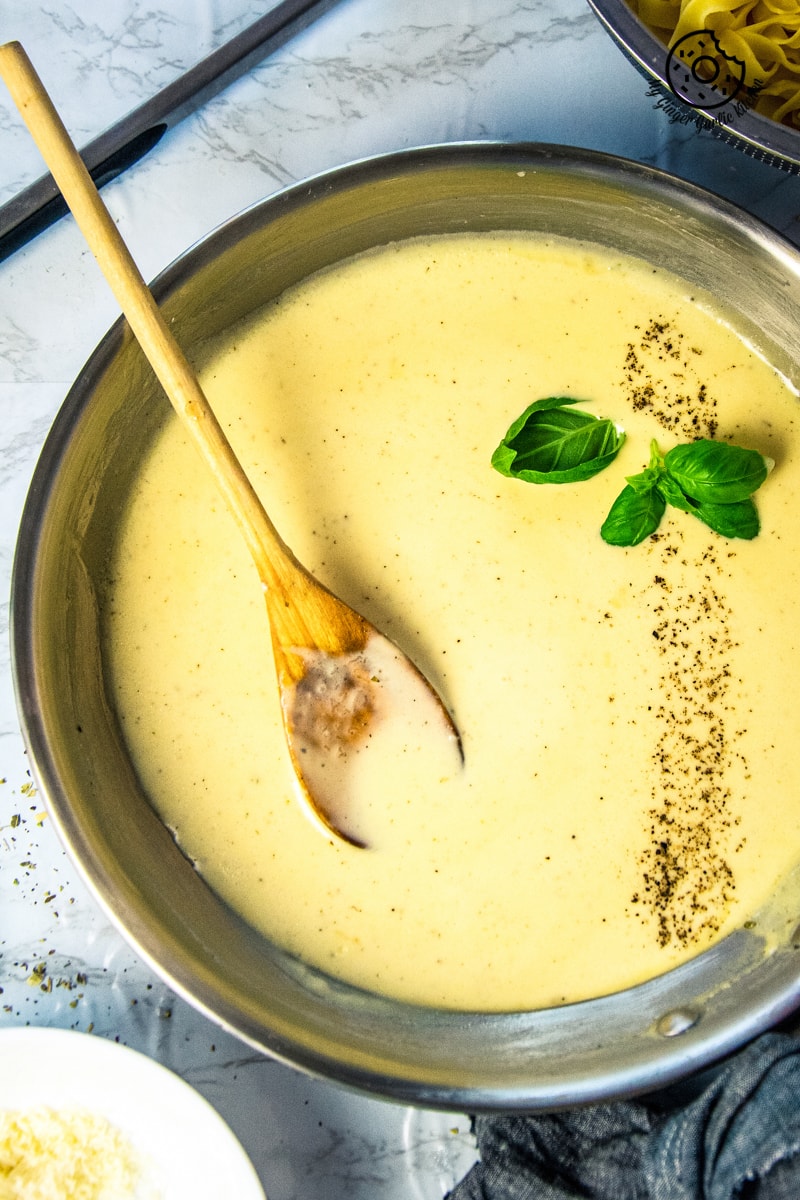 How To Make Alfredo Sauce:
This is a fail proof recipe to make Alfredo Sauce at home. Here are simple steps to make it:
Step 1: Toasting Garlic: The first step to making Alfredo is to lightly toast the garlic in butter. Do not brown the butter, you just need to cook until butter is fragrant.
Step 2: Cook with heavy cream garlic: Then you add cream to it and simmer for about 5 minutes. Stir occasionally. Use heavy cream or half-and-half, because the richer dairy makes the smoother and creamier sauce. The key is to use dairy with a good amount of fat.
Step 3: Add cheese: Now add grated parmesan. Stir and let the cheese melt through. 
Step 4: Add seasonings: Once the cheese is melted, add the salt, garlic powder, Italian seasoning, and pepper. Stir well. Continue to cook for about 3 minutes or until it is smooth and thick. The sauce is ready.
Step 5: Toss with your favorite dish: Once the sauce is ready you can toss it with pasta, spaghetti or chicken. You can check out the full recipe with video on this page.
This Homemade Alfredo Sauce:
✓ has a silky and velvety texture.
✓ is easy and simple to make.
✓ goes along with your favorite pasta, fish, meat dish, or veggies.
✓ tastes rich, creamy and satisfying.
✓ yields restaurant-style sauce.
✓ has an exotic and delicious garlic flavor and Italian seasonings.
✓ makes dishes that always gets raved about whenever you will make it.
✓ makes a perfect weeknight dinner and also great for parties.
✓ is fit for a keto diet when paired with broccoli, carrots, zucchini, or squash noodles.
✓ is also a delight for carb lovers.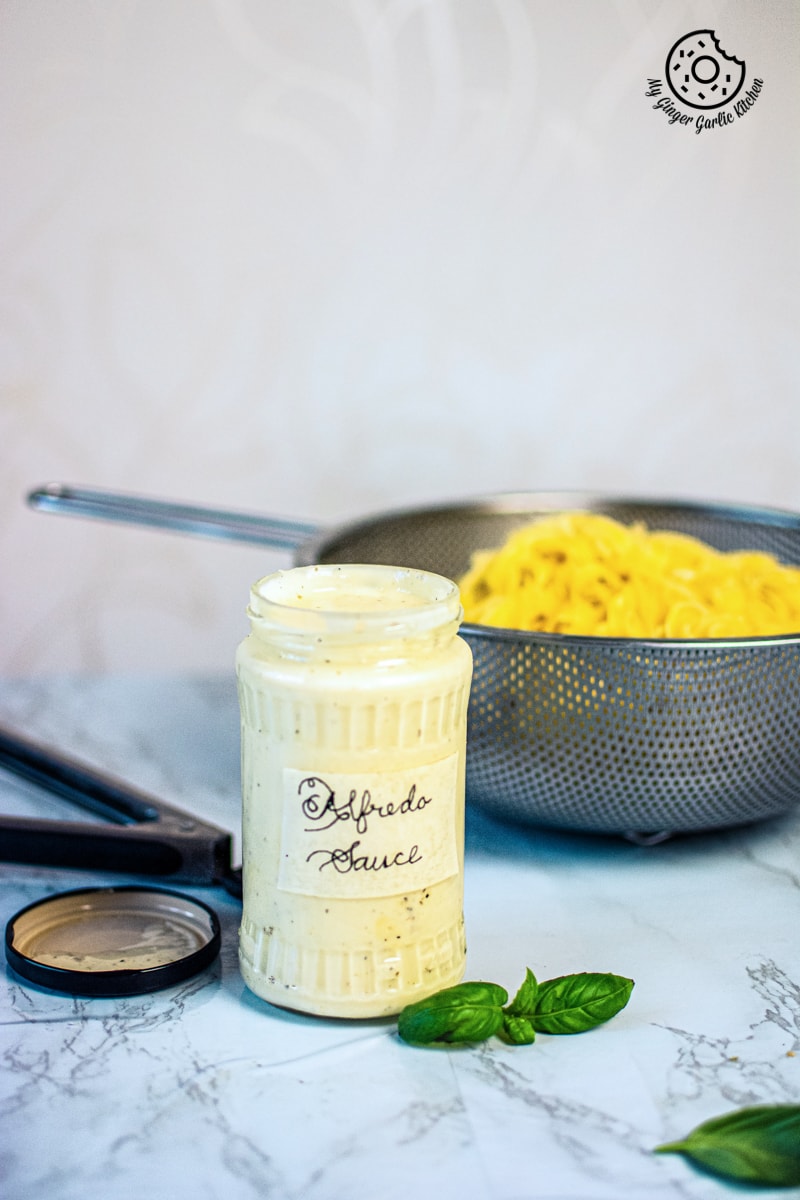 FAQ's for making Homemade Alfredo Sauce:
What ingredients do you need to make alfredo sauce?
You only need some simple ingredients for making an elegant creamy, smooth, and melt-in-mouth restaurant-style sauce that is a classic dish loved by all.
Using the freshest ingredients is essential here because you get the best outcomes when fresh ingredients are used. Each of these ingredients below helps in creating a deliciously melted and blended sauce.
Here are the ingredients:
Butter
Heavy cream or heavy whipping cream
Minced garlic
Garlic powder
Italian seasoning
Salt and pepper
Grated parmesan cheese
Is Alfredo Sauce keto?
Yes, it is definitely keto. Simply pair this sauce with veggies to make a keto meal.
How to make Alfredo Sauce with milk instead of cream?
Adding heavy cream is recommended here, the addition of cream makes it richer and thicker. However, if you want to skip the cream then you can use milk. Though this will produce a lighter and less thick consistency sauce, it would taste good.
If you want to thicken it up a little more, then you can also add 1-2 teaspoons of plain flour. 
Once the garlic is roasted, add flour to the butter and roast it until fragrant. Then, add the cream and follow the same recipe.
Is Alfredo Sauce gluten-free?
Yes, this sauce is entirely gluten-free.
How to use Alfredo Sauce?
You can use this sauce in your favorite pasta, chicken, fish or roasted veggies. It is also delicious when used as a dip. You can also use it as a pizza spread. Or you can use it in casserole dishes.
Just add it to anything you like — I am sure this delicious sauce won't disappoint you. :)
How to store alfredo sauce?
To store, pour homemade Alfredo Sauce in a sterilized jar. Seal it and refrigerate. 
How long does Alfredo sauce last in the fridge?
When stored properly this will last in the refrigerator for about 5-6 days.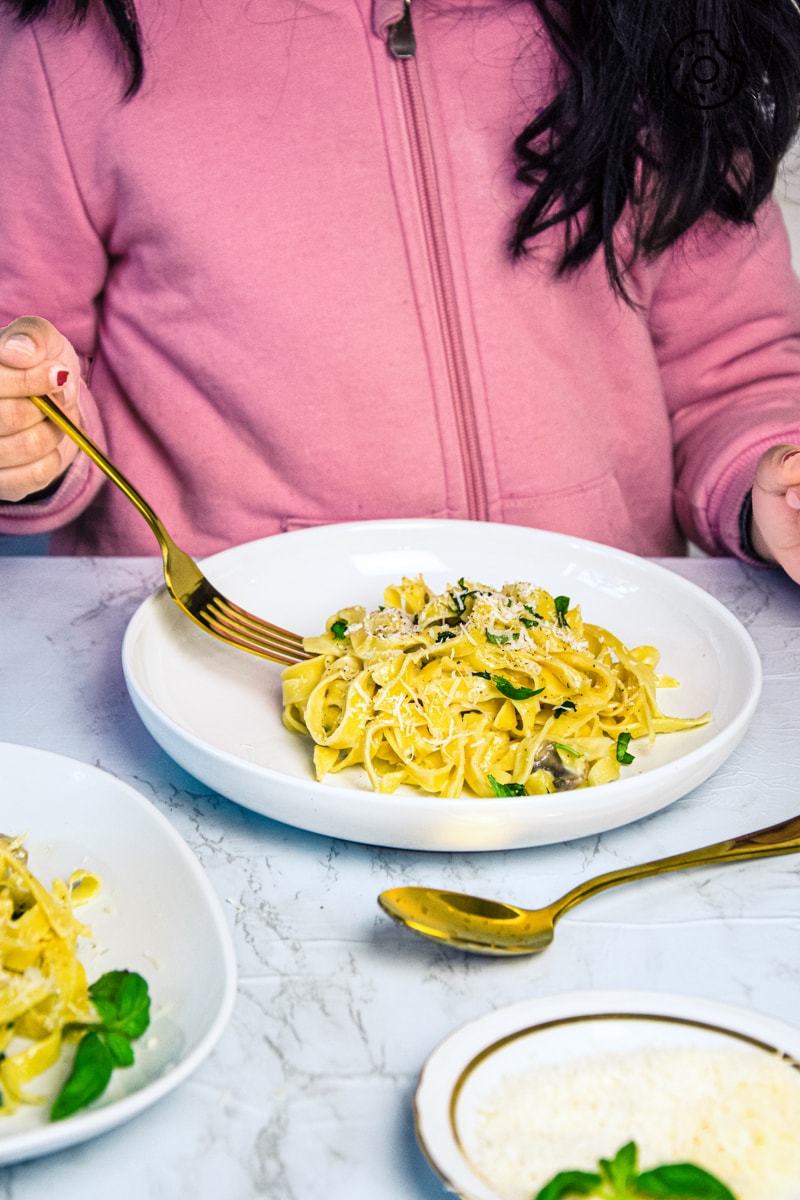 How to reheat Alfredo sauce?
Reheating Alfredo sauce is easy if you follow the right steps. Always use a low temperature for reheating and keep stirring frequently. Also, do not use a microwave for reheating this sauce, or else it will separate and will not stay creamy.
Is it authentic Alfredo Sauce?
This is not an authentic Italian alfredo sauce, because that recipe does not require any cream. Traditional sauce is made with just parmesan cheese, butter, pasta water, and salt. This recipe is the American version of Alfredo sauce which is a lot creamier and richer than the authentic version.
How Many Cups Does This Yield?
This alfredo sauce recipe makes about 1.5 cups of sauce which is enough for 18 ounces of fettuccine pasta.
Tips and variations for making your best Homemade Alfredo Sauce:
Do not brown the garlic, otherwise, the sauce would taste bitter.
This recipe will yield about 1.5 cups of sauce, but it can easily be doubled.
Add parmesan on the lowest temperature and stir well until cheese is fully melted. This way it would not clump and separate in the sauce.
You can use unsalted or salted butter. They both work for this alfredo sauce recipe.
Use heavy cream or heavy whipping cream for a richer and creamy flavor. You can also use half-and-half instead of cream.
Parmesan cheese is one of the main ingredients in this recipe. So use best quality parmesan preferably real Parmigiano Reggiano. It is recommended to use freshly grated aged or block parmesan cheese for this recipe. This will ensure that your sauce would have a smooth and velvety texture. For this recipe, I do not recommend using container grated cheese.
When it cools down, it will thicken up a bit. It can be simply thinned using hot pasta water (the water you used for boiling pasta).
Do not boil or overheat sauce, or melted cheese will separate and break.
You can easily adjust the consistency of this sauce. If you want it thicker, then add more cream and cheese. If you want it thinner, then use milk or pasta water.
You can add more spices and seasonings according to your taste buds.
Keep in mind that parmesan cheese is pretty salty, so always taste before adding salt. 
You can also add freshly chopped herbs such as parsley and basil leaves to this sauce.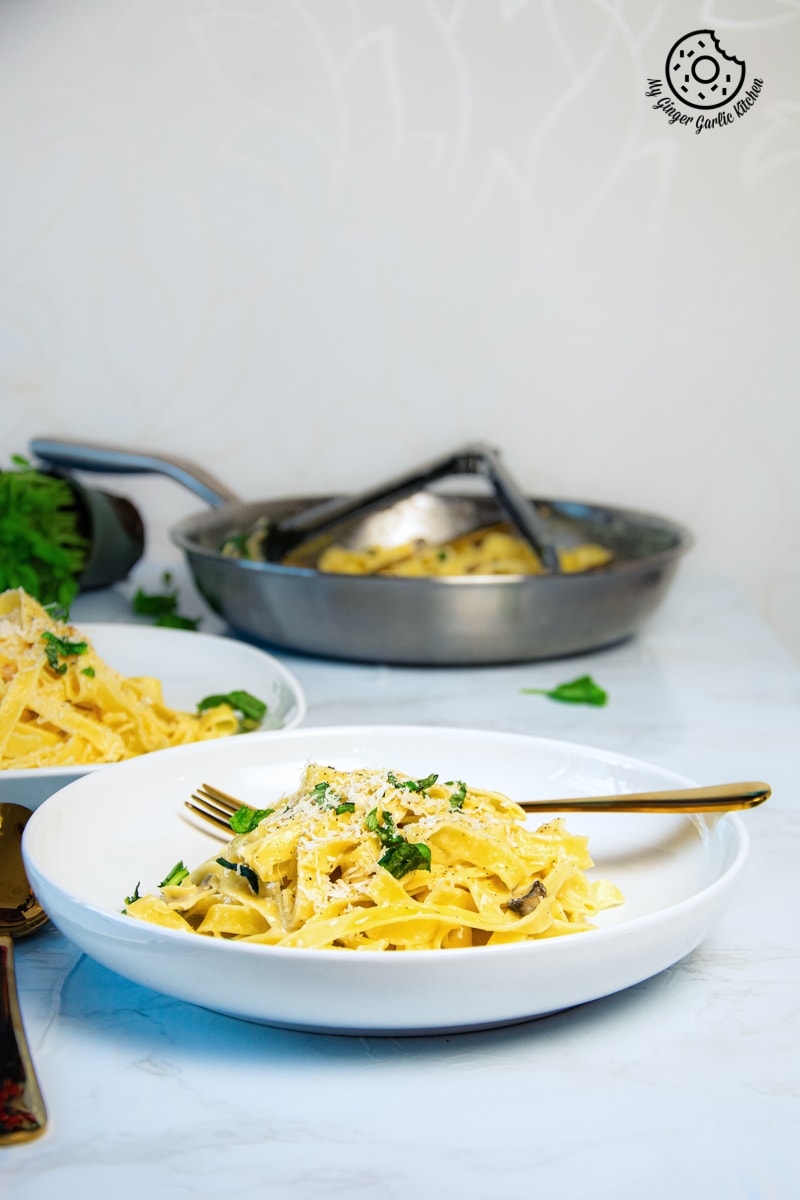 Best Homemade Alfredo Sauce

[Recipe]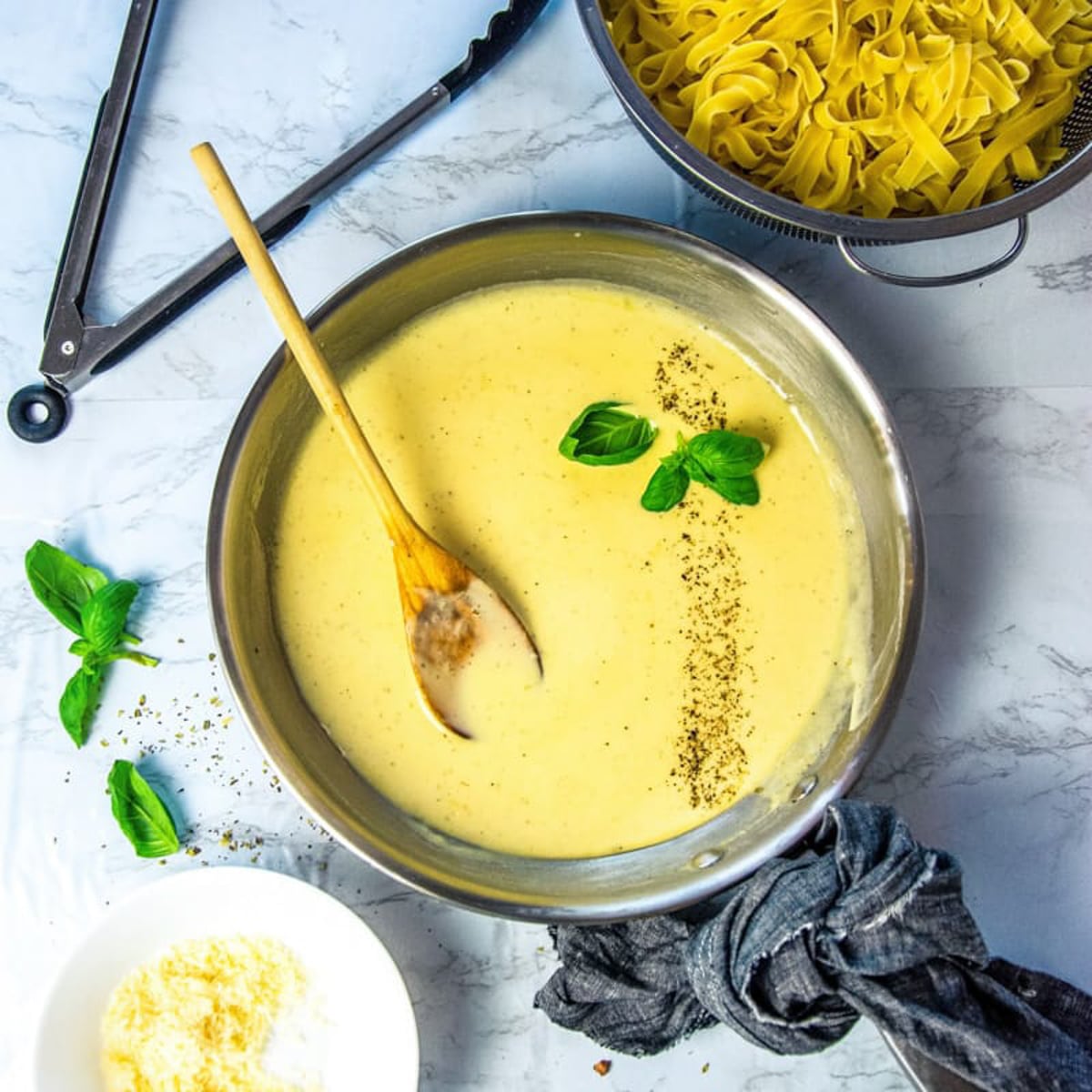 This homemade alfredo sauce is creamy, smooth and flavorful. With this simple and easy video recipe you can make Fettuccine Alfredo in 15 minutes.
---
★★★★✰
(Rating:
4.5
from
11
reviews)
---
| Prep time 🕐 | Cook time 🕐 | Total time 🕐 |
| --- | --- | --- |
| | | 15 mins |
| Category ☶ | Cuisine ♨ | Serves ☺ |
| Main | American | 5 |
| Nutrition Info ⊛ | | Serving size ⊚ |
| 399 calories | | 1 serving |
---
INGREDIENTS
For Alfredo Sauce //
1/4 cup butter
2 cloves minced garlic
375 ml heavy cream or half-and-half
2 cups freshly, finely shredded parmesan cheese (parmigiano-reggiano cheese)
1/2 teaspoon salt, or to taste
1 teaspoon garlic powder
1 teaspoon Italian seasoning
¼ teaspoon freshly ground black pepper
---
INSTRUCTIONS:
How to make Alfredo Sauce //
Melt butter in a medium saucepan over medium-low heat.




Add minced garlic and sauté until just fragrant. This would only take about 45 to 55 seconds.




Add heavy cream and stir well. Keep stirring heavy cream into the butter until combined.




Simmer for 5 minutes, stir occasionally.




Add in the Parmesan cheese and whisk until cheese is melted.




Then add salt, garlic powder, Italian seasoning, and pepper. (you can adjust seasonings as needed.)




Cook on low heat until the sauce thickens to coat the back of a spoon. It would take about 3 to 4 minutes. Whisk occasionally until the sauce thickens to coat the back of a spoon.




To check, do a nappe test; coat the back of a spoon with the sauce. Run through a finger and if it stays exposed that means the sauce is perfectly cooked and has reached the nappe stage.




Turn off the heat and toss with your favorite pasta. Top with some grated parmesan and serve immediately.



---
WATCH VIDEO:
---
NOTES:
This sauce tastes best when served immediately.

If you want to store this sauce, then refrigerate it in a steralized bottle.

If you want to reheat the sauce then add 1 to 2 tablespoon of warm milk or warm pasta water before reheating it over low heat.
---
If this recipe helped you, then please spread the word by sharing and
subscribing
to us on YouTube to get more such Recipe Videos.
---
Your feedback is so helpful for me and other MyGingerGarlicKitchen readers. So, for Facebook and Instagram, please mention
@MyGingerGarlicKitchen
or
#mygingergarlickitchen
. I would love to see your photos. :)
---
Author:
Anupama
Recipe Source Link:
https://www.mygingergarlickitchen.com/alfredo-sauce/
Date Published:
2020-01-14
• • • • • • • • • •