This White Sauce Pasta is a perfect medley of aromatic flavors and rich creamy pasta. White Sauce Pasta is an easy-to-make recipe which can be prepared at home with some very simple ingredients. This white pasta surely makes a protein-rich, delicious, budget-friendly meatless meal.
Any type of pasta is undoubtedly a comfort food at its best. And this white pasta which is prepared with creamy white pasta sauce is a great dinner or lunch meal option.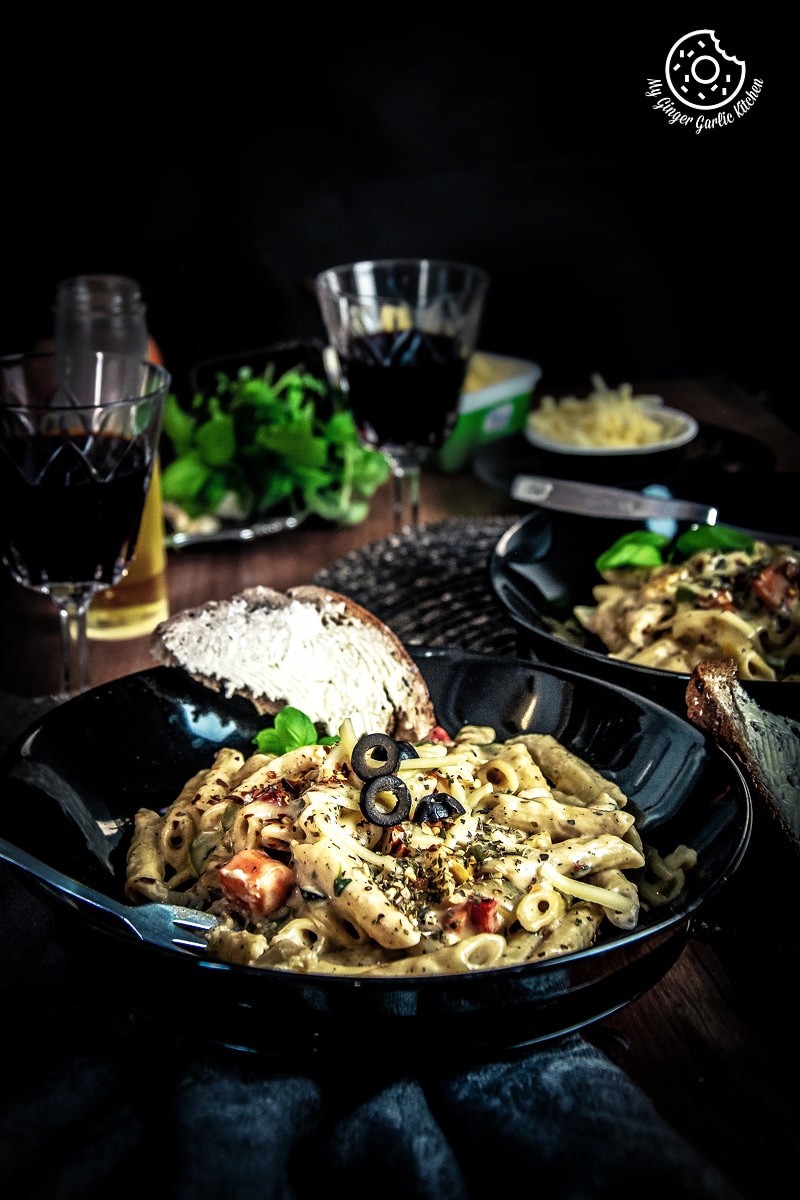 Today I bring you an easy, simple, fuss-free and exceptionally delectable pasta recipe which is made with very simple ingredients, such as:
Bell peppers

Boiled penne pasta

Butter

Carrots

White flour

Garlic

Milk

Olives

Onion

Some cheese

Sweet corns, and

Virgin olive oil, etc.
Make this pasta when you have guests coming over for a meal. Or make this for anyone who loves Italian cuisine. Or simply make it for yourself when you are yearning for a delightful Italian meal which is also super-quick to make and delicious too.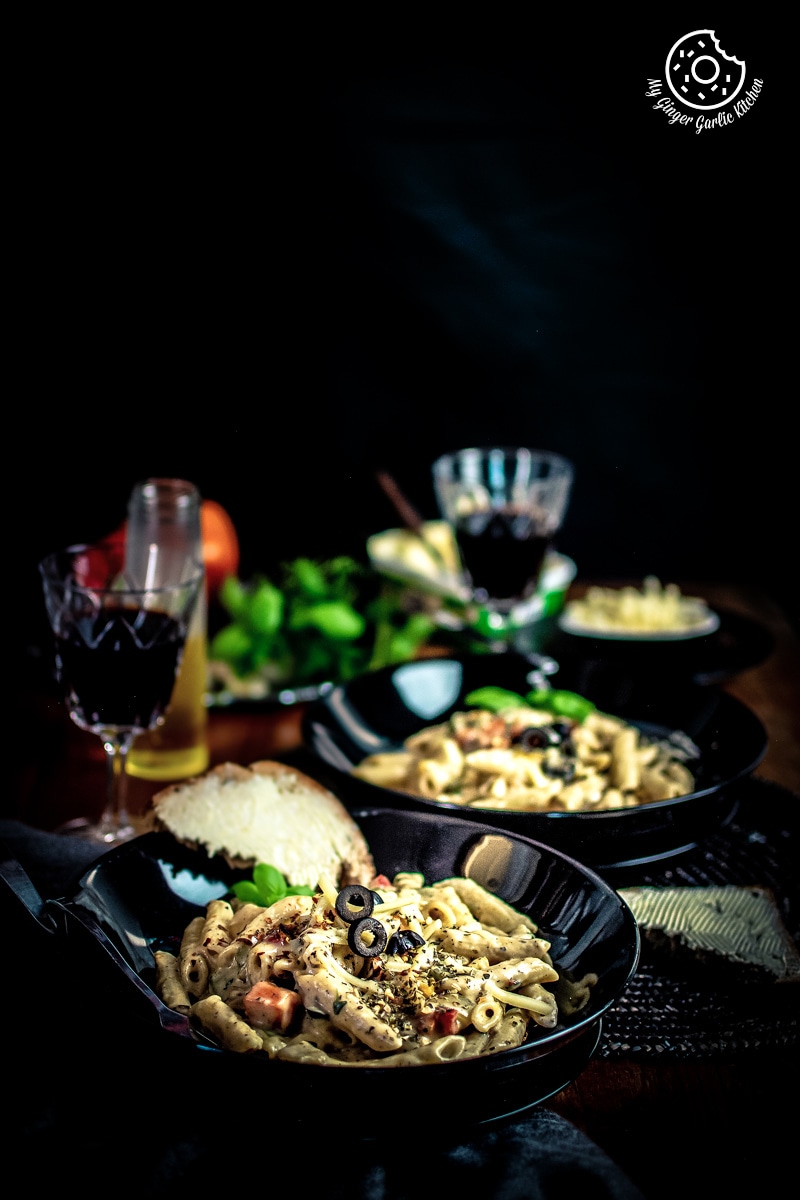 How to make white sauce pasta?
White Pasta is ultra simple to make and takes only 20 minutes of your effective time. So now you can dig into the taste of a true Italian delicacy with this easy pasta recipe, which can quickly be prepared without putting in much efforts.
In this recipe, I will show you the entire cooking process of making white sauce pasta.
All you need to do is to boil the pasta first. Stir fry the garlic and the veggies. Make a white creamy cheesy sauce. Spice it with the mixed herbs, black and white pepper powder and chili flakes to get a lightly spiced, aromatic, and creamy fresh white sauce.
Add sautéed veggies and boiled pasta to the sauce. Garnish with some more cheese and oregano. And get ready to experience the joy of digging into the most delicious, aromatic, indulgent, and soul-satiating pasta dish.

How do you make white sauce from pasta from scratch?
This silky smooth and aromatic sauce is made from garlic (lots of it), butter, milk and all-purpose flour aka maida. This White sauce is also known as bechamel which originated from the French cuisine. This sauce is used as a base for many other sauces. Bechamel sauce is made using flour, butter, and milk.
White, creamy, and flavorful sauce is a delectable way to delight your taste buds.
The base sauce tastes very much like an Alfredo sauce. It is because both the sauces are luscious, buttery, creamy and cheesy. In other words, creating a perfect creamy sauce is a culinary dream.
Of course, there is a very little difference between the two sauces, such as the choice of cheese and herb, and cooking method.
The sauce should always be well merged with the pasta — so it should be smooth, silky and uniform.
This is the 'basic restaurant style pasta sauce' recipe which I learned to make some years ago. For years, I've used this silky, rich, creamy, and smooth white sauce for pasta to make many dishes. This garlic based white sauce can be used as a base for many dishes including Mac and cheese. The amounts used in the recipe can easily be doubled or tripled.
You can definitely serve this sauce with any pasta — just name it! My other favorite pasta for this particular recipe is tortiglioni pasta, fusilli pasta, and macaroni.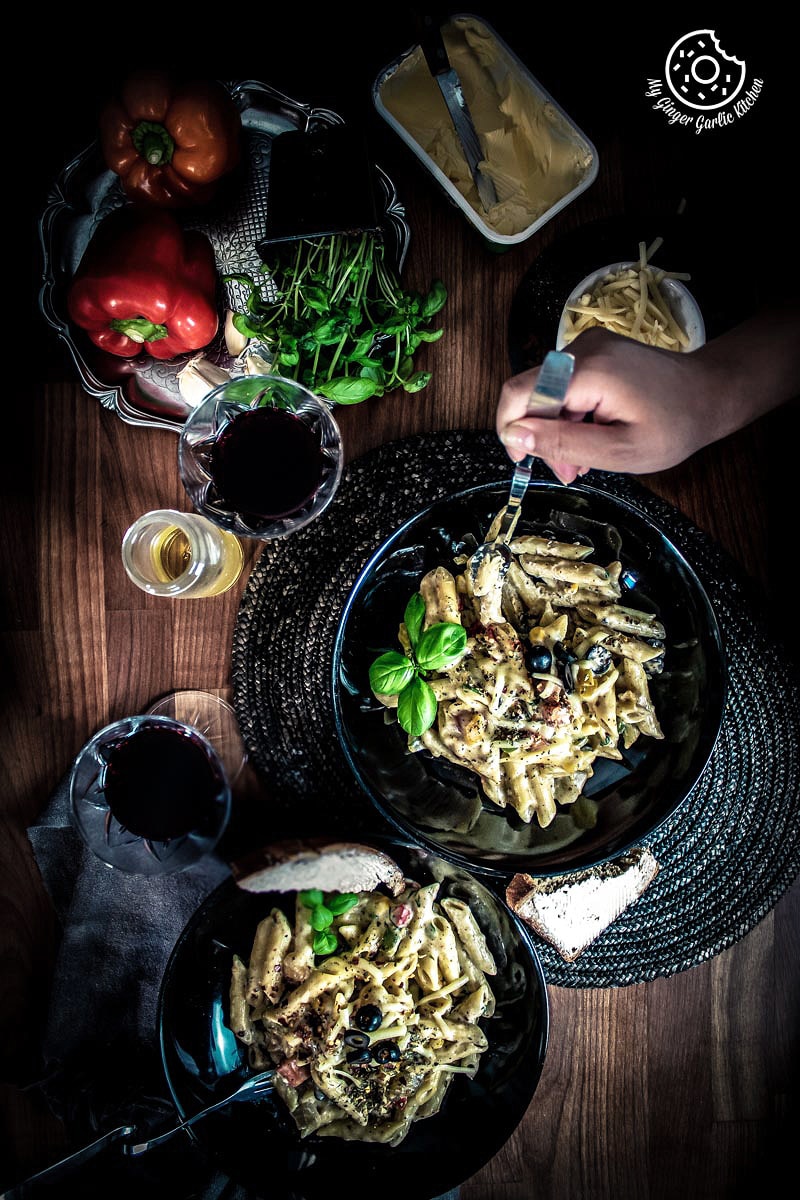 How to serve White Sauce Pasta?
Simply serve this with some salad, toasted Italian bread and a glass of fine red wine. A perfectly romantic dinner is all set.
This particular recipe is a very popular Indian style vegetarian pasta which is widely served in restaurants in India. You order a white sauce pasta and you'll get this pasta.
How many types of White Sauce Pasta dishes are there?
There are many ways to make a white sauce pasta recipe:
This recipe shows the vegetarian version of the white sauce pasta. However, you can effortlessly turn in into a chicken pasta by adding chicken pieces to this recipe. Various ways:
Making chicken pasta:

Saute chicken pieces in the butter until cooked through. Then add it to the white sauce with the sauteed veggies or without them. Adding mixed vegetables to the sauce makes a nutrient-packed meal. So I would recommend using them. You can add any of your preferred veggies to it.

Minced meat pasta:

You can also add any other minced meat of your choice.

Plain pasta:

You can make a plain white sauce pasta by simply skipping the veggies.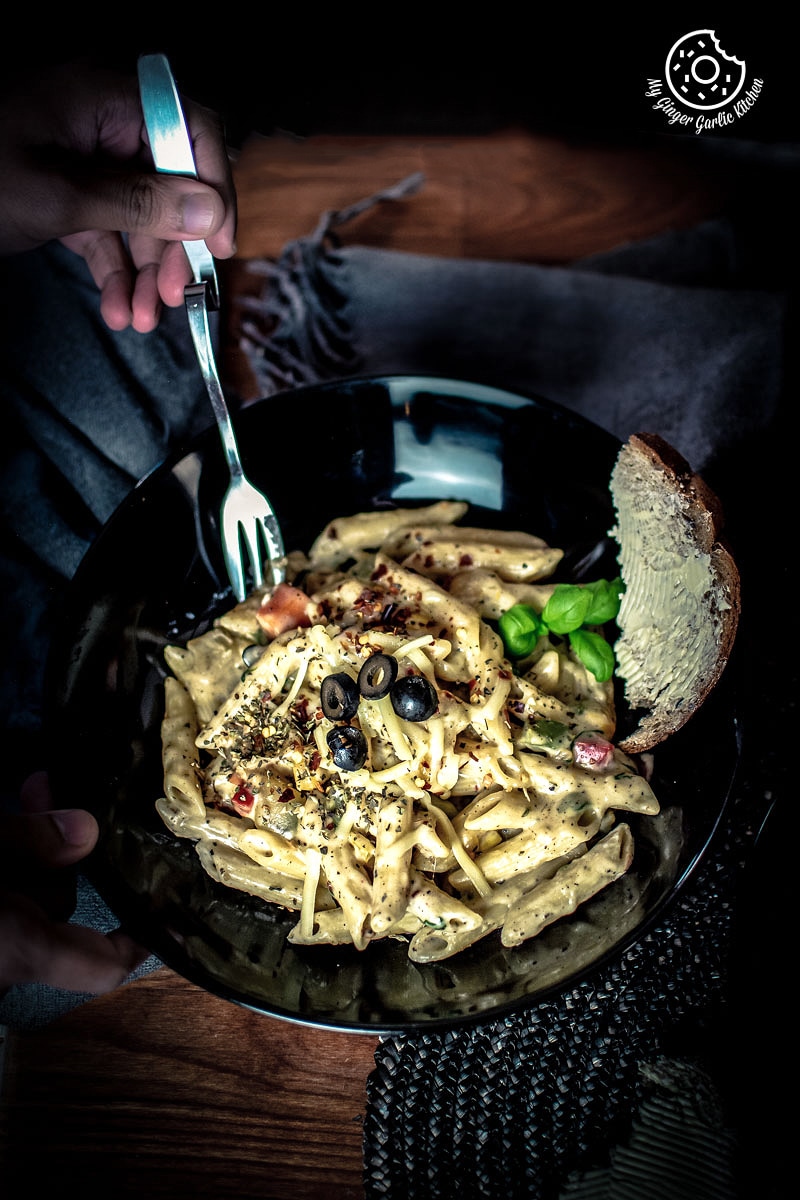 What are the tips, tricks, and variations to make your best White Sauce or Béchamel Sauce for Pasta?
Always keep fresh herbs handy while making pasta — they add a lot of flavors.

I have used basil leaves for this white sauce recipe. You can also add rosemary or parsley. They both are suited for the cream based sauce.

Fresh basil leaves have a very fresh and delicate flavor. So it is advisable to add it in the end. Because when basil leaves are added to the sauce at the last minute, it maximizes and enhances its flavor.

If you don't want your sauce to be too buttery and creamy, then instead of just adding milk, you can add a combination of milk and vegetable broth. And you can skip the cream part.

If you want to make this white sauce pasta vegan, then swap regular full cream milk with almond milk and butter with vegan margarine or vegan butter.

For making this white sauce recipe I have used processed cheddar cheese because I personally like it in my pasta dishes. You can substitute it by using parmesan, mozzarella cheese or even cheese slices or sticks. You can also use a combination of cream cheese and some other processes cheese.

It is recommendable to saute vegetables in olive oil. Virgin olive oil is your best bet for sautéing and baking. So use Virgin Olive Oil instead of extra virgin olive oil. It is because Virgin Oil is generally used for cooking instead of the 'extra' virgin.

How To Cook Perfect White Sauce Pasta?
Below are some wonderful tips on how to perfect white sauce pasta each time:
Always cook pasta right before serving it.

Use a large pot and add enough water. Pasta needs a lot of water while cooking, so add enough water. Always use a large pot to cook pasta for proper and even cooking. If you use a small pot for cooking pasta, your pasta would clump and stick together.

Always use boiling water for cooking pasta. Add some cold water to the pot and bring it to a boil before adding pasta. For speeding the boiling process, cover the pot of cold water with the lid, this will help in boiling water faster.

Add some salt to the boiling water before adding pasta to it, because salting the water makes pasta taste better, and it also brings out the natural flavor of the pasta, and pasta gets properly seasoned.

Use kosher salt if possible

.

Let the water come to the boil first and then add the salt because salt dissolves faster in hot water.

Do not add any kind of oil to the pasta while boiling, because this may create a glaze which is unwanted for the recipes when we are cooking with the sauce. Addition of oil will make the pasta smooth, and the sauce will not stick to it.

After you add the pasta to the boiling water, stir it with a wooden spoon. The stirring would prevent pasta from sticking to each other and from sticking to the bottom of the pan.

Always cook the pasta uncovered at high heat for a fast boil.

Cooking time may vary with different kinds of pasta depending upon their thickness and shapes. Most kinds of pasta are cooked between 7 to 12 minutes. After 4 minutes of adding pasta, test for its doneness by tasting it.

After cooking, pasta should be tender but still firm when you bite into it. This biting and chewing into pasta is known "al dente." In Italian, the phrase

"al dente"

means

"to the tooth"

. At

'al dente'

stage the food should have a slightly chewy texture when biting into it. Also, it shouldn't have a hard center.

Keep an eye on pasta while boiling it, because pasta can overcook very quickly.

Once pasta has reached the "al dente" stage, turn off heat.

Pour boiled pasta into a large colander to drain immediately.

Rinse with cold water and shake it well to remove excess water.

The soupy looking starchy water where you boiled the pasta can be used for adjusting the consistency of your sauce. So do not throw this nutritious wonder ingredient.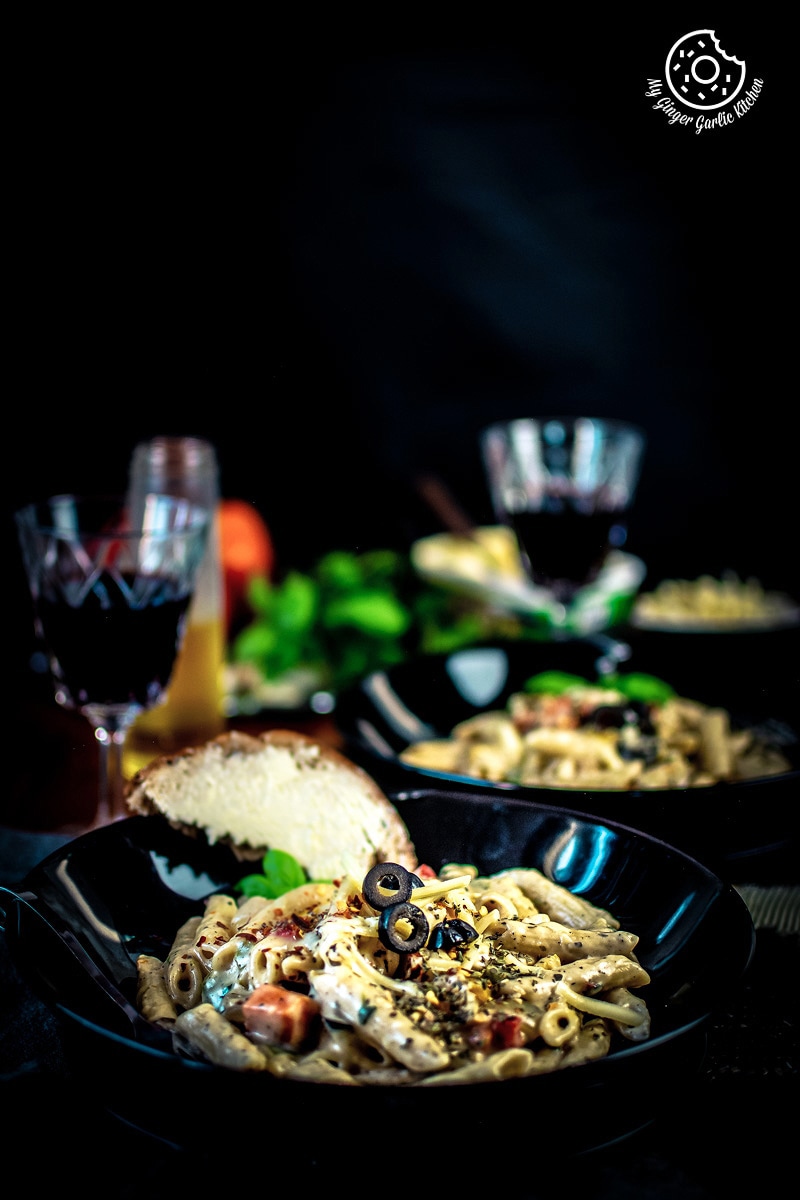 How to Make White Sauce Pasta ahead of time?
Boil the pasta until al dente as you normally do. Drain the starchy water, and rinse it under cold water to stop the cooking. Let pasta cool off completely.

Now toss it with 2 teaspoons of olive oil so it will not stick together.

You can store cooked pasta in a covered bowl. This is will stay fresh in the refrigerator for up to 3 days.

Reheat the pasta in a microwave safe bowl on high for 2 minutes. Or you can simply reheat the pasta by putting it in a colander. Then pour very hot water running over it.

Just add it to the hot sauce before serving and cook for 1 minute.
General Notes related to this White Sauce Pasta recipe:
Saute veggies on medium or high heat to keep the vegetables crunchy and high in nutritional value.

You can add leftover pasta to any of your favorite soup.

You can save some time by doubling your favorite sauce recipe. So make some extra sauce, freeze it in a freezer bag for later use. Simply thaw it at room temperature prior to use.

If you want some crunchy texture, you can top creamy white pasta with toasted pine nuts or toasted chopped walnuts.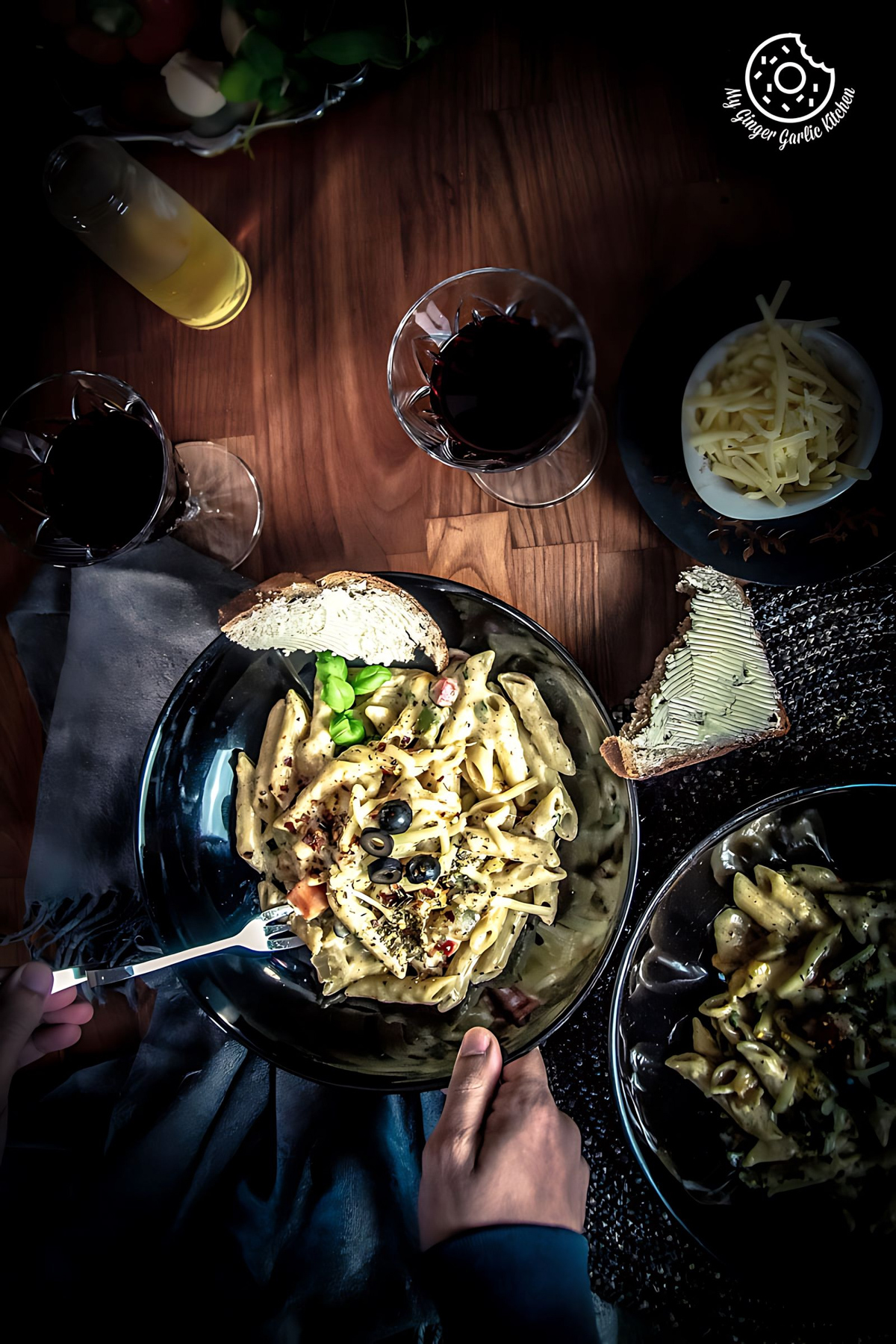 You may also like these recipes:
White Sauce Pasta Recipe (Béchamel Sauce Pasta)

[Recipe]
This Creamy & Cheesy White Sauce Pasta is a perfect medley of aromatic flavors and rich creamy pasta. White Sauce Pasta is an easy-to-make recipe.
---
★★★★✰
(Rating:
4.1
from
80
reviews)
---
| Prep time 🕐 | Cook time 🕐 | Total time 🕐 |
| --- | --- | --- |
| | | 30 mins |
| Category ☶ | Cuisine ♨ | Serves ☺ |
| Main | Italian | 4 |
| Nutrition Info ⊛ | | Serving size ⊚ |
| 345 calories | | 1 serving |
---
INGREDIENTS
For white sauce pasta: (250 ml cup used)
2 cups pasta (I have use Penne pasta, you can use any other pasta)
450 ml cup milk full fat
3 tablespoon all-purpose flour (maida)
4 tablespoons Cheddar Cheese (optional)
2 tablespoon Cream
2.5 tablespoon virgin olive oil
1/4 teaspoon black pepper powder
Salt as needed
Water for cooking
Spice mix:
1/4 teaspoon black pepper powder or crushed pepper
1/4 teaspoon white pepper powder (optional)
1 teaspoon red chili flakes (or less)
2 teaspoon mixed herbs or Italian seasoning (see notes)
Vegetables:
2 tablespoon garlic, chopped
1 cup onions, diced
1/4 cup carrots, diced
1 cup bell peppers, chopped
1/4 sweet corn
3 tablespoon olives (black or green)
---
INSTRUCTIONS:
How to Cook Pasta:
Bring a large pot of water to a fast boil.




Once the water starts boiling add 1 teaspoon salt and stir well.




When the salt is dissolved add the pasta.




Cook pasta for 7 to 10 minutes or until al dente. (Keep stirring occasionally with a wooden spoon).




Drain off the water using a colander. (you can reserve some starchy water for sauce)




Rinse with the cold water, and shake off the excess water completely. Keep it aside.



How to sauté Vegetables for White Sauce Pasta:
Heat olive oil in a large saucepan over medium heat.




Add in the chopped garlic and sauté over medium for 1-minute heat or until lightly golden.




Add the chopped onions and stir well.




Saute for 1 minute. Then sprinkle some salt and add black pepper powder, and mix well.




Add the carrots and mix well again.




Add bell peppers and mix well to combine.




Cook for 1 minute and add the sweet corn. Stir well and cook for another 2 minutes.




After 2 minutes add the olives and stir well.




Set it aside.



Make White Sauce (Béchamel Sauce):
Melt 3 tablespoons of butter in a medium saucepan over low heat.




Once melted, add 3 tablespoons of flour.




Stir continuously and saute flour in butter until the raw smell goes off. Keep breaking up the lumps if there are any. Do not over roast the flour and make sure the color of the flour doesn't change.




Pour milk little by little; while stirring continuously it with a whisk.




When you see the flour is well blended with milk and there are no lumps, then pour the rest of the milk.




Mix well. Continue stirring and cooking until the mixture starts to thicken.




Once the mixture is slightly thick, add the cheese and the spice mix and mix well to combine.




Add cream and mix well again. Add more salt if needed.




Let it cook on low heat for 2-3 minutes. ( If needed you can add more starchy pasta cooked water to adjust the consistency.)




Do a nappe test; Coat the back of a spoon with the sauce. Run through a finger and if it stays exposed that means the sauce is perfectly cooked and has reached the nappe stage.



Make White Sauce Pasta:
Add sautéed veggies mix to the white sauce.




Mix everything well to combine. You can also add cooked meat, if desired, at this stage.




Now add cooked pasta and chopped basil leaves.




Heat through, toss well to coat the pasta with the creamy sauce.




Transfer it to a plate, and garnish with cheese.




Sprinkle with red chili flakes and oregano. Serve white sauce pasta hot with some garlic buttered bread, or as it is.



---
WATCH RECIPE VIDEO: Click the play button and video will load ...
---
NOTES:
To make Italian Seasoning, combine 1 part of each herb; dried thyme, dried oregano, dried parsley, dried marjoram, dried basil, and dried sage.

There should not be any lumps in the white sauce.

Instead of mixed herbs, you can also use oregano or dried basil leaves.

Carefully read the labels before buying the dried pasta. Always go for the Pasta made from durum wheat, this is the best pasta made of 100% semolina. This type of pasta would retain their shape and firmness while cooking. Also, they do not get sticky or mushy.

For this white sauce pasta recipe, you can substitute penne for another type of pasta.

Do not mix different types of pasta. It is best to substitute one pasta type with another of similar characteristics. For example, as for this recipe, you can replace penne pasta with fusilli, elbow macaroni, or tortiglioni.

You can reduce the amount or number of veggies.
---
If this recipe helped you, then please spread the word by sharing and
subscribing
to us on YouTube to get more such Recipe Videos.
---
Your feedback is so helpful for me and other MyGingerGarlicKitchen readers. So, for Facebook and Instagram, please mention
@MyGingerGarlicKitchen
or
#mygingergarlickitchen
. I would love to see your photos. :)
---
Author:
Anupama
Recipe Source Link:
https://www.mygingergarlickitchen.com/white-sauce-pasta-recipe/
Date Published:
2020-09-21
• • • • • • • • • •