White Sauce Pasta Recipe (Béchamel Sauce Pasta)
This Creamy & Cheesy White Sauce Pasta is a perfect medley of aromatic flavors and rich creamy pasta. White Sauce Pasta is an easy-to-make recipe.
---
« Go back
Print this recipe »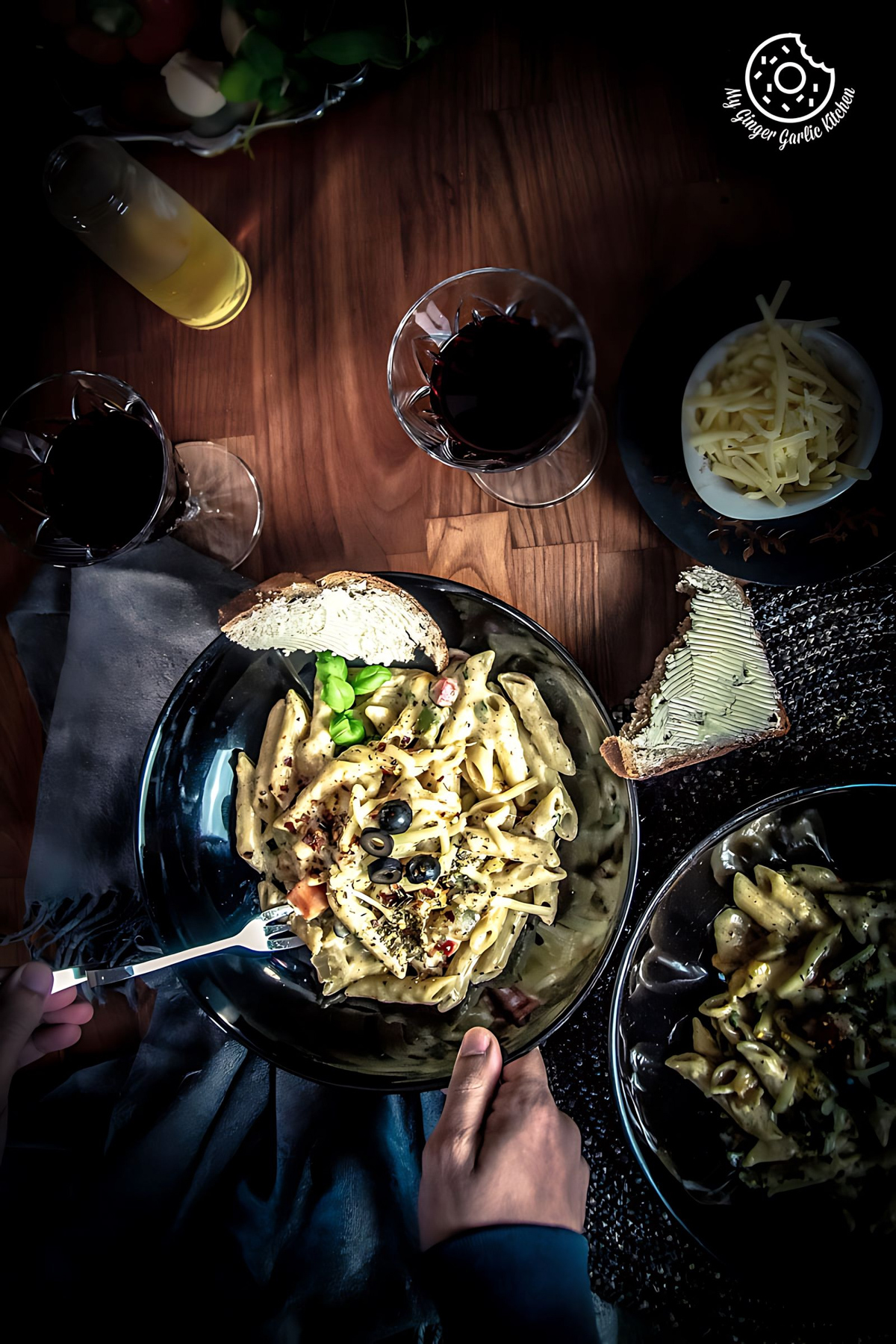 ---
Prep Time = 10 minutes
Cook Time = 20 minutes
Total Time = 30 minutes
Category = Main
Cuisine = Italian
Serves = 4
Nutrition Info = 345 calories
Serving Size = 1 serving
---
RECIPE INGREDIENTS
» For white sauce pasta: (250 ml cup used)
2 cups pasta (I have use Penne pasta, you can use any other pasta)
450 ml cup milk full fat
3 tablespoon all-purpose flour (maida)
4 tablespoons Cheddar Cheese (optional)
2 tablespoon Cream
2.5 tablespoon virgin olive oil
1/4 teaspoon black pepper powder
Salt as needed
Water for cooking
» Spice mix:
1/4 teaspoon black pepper powder or crushed pepper
1/4 teaspoon white pepper powder (optional)
1 teaspoon red chili flakes (or less)
2 teaspoon mixed herbs or Italian seasoning (see notes)
» Vegetables:
2 tablespoon garlic, chopped
1 cup onions, diced
1/4 cup carrots, diced
1 cup bell peppers, chopped
1/4 sweet corn
3 tablespoon olives (black or green)
---
RECIPE INSTRUCTIONS
» How to Cook Pasta:
Bring a large pot of water to a fast boil.
Once the water starts boiling add 1 teaspoon salt and stir well.
When the salt is dissolved add the pasta.
Cook pasta for 7 to 10 minutes or until al dente. (Keep stirring occasionally with a wooden spoon).
Drain off the water using a colander. (you can reserve some starchy water for sauce)
Rinse with the cold water, and shake off the excess water completely. Keep it aside.
» How to sauté Vegetables for White Sauce Pasta:
Heat olive oil in a large saucepan over medium heat.
Add in the chopped garlic and sauté over medium for 1-minute heat or until lightly golden.
Add the chopped onions and stir well.
Saute for 1 minute. Then sprinkle some salt and add black pepper powder, and mix well.
Add the carrots and mix well again.
Add bell peppers and mix well to combine.
Cook for 1 minute and add the sweet corn. Stir well and cook for another 2 minutes.
After 2 minutes add the olives and stir well.
Set it aside.
» Make White Sauce (Béchamel Sauce):
Melt 3 tablespoons of butter in a medium saucepan over low heat.
Once melted, add 3 tablespoons of flour.
Stir continuously and saute flour in butter until the raw smell goes off. Keep breaking up the lumps if there are any. Do not over roast the flour and make sure the color of the flour doesn?t change.
Pour milk little by little; while stirring continuously it with a whisk.
When you see the flour is well blended with milk and there are no lumps, then pour the rest of the milk.
Mix well. Continue stirring and cooking until the mixture starts to thicken.
Once the mixture is slightly thick, add the cheese and the spice mix and mix well to combine.
Add cream and mix well again. Add more salt if needed.
Let it cook on low heat for 2-3 minutes. ( If needed you can add more starchy pasta cooked water to adjust the consistency.)
Do a nappe test; Coat the back of a spoon with the sauce. Run through a finger and if it stays exposed that means the sauce is perfectly cooked and has reached the nappe stage.
» Make White Sauce Pasta:
Add sautéed veggies mix to the white sauce.
Mix everything well to combine. You can also add cooked meat, if desired, at this stage.
Now add cooked pasta and chopped basil leaves.
Heat through, toss well to coat the pasta with the creamy sauce.
Transfer it to a plate, and garnish with cheese.
Sprinkle with red chili flakes and oregano. Serve white sauce pasta hot with some garlic buttered bread, or as it is.
---
RECIPE NOTES
To make Italian Seasoning, combine 1 part of each herb; dried thyme, dried oregano, dried parsley, dried marjoram, dried basil, and dried sage.
There should not be any lumps in the white sauce.
Instead of mixed herbs, you can also use oregano or dried basil leaves.
Carefully read the labels before buying the dried pasta. Always go for the Pasta made from durum wheat, this is the best pasta made of 100% semolina. This type of pasta would retain their shape and firmness while cooking. Also, they do not get sticky or mushy.
For this white sauce pasta recipe, you can substitute penne for another type of pasta.
Do not mix different types of pasta. It is best to substitute one pasta type with another of similar characteristics. For example, as for this recipe, you can replace penne pasta with fusilli, elbow macaroni, or tortiglioni.
You can reduce the amount or number of veggies.
---