Sabudana Khichdi is an enticingly delicious and flavourful stir-fried dish made with sabudana/sago/tapioca pearls, boiled potatoes, green chiles, and peanuts.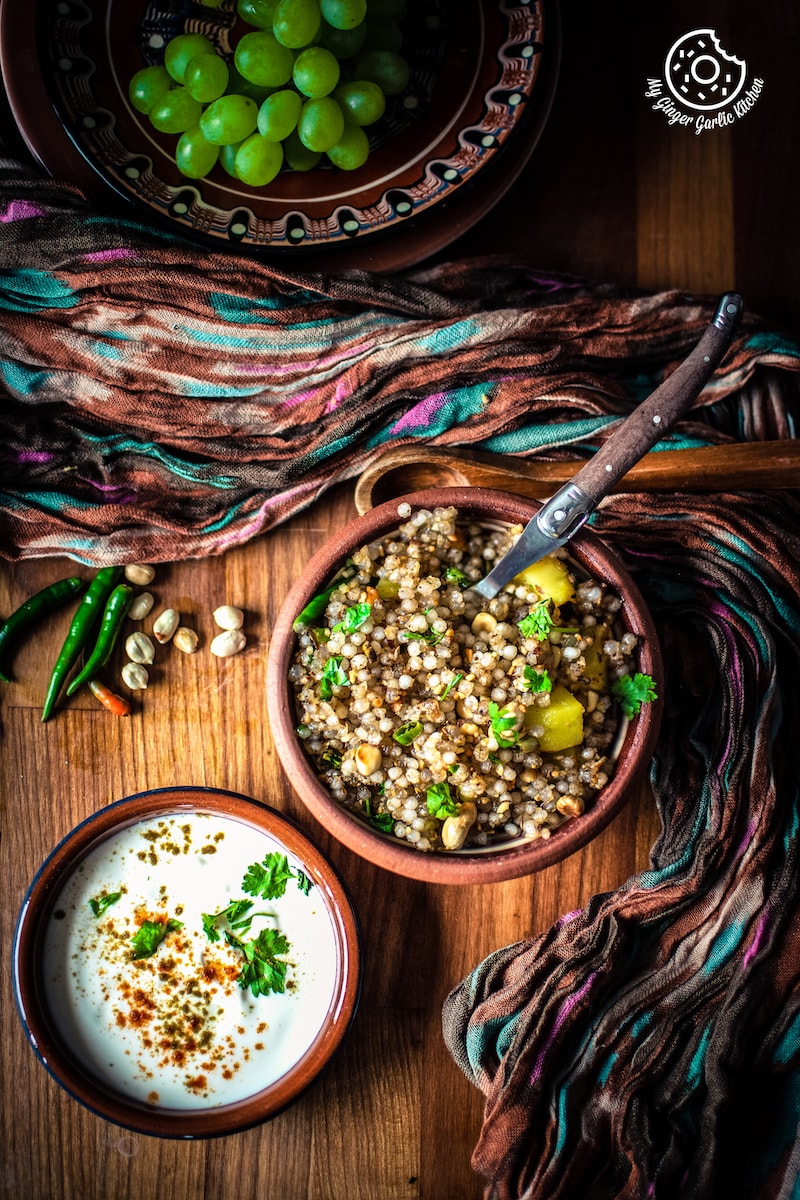 What is Sabudana Khichdi?
Sabudana or Sago Pearl Khichdi is one of the most popular and appetizing recipe, which can be served during breakfast, lunch or snack time. This dish is commonly prepared during Indian (Hindu) fasting seasons like and other festivals, such as Janmashtami and Mahashivratri. 
Sabudana Khichdi is also known as Falahaari Khichdi or Saagri Khichdi. This particular recipe is suitable for any type of /fast. This is because fasting is the time when people avoid eating grains and sabudana khichdi makes a great spicy healthy and delightful snack. 
This pulao/pulav style stir-fried sago dish is a comfort meal and is loved by all age groups. Sabudana khichdi is a vegetarian, gluten-free dish. It can also be made vegan if oil is used for stir-frying sago. 
Sabudana Khichdi is a fasting (vrat) recipe per se, but this also makes a great snack or even lunch on the days when you are not fasting. 
RELATED: There are also fasting sabudana pudding recipes you may like:
How to serve Sabudana Khichdi?
This healthy, nutty and delicious Sabudana khichdi can be enjoyed any time of the day along with some chilled yogurt or raita and and some fried green chilies. A piping cup of or is all you need to make this meal more enjoyable.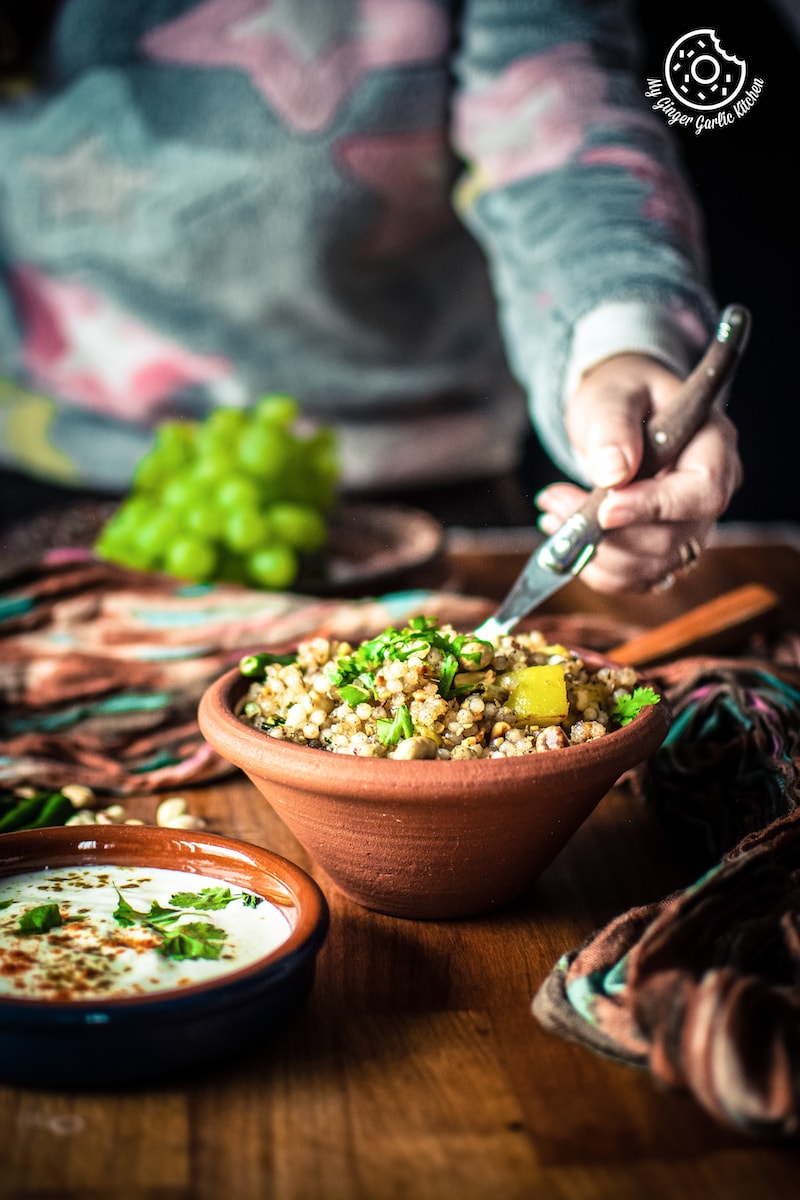 How to make Sabudana Khichdi?
Making sabudana khichdi is very simple and easy. Yes, you can get one of the most lip-smacking fasting snacks with very little effort.
In this dish, soaked sabudana (sago pearls or tapioca) is sauteed with cumin seeds, green chilies, boiled potatoes, peanuts, and seasoned with some salt, pepper and lemon juice and sugar.
Let me tell you some facts about how to make the best non-sticky sabudana khichdi. This sabudana khichdi is my Mom's fail-proof recipe, which I grew up eating. With this recipe, you will get the perfect non-sticky texture in the sabudana pearls.
What is the correct ratio of water and sabudana (sago pearls)?
When anyone thinks about making sabudana khichdi, the first and the most crucial question arises in mind is: How to soak perfect tapioca pearls for sabudana khichdi? Or, what is the correct ratio of water to sabudana (sago pearls)? I know this feeling, and I can help you with the answer.
How to soak Sabudana for khichdi (sago)?
Many people use the 1:1 ratio for sabudana soaking. It means, 1 cup water for 1 cup of sabudana. However, in my personal experience, this soaking ratio doesn't always work. 
It's because, not all the quality and variety of sabudana is the same. Thus it is really hard to get the best results every time when using the 1:1 ratio. If the water is less for sabudana then they won't turn soft, and if water is more for sabudana, then it will turn gooey, sticky, and lumpy. Also, for some pearls, 2 to 3 hours soaking time works, for others, it is not quite enough. 
I know, soaking the sabudana according to their type is a tricky business. So the fail-proof method of soaking sabudana I am sharing today would work on all types of sago (tapioca pearls).
The good news is that you don't have to study the variety and type of sabudana to soak them accordingly. I have learnt over the years  that the best approach is to not measure the water when soaking sabudana. 
You can use approx 3-4 cups of water. No need to measure it really. When you add extra water for soaking, then the sabudana absorbs the required water and then you drain off the excess water and starch.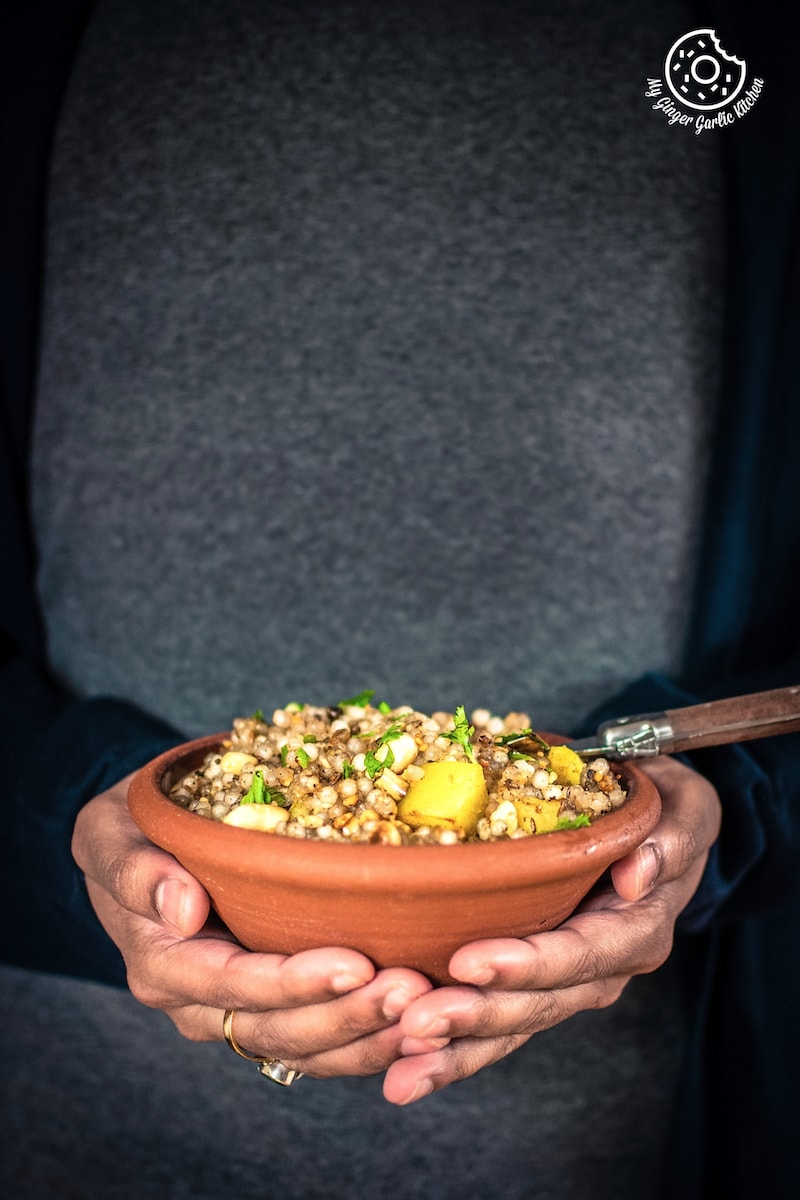 How to soak Sabudana in water the fail-proof way?
Rinse sabudana well. Add sabudana to a mixing bowl. Then add 3-4 cups of water. Cover the bowl with lid, and soak rinsed sabudana covered for 3 hours. After 3 hours, sabudana will be soft and easily breakable when pressed between the index finger and thumb. This is the time when you need to drain the excess water.
Now, here is the secret: Drain off 95% of the water and cover the bowl partially for 1-2 hours. This partial soaking under partial covering would give you the desired results. 
Preparing sabudana khichdi requires some pre-planning. And that is soaking sabudana. Soaking sabudana is the trickiest part because not soaking sabudana (tapioca pearls) perfectly can end up giving you sticky pearls.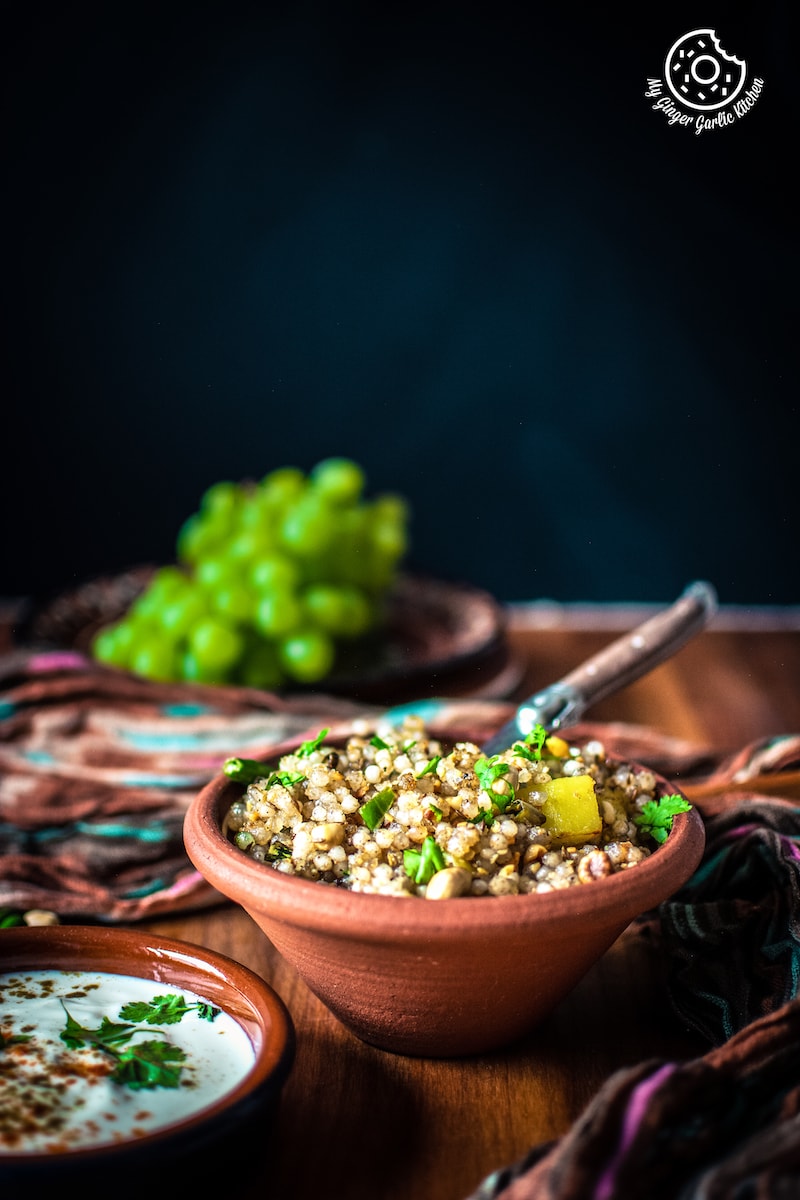 Are sabudana/tapioca pearls healthy?
Yes, they are really healthy. Here are some benefits you can get while consuming your favorite dish using tapioca pearls:
Tapioca is gluten-free, nut-free, and grain-free. Thus, it is free of common allergens.
Tapioca is cholesterol-free. Thus, it is heart healthy.
It has a good amount of dietary fiber which can help in lowering cholesterol, maintaining blood sugar levels, and preventing constipation.
Tapioca is light and easy on the stomach and hence, it is easier to digest.
This is also a good source of calcium, that's why it helps in building strong bones and teeth.
What are the tips and variations to Make Best Non-Sticky Sabudana Khichdi?
Soak the sabudana overnight for at least 4 hours or more if needed. You can add 1-2 tbsp of more water if the sabudana is still not perfectly cooked after 4 hours. 
Always rinse sabudana well under cold running water before soaking them. This rinsing process would wash away all the starch. 
After tossing the sabudana, don't stir it too much. Also, don't overcook. Then only cook covered for 2-3 minutes over medium-low heat. These few minutes would make pearls translucent. This way your sabudana won't stick together and you will get beautiful separated pearls.
I have used boiled potatoes for this recipe, because I simply like the taste of boiled and sauteed potatoes in my khichdi. However, you can also use raw potatoes for this recipe. 
Using raw potatoes take longer time in cooking. So keep that in mind while making this recipe when using raw potatoes.
Fresh mint leaves can also be added to this recipe.
Don't use too much oil for making sabudana khichdi.
I don't add red chili powder to my khichdi, but you can use it.
Here I have used a combination of black salt and rock salt (sendha namak). But some people don't use black salt during fasting. So feel free to use the salt of your choice.
I personally like the combination of coarsed and whole roasted peanuts in my sabudana khichdi. This gives a nice nutty texture and taste. If you feel, you can only use one type of roasted peanuts instead of their combination.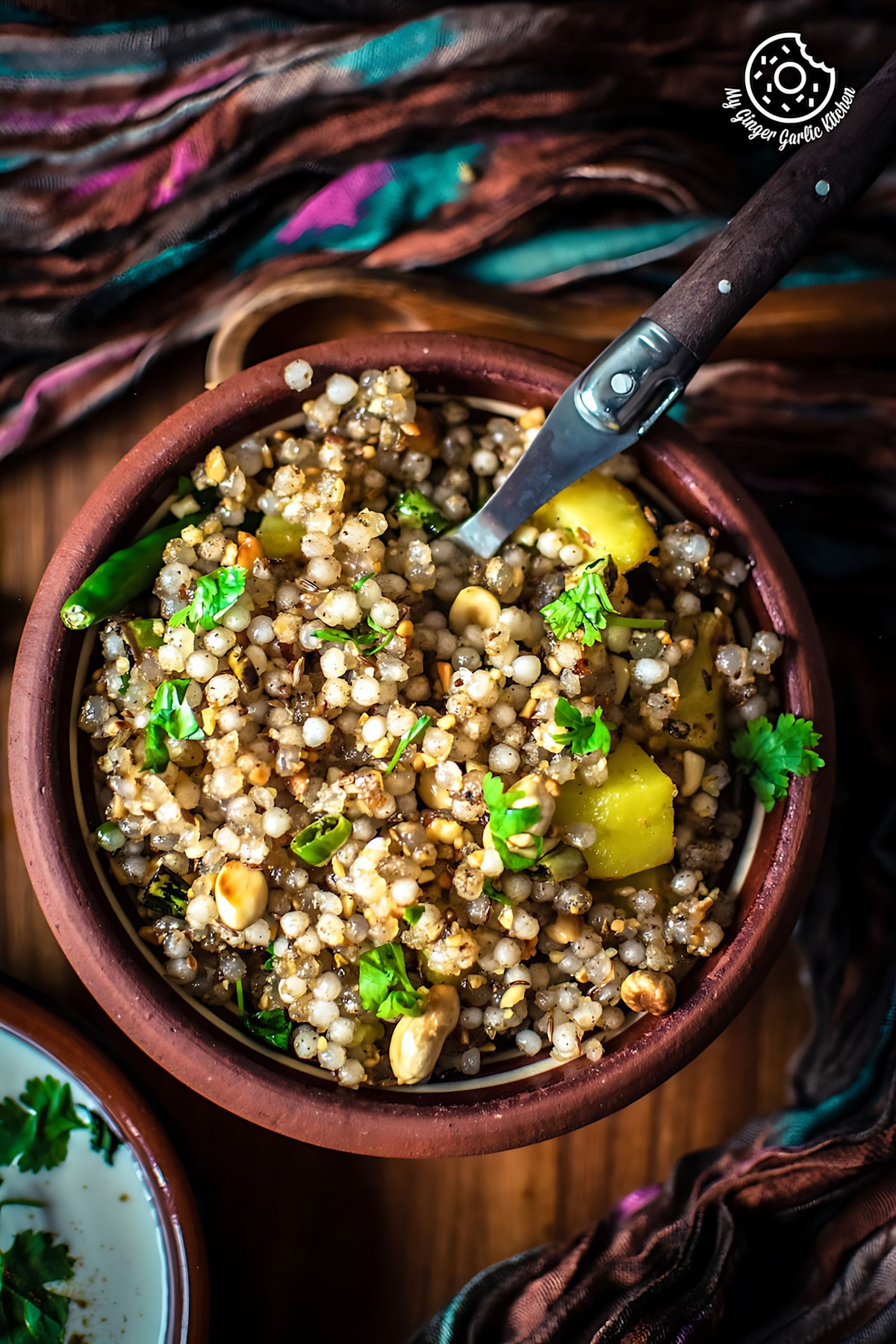 Other fasting recipes, you may also like:
Sabudana Khichdi - Tapioca Pearl Stir-Fry

[Recipe]
This popular Sabudana Khichdi is made with sago pearls, potatoes, peanuts and some seasonings. It is prepared during Indian fasting seasons like Navratri.
---
★★★★✰
(Rating:
4.3
from
49
reviews)
---
| Prep time 🕐 | Cook time 🕐 | Total time 🕐 |
| --- | --- | --- |
| | | 25 mins |
| Category ☶ | Cuisine ♨ | Serves ☺ |
| Snack | Indian | 4 |
| Nutrition Info ⊛ | | Serving size ⊚ |
| 485 calories | | 1 bowl |
---
INGREDIENTS
For Sabudana Khichdi:
1 cup sabudana (sago/tapioca pearls)
2 medium-sized boiled, peeled, and cubed potatoes (aloo)
3 tablespoons oil or ghee
1 teaspoon cumin seeds (jeera)
3 green chilies (hari mirch) chopped
Salt to taste (I used a combination of rock salt and black salt)
3 tablespoons roasted peanuts (moongfali), coarsely powdered
2 tablespoons roasted peanuts (moongfali), whole
2 teaspoon lemon juice (neembu ka ras)
2 tsp sugar (pisi hui shakkar), optional
---
INSTRUCTIONS:
How to soak sabudana:
Add 1 cup sabunda (tapioca/sago pearls) to a large mixing bowl.




Rinse sabudana well under running water until you get rid of all the starch.




Add 3-4 cups of water to the bowl.




Cover the bowl and set aside for 3 hours.




After 3 hours drain off 95% percent of the water and partially cover the bowl.




Set aside for 1-2 hours or until sabudana is soft.



How to Make Sabudana Khichdi:
Heat 3 tablespoons oil in a broad non-stick pan over medium-low heat.




Once the oil is hot, add cumin seeds to it.




Sauté for few seconds or until browned.




Add chopped green chilies to it, and saute for 3 minutes.




Now add boiled, peeled, and cubed potatoes to it and saute for 3-4 minutes. (You can also use raw potatoes.)




Add roasted and coarsely powdered peanuts and roasted whole peanuts to it. Sauté for 2 minutes.




Now add soaked sabudana, salt, and ground black pepper.




Stir everything well to combine.




Cover the pan with a lid and cook for 2-3 minutes or until sabudana is translucent. (Do not overcook)




Add lemon juice, powdered sugar, and mix everything well.




Stir lightly and cook for 1 minute and turn off the heat.




Turn off the heat and add coriander leaves.




Serve sabudana khichdi hot with chilled yogurt and hot tea.

---
WATCH RECIPE VIDEO: Click the play button and video will load ...
---
NOTES:
You can replace boiled potatoes with raw potatoes.

Adding sugar is optional, so if you don't like sweetness in khichdi, then you can surely skip it.

Feel free to add red chili powder, if you wish.

Don't overcook sabudana pearls, otherwise, it would turn lumpy.

To check is sabudana is soaked, press a soaked sago pearl between your thumb and indexed finger, if it smashes up and turns floury, that means sabudana is softened and soaked properly. If sabudana is hard from the center then it requires more soaking. Add 1-2 tablespoons of water and soak for 1 more hour.
---
If this recipe helped you, then please spread the word by sharing and
subscribing
to us on YouTube to get more such Recipe Videos.
---
Your feedback is so helpful for me and other MyGingerGarlicKitchen readers. So, for Facebook and Instagram, please mention
@MyGingerGarlicKitchen
or
#mygingergarlickitchen
. I would love to see your photos. :)
---
Author:
Anupama
Recipe Source Link:
https://www.mygingergarlickitchen.com/sabudana-khichdi/
Date Published:
2019-10-01
• • • • • • • • • •