Rice Krispie Cornflakes Bhel is a healthy, guilt-free, gluten-free, dairy-free, vegan BHEL, which is bursting with so many delectable flavors and textures such as; crispy, crunchy, sweet, tangy and spicy.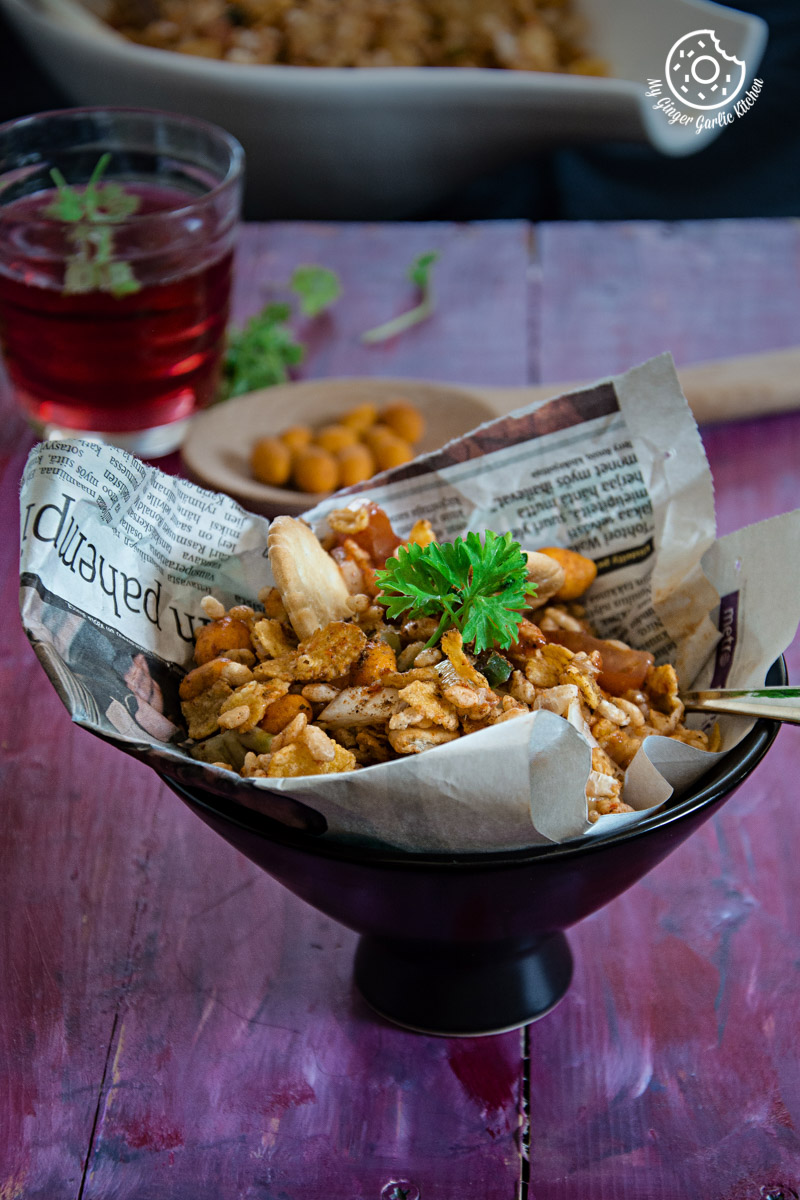 Welcome to this Monday. Does that mean it's time for an easy, simple, quick, flavorful, healthy and delicious recipe? The kind in which you literally just throw in everything and it's all ready to be eaten. It really could not be any simpler. Right?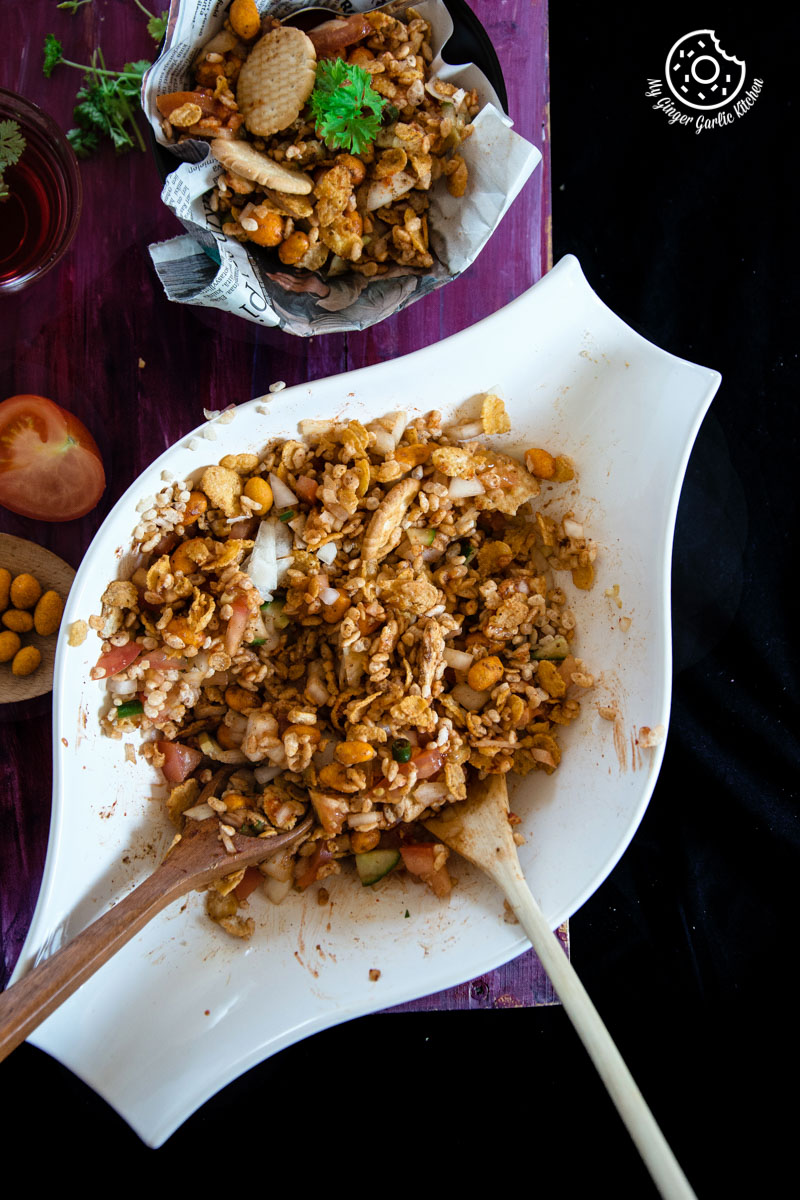 Street food: Let me claim one thing to you — this dish is TOOTHSOME! This is one of those staple recipes that everyone needs to have at hand. So here I come with this very simple and mouthwatering dish. My today's share is a twist on the taste of very famous 'Indian Bhel'. A well liked Indian street food!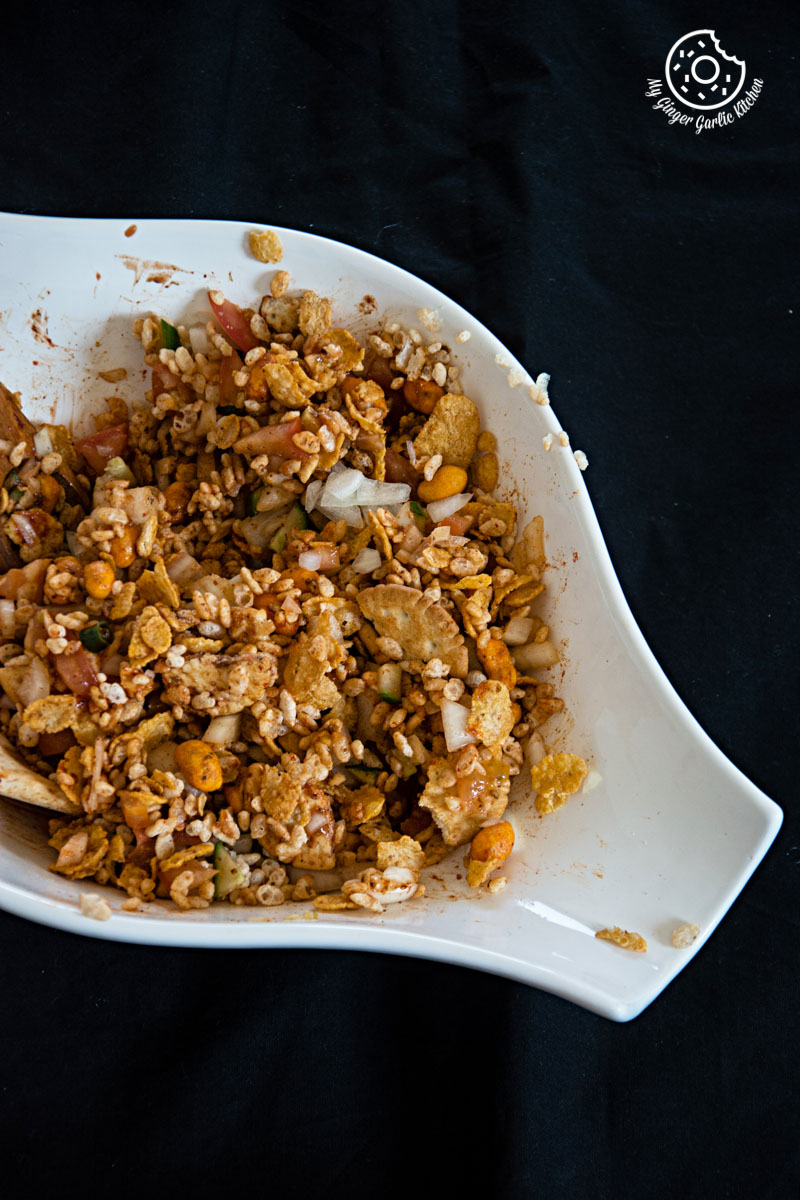 The name of dish is 'Rice Krispie Cornflakes Bhel'.
But why would you want it? Here are some reasons:
*You would want to have it if you are bored with regular cereals.
*Or you find a bowl of corn flakes with milk/yogurt boring.
*Or simply want to explore more dishes with cereals.
*Or you haven't had savory – spicy dish made with cereals, ever.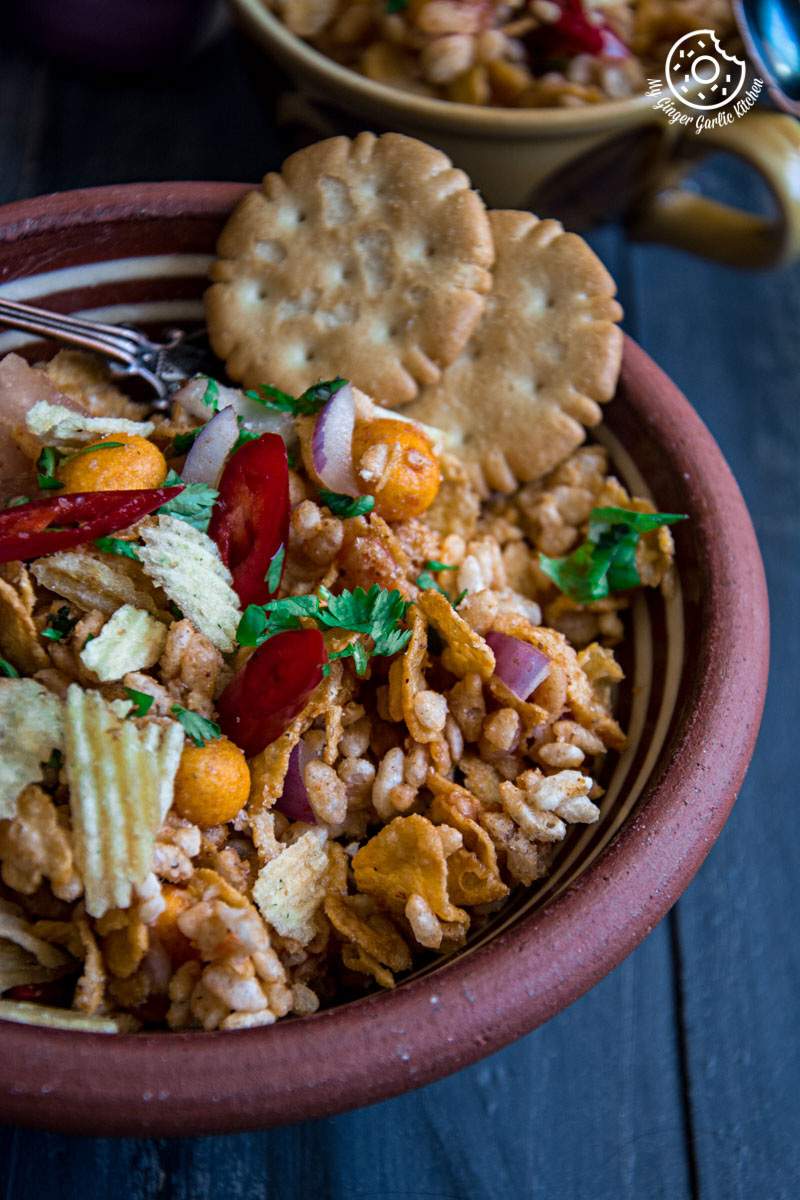 Making it is super quick: If any of the above resonates with you, then I would propose you to try this healthy and delicious bhel for brunch, evening snack or tea time snack. I certainly don't mind eating it even for breakfast. And why not, it's so full of cereals, and veggies. And the good news is that this is ready in 5 minutes.
A perfect light meal: Try this for breakfast, brunch, evening snack or tea time snack, or even late night snack. If you love chilies than this is the perfect recipe for you. And if you don't, than simply omit that and you still can enjoy this yummy cereal and veggie goodness.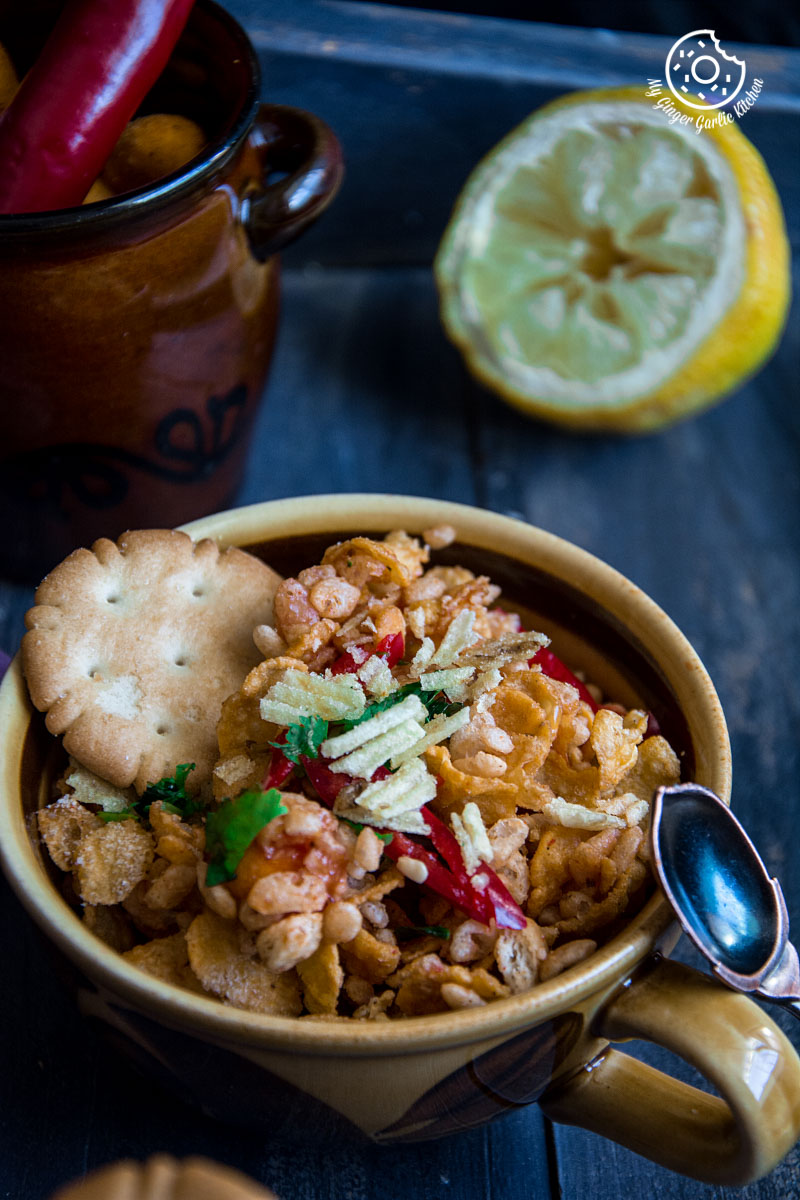 Feel free to use your favorites: The rice krispie have their own texture and taste, but you can use the same recipe with any other cereals as well. This time I brought a mixture of rice krispie, corn flakes, chili nuts, ritz crackers, onions, tomato, cucumber, some awesome spices along with sriracha sauce and tomato ketchup. A squeeze of lemon and the best cereal bhel ever, is ready.
Delectable Bhel: We all know that cereals are rich in fiber and have many health benefits. So I loaded this bhel with cereals — Corn flakes and rice krispie. They are an interesting addition. They also add a nice texture to bhel. Thus I would call this recipe healthy as well as unbelievably delicious. And ritz crackers are just perfect, as they add an amazing crunch to it. You can add some different types of cereals to come up with your own crunchy bhel!
What is Bhel exactly?
Bhel is a very famous Mumbai (Indian) street food which is popular amongst everyone. This dish is a prime example of how a street food can be made super healthy. This is one of such quick and filling snacks which is made with easily available ingredients. It only needs the assembling of ingredients and you are done.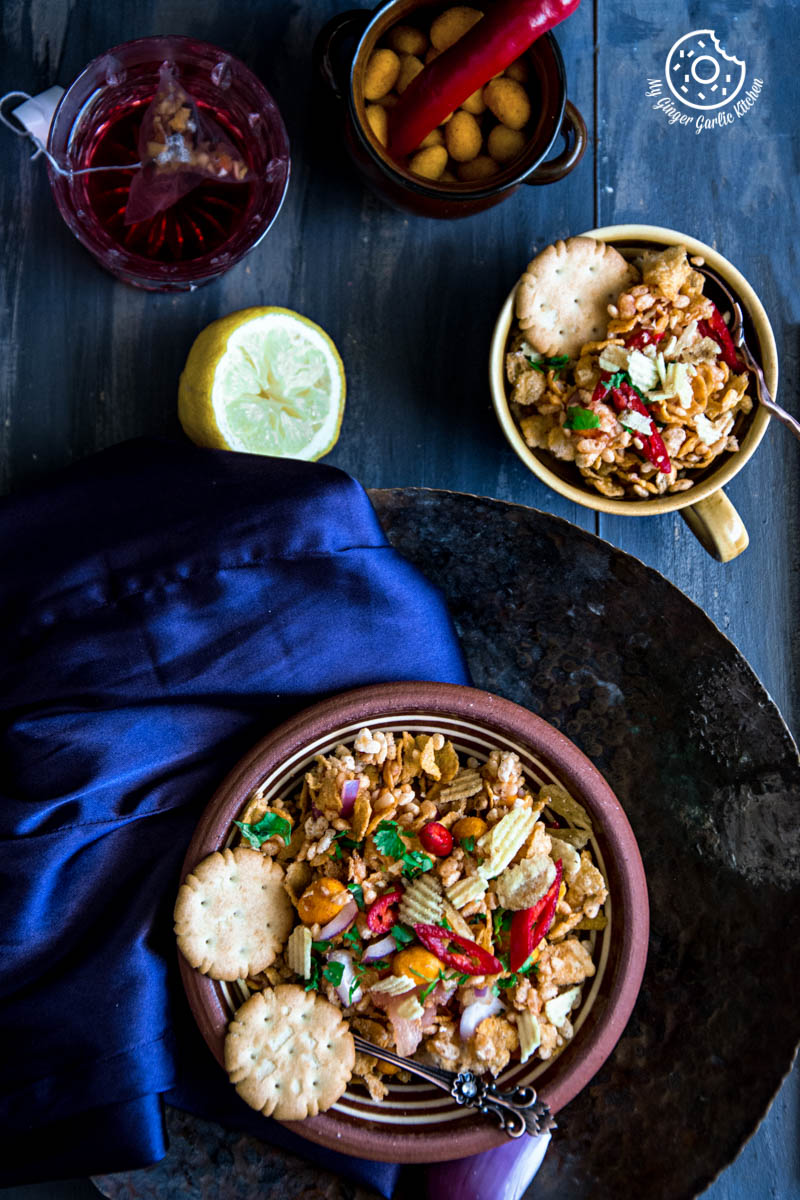 Types of bhel: There are two types of bhel – dry bhel and wet bhel. Dry bhel doesn't demand for any type of chutney, but wet bhel does. And you can simply add or omit few ingredients depending upon your choice and its availability. You can add or skip many veggies in this recipe. You can also add yogurt in it if you wish.
Healthy and tasty: This healthy and tasty bhel is a real super simple recipe. If you have chopped your veggies, then this bhel is ready in just 5 minutes. This specific version is my family's favorite one. Whenever I am super hungry, and don't have time to cook anything, I go for this. More so when I crave for something filler with spice kick, I blindly go for this bhel.
Twist: This particular recipe is the twist on the traditional wet bhel. Chutneys (green chutney + tamarind chutney) are used in wet bhel, so instead of any chutneys, I added something intriguing which almost everyone likes. Follow along to know what it is.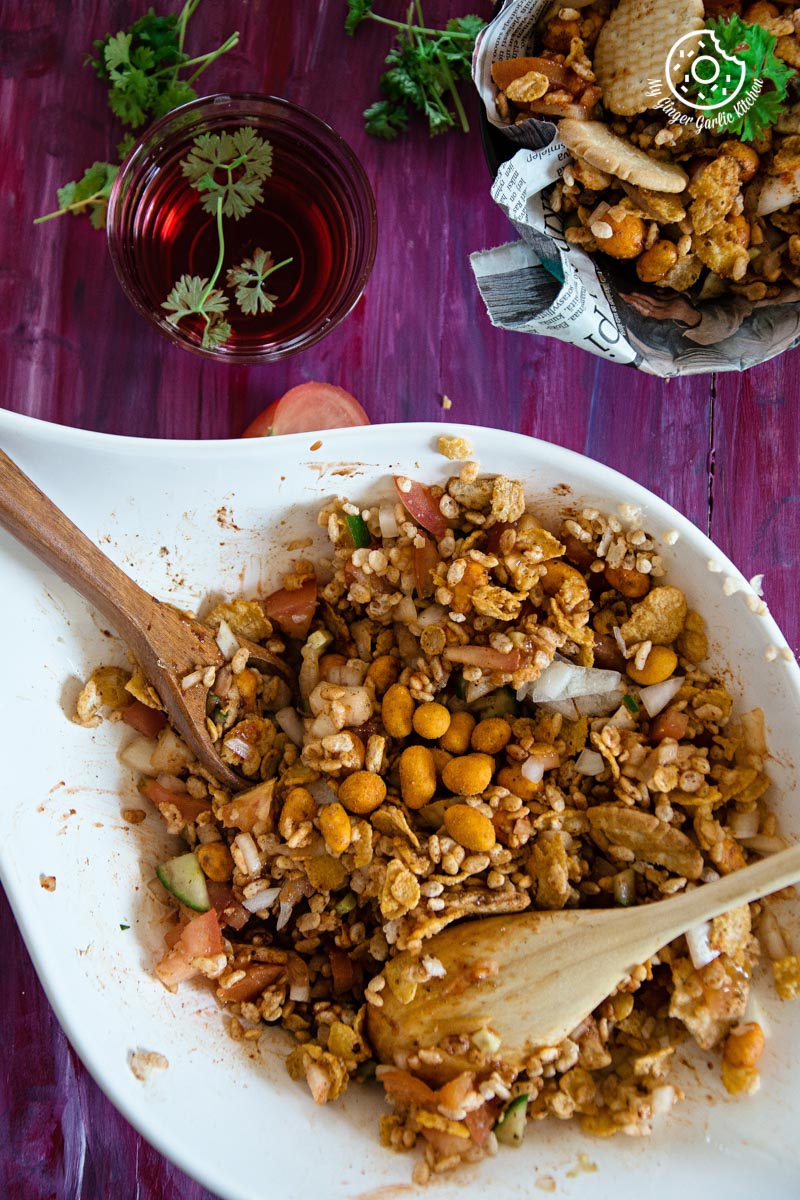 But first, let me tell you how I twisted this wet bhel recipe.
Rice puffs are used in traditional bhel recipe. I exchanged that with rice crisps and added cornflakes for more texture, taste and health.
People add papdi (fried crisp flatbread) in traditional bhel, but I substituted that with ritz crackers. It adds so much of crunch.
Namkeen is added to the traditional recipe. But rather than using any namkeen I used chili nuts for that extra flavor punch.
Green and tamarind chutneys are used in traditional bhel. I omitted both chutneys and added sriracha sauce and tomato ketchup. It needs to be served immediately before it gets soggy.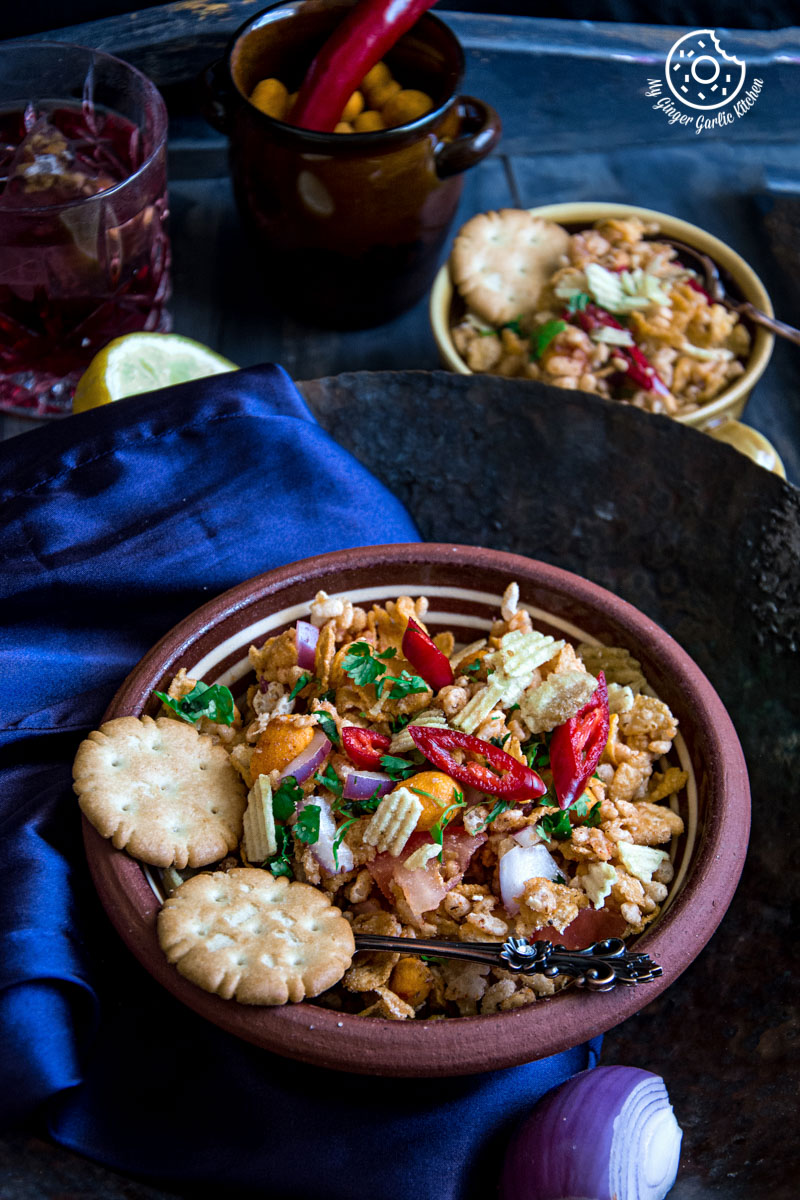 Rice Krispie Cornflakes Bhel is a very healthy alternative to those fried chaat recipes like bhel puri, or sev puri. It has all the flavors, taste and crunch that you'd expect in any chaat like item.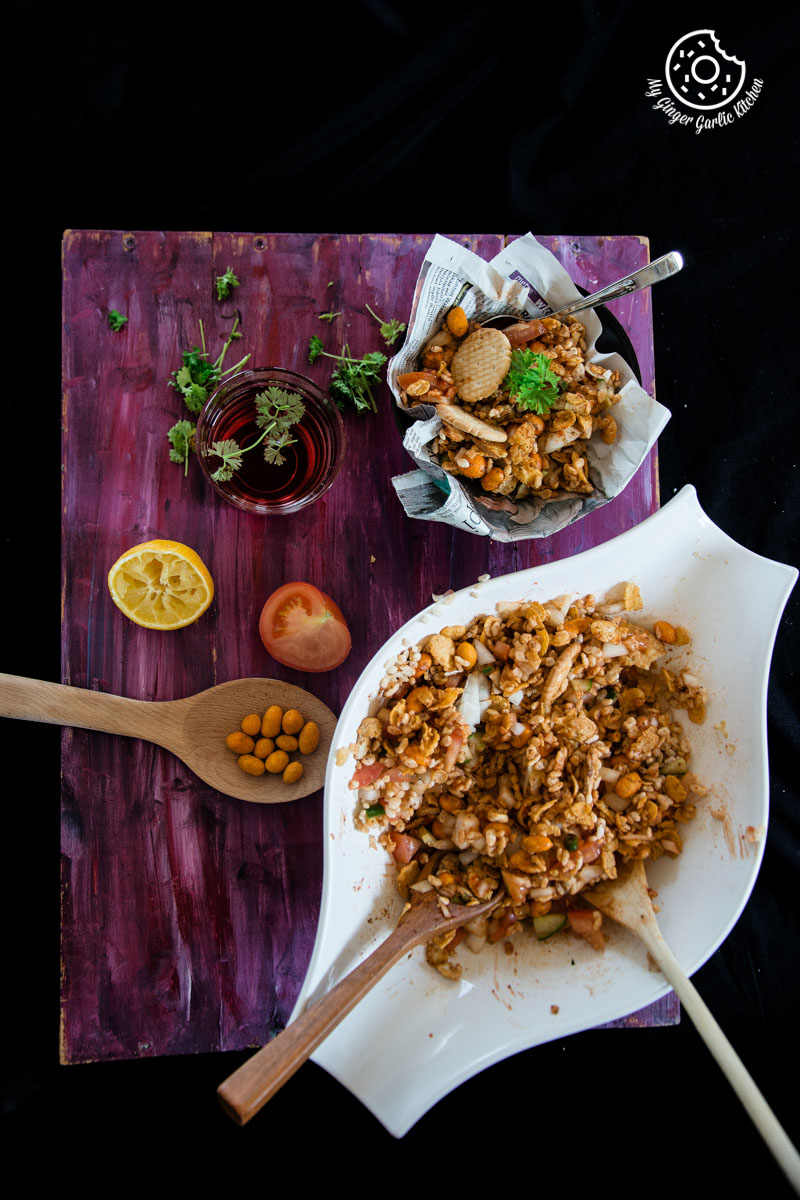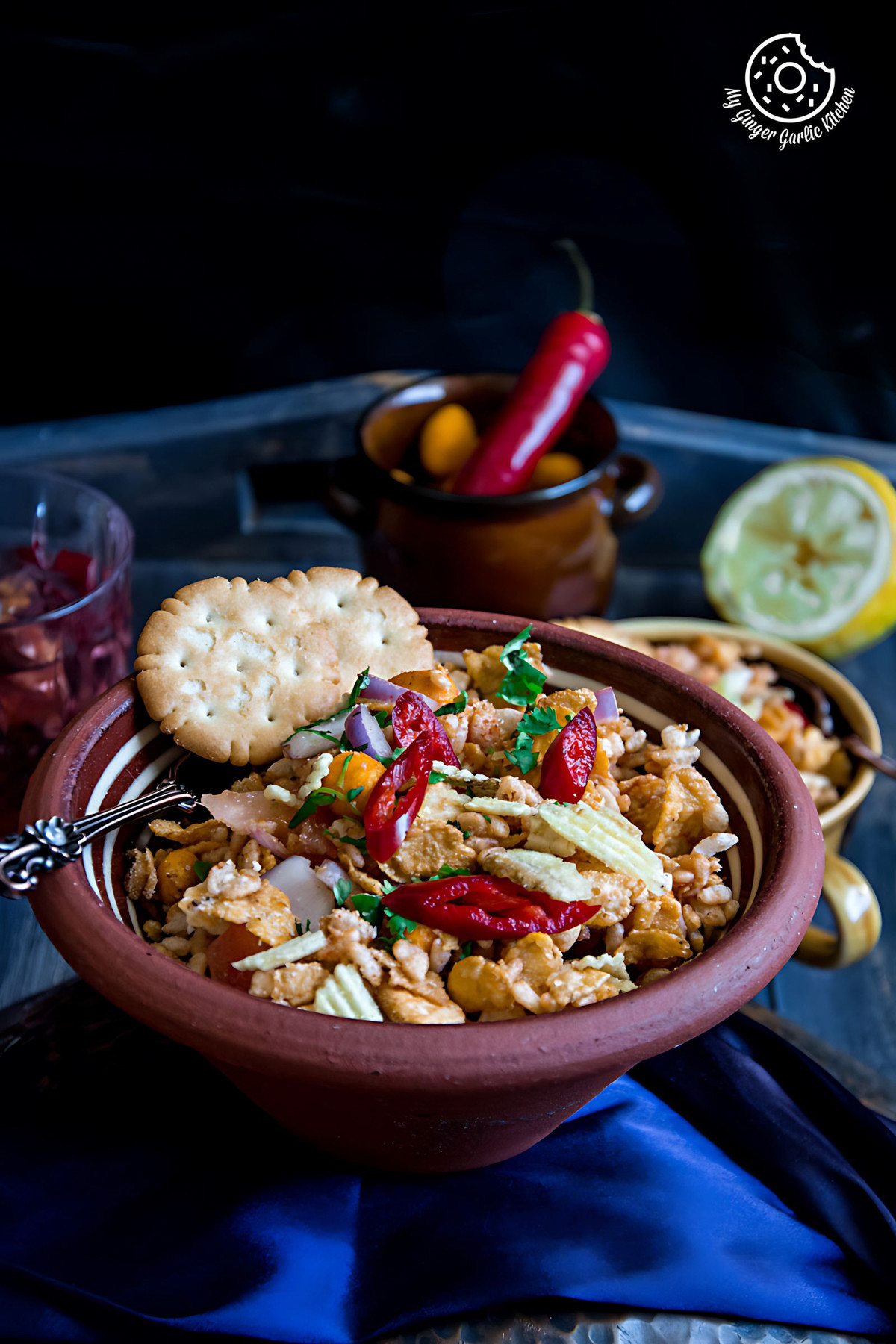 Rice Krispie Cornflakes Bhel

[Recipe]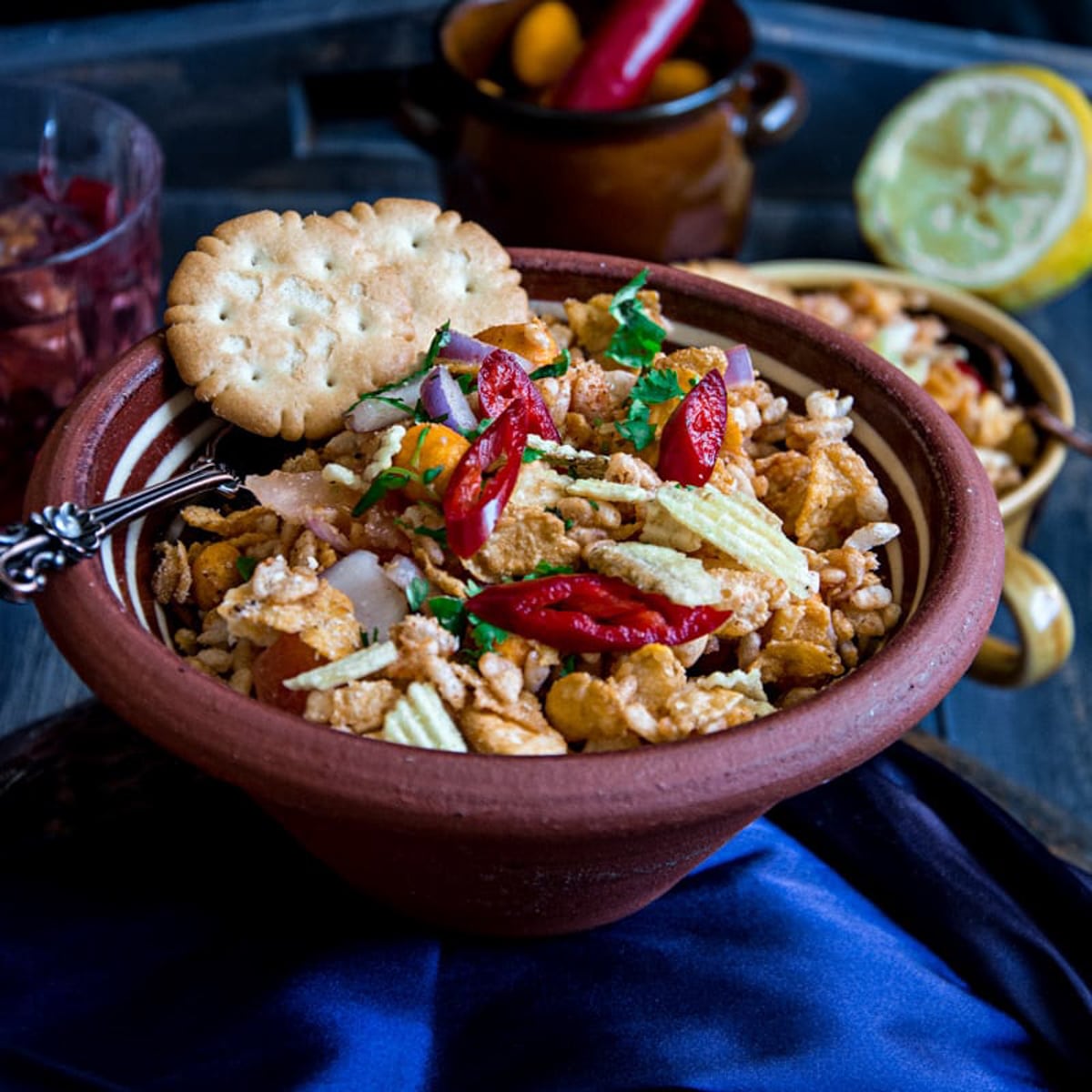 This is a healthy, gluten-free, dairy-free, vegan snack made with rice krispie and cornflakes. It has tangy and spicy flavors and crispy, crunchy texture.
---
★★★★✰
(Rating:
4.2
from
54
reviews)
---
| Prep time 🕐 | Cook time 🕐 | Total time 🕐 |
| --- | --- | --- |
| | | 10 mins |
| Category ☶ | Cuisine ♨ | Serves ☺ |
| Snacks | International | 4 |
| Nutrition Info ⊛ | | Serving size ⊚ |
| 161 calories | | 1 serving |
---
INGREDIENTS
For Rice Crisps Cornflakes Bhel //
Cornflakes - 1 cup
Rice Crisps, or krispies - 1 cup
Onions, finely chopped - ¾ cup
Tomatoes, finely chopped - ¾ cup
Cucumber, finely chopped - ½ cup
Green chillies finely chopped - 2
Chili nuts - ½ cup
Ritz crackers - 8-10
Sriracha sauce -1½ tbsp
Tomato ketchup - 4-5 tbsp
Black salt or sea salt to taste
Cumin powder - 2 tsp
Red chili powder - 1 tsp
Chat masala powder - 2 tsp
For serving //
Lemon, deseeded
Chat masala powder
Freshly chopped coriander (cilantro) leaves
---
INSTRUCTIONS:
Making Rice Krispie Cornflakes Bhel //
Add cornflakes, rice crisps, onions, tomato, cucumber, green chili, chili nuts, broken ritz crackers, black salt, cumin powder, red chili powder, chat masala, sriracha sauce and Tomato ketchup.




Toss well to combine.




Transfer into a serving bowl, squeeze lemon juice and sprinkle some chat masala powder.




Garnish with coriander leaves and and serve immediately.



---
WATCH VIDEO:
---
NOTES:
No notes for this recipe.
---
If this recipe helped you, then please spread the word by sharing and
subscribing
to us on YouTube to get more such Recipe Videos.
---
Your feedback is so helpful for me and other MyGingerGarlicKitchen readers. So, for Facebook and Instagram, please mention
@MyGingerGarlicKitchen
or
#mygingergarlickitchen
. I would love to see your photos. :)
---
Author:
Anupama
Recipe Source Link:
https://www.mygingergarlickitchen.com/rice-krispie-cornflakes-bhel-video/
Date Published:
2019-10-27
• • • • • • • • • •