Learn How To Make Masala Khichdi | Vegetable Khichdi Recipe with a simple video tutorial. This is a nutritious, comfy, spicy and tasty wholesome one-pot meal. This balanced one-pot dish is a combination of rice, lentils, vegetables and some essential spices. The combination of lentils (dal), rice (chawal), and veggies make Khichdi a complete meal.  This no-fail dish is the epitome of comfort foods all over India.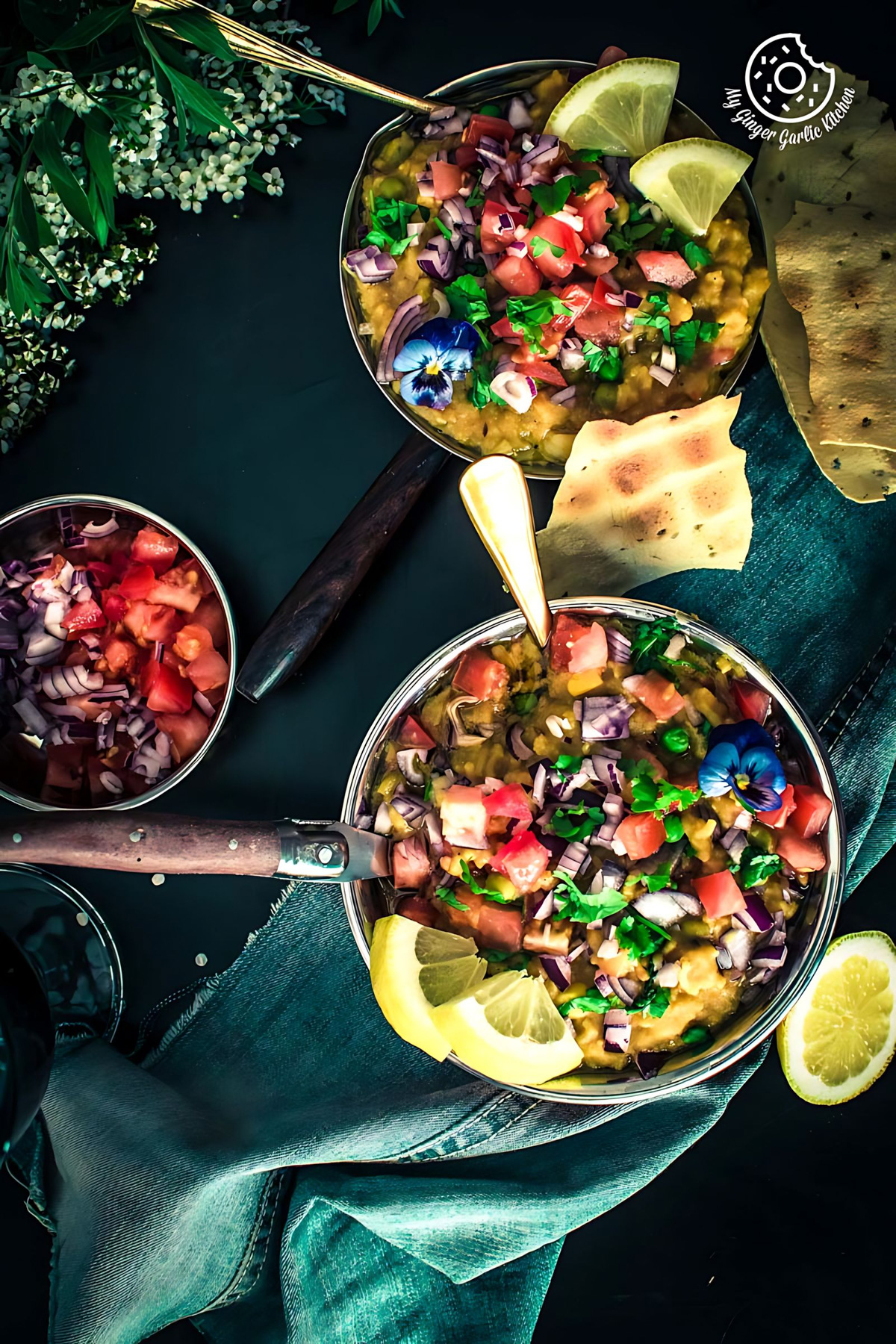 What is the difference between plain khichdi and masala khichdi?
Plain khichdi is made with the combination of rice, lentils, salt and wonder spice turmeric powder. Plain khichdi is very bland in taste. Whereas, this vegetable masala khichdi is a healthy but spicy variation of simple rice khichdi. This a medley of vegetables, dal, chawal, and flavorful spices.
Vegetables and masala are sautéed in ghee first and then washed dal chawal are added to the spicy masala and pressure cooked. This taste of khichdi is enhanced by the goodness of a ton of fresh vegetables.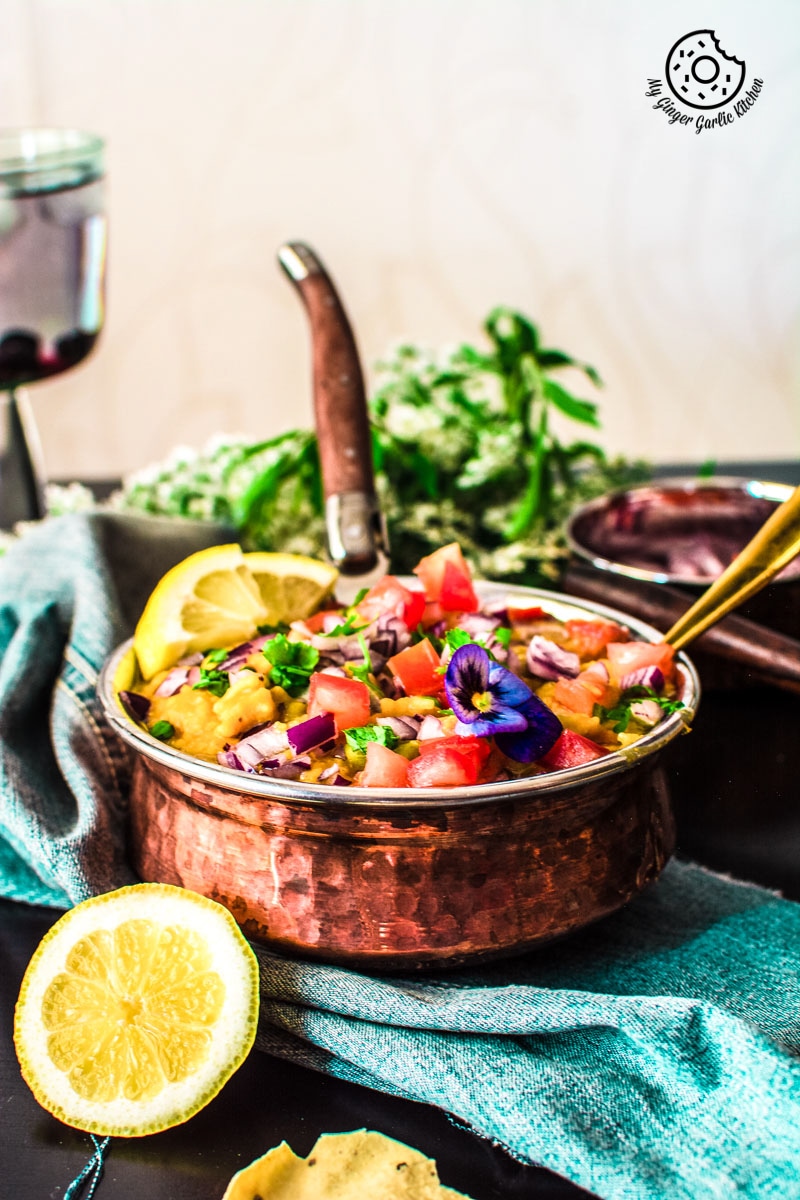 What is a khichdi (Kitchari)?
Khichdi is also popular as one of the Indian superfoods made with rice and lentils. Some even call it the queen of all one pot meals. In other words, this is an ideal comfort food of Indian cuisine.
What does Kitchari mean?
Kithcari means an easy to digest, healthy, nourishing and light meal made with a mix of rice and lentils or beans.
How do you make khichdi?
A Khichdi is a basic one-pot dish made of rice (chawal) and lentils (dal). Dal and Chawal are cooked together with some salt and essential spices such as cumin seeds and garam masala. I must say a plain khichdi this is sharply plain which is usually served to people when they are sick. This is so bland in taste, thus it is perfect for kids.
Is plain khichdi good for the babies?
Yes, khichdi is very good for the babies and the kids in general. In fact, this is the first solid food babies eat in India. In India, the khichdi which is given to babies does not have any spices except salt. It is pureed and has slightly liquid consistency.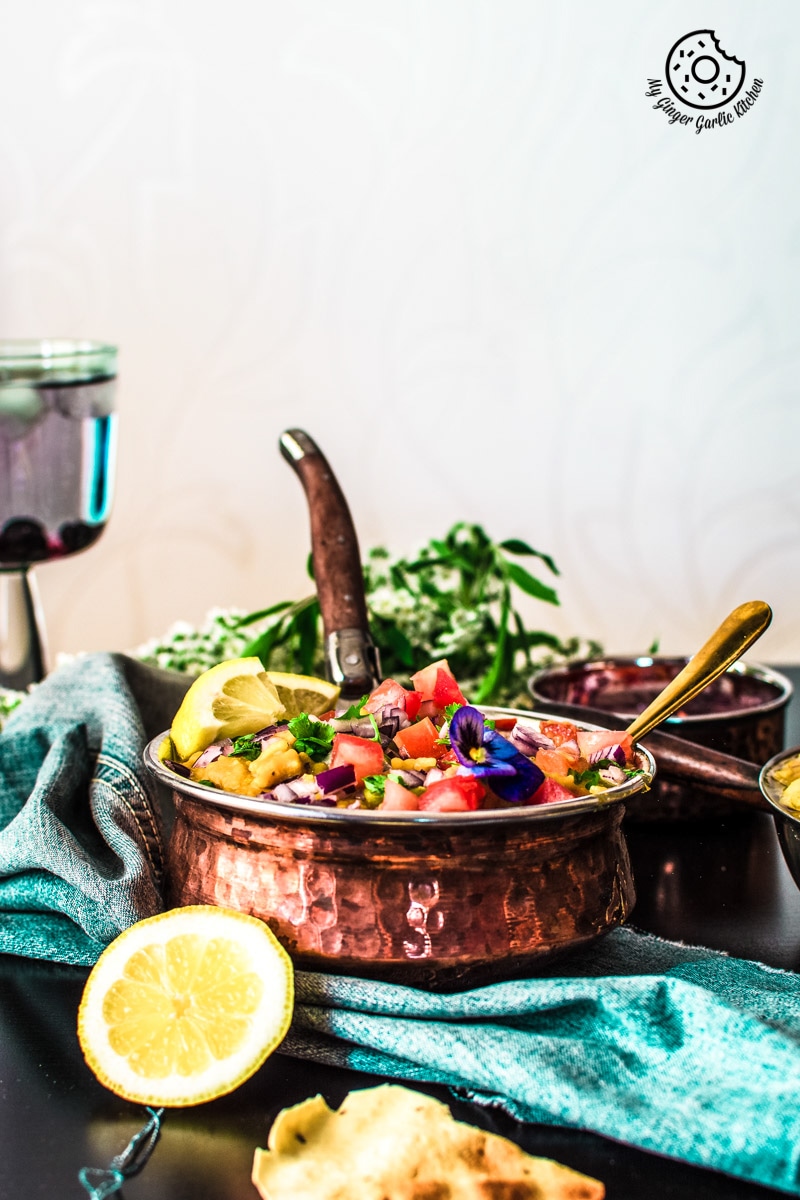 What is the right way to pronounce khichdi? What is the spelling of khichdi?
Well, there are many different ways to call the name of Khichdi. You can call it by, for example, Khichidi, khichuri, khichri, or kichri. In Bengal it is khichuri. In Tamil, this is known as Pongal. Khichdi or Khichda in Rajasthan. Khichri in Gujarat.  And in the English language, this is known as kedgeree.
How to make khichdi in a rice cooker?
Soak rice and lentils in water for 30 minutes. Then you need to follow the same steps which are shown in the recipe box on this page and cook according to the rice-cooker manufacturer's instructions.
How to make khichdi without a pressure cooker?
Making this khichdi or any other khichdi without pressure cooker is very simple and easy. This is best cooked in a pressure cooker, but I would say that an Instant Pot is a perfect appliance for cooking Khichdi. You can also cook it in a thick bottomed deep pot, or even in a rice cooker. This is very easy.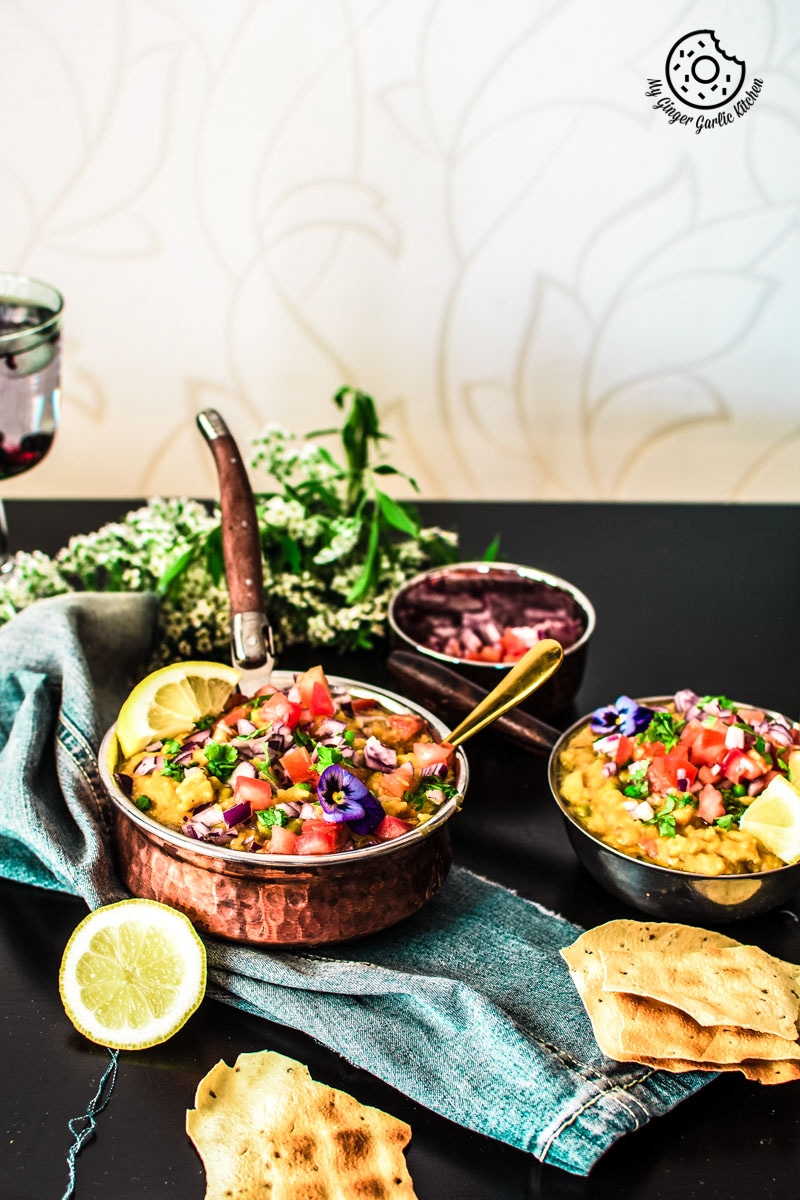 Is it necessary to use a pressure cooker for this masala khichdi recipe?
No, it's not. I use the pressure cooker because things are little faster this way. It works wonders especially on the days when you are so hungry and don't have so much energy and time to cook. This makes a great satisfying meal on a busy day. But you sure can make this khichdi in any other pot or pan. Khichdi is also a perfect meal option when you are looking for a light, comfy, and satisfying meal.  
What types of vegetables can be used for making vegetable masala khichdi?
You can add any of your favorite vegetables to this khichdi. I have used corn, green peas, cauliflower, potatoes and carrots for this masala khichdi recipe. The other vegetables which taste good in this khichdi are spinach, beetroot,  french beans, capsicum, and broccoli.

What should be the perfect texture and consistency for masala khichdi?
The authentic textured khichdi is slightly mushy and soft, just a melt in your mouth kinda stuff. But its consistency depends on the way you like it. Some people like it smooth such as porridge, while others, want it slightly solid like a pulao.
I personally prefer to eat any khichdi in a porridge-like consistency. You can adjust the consistency to your liking by changing the amount of water added.
How many ways are there to cook khichdi?
A basic khichdi is a combination of rice (chawal) and (dal) aka lentils. There are some other types of khichdis, as follow:
Vegetable Khichdi: This is a single pot dish whose vegetarian deliciousness really needs no gold-plating. In this khichdi, rice, lentils, vegetables, and some spices are cooked together.
Sabudana Khichadi: This khichdi is made with sago pearls,  potatoes, and peanuts. This is a khichdi which is usually served during fasting days. During such days, some Hindus avoid eating grains. Thus, they eat this Sabudana Khichadi made from Sago Pearls or Tapioca balls.
Dalia: It is a porridge or a cereal dish which is made from cracked, broken, or crushed wheat. This is either sweet or salty. This is one of such dishes which can be eaten for breakfast, lunch, and dinner. Dalia is sometimes also made with barley pearls.
Then there is also moong dal khichdi, dal khichdi, chilka dal khichdi, mix dal khichdi, and many more
Some of the other khichdi recipes which are made with the grains other than rice are; Bajra Khichdi, Jowar Khichdi, and Jau Khichdi.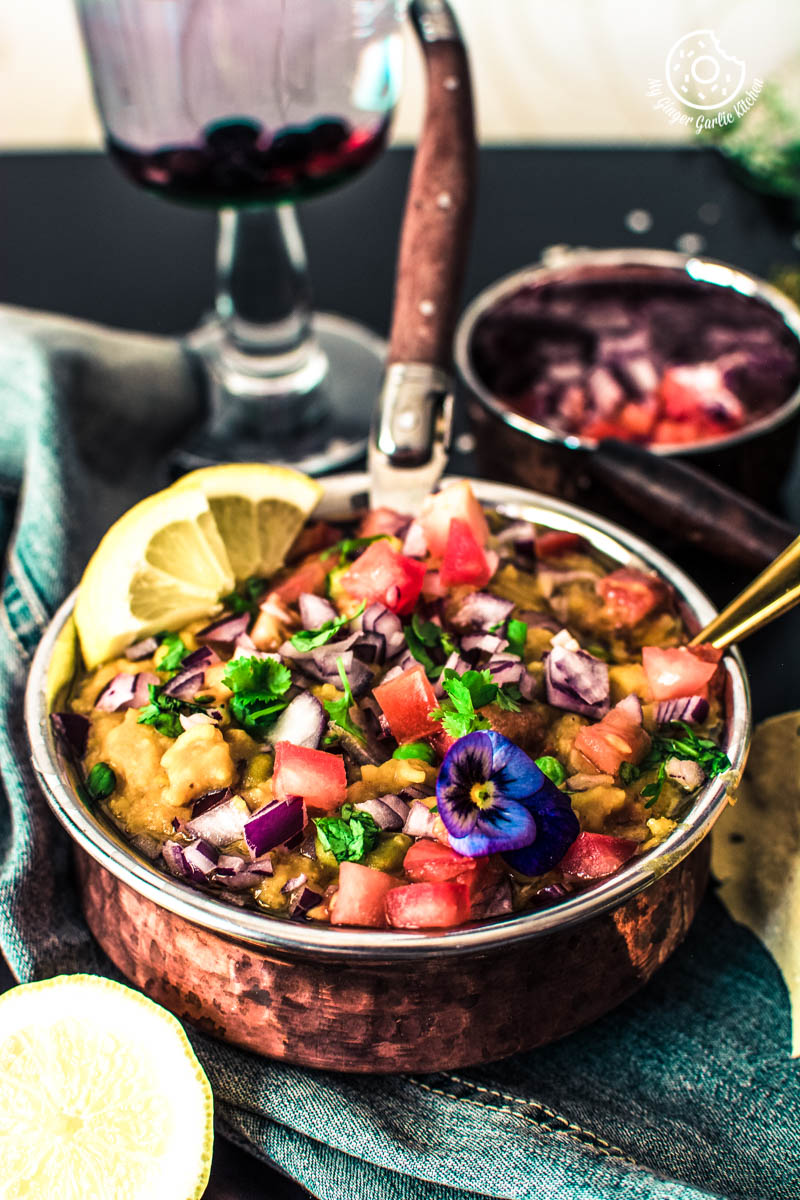 How to serve masala khichdi?
Masala khichdi is best served hot/ warm drizzled with some ghee. You can also dress it up with some coriander leaves, onions, and tomatoes. And then you simply need a spoon to gobble it up.
But if you want more flavors and textures, then serve khichdi with some roasted poppadoms, some salad, and plain yogurt or raita.
What are the benefits of eating khichdi?
Khichdi is healthy and nutritious one pot meal. It has just the right amount of protein, carbs, and fiber. This is also so light on the stomach, thus it is very easy to digest, which makes it a great meal for babies and the elderly.  This is complete, gluten-free and vegetarian, and can be made vegan if you use any plant-based oil instead of clarified butter aka ghee.

What type of rice is good for making khichdi?
Traditionally, for making any kind of khichdi, short grain rice is used. This time I have used long grain rice, but I use both long grain and short grain. You can also use any of your favorite brown rice.
In short, you can use any of your favorite rice.
Is addition of ghee necessary for making this masala khichdi?
I would say that the addition of Ghee or clarified butter is essential while making any kind of khichdi recipe. But if you want to use oil, then you can surely replace ghee with oil, it would still taste delicious.
Some wonderful tips for making masala vegetable khichdi at home:
I added some whole spices to this recipe because they give a wonderful aroma to the dish, but you skip them if you don't like whole spices.
I have used fresh vegetables for making vegetable masala khichdi, but you can surely use frozen vegetables as well.
I have made khichdi with an equal part of rice and lentils, but you can also cook this with 1 part lentils and 2 parts rice.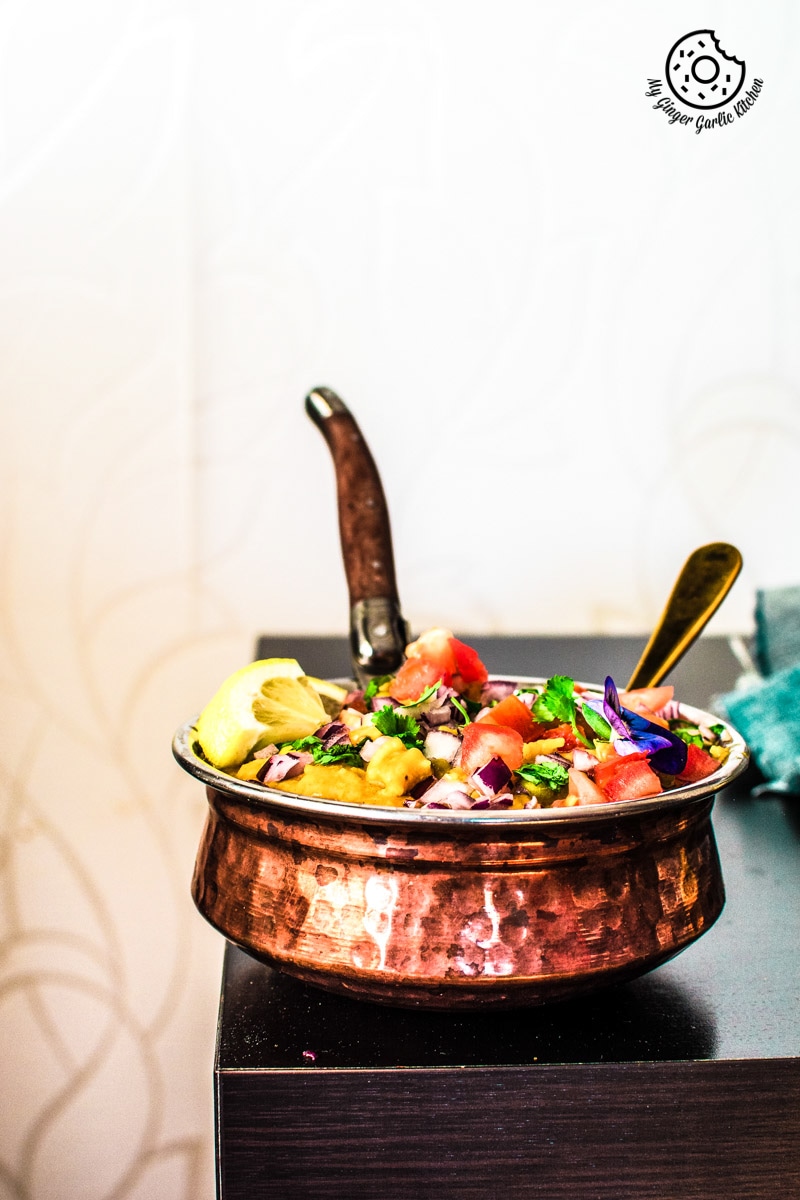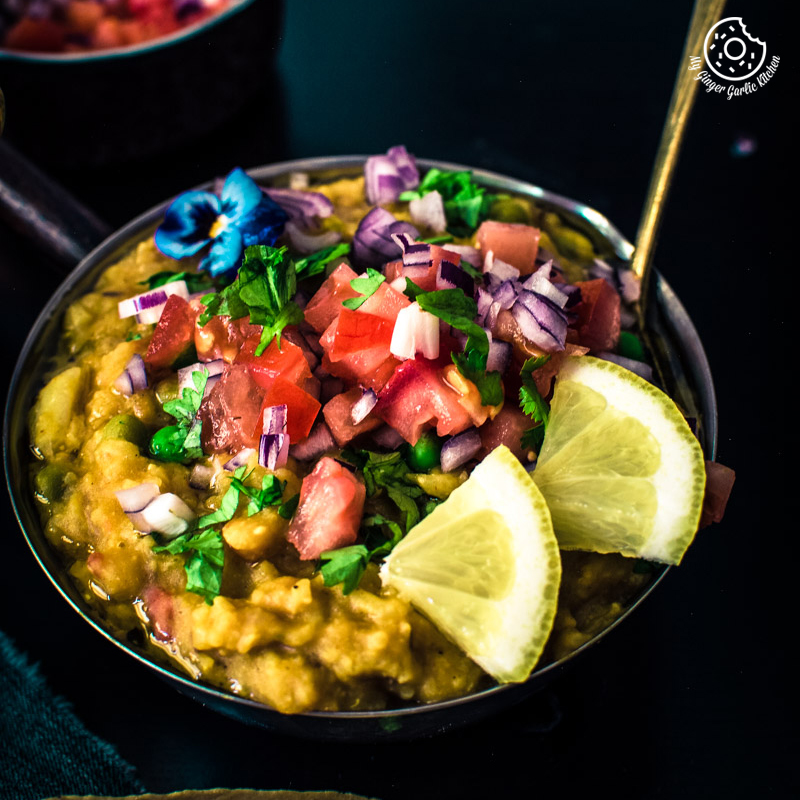 How To Make Masala Khichdi (Vegetable Khichdi Recipe)

[Recipe]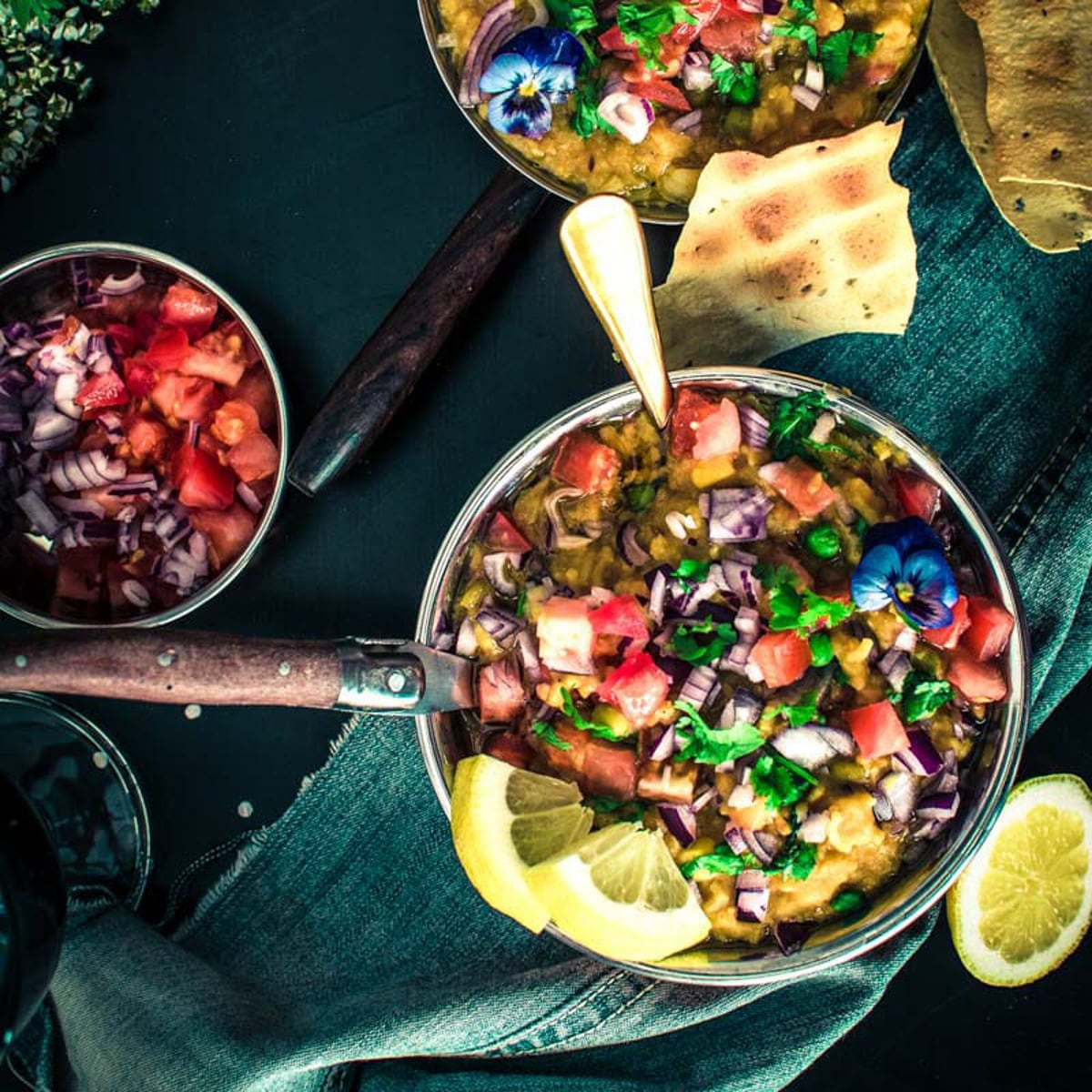 This Vegetable masala Khichdi is a delicious nutritious, comfy, spicy and tasty wholesome one-pot meal. It tastes good with raita, papad and pickle.
---
★★★★✰
(Rating:
4.2
from
330
reviews)
---
| Prep time 🕐 | Cook time 🕐 | Total time 🕐 |
| --- | --- | --- |
| | | 30 mins |
| Category ☶ | Cuisine ♨ | Serves ☺ |
| Main | Indian | 4-5 |
| Nutrition Info ⊛ | | Serving size ⊚ |
| 305 calories | | 1 serivng |
---
INGREDIENTS
For Masala Khichdi:
3/4 cup toor dal (pigeon pea)
3/4 cup rice (I used long grain rice)
3 tablespoon ghee / oil
1 bay leaf
3 red chillies dried
2 green cardamom
1 teaspoon cumin seeds
Pinch of asafoetida
1 cup onions chopped
3 small green chilies, slitted
1 tablespoon ginger, chopped
1 tablespoon garlic
1 cup tomatoes, chopped
1 teaspoon red chilli powder
1/4 teaspoon turmeric powder
1 tablespoon coriander powder
1/4 teaspoon garam masala powder
Salt as per taste
For Serving:
Chopped coriander leaves
Chopped onions
Chopped tomatoes
---
INSTRUCTIONS:
Masala Khichdi:
Add rice and dal to a mixing bowl. Rinse well and set aside.




Heat ghee in a pressure cooker.




Add bay leaf, green cardamom, cloves, asafetida and cumin seeds.




Let the seeds splutter for a few seconds.




Add in the chopped onions and saute them for few minutes or until they turn translucent.




Add the green chilies and saute for a minute.




Add in the chopped garlic, and chopped ginger and saute for 2 minutes.




Add the chopped tomatoes and mix well. Let it cook for 3 minutes.




Add in the corn kernels, carrots, green peas, cauliflower, and potatoes.




Mix them well and cook for 3-4 minutes.




Add the red chili powder, Turmeric powder, coriander powder, garam masala powder, and salt.




Mix well and cook for 2 minutes.




Add washed dal chawal (lentils and rice) and mix it well.




Add 3.5 cups of water and mix well again.




Cover the lid and pressure cook for 4 whistles. Let the pressure cool off completely before opening the lid.




Open the pressure cooker and slightly mash khichdi with a ladle.




Transfer khichdi to a serving bowl and drizzle with some ghee.




Garnish with chopped coriander leaves, chopped onions, and chopped tomatoes.



---
WATCH VIDEO:
---
NOTES:
No notes for this recipe.
---
If this recipe helped you, then please spread the word by sharing and
subscribing
to us on YouTube to get more such Recipe Videos.
---
Your feedback is so helpful for me and other MyGingerGarlicKitchen readers. So, for Facebook and Instagram, please mention
@MyGingerGarlicKitchen
or
#mygingergarlickitchen
. I would love to see your photos. :)
---
Author:
Anupama
Recipe Source Link:
https://www.mygingergarlickitchen.com/how-to-make-masala-khichdi-recipe/
Date Published:
2020-09-22
• • • • • • • • • •