Jaipuri Mishri Mawa with Chocolate and Vanilla Cream + Video Recipe
---
Hello there!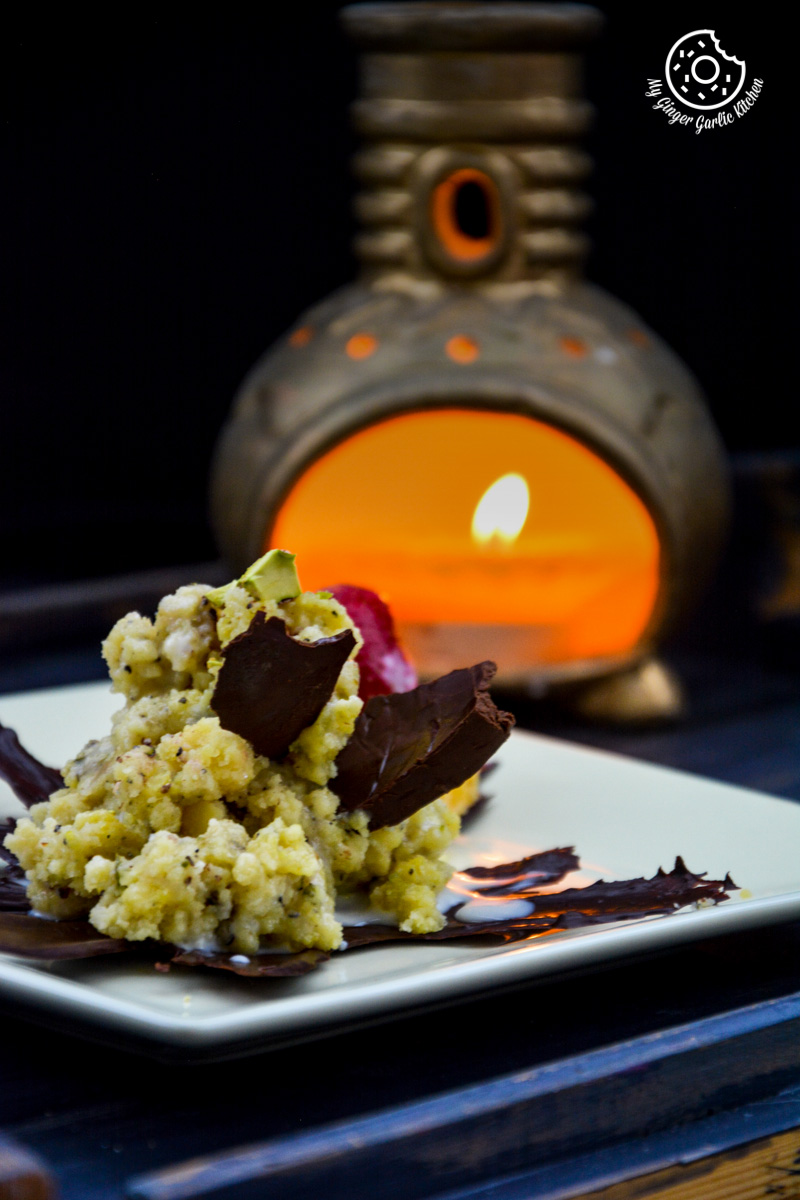 I am back after being somewhat inactive for last few days. Last week was Karwachauth, an Indian Hindu festival for couples, so couldn't post anything on last Friday. I can't tell you how much I missed you all. But now I am back. So we will have lotsa fun! 🙂
Festive season is knocking on the doors, and this spirit of festivity calls for some classic and delicate desserts.
So from today I will be sharing a lot of festive recipes till the festival of Diwali. And this is the only reason I planned to share some desserts.
I thought sharing something from my hometown Jaipur, India, would be an excellent idea.  And the very first thought of posting something easy and delicious from my hometown was the dish 'Jaipuri Mishri Mawa'. So here I bring to you a delicacy and taste of my hometown — 'Jaipuri Mishri Mawa'.  
What is Mishri Mawa?
'Mawa Mishri' or 'Mishri Mawa' is a traditional Rajasthani dessert made with solidified milk (mawa) and Mishri (crystal sugar). This is a traditional and lip-smacking dessert which a speciality from Jaipur, and is very easy to prepare.
It has very pleasant, creamy, rich & robust taste, which makes a delicious dessert totally irresistible. Plus this is not over sweetened. And it's decorated with pistachios and scented with cardamom and rose water.
A basic definition of this dish is — it's in short solidified milk with crystallized sugar lumps.
This sweet dish looks and sounds similar to another very popular Indian sweet dish, which is 'Kalakand'. Thus, people often get confused and assume that Kalakand and Mishri Mawa are the same. Let me clear all the confusion here.  
Kalakand is made out of solidified milk + (paneer) cottage cheese. Traditional Kalakand requires long hours of cooking, and they are usually cut into square shapes.
On the other hand Mishri Mawa does not include any cheese. It is almost no-heat recipe if you are making with mawa instead of milk. And it is served spoonful in a traditional leaf bowl.
By looking at it you might think of how much pain and effort went into its preparation. But today, I would like to give you a little secret. This exquisite Rajasthani delicacy is not as difficult to make as it looks. Here's the simple recipe of this very popular Rajasthani dessert.
Traditional method of mawa making does take time and a lot of patience. A huge pan is kept on a flame and large amount of milk is boiled stirring it continuously till it gets thickened. You need to keep stirring. I know that's a lot of work.
Making mawa can be super easy and simple. Here's I do it quickly — you can simply make mawa in just 3 minutes. You need to mix milk powder, some milk and ghee. And microwave it. That's it. You can see how to make Mawa in just 3 minutes, in a step by step process in my earlier post here.
So the mawa is ready in 3 minutes. And once mawa is ready, you just need to mix all the ingredients and wait for 2 hours. I must say waiting is the only hard part of this recipe.  
This is a classic and rich sweet which can be prepared in a jiffy. Make this Mishri mawa in the morning before you leave for work, or may be a day before and serve it to a dinner party to impress your guests with a tasty end.
Mishri mawa is made on festivals and celebrations such as Holi, Diwali, Navratri and Eid.
It tempts everybody with its rich flavor and classic aroma. And as you know me, I keep exploring my recipes, so I had to give my personal touch to this authentic dish as well. So to make this delicate dessert even more exotic, I added a touch of vanilla cream and chocolate.
Mmmmm, this classic dessert was super duper hit at my home. I also made a video of this dish, and you will see firsthand that making this Jaipuri Mishri Mawa with Chocolate and vanilla cream is so much fun. And you know what, Adoria gave a new name to this dish, 'Chocolate Mawa'. So for me chocolate mawa this is! 🙂
Try this speedy yet classic dessert which you will love for sure!
Let's learn to make Jaipuri Mishri Mawa with Chocolate and Vanilla Cream.


Grind crystal sugar to semi-make a fine powder. Transfer mawa into a microwave safe bowl, and crumble with light hands. Microwave for 30 seconds.


Add crystal sugar to mawa and mix thoroughly. Add pistachio, cardamom powder, rose water and mix well again. Add milk and saffron strands to mortar and pestle. Grind till the strands are almost dissolved.


Add the saffron milk to mawa mixture and mix well, and set aside for 2 hours at room temperature. Add cream, icing sugar and vanilla to a bowl and mix well. Microwave for 3-4 minutes and set aside to cool off completely.


Break chocolate into pieces and microwave for 2 minutes. Make desired shape on parchment paper and let it set in refrigerator. Take off the chocolate shape and place onto a serving plate.
Top with a spoonful mawa mixture. Garnish with fruits and drizzle with some vanilla cream. Serve immediately.
See video recipe here:
Jaipuri Mishri Mawa with Chocolate and Vanilla Cream [With Video]
Author:
Prep time:
Cook time:
Total time:
Learn how to make Jaipuri Mishri Mawa. This is a traditional and lip-smacking dessert which a speciality from Jaipur, and is very easy to prepare. It has very pleasant, creamy, rich & robust taste, which makes a delicious dessert totally irresistible.
Ingredients
<ul class="ingredients">
  <li class="ERSeparator">
    For Mishri Mawa:
  </li>
  <li class="ingredient">
    mawa/dried milk - 3/4 cup
  </li>
  <li class="ingredient">
    crystal sugar/mishri - 1/4 cup
  </li>
  <li class="ingredient">
    rose water - 1 tbsp
  </li>
  <li class="ingredient">
    milk - 1 tsp
  </li>
  <li class="ingredient">
    saffron strands - 7-8
  </li>
  <li class="ingredient">
    pistachio - 2 tbsp
  </li>
  <li class="ingredient">
    ground cardamom - 1 tbsp
  </li>
  <li class="ERSeparator">
    For Chocolate Shapes:
  </li>
  <li class="ingredient">
    dark chocolate - 100g
  </li>
  <li class="ERSeparator">
    For vanilla cream:
  </li>
  <li class="ingredient">
    icing sugar - 4 tbsp
  </li>
  <li class="ingredient">
    vanilla extract - 1/4 tsp
  </li>
  <li class="ingredient">
    cream - 100g
  </li>
  <li class="ERSeparator">
    For serving:
  </li>
  <li class="ingredient">
    fruits
  </li>
</ul>

Instructions
<div class="instructions">
  <ol>
    <li class="instruction">
      Grind crystal sugar to semi-make a fine powder.
    </li>
    <li class="instruction">
      Transfer mawa into a microwave safe bowl, and crumble with light hands.
    </li>
    <li class="instruction">
      Microwave for 30 seconds. Add crystal sugar to mawa and mix thoroughly.
    </li>
    <li class="instruction">
      Add pistachio, cardamom powder, rose water and mix well again.
    </li>
    <li class="instruction">
      Add milk and saffron strands to mortar and pestle. Grind till the strands are almost dissolved.
    </li>
    <li class="instruction">
      Add the saffron milk to mawa mixture and mix well, and set aside for 2 hours at room temperature.
    </li>
    <li class="instruction">
      Add cream, icing sugar and vanilla to a bowl and mix well.
    </li>
    <li class="instruction">
      Microwave for 3-4 minutes and set aside to cool off completely.
    </li>
    <li class="instruction">
      Break chocolate into pieces and microwave for 2 minutes.
    </li>
    <li class="instruction">
      Make desired shape on parchment paper and let it set in refrigerator.
    </li>
    <li class="instruction">
      Take off the chocolate shape and place onto a serving plate.
    </li>
    <li class="instruction">
      Top with a spoonful mawa mixture. Garnish with fruits and drizzle with some vanilla cream.
    </li>
    <li class="instruction">
      Serve immediately.
    </li>
  </ol>
</div>

If you cook this dish, be sure to tag your photo with this hashtag: #mggk
Happy Cooking & Keep Sharing! 🙂
---