Jaipuri Mishri Mawa Recipe
Jaipuri Mawa Mishri or Mishri Mawa is a traditional Rajasthani dessert made with solidified milk (mawa) and Mishri (crystal sugar).
---
« Go back
Print this recipe »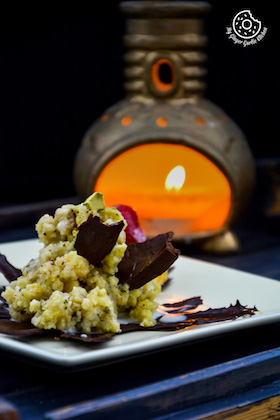 ---
Prep Time = 8 minutes
Cook Time = 2 minutes
Total Time = 10 minutes
Category = Dessert
Cuisine = Indian
Serves = 6
Nutrition Info = 183 calories
Serving Size = 1 serving
---
RECIPE INGREDIENTS
» For Mishri Mawa //
3/4 cup mawa/dried milk
1/4 cup crystal sugar/mishri
1 tablespoon rose water
1 tablespoon milk
7-8 saffron strands
2 tablespoons pistachios
1 tablespoon ground cardamom
» For Chocolate Shapes (optional) //
» For Vanilla Cream (optional) //
4 tablespoons icing sugar
1/4 teaspoon vanilla extract
100 grams fresh cream
For Serving //
Any fruits of your choice (optional)
---
RECIPE INSTRUCTIONS
» How to Make Mishri Mawa //
Grind crystal sugar to a blender jar.
Make a fine powder.
Transfer mawa into a microwave-safe bowl, and crumble with light hands.
Microwave for 30-50 seconds.
Now add powdered crystal sugar to heated mawa and mix thoroughly.
Add pistachios, cardamom powder, rose water, and mix well again.
Add milk and saffron strands to mortar and pestle. Grind till the strands are almost dissolved.
Add the saffron milk to the mawa mixture and mix well.
Set aside for 2 hours at room temperature. Mishri Mawa would be ready after 2 hours, you can serve it as it is. Or, for a gourmet version, serve it along with vanilla cream and chocolate as I did.
For vanilla cream, add cream, icing sugar, and vanilla to a bowl and mix well.
Microwave for 3-4 minutes and set aside to cool off completely.
For chocolate shapes, break the chocolate into pieces and microwave for 2 minutes.
Make the desired shape on parchment paper and let it set in the refrigerator.
Take off the chocolate shape and place onto a serving plate.
Top with a spoonful mawa mixture.
Garnish mishri mawa with fruits and drizzle with some vanilla cream. Serve immediately.
---
RECIPE NOTES
Traditional Mishri Mawa is served as it is. So If you don't want to go fancy. Then omit the chocolate and cream part, and just serve it without any chocolate or cream addition.
---