Indian Spiced Dal Chawal Arancini Paired with Pickled Mayonnaise, Split Bengal Gram Salad, and Raspberry Sauce – Baked Version
---
Indian Spiced Dal Chawal Arancini Paired with Pickled Mayonnaise, Split Bengal Gram Salad, and Raspberry Sauce – Baked Version. This taste so good  — plus, this is packed with so many flavours, textures and perfect crispness.**
**
Happy 'Arancini' Day folks!!
OH! This Indian spiced Arancini—there are not enough words to describe the awesomeness of these Arancinis.
Believe it or not, I have never made Arancini before. 😯
Undoubtedly, this is something I am LOVING. And this one is so simple, and not so complicated as it sounds. Really, very very simple.
This Arancini has everything to make you all wanting more!
If you check the level of awesomeness, this one would be on top of the all dishes, I have recently shared.
Related: Dal Chawal Paratha
I know what I am saying! This is so special, or may be I shall call it extra special. Or should I call this an extravaganza of spiced Arancini?
This spectacular dish comes with A LOT of flavors, so this is perfect for satisfying everyone's taste buds.
Arancini is a Sicilian dish. These are stuffed rice balls which are coated with breadcrumbs and fried. These are generally stuffed with meat sauce, tomato sauce, mozzarella, and green peas. You will find a number of local variants that differ in fillings and shape.
I made the Indian version of Arancini. Is this twisted or may be too much twisted! 😕
My variations are:
Usually arancini is fried, but I made a baked version.
Arancini is stuffed, but I did not do any stuffing. I have simply added my vegetables and spices to the rice-lentils, and formed them into a ball.
Arancini does not have any lentils, but I added lentils too.
I have combined Indian mango pickle with mayonnaise.
And I also made split bengal gram salad, which is a bit unique.
I made it eggless.
Ufff! Now when I am reading the points I wrote above, I  am surprised! Did I really made those many changes! Oops! :roll
If you ask my hubby dear, this one must have been one of his favourite meals! He's kind of a rice, lentils lover. And he also loves the meal which comes in a single palate. Basically, he loves to eat one pot meal.
Related: Restaurant Style Dal Makhani
I mean, the awe-inspiring thing about these arancinis are that these are so quick, and painless. Yeah, not much effort is needed.
And also this platter comes with an extra delicious baggage of salad and berry sauce. Extra is always welcome in my family, especially when it comes with breathtaking delectable flavours.
Let's talk about the week itself.
Yeah!! It's Friday, and I feel like Friday's should be spent partying with friends and family. Late night movies, and some relaxing drinks—this is kind of AMUSING for me.
I am just so HAPPY on Fridays, and Saturdays. I have no worries that I have to get up early. If you check my happiness scale, that would be tipping high on weekends. And I hope I am not alone here, many of you feel the same.
Say yes please, I would be happy if you say YES! 😛
I am very well aware of the fact that I am getting SIDETRACKED. But I can't help it. I love being able to just get excited, I even get thrilled about small holidays and festivals. I simply get happy over simple small things.
Related: How To Make Dal Tadka
Well, I think this is my way of cherishing the beauty of LIFE itself. I am thankful for everything I have got, and first and foremost I am thankful to be healthy and alive.
I endeavor to create a happy life just by feeling good. However, sometimes I just let go off all my sentiments, and feel the current moment.
I so love my life, and I try to have some fun with it. As a human being I too have problems—but, if I have something, I sit back, relax and think. I try to figure out if I can do anything about the situation. If not, then I just stop thinking about it. Feeling good is the mantra here.
Related: Moong Dal Toast
Why do I need to worry all the time. I have got only one life. And If I won't care about it, who else would?
I have read it somewhere; "If you can't give your pains to someone, why do you let them have your happiness"? So true, isn't it?
And my motto for good LIFE is Don't let anyone's ignorance, hate, drama or negativity stop you from being the best person you can be.
That is why I live my life on my own terms. Live a happy life, have fun, be happy. That's it.
These are the only things you might regret at the end of the life if you don't do them! I don't want to do that, thus I do whatever makes me happy. 😀
Wow writing and reading about positive things is kinda fun too! Suddenly you start feeling positive. 😀
Related: How to Make Dal Bafla
Is it actually me writing or the sunshine is talking over me? I think this is the sunlight which I saw after a looooong time! 😛
Oops, I just realized, I typed too much! Too much philosophical talk. But I don't have to worry. I know once in a while you guys can digest my intellectual thoughts! 😉
Now, let's go back to Indian Spiced Arancini—this is SO GOOD. Packed with so many flavours, textures and crispness.
Just some rice, lentils, vegetables, spices, and bread crumbs. It's all you need to make a splendid Indian style arancini. The Arancini itself is quite simple.
Related: Cholar Dal
So you have arancinis, and then there is the raspberry sauce. Oh this sauce, I think this raspberry sauce is what makes these arancinis SO DIVINE. The sauce gives the arancini a little kick of sweet and tang.
And then there is split bengal gram salad. This would add slightly spicy flavour and crunchy texture on the top. You can feel the taste of the spices and lentils. These creamy, buttery, crispy and spicy balls, with a hint of sweet-tang of berry sauce is all you need to call it a happy day.
Oh! You are going to love this.
Let's learn how I made these delicious Arancini balls in just a few steps!
Related: 3-Bean Thick Dal Makhani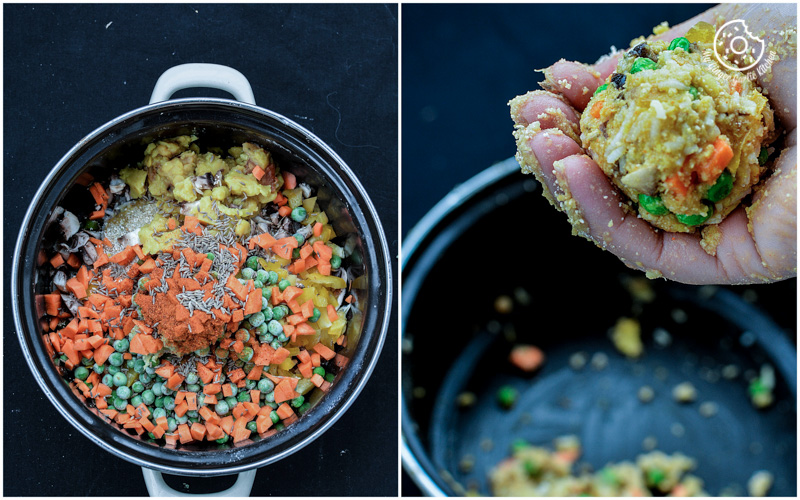 Take a large mixing bowl. Add rice, lentils, mushroom, bell pepper, green peas, carrot, crushed garlic, crushed ginger, cumin seeds, cayenne pepper, turmeric powder, garam masala powder, breadcrumbs, salt, and pepper. Mix well to make a mixture.
Use wet hands to form the mixture into golf ball sized balls. Repeat with the remaining risotto to make about 15 balls.
Related: Authentic Dal Bati Churma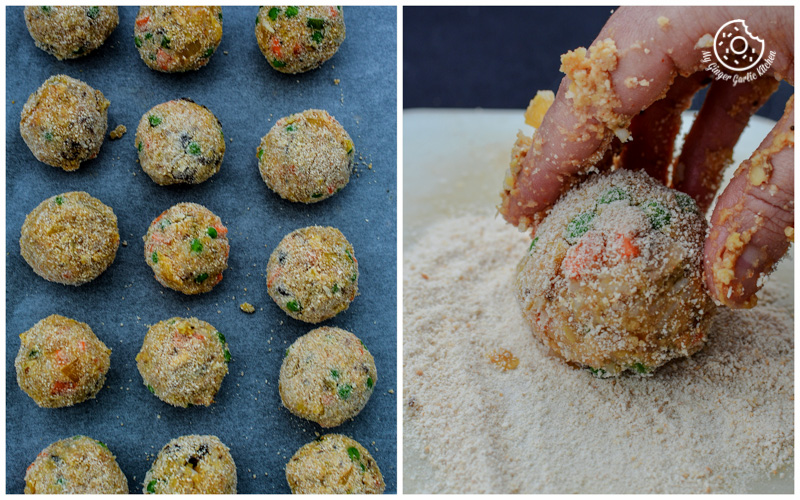 For Dal Chawal Arancini:
Roll 1 ball in the flour and shake off excess.  Repeat with the remaining balls. Refrigerate for 30 minutes.
Preheat oven to 180C. Line 2 baking trays with non-stick baking paper. Place on the prepared tray. Brush the Arancini with olive oil. Bake in oven for 20 minutes or until crisp and golden.
For Raspberry Sauce:
Place raspberries and icing sugar in a small food processor, and process until pureed. Press the raspberry puree through a sieve and discard the seeds.Take a mixing bowl. Add both the ingredients, and mix well until smooth.
For Pickled Mayonnaise:
Take a mixing bowl. Add both the ingredients, and mix well until smooth.
For Serving:
Serve Indian spiced baked arancini with pickled mayonnaise, split bengal gram salad, and raspberry sauce. Garnish with fresh strawberries and serve.
Related Moong Dal Tadka Recipe
Indian Spiced Dal Chawal Arancini paired with Pickled Mayo, Split Bengal Gram Salad, and Raspeberry Sauce-Baked Version
Author:
Prep time:
Cook time:
Total time:
Indian Spiced Dal Chawal Arancini paired with Pickled Mayo, Split Bengal Gram Salad, and Raspeberry Sauce is a Baked and twisted version of Arancini
Ingredients
<ul class="ingredients">
  <li class="ERSeparator">
    For arancini:
  </li>
  <li class="ingredient">
    basmati rice, cooked - 1 cup
  </li>
  <li class="ingredient">
    yellow lentils, cooked - ¾ cup
  </li>
  <li class="ingredient">
    olive oil for brushing - 2 tbsp
  </li>
  <li class="ingredient">
    garlic, crushed - 1 tsp
  </li>
  <li class="ingredient">
    ginger, crushed - 1 tsp
  </li>
  <li class="ingredient">
    yellow/red bell pepper, finely chopped - 1
  </li>
  <li class="ingredient">
    carrots, peeled and finely chopped - 2
  </li>
  <li class="ingredient">
    button mushrooms, stems removed, very finely chopped - 5
  </li>
  <li class="ingredient">
    frozen peas - ¼ cup
  </li>
  <li class="ingredient">
    breadcrumbs - ½ cup
  </li>
  <li class="ingredient">
    turmeric powder - ½ tsp
  </li>
  <li class="ingredient">
    cayenne pepper or red chili powder - 1 tsp
  </li>
  <li class="ingredient">
    cumin powder - ½ tsp
  </li>
  <li class="ingredient">
    cumin seeds - 2 tsp
  </li>
  <li class="ingredient">
    garam masala powder - ¼ tsp
  </li>
  <li class="ingredient">
    salt and pepper, to taste
  </li>
  <li class="ingredient">
    breadcrumbs for dusting
  </li>
  <li class="ERSeparator">
    For Raspberry Sauce:
  </li>
  <li class="ingredient">
    raspberries - ¾ cup
  </li>
  <li class="ingredient">
    icing sugar - 1 ½ tbsp
  </li>
  <li class="ERSeparator">
    For split bengal gram salad:
  </li>
  <li class="ingredient">
    split bengal gram, boiled - ½ cup
  </li>
  <li class="ingredient">
    carrot, chopped - 2 tbsp
  </li>
  <li class="ingredient">
    onion, chopped - 2 tbsp
  </li>
  <li class="ingredient">
    tomato chopped - 2 tbsp
  </li>
  <li class="ingredient">
    cucumber chopped - 2 tbsp
  </li>
  <li class="ingredient">
    chaat masala - ½ tsp
  </li>
  <li class="ingredient">
    lemon juice - ½ tsp
  </li>
  <li class="ingredient">
    olive oil - 1 tsp
  </li>
  <li class="ingredient">
    salt & pepper to taste
  </li>
  <li class="ERSeparator">
    For pickled mayonnaise:
  </li>
  <li class="ingredient">
    grated mango pickle - 2 tbsp
  </li>
  <li class="ingredient">
    mayonnaise - ¼ cup
  </li>
</ul>

Instructions
<div class="instructions">
  <div class="ERSeparator">
    For [b]Arancini[/b]:
  </div>

  <ol>
    <li class="instruction">
      Take a large mixing bowl. Add rice, lentils, mushroom, bell pepper, green peas, carrot, crushed garlic, crushed ginger, cumin seeds, cayenne pepper, turmeric powder, garam masala powder, breadcrumbs, salt, and pepper. Mix well to make a mixture.
    </li>
    <li class="instruction">
      Use wet hands to form the mixture into golf ball sized balls. Repeat with the remaining risotto to make about 15 balls.
    </li>
    <li class="instruction">
      Roll 1 ball in the flour and shake off excess. Repeat with the remaining balls.
    </li>
    <li class="instruction">
      Refrigerate for 30 minutes.
    </li>
    <li class="instruction">
      Preheat oven to 180C. Line 2 baking trays with non-stick baking paper.
    </li>
    <li class="instruction">
      Place on the prepared tray. Brush the arancini with olive oil. Bake in oven for 20 minutes or until crisp and golden.
    </li>
    <li class="instruction">
      For raspberry sauce
    </li>
  </ol>

  <div class="ERSeparator">
    For [b]raspberry sauce[/b]:
  </div>

  <ol>
    <li class="instruction">
      Place raspberries and icing sugar in a small food processor, and process until pureed. Press the raspberry puree through a sieve and discard the seeds.
    </li>
  </ol>

  <div class="ERSeparator">
    For [b]split bengal gram salad[/b]:
  </div>

  <ol>
    <li class="instruction">
      Take a mixing bowl. Add all the ingredients, and mix well. Refrigerate for 30 minutes.
    </li>
  </ol>

  <div class="ERSeparator">
    For [b]pickled mayonnaise[/b]:
  </div>

  <ol>
    <li class="instruction">
      Take a mixing bowl. Add both the ingredients, and mix well until smooth.
    </li>
  </ol>

  <div class="ERSeparator">
    For [b]serving[/b]:
  </div>

  <ol>
    <li class="instruction">
      Serve Indian spiced baked arancini with pickled mayonnaise, split bengal gram salad, and raspberry sauce. Garnish with fresh strawberries and serve.
    </li>
  </ol>
</div>

If you enjoyed this recipe, then please further help me by FOLLOWING me on:
Instagram // Facebook // Pinterest // Twitter // Google+ // YouTube
If you cook this dish, be sure to tag your photo with this hashtag: #mggk
Happy Cooking and Keep Sharing! 🙂
---