This Eggless Apple Pie Mug Cake is full of FALL-tastic flavors, giving you a rich, hearty, and warming feeling in this cold season.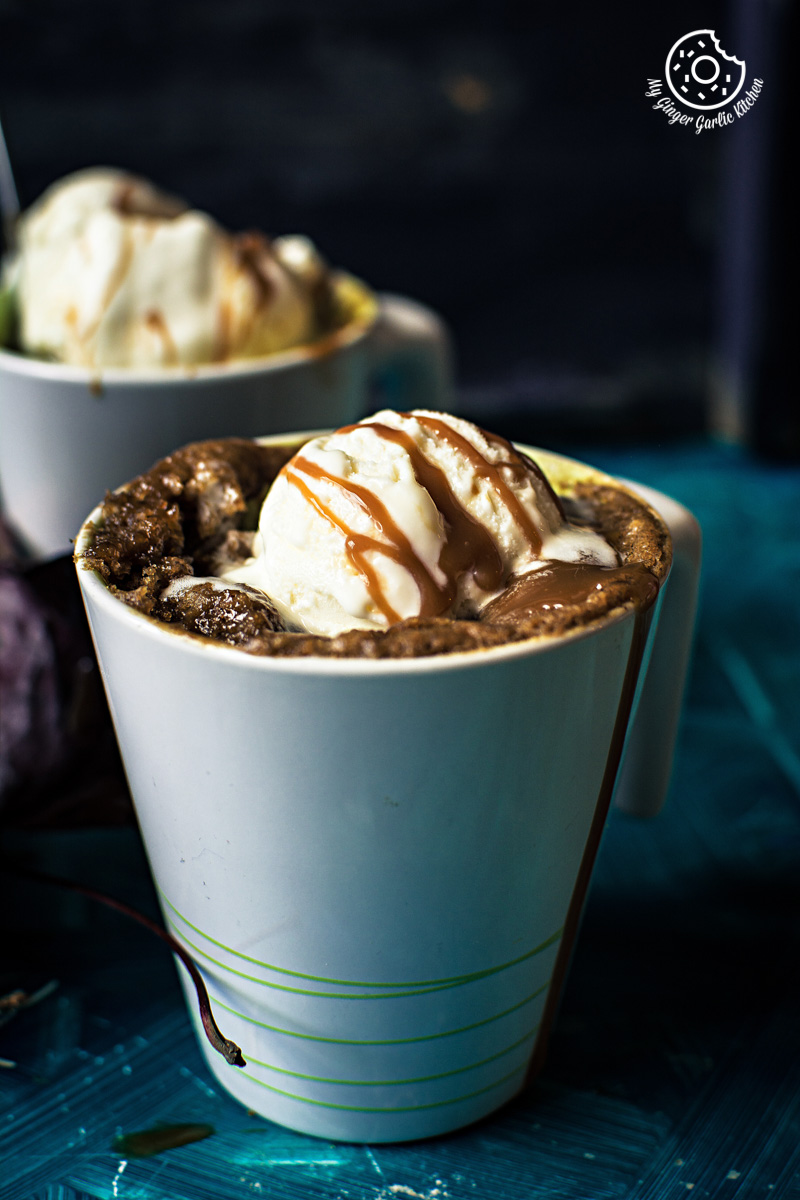 Happy Tuesday friends.
Hope you all had a great weekend. We celebrated our wedding anniversary this weekend. So this was a time for celebration for us. It was the time to cherish our 9 years of official and 18 years of unofficial togetherness.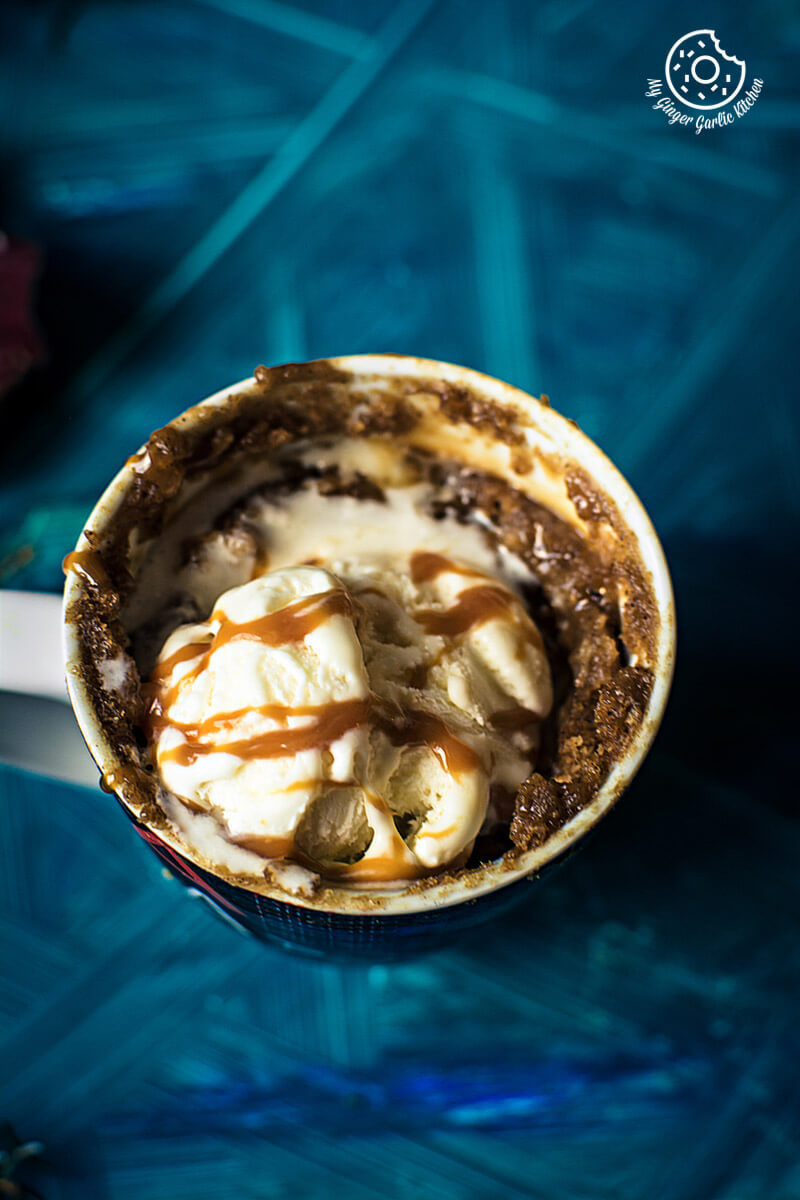 Yeah! It's been a loooong time and it deserved a loooong celebration. The weekend was so full of fun activities and so full of deliciousness as good food. Cheers to that! 🙂 I also made some nice brownies, and I will share the recipe soon.

Let's talk about the recipe I am sharing today.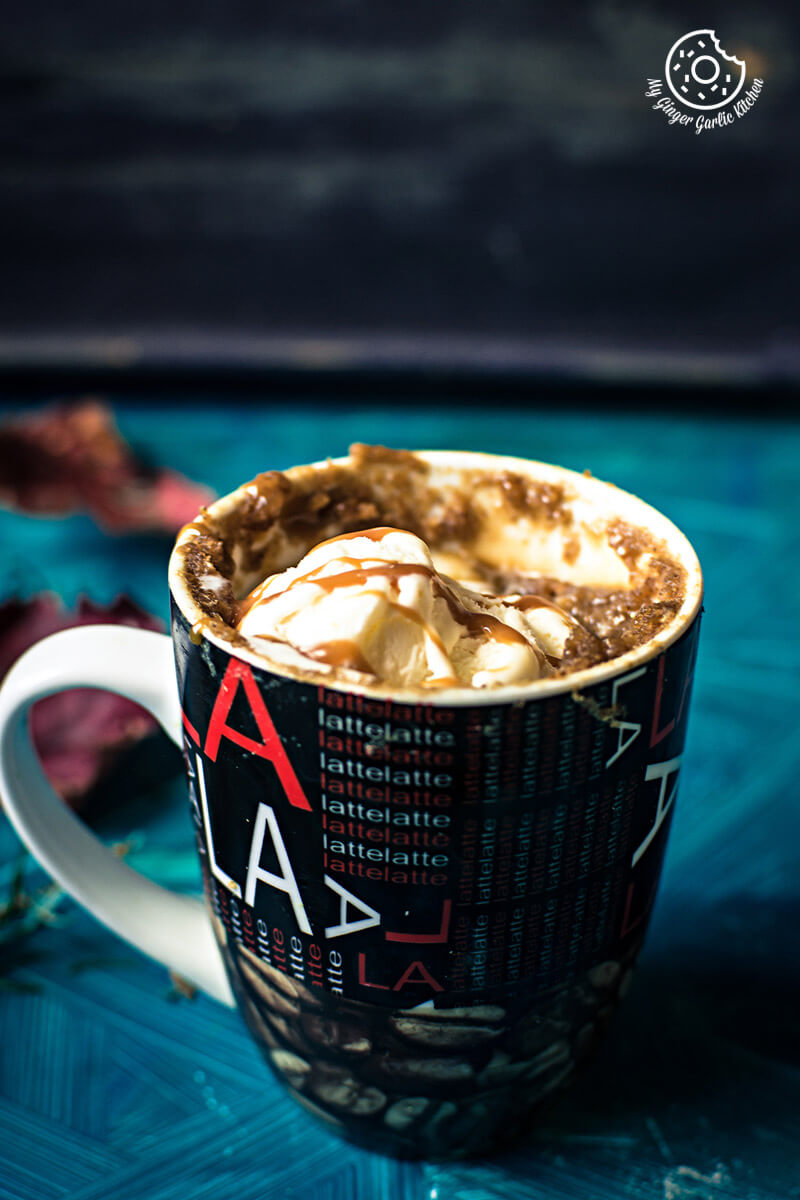 Eggless Apple Pie Mug Cake:
I haven't shared many mug cakes on the blog, but this one was something I really wanted to share for a long time. This mug cake is full of FALL-tastic flavors, giving you a rich, hearty, and warming feeling in this cold season.

Mug cake day:
Fall is over here but stores are still so full of fresh apples. Apple season calls for apple pie filling recipes, isn't it? Today again, this is a mug cake day because I have some more apple pie filling and I want to finish that up quickly. And what else could I think of, other than an easy peasy fuss-free cake?
Another motivation for making mug cake with that pie filling is that Adoria is enjoying mug cakes these days. I guess this is because she likes them more because they are super quick and she doesn't have to wait for a long time when a sweet craving strikes her. Or maybe I am finding a pattern when there's not. 😉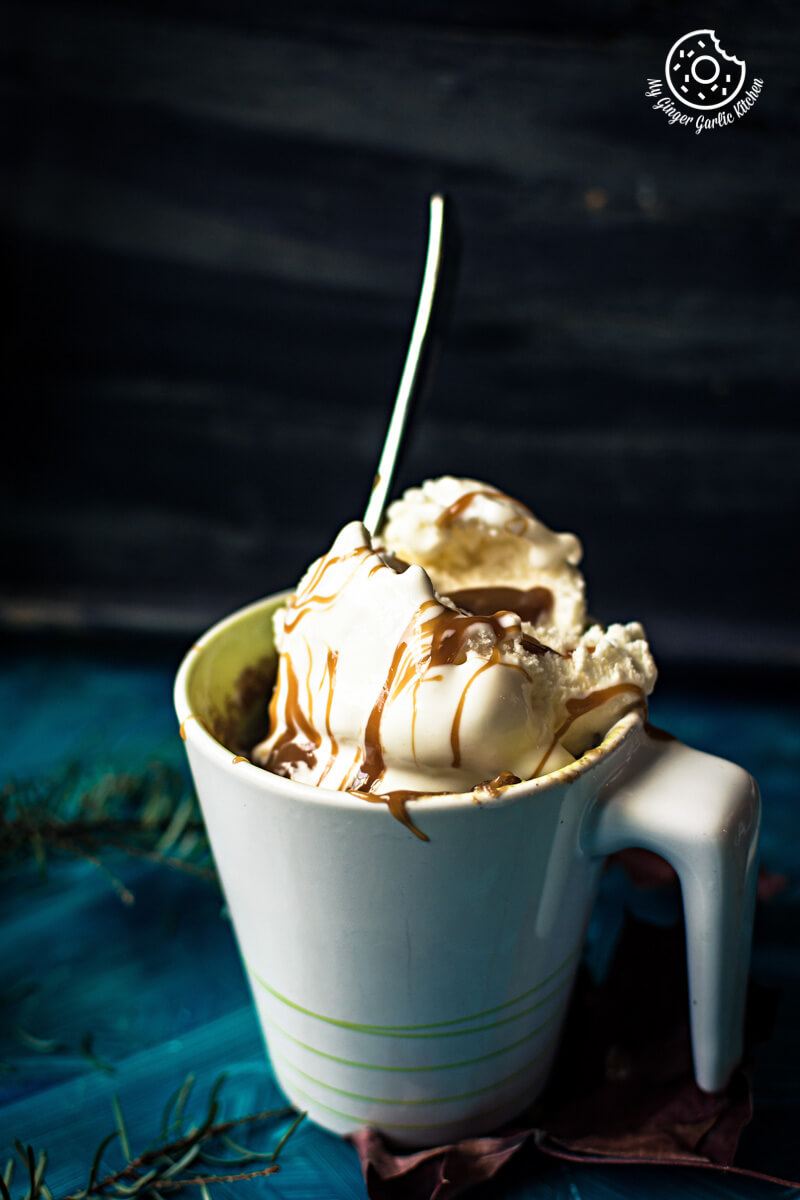 But I know for myself why I love mug cakes. Here are my reasons:
The reason number 1 is that mug cakes are not a huge fuss, you only need a few ingredients and you will be eating cake in no time.
We all know that they are the easiest desserts to satisfy our sweet cravings. Microwaved cakes are the best.
I love those late night hours when my sweet tooth takes over and I want something as a quick solution. The mug cakes come to the rescue at such times.
At this time, you may ask, "Does it have the same texture as a baked apple pie cake?" Yes, they are the same as a baked cake, the only difference is that you get to enjoy them in lesser time and there's little washing up! Yeah!!!! And I particularly love mug cakes because I hate washing dishes.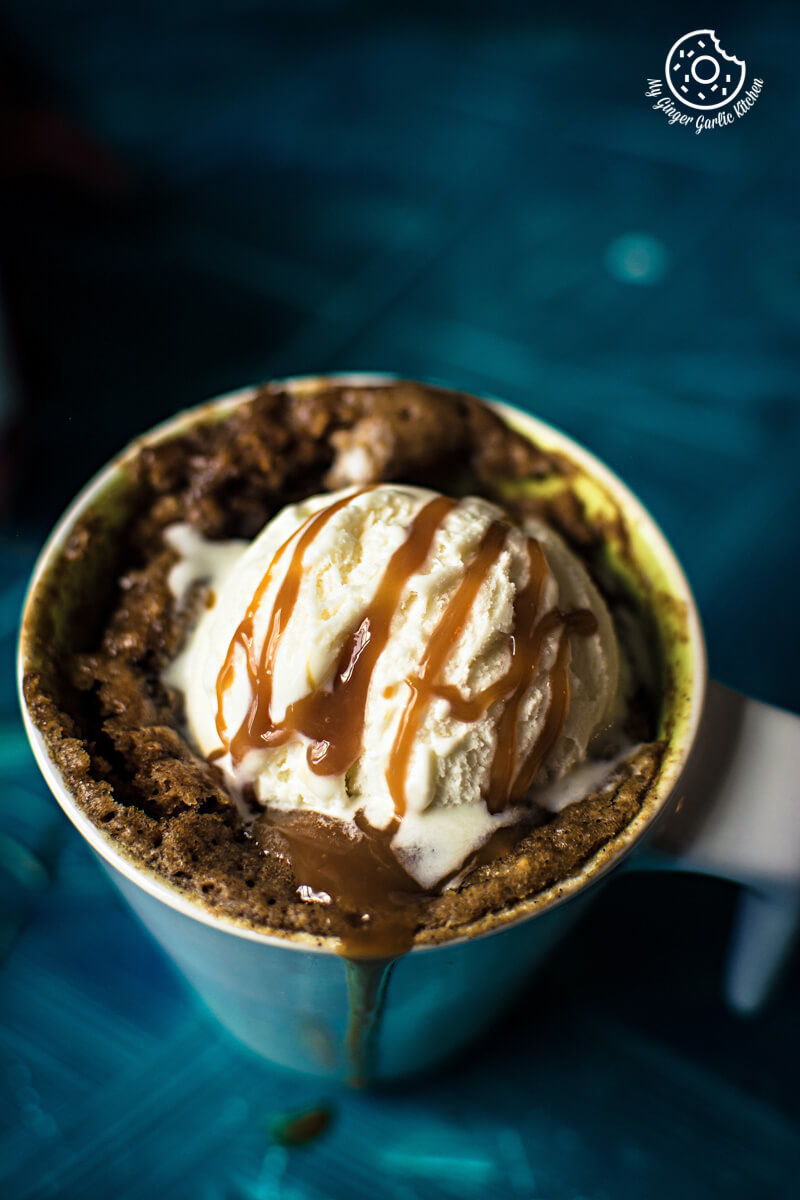 Dishwasher pain:
Hey, have I told you that my dishwasher broke down a couple of weeks ago? So now the cooking and cleaning times have almost doubled.
Alright here's the interesting story. So I called to the service center and they sent a guy last week. He checked it out, and found that there were some defunct electrical parts. Unfortunately, he couldn't fix it on that day because he had to get those new parts from his office. So he left.
And then, we had to book a new appointment again. And then they said they have a long queue and so after some urgency requests, we got our next appointment date which is tomorrow. It's taken more than it should have. WAITTT, long queues? Does that mean that there's been some alien strikes on all the dishwashers in town????? You bad-bad aliens!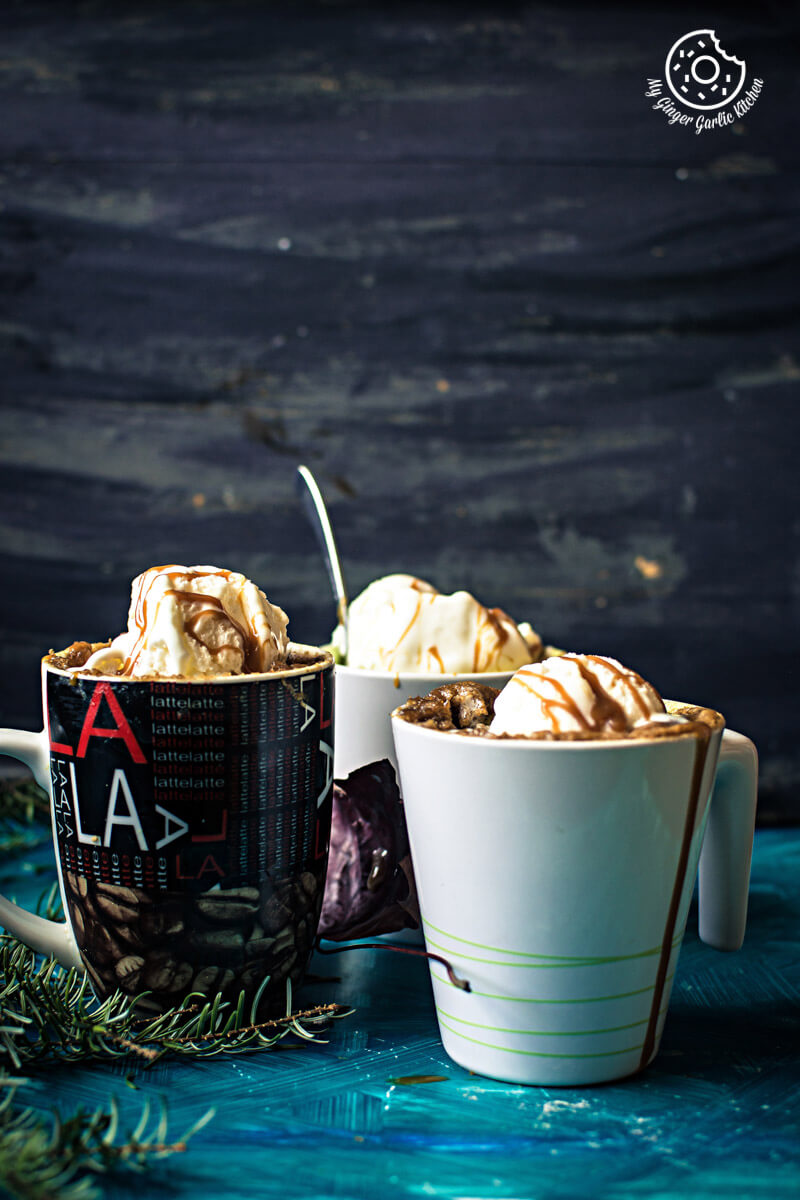 Hope is a good friend:


Now, for tomorrow's big day, I am keeping my fingers crossed that hopefully the service guy can fix it tomorrow. And aliens won't be here again for another 10 years. That should cover its service warranty 😉
Alright, so then dishwasher will be safe, and aliens will be all gone. It means that it would be about time for celebration for all earthlings. So let's make this mug cake now.
Apple Pie Mug Cake

[RECIPE]

This Eggless Apple Pie Mug Cake is full of FALL-tastic flavors, giving you a rich, hearty, and warming feeling in this cold season.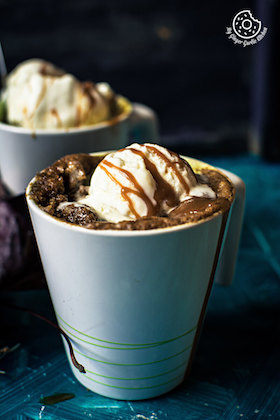 ♥ ♥ ♥ ♥ ♥
(Rating:
4.8
from
19
reviews)
INGREDIENTS
For Apple Pie Mug Cake
• Whole-Wheat Flour - ½ Cup
• ½ Cup Apple Pie Filling
• Baking Powder - 1 Teaspoon
• 4 Tablespoons + 1 Tbsp Brown Sugar
• Pinch Of Salt
• Vanilla - 1 Teaspoon
• Warm Milk - 2 Tablespoons Or More If Needed
• Vegetable Oil - 2 Tablespoons
• Vinegar - 1 Tablespoon
• Ground Cinnamon - 1 Tablespoon

For Serving:
• Vanilla Ice-Cream
• Caramel Sauce

---
| 🕐 Prep time | 🕐 Cook time | 🕐 Total time |
| --- | --- | --- |
| | | |
| ☶ Category | ♨ Cuisine | ☺ Serves |
| Dessert | World | 2 |
---
Nutrition Info:
285 calories
//
Servings:
1 serving
INSTRUCTIONS:
1. In a small bowl, combine wheat flour, 4 tbsp sugar, oil, cinnamon, salt, baking powder, vanilla, vinegar, milk.
2. Whisk everything together until combined and no lumps remain.
3. Pour 3 tbsp batter into a microwave-safe mug.
4. Add 2-3 tablespoon apple pie filling.
5. Add 3 tbsp batter. Sprinkle with sugar. Don't add too much batter, you want enough head space for the cake to rise without pouring over. (If you add too much batter the mug cake would overflow.)
6. Microwave mug cake for 2 minutes on high and 30-60 seconds more if needed. (My microwave is 750 watts and I cooked mine on 100% power for 2 minutes.)
7. Repeat with the second mug.
8. Carefully remove the mug from the microwave.
9. Top with a dollop of ice-cream and drizzle with salted caramel sauce on top and enjoy!
---
NOTES:
---