Black-eyed Bean Mushroom Curry [Recipe]
---
Prep Time: 10 minutes
Cook Time: 35 minutes
Servings: 4
---
Black-eyed Bean Mushroom Curry!
Black-eyed Bean Mushroom Curry is a spicy Indian curry and an easy side dish, prepared with black-eyed beans, sautéed mushrooms, and spices. Soft and creamy black-eyed beans are full of nutrients, and adding mushrooms make them more enjoyable with a distinct flavor. Addition of spice powder to this black-eyed bean mushroom curry adds more taste. This curry is a beautiful combination of black eyed peas and mushroom, as both are rich in protein and fiber and makes a satisfying meal, and well served with steamed rice, or any of your favorite flatbreads.
Let's learn to cook Black-eyed Bean Mushroom Curry in easy to understand quick steps.
---
Ingredients:
black-eyed bean, washed & soaked in water overnight – 1 cup
tomatoes, chopped – 2
olive oil – 3 tbsp
bay leaf – 1
cumin seeds – 1 tsp
onion, ginger-garlic paste – ½ cup
mushroom, finely chopped – 1 cup
coriander powder: 2 tsp
chili powder: 1tsp
turmeric Powder: 1⁄2 tsp
salt as per taste
fresh cream – 1 cup
sugar – 1 tsp (optional)
garam masala powder – ¼ tsp
curry powder – 1 tsp
---
Method:
Take a pressure cooker. Add black eyed beans with salt, 3 cups of water, and cover the lid. Cover the lid, and pressure cook for 6 whistles. Let it cook on low heat for about 10 minutes.
When the cooker has cooled off, open it. Heat a pan, and add 1 tbsp oil to it. Add chopped mushrooms and sauté for 3-4 minutes. Transfer sautéed mushrooms to a plate.
Heat 3 tbsp oil in the same pan. Add cumin seeds, and bay leaf to it.
When cumin seeds start to crackle, add onion, ginger-garlic paste to it. sauté for 5 minutes. Add chopped tomatoes, and saute for 3 minutes.
Now add coriander powder, chili powder, turmeric powder, curry powder, and salt along with ½ cup of water.
Cook for 5 minutes. Add cooked beans, and sautéed mushrooms. Mix well and cook for 7-8 minutes on medium heat.
Add milk cream, sugar, and garam masala powder to it. Cook for another 5-6 minutes. Remove from heat. Serve hot with rice or any of your favorite flatbreads.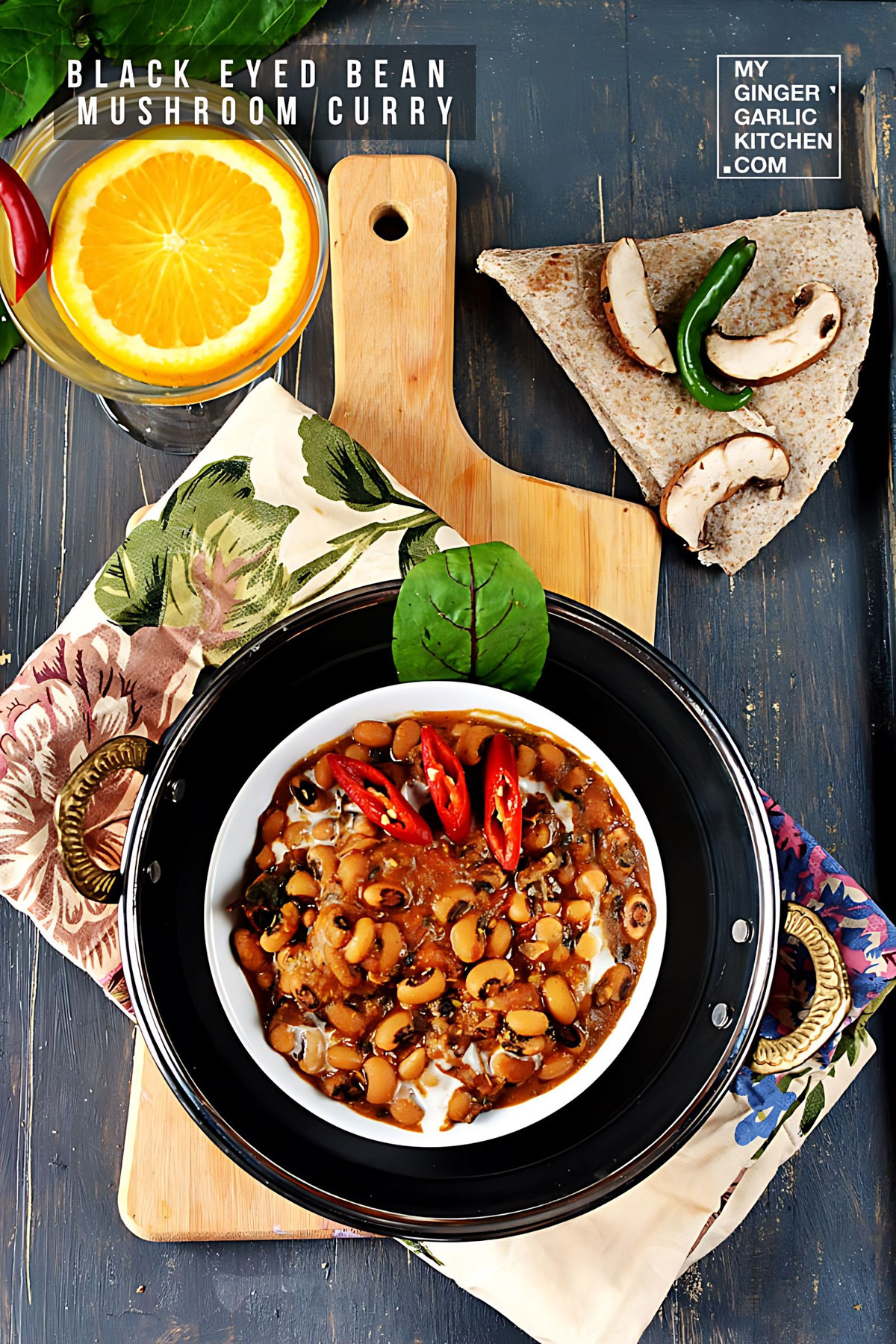 PHOTOGRAPHY NOTES:
Camera: Nikon D7100
Lens: Nikon 35mm f/1.8G AF-S DX Lens
Setup: Used natural sunlight coming from left, and a reflector on the right side of the frame.
Props & Styling:  I used some raw ingredients, a wooden board, and a floral table cloth for styling. I also used a dark wooden board as a background, which are making these curry photos more alive.
Angle: I clicked these photos with 90°, 70°,  50°.
Happy Cooking 🙂
Show us your love by commenting on this post, and share your thoughts.
Liked this post, then you will like this too.
[simple-qr size="" type="url" url="http://www.mygingergarlickitchen.com/black-eyed-bean-mushroom-curry-recipe/" margin="0″ size="160″ align="center" pointer_text="Get This Awesome Recipe On Your Smartphone." pointer_color="#FF1975″ pointer_position="left"]
---