Lobia Mushroom Curry - Black-eyed Bean Mushroom Curry
Black Eyed Bean (Lobia) Mushroom Curry is a spicy Indian curry, prepared with black-eyed beans, sauteed mushrooms and spices. Perfect with rice.
---
« Go back
Print this recipe »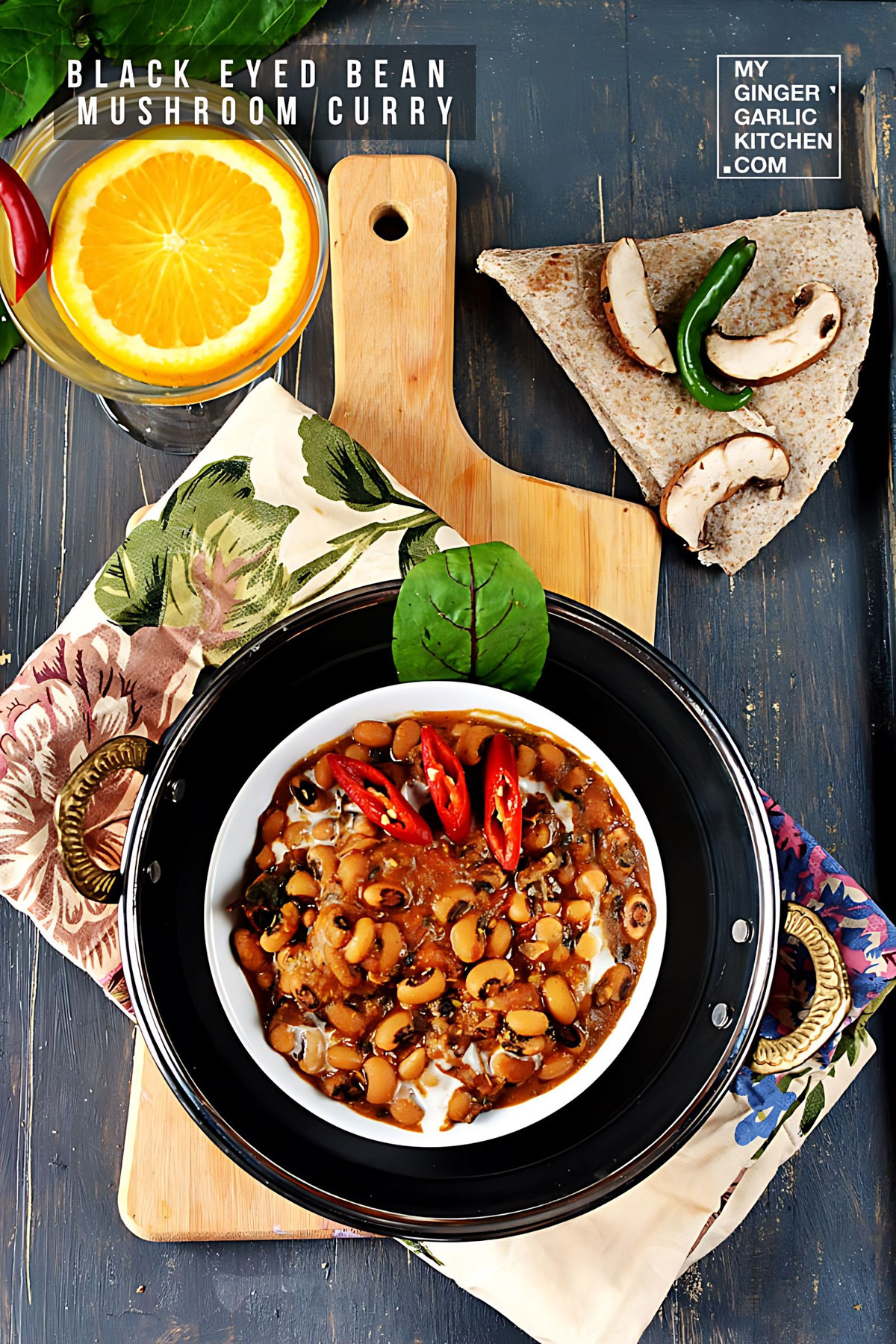 ---
Prep Time = 10 minutes
Cook Time = 25 minutes
Total Time = 35 minutes
Category = Side
Cuisine = Indian
Serves = 4
Nutrition Info = 140 calories
Serving Size = 1 Serving
---
RECIPE INGREDIENTS
» For for Black-eyed Bean Mushroom Curry
1 cup black-eyed bean, washed & soaked in water overnight
2 medium-sized tomatoes, chopped
3 tablespoons olive oil
1 bay leaf
1 teaspoon cumin seeds
1/2 cup onion & ginger-garlic paste
1 1/2 cups tightly packed mushrooms, finely chopped (I used crimini)
2 teaspoons coriander powder
1 teaspoon red chili powder
1/2 teaspoon turmeric Powder
Salt as per taste
1/4 cup fresh cream (vegan)
1 teaspoon sugar (optional)
1/4 teaspoon garam masala powder
1 teaspoon kitchen king masala or curry powder
---
RECIPE INSTRUCTIONS
» How to Make Black-eyed Bean Mushroom Curry
Add black-eyed beans, salt, and 3 cups of water to a pressure cooker. Cover with the lid, and pressure cook for 6 whistles on high heat. After the turn the heat to low and let it cook for about 10 minutes. Let the pressure go down before opening the lid.
Heat 1 tablespoon oil in a pan. Once hot, add chopped mushrooms and sauté for 3-4 minutes. Transfer sautéed mushrooms to a plate.
Heat 3 tablespoons oil in the same pan. Add cumin seeds and bay leaf to it.
When cumin seeds start to crackle, add onion, ginger-garlic paste to it. sauté for 5 minutes. Add chopped tomatoes, and saute for 3 more minutes.
Now add coriander powder, chili powder, turmeric powder, kitchen king masala/curry powder, and salt along with ½ cup of water.
Stir it well and cook for 5 minutes.
Now, add cooked beans along with sautéed mushrooms. Mix well and cook for 7-8 minutes on medium heat.
Add milk cream, sugar, and garam masala powder to it. Cook for another 3-4 minutes.
Remove from heat. Serve hot with rice or any of your favorite flatbreads.
---
RECIPE NOTES
No notes for this recipe.
---