A Coconut Milk Peanut Butter Truffle is a mouthful of love. They really could not be better. I mean, coconut milk, peanut butter and chocolate. They are perfect bite sized too. There are very few ingredients and they are GLUTEN-FREE too.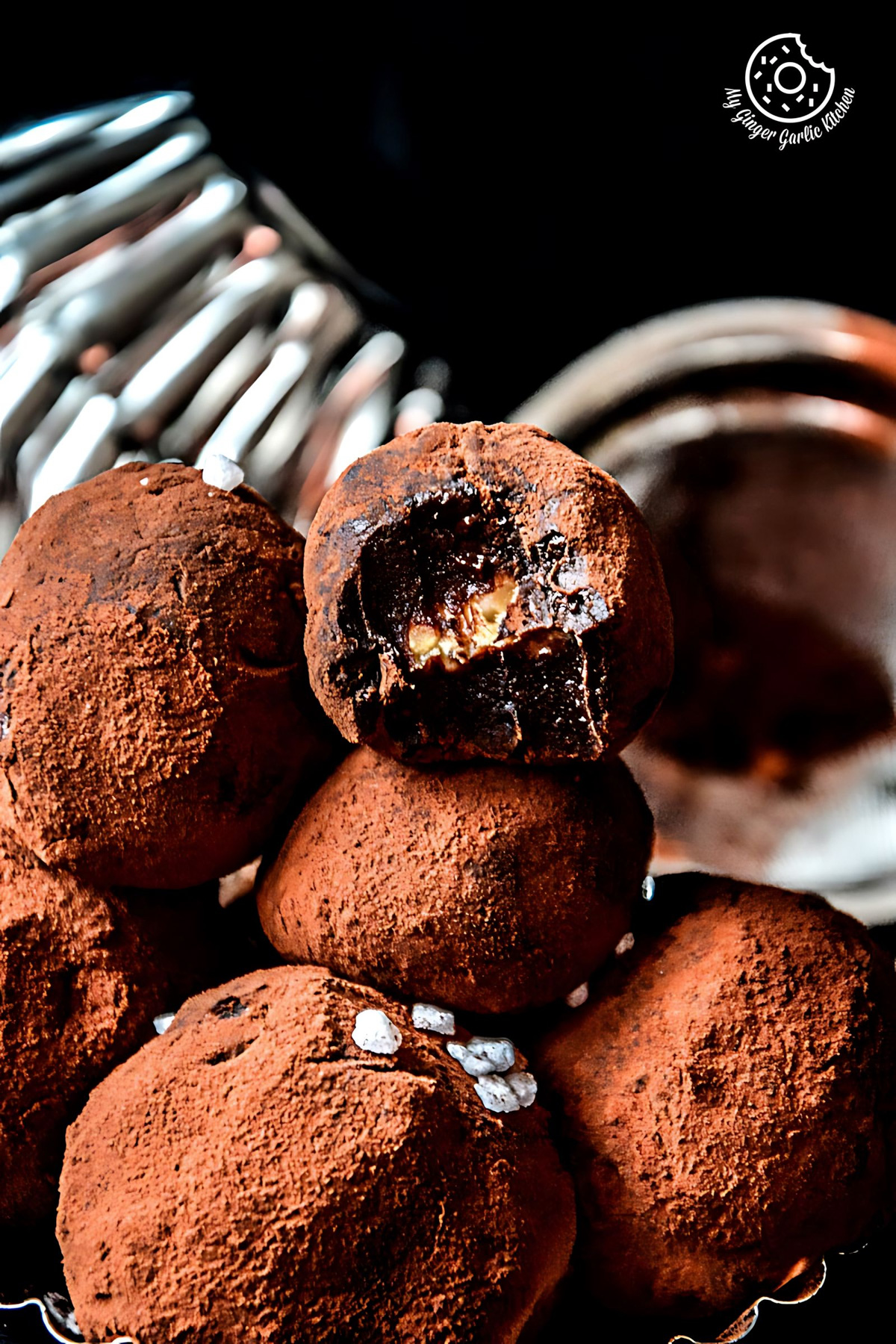 17 days to Easter: Wohhhoo! The countdown has begun. Exactly 17 days Till Easter!!
So tell me what are your plans for Easter holidays? Well, I think I will be a couch potato and enjoy with family! And yeah, lots of Easter cooking too! OKAY, I might do a bit more of eating than cooking! 😉 What say?
Easter cooking ideas: The Easter cooking ideas came along with these truffles. And when it comes to eating, how can I forget about my favorite chocolate.
Oh gosh! There is something I can't resist about chocolates. I know, I have wrote this a thousand times, but I just can't help it. Name chocolate itself is so fascinating to me. Call me a chocoholic or whatever you like, but I am a serious chocolate lover and it's not something others say to me — even I myself cannot deny this! 😉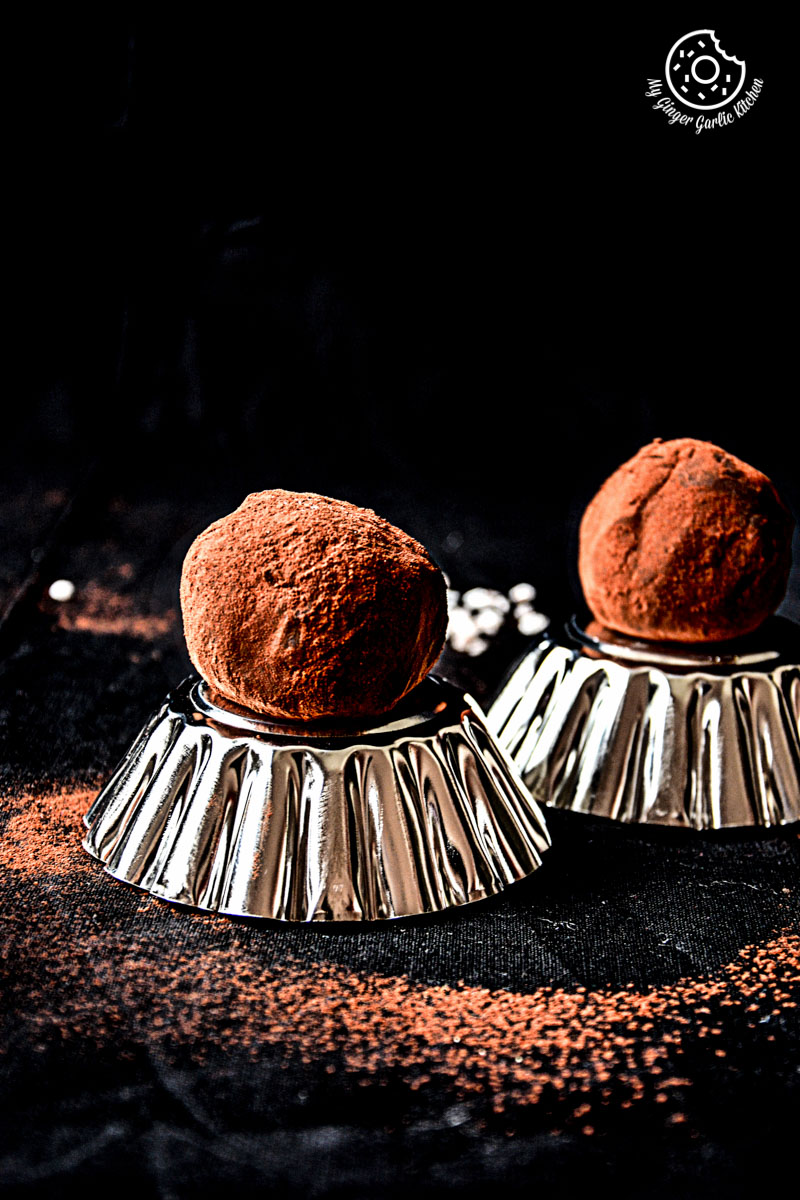 My abstinence from chocolates: Last week, I decided that I would spend seven days abstaining from all things chocolatey. You see, I can't imagine a life without cacao. Oh god! What would happen next, were my immediate thoughts.
To my surprise, I didn't really miss chocolates or anything cocoa. And I can proudly announce that I survived the week intact without any form of chocolate. But then after a week I attacked on my chocolates like a hungry wolf! 😉 I think I could only survive because I knew the deadline! Realizing this, I was horrified, what if there was no deadline. Terrible, I can't even imagine that.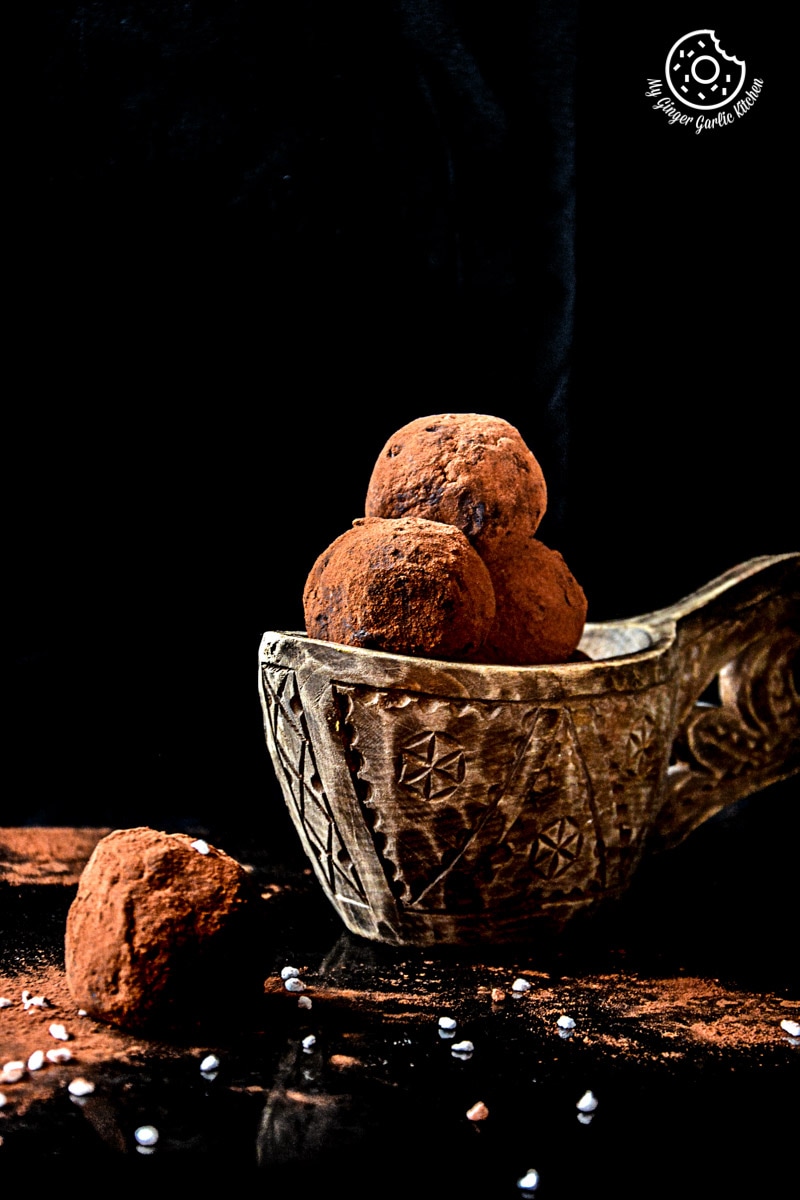 Everything has a beginning and an end: Now, I am happy to have my chocolates back and appreciate them even more, because I know nothing is permanent in this world, not even our favorite cocoa. It's limited, so let's consume it as much as we can before it vanishes from the globe like dinosaurs! 😉
And the idea of eating chocolates again brought the idea of making something with chocolate. So then these truffles were born. Some delicious tuffles for all make a happy bunch.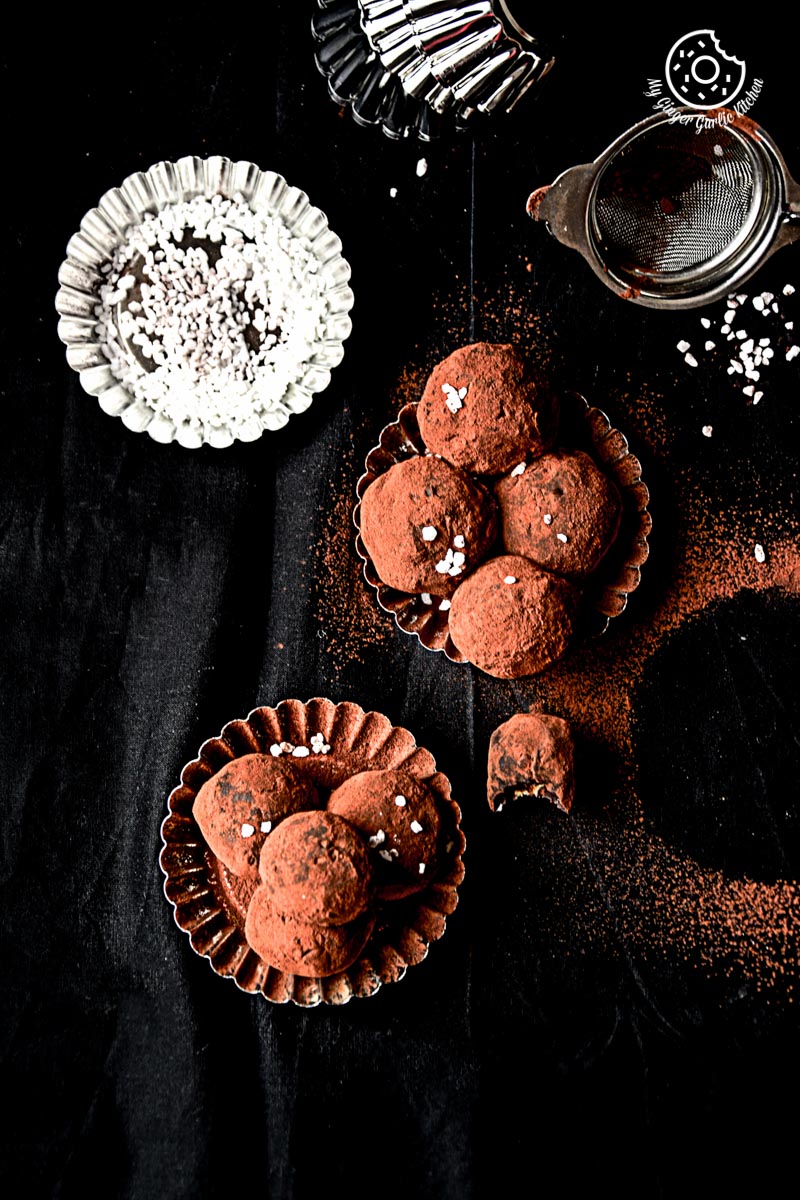 Coconuts are the best: I'm not vegan but I do like to cook with coconut cream. So the love of coconut pushed me to make something nice and coconutty. And believe me, it has just the right amount of coconutty flavor which explodes in every single bite. Plus, there are very few ingredients and they are GLUTEN-FREE too!
Oh these truffles. They really could not be better. I mean, coconut milk, peanut butter and chocolate. They are perfect bite sized too.
Honestly I could go on and on about these truffles, but since I really just want you to get right down to making them, I will keep this quick.
Cooking is as easy as cake: I know these truffles may sound like a lot of work by their name, but they are actually very simple. Everything gets made in one pot, then you refrigerate, and shape and roll in cocoa.
And then eat till your stomach is full of chocolatey, coconutty, peanut butter yummyness. That's the way I do it.
They are best when served with a nice cold glass of chocolate milk. See, there is no such thing as eating too much chocolate.
That's the way to do it: Begin by melting some butter. Next add some thick coconut cream and boil. Add coconut condensed milk if you are vegan or regular sweetened condensed milk if you are not. Add cocoa and mix well. Stir until it's mixed, thick and beautiful.
Then just chill for 3-4 hours. Roll into flat circles, stuff with crunchy peanut butter, roll to make a ball. Roll into cocoa. Done! Taste the double yummyness. A Coconut Milk Peanut Butter Truffle is a mouthful of love.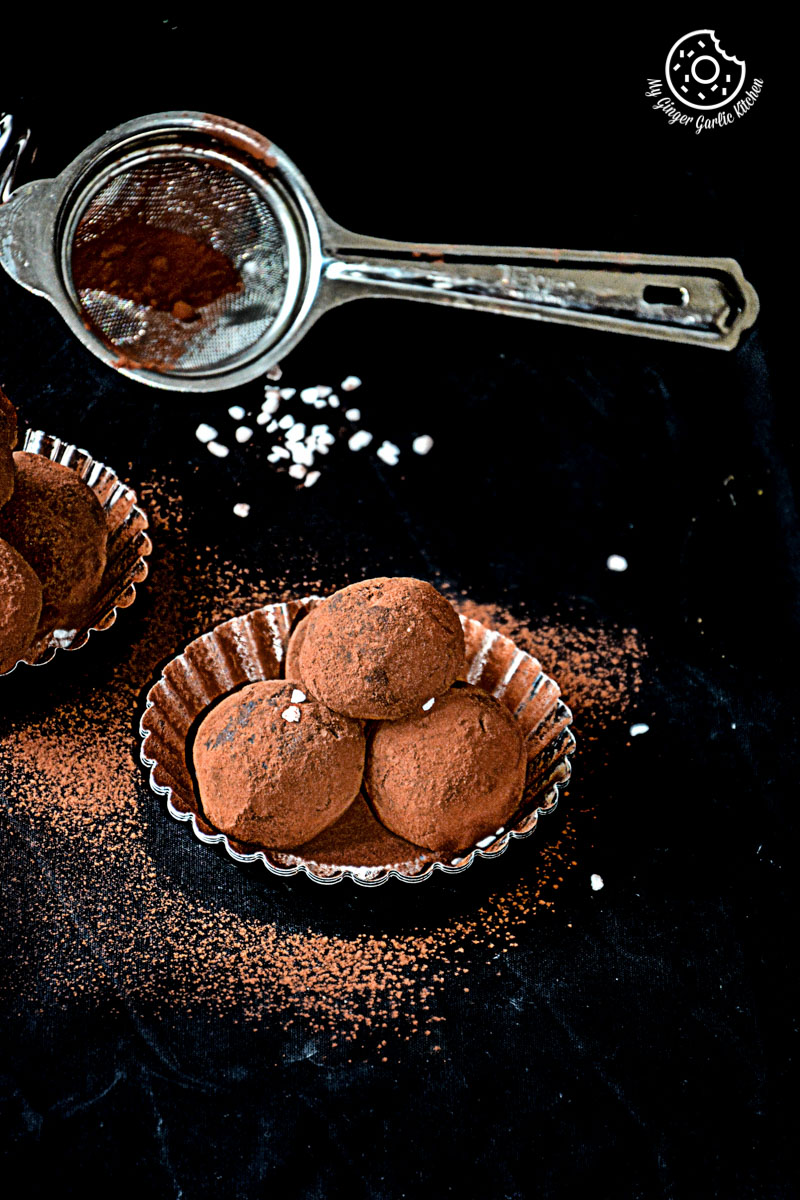 Your last minute homemade gift: So no need to panicking for a last-minute homemade gift, because you have these Coconut Milk Peanut Butter Truffles to bring to a holiday party. These delicious treats will make you the superstar of the party.
Be the superstar you've always wanted to be: Yes, they are just perfect for gifting, perfect for parties and obviously perfect for treating yourself.
It is incredibly delicious. They are also awesome for breakfast too!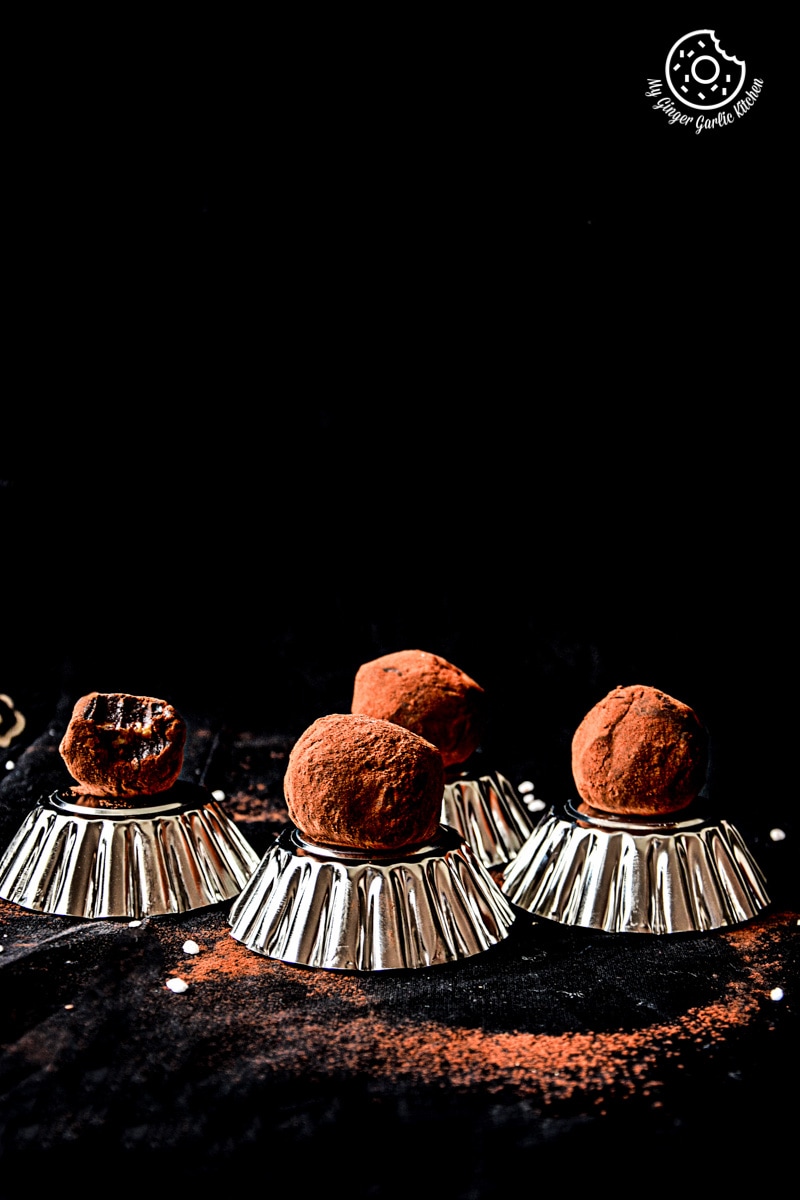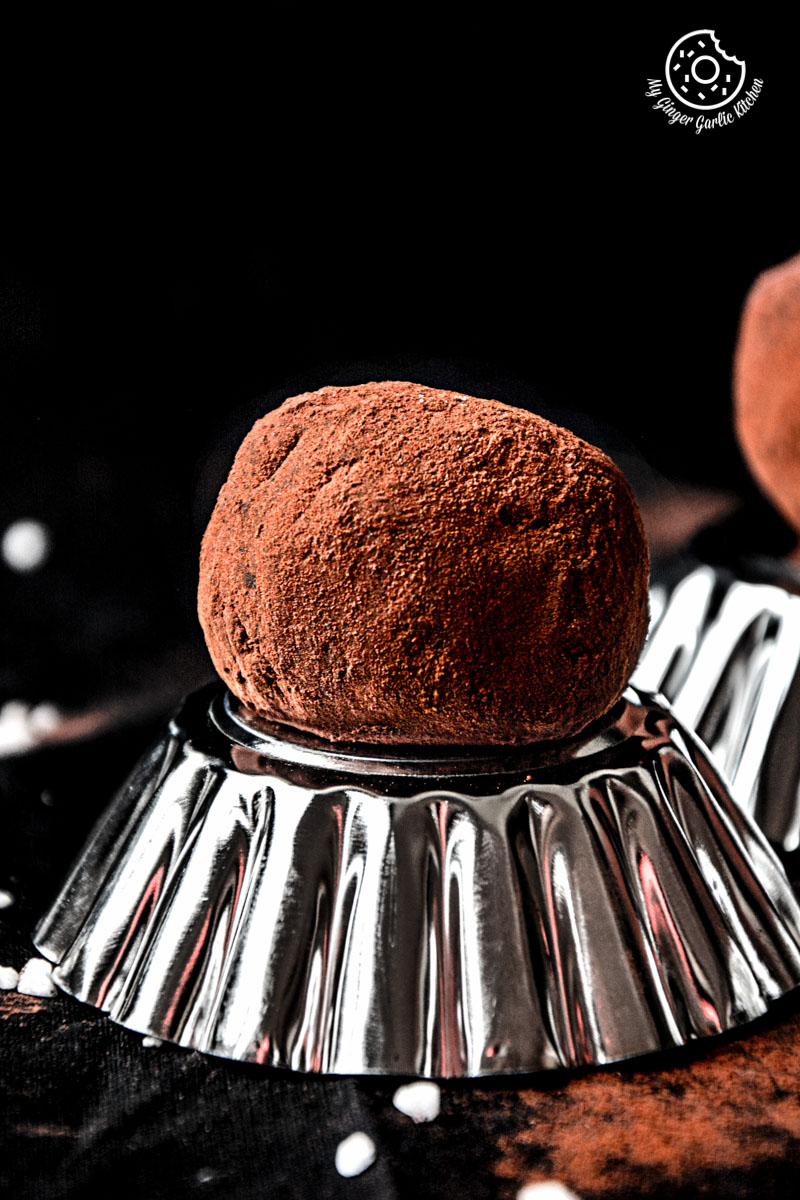 Peanut Butter Coconut Truffle

[Recipe]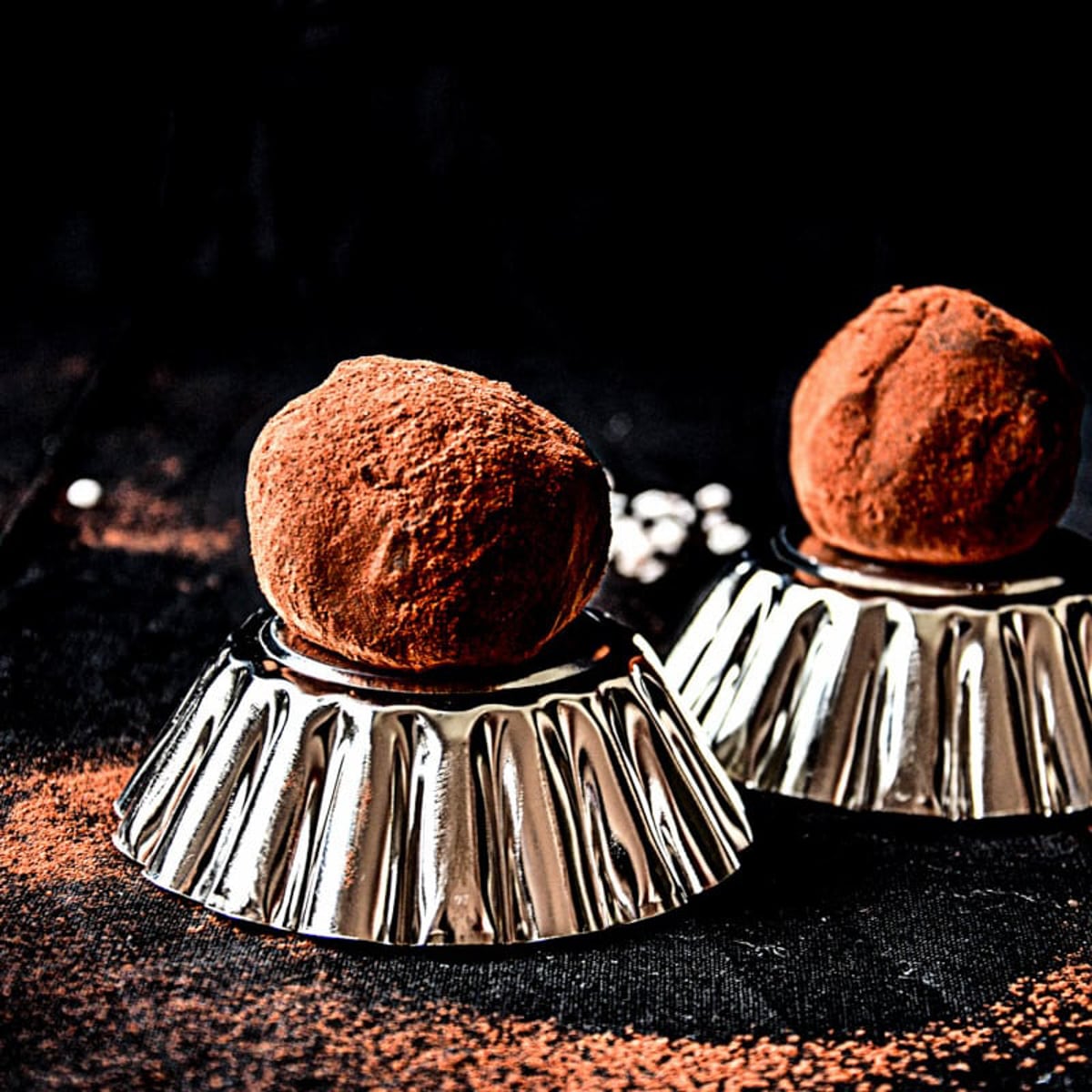 These bite sizes delicious Peanut Butter Coconut Truffles are full of coconut milk, peanut butter and cocoa. Made with 5 ingredients. Gluten-free and vegan.
---
★★★★✰
(Rating:
4.6
from
79
reviews)
---
| Prep time 🕐 | Cook time 🕐 | Total time 🕐 |
| --- | --- | --- |
| | | 25 mins |
| Category ☶ | Cuisine ♨ | Serves ☺ |
| Dessert | French | 10-12 |
| Nutrition Info ⊛ | | Serving size ⊚ |
| 270 calories | | 1 serving |
---
INGREDIENTS
For Peanut Butter Coconut Truffle
4 tablespoons salted butter
200 ml coconut cream (take the thick stuff off the top from 1 can coconut milk)
1 dl unsweetened cocoa powder
100 grams sweetened condensed milk (you can use also coconut condensed milk to make it completely vegan)
crunchy peanut butter - ½ cup
1/2 tablespoon coconut flour
Unsweetened cocoa powder for rolling
Pearl sugar for decoration (optional)
---
INSTRUCTIONS:
How to Make Peanut Butter Coconut Truffle //
Heat butter in a small pan.




Add coconut cream and let it boil for 2-3 minutes or till it starts thickening.




Add condensed milk and cocoa and cook over medium high heat.




Bring it to a gentle boil, stirring constantly with a spoon. Reduce heat to medium-low and cook for 2-3 minutes, until mixture is thick and shiny and starts to pull away from bottom and side of sauce pot. The mixture should be thick.




Remove from the heat and pour mixture into a plate.




Place in the fridge for at least 3-4 hours or overnight.




Once chilled place unsweetened cocoa powder in a shallow bowl.




Rub some softened butter over hands and scoop out 2 tbsp of the chocolate mixture and from into flat circle.




Place 2 tsp crunchy peanut butter to the center.




Now bring the sides above the stuffing to enclose it and roll into a ball.




Roll each ball in the cocoa powder. Enjoy!



---
WATCH VIDEO:
---
NOTES:
You can store these Peanut Butter Coconut Truffles in the refrigerator for up to 1 week.
---
If this recipe helped you, then please spread the word by sharing and
subscribing
to us on YouTube to get more such Recipe Videos.
---
Your feedback is so helpful for me and other MyGingerGarlicKitchen readers. So, for Facebook and Instagram, please mention
@MyGingerGarlicKitchen
or
#mygingergarlickitchen
. I would love to see your photos. :)
---
Author:
Anupama
Recipe Source Link:
https://www.mygingergarlickitchen.com/coconut-milk-peanut-butter-truffles-video/
Date Published:
2019-10-04
• • • • • • • • • •