I am in love with such mini treats I made today. I mean seriously, I am! 🙂
First of all, Happy Makar Sankranti to all of you!
For those who don't know about this Indian festival, here is some info about Sankranti. In some places like where I come from (Jaipur), it is also known as Kite Festival.
Sankranti is celebrated with some good food, and specifically with 'Til' ladoo (sesame balls). Traditionally Til laddo is made with only two ingredients—sesame seeds, and jaggery. Over the years, I watched my mom and granny making these yummilicious ladoos, which we used to enjoy at least for a week. It was such an AWESOME treat.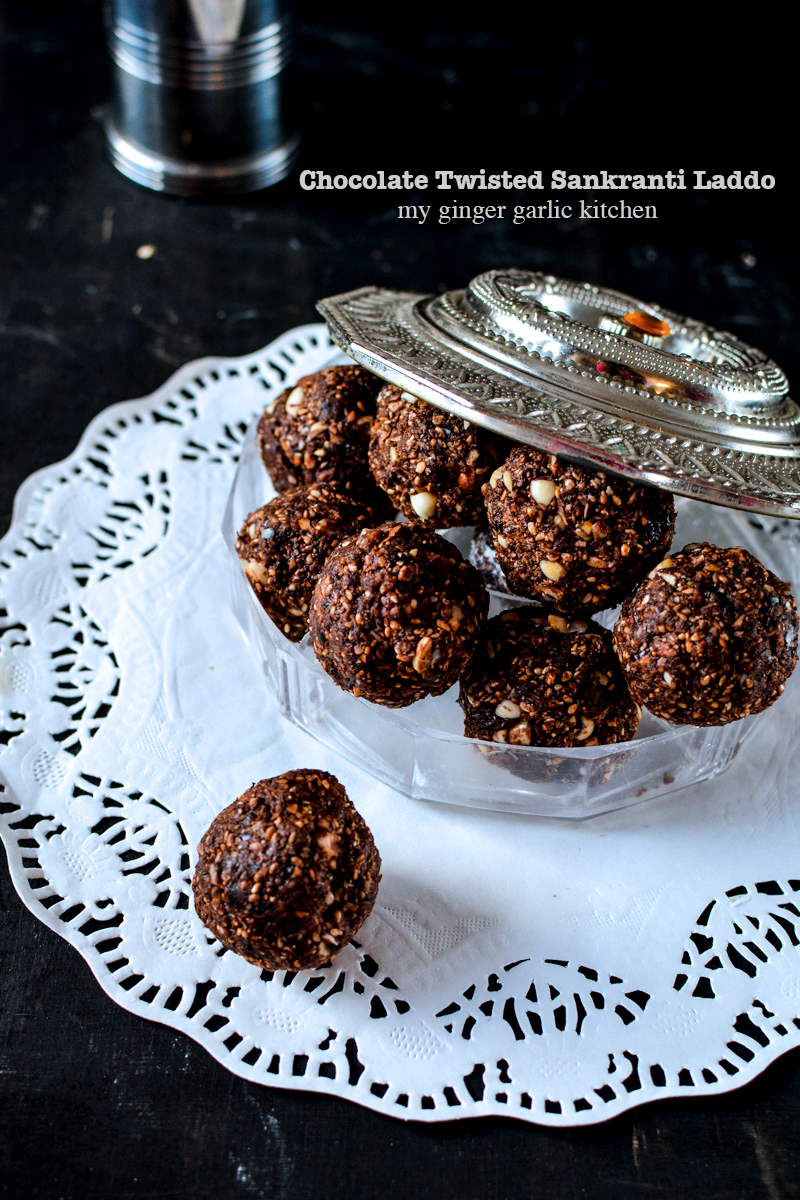 Only now I understood why our ancestors would have made this ladoo eating ritual. Well! Jaggery eating is really good in winters—it has a lot of health benefits, and Sankranti always comes on the peak of winter, on 14th January. So I guess it was their plan to beat the cold winter with some real WARMTH of sesame and jaggery.
Yesterday, when I was planning for these ladoos, a very strong thought came to my mind. Everyone must be making these ladoos the traditional way, and why not, they are so Yummy as such 🙂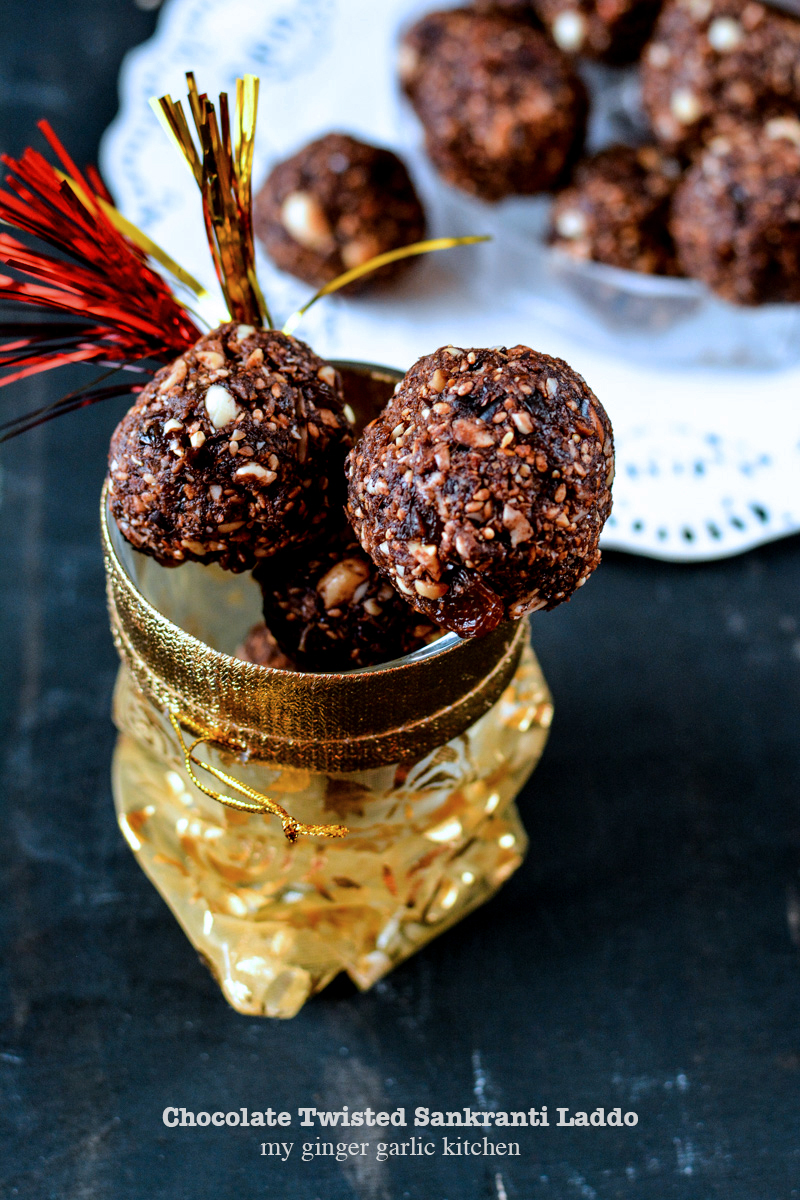 I do agree that nothing can beat these authentic balls. But again, why should I make them with the same way like I always do, why shouldn't I try to make them with a twist—and make a new family tradition!!! So that, after many years when I am not here, I'd leave this new legacy in terms of food for my great grand children. Am I being farsighted? Yes, I am! 🙂
I am not going to stay here forever, as no one ever does. I know talking about BEING GONE is really horrific for everyone, and I am no different in that. But that is a fact of life, sadly no one is IMMORTAL here. But I want my family traditions to live for years and years to come. I also believe that for traditions to hold some value for the newer generations, some things should be changed and adapted slightly over the years.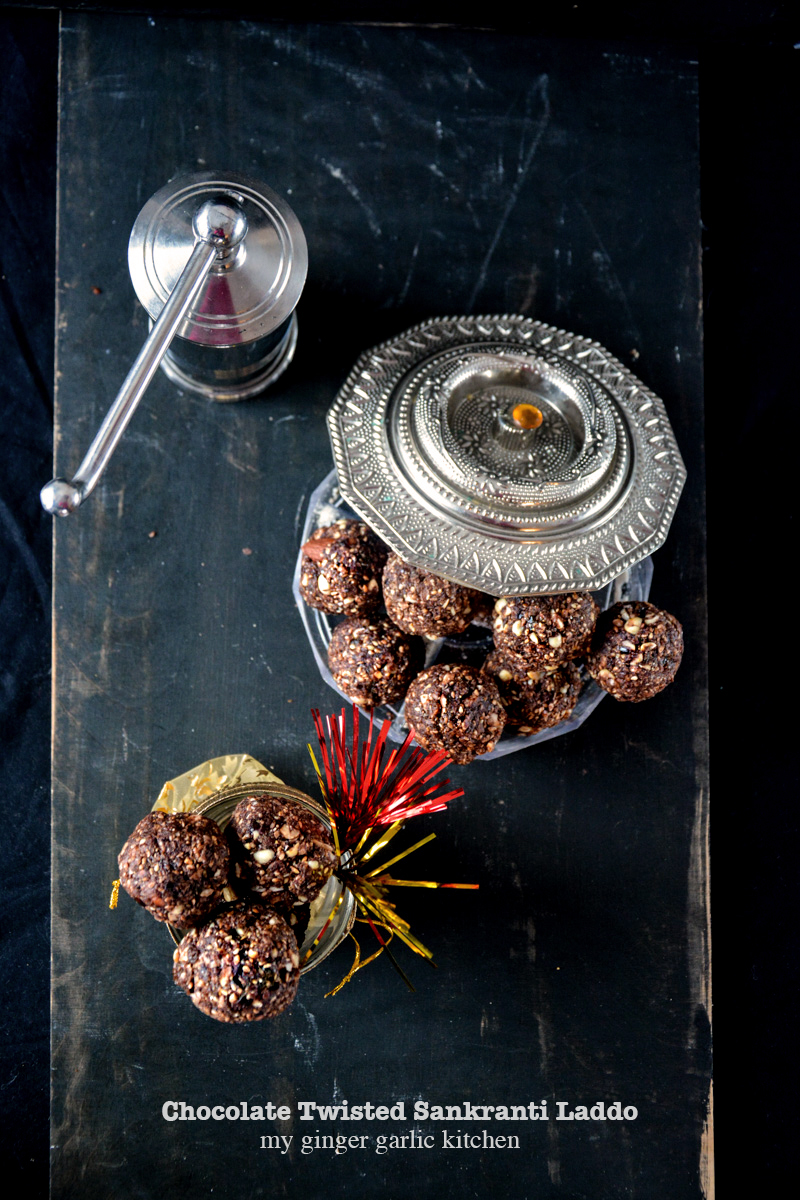 Okay! Enough, Enough of that! Right now, I am very young, so no need to worry now! So the thing is that, I made these awesome dessert balls, with a twist. And the outcome is really gorgeous. My 2 year-old has been eating these balls since the time she came home in the evening from her daycare.
And let me tell you one thing guys–I have really gone nuts trying out to NAME these awesome nutty balls. As I told you it is the twisted version, so was super excited to name it. This is exactly not the Sankranti laddoo, but can be served FOR the purpose very well. So what should I name these?
I mean, of course I can name them anything, what is so BIG deal?? And you know friends, I would have wanted to add a real twist to the name as well—as I added some real dark chocolate to it. Dark Chocolate is wonderful! 🙂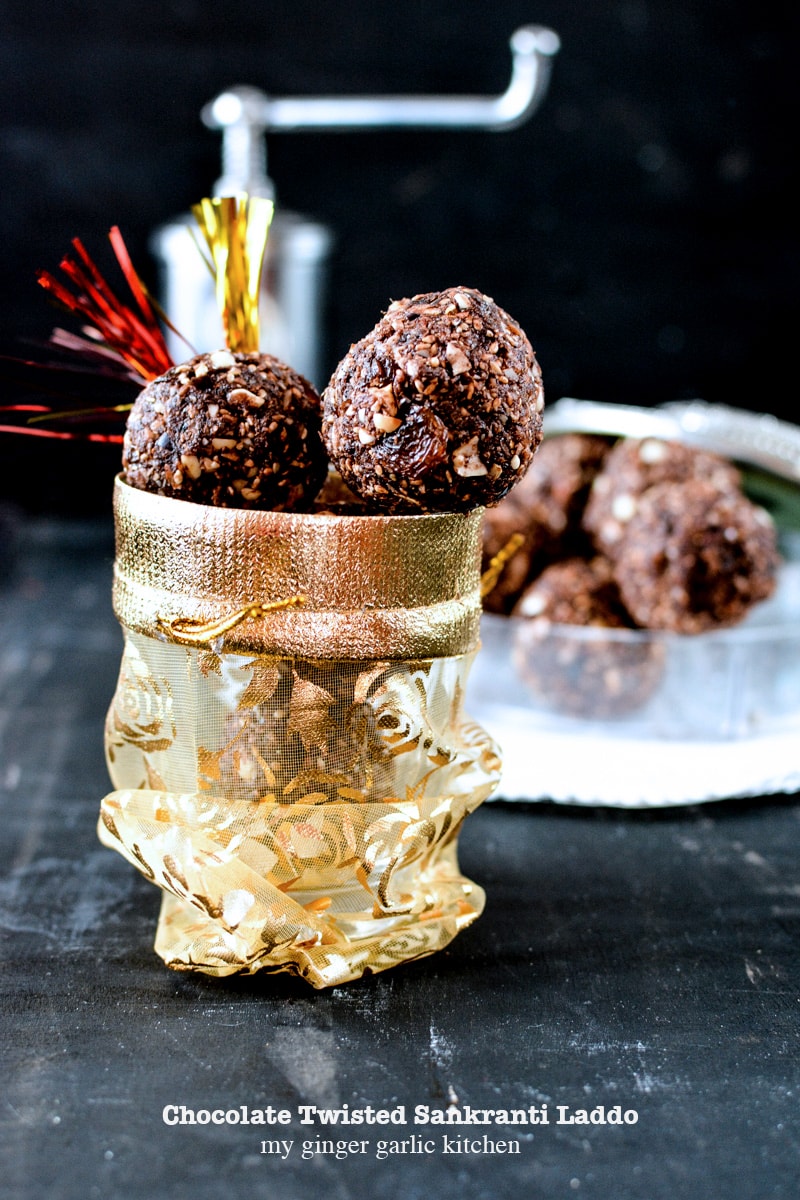 SO it could be related with chocolate. But NO, it doesn't serve the purpose of Sankranti. After a lot of brainstorming, I came up with an awesome Idea. Why to complicate it? Why shouldn't I give them exactly the same name by simply adding twist to it.  UFFFF! Finally I got my name for the recipe, and it is as simple as it could be. Sometimes the simplest is the best. 🙂
And it's the time to reveal the name—it's 'Chocolate Twisted Sankranti Laddo'.
Anything is good for me if it comes with the MAGIC of chocolate, so I added chocolate to this Chocolate Twisted Sankranti Laddo. 😉 I also wanted them to be REAL healthy, and a good balance is the key here.
Chocolate? Healthy? YES! I used dark chocolate (81%), so it has all kinds of health benefits too. Yeahhhh!
So what else did I use for these twisted chocolate ladoos? I have used some dry roasted sesame, dry roasted peanuts, lightly roasted dessicated coconut,  almonds, fresh juicy dates, raisins, dark chocolate, and honey as a sweetener. That is why I told you to call them energy balls. Aren't they full of energy, just in time for the dark winters, when we need it the most. 🙂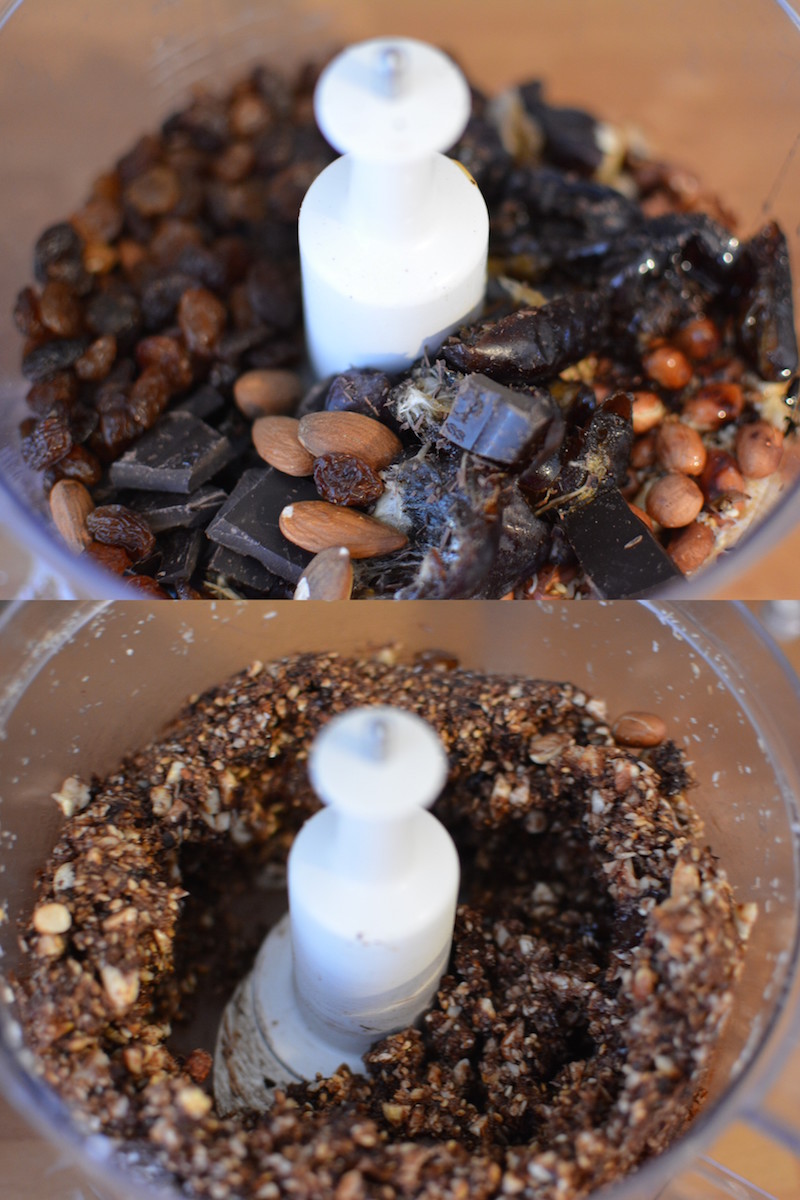 However, there is one thing. I so want this month to be all about healthy food options. I am not lying. In December we had so heavy food, and it is okay as it was the month of festivals. Really so much sweets. And now I feel that in this month we should eat light and fresh food. I am only telling you that it should be healthy, and yummy of course. January is a cold month, really COLD! And we all need something that gives us warmth. What else could be more cozy than these nutty balls, with some dark chocolate.  You can even call them energy balls, as they are full of ENERGY! 🙂
NOM NOM NOM! 🙂
Other laddu recipes you may also want to check out are: Dry Fruits Laddu, Til Laddu, and Motichoor Ladoo, and peanut ladoo.
These Wonderful laddoos are FULL of all things HEALTHY, and they are Yummy too!
These laddos are totally worthy of a healthy breakfast, or brunch or as evening snack. You will always feel fuller after having them. They would even go well even for dessert after dinner or lunch.
Let's make twisted Sankranti laddo without much mess!, And then we eat them for as long as we wish, or till there aren't left any! 🙂
These laddos would come with a hefty flavour of dark chocolate!
Do you like Indian dessert recipes? If yes, then you might also like to check out this delicious dry fruits modak.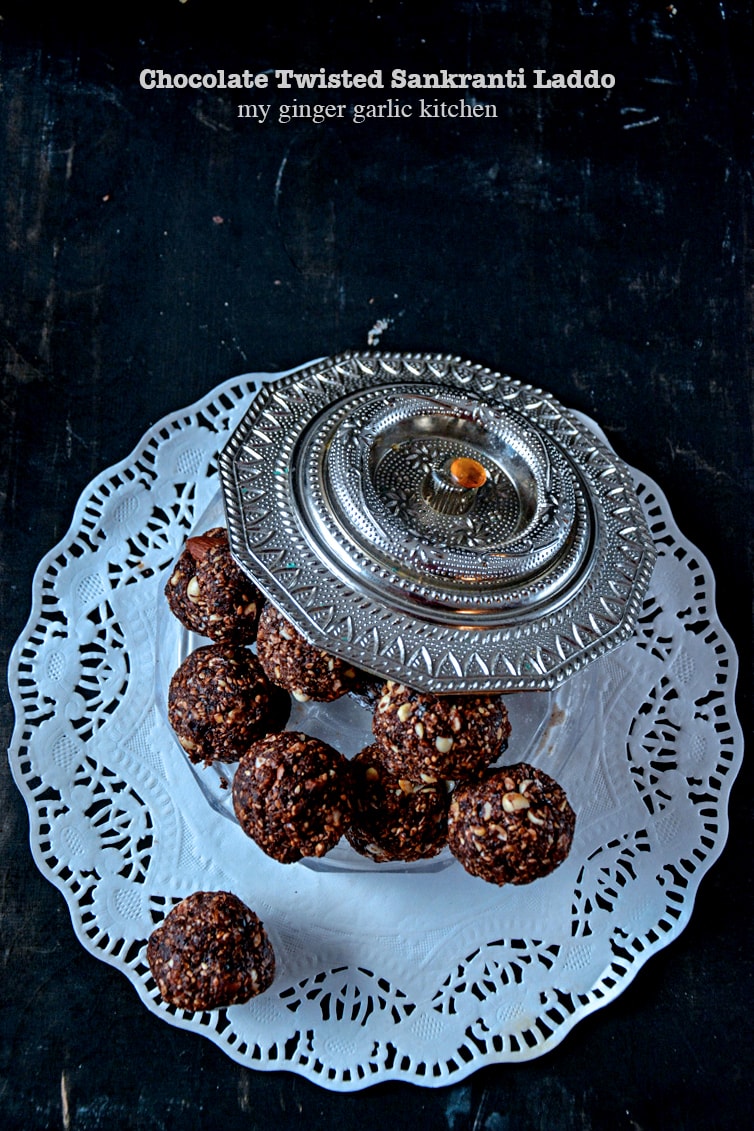 ---
Chocolate Twisted Sankranti Laddo – No Bake

[Recipe]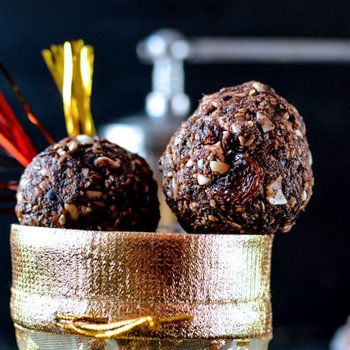 Chocolate Twisted Sankranti Laddo is No Bake Indian recipe is an energy bar,and is full of nuts and nutrients.It comes with goodness of chocolate and honey.
---
★★★★✰
(Rating:
4.2
from
39
reviews)
---
| Prep time 🕐 | Cook time 🕐 | Total time 🕐 |
| --- | --- | --- |
| | | 16 mins |
| Category ☶ | Cuisine ♨ | Serves ☺ |
| Breakfast | Indian | 8 |
| Nutrition Info ⊛ | | Serving size ⊚ |
| 125 calories | | 1 ladoo |
---
INGREDIENTS
For Chocolate Twisted Sankranti Laddo
dry roasted peanuts - ½ cup
dry roasted sesame - ½ cup
dry roasted desiccated coconut - ½
dark chocolate, chopped - 1 cup (I have used 81% cocoa)
fresh juicy dates, deseeded - 1 cup
almonds - ¼ cup
raisins -1/4 cup
vanilla extract - 1 tsp
honey - ¼ cup
---
INSTRUCTIONS:
How to Make Chocolate Twisted Sankranti Laddo
Put all ingredients into a blender and blend well. Your mixture should look sticky at this point. If your mixture seems too dry to shape, squeeze in a little more honey.
Make lemon size balls. Using your hands, shape into lemon balls. You will really want to squeeze and mould these tightly to get them into a ball shape.
Leave them aside for about 30 minutes. Store in an airtight container in the fridge for up to one week.
---
NOTES:
No notes for this recipe.
---