Toothsome Banana Pancakes [Recipe]
---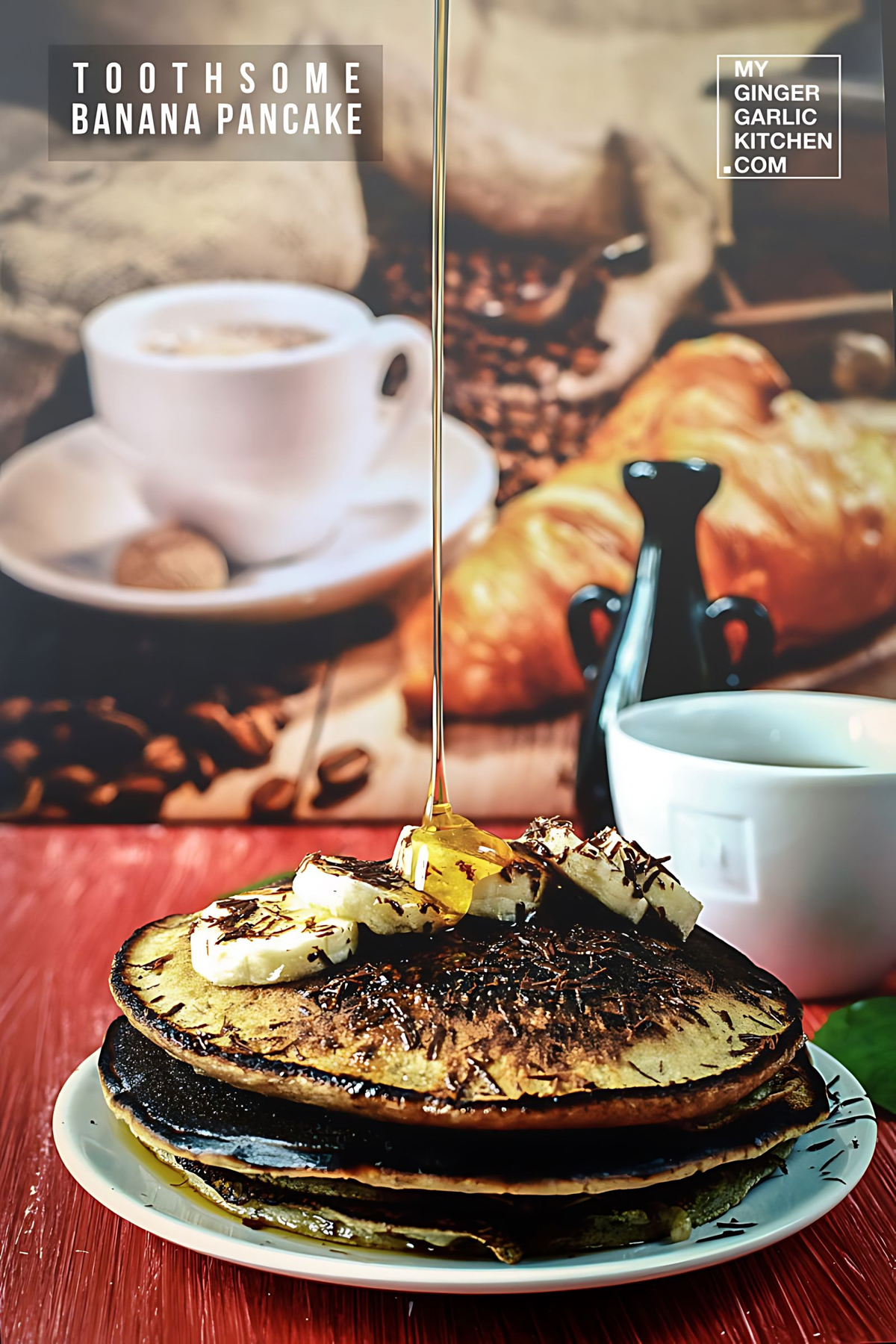 Prep Time: 5 minutes
Cook Time: 15 minutes
Servings: 4
---
Toothsome Banana Pancakes!
Toothsome Banana Pancakes are light, fluffy, and delicately flavored banana pancakes with the fragrance of vanilla. These pancakes make a great weekend morning breakfast, and nothing beats having a feel-good breakfast, which is packed with all the nutrition one needs for the rest of the day. Toothsome Banana Pancakes are perfectly delicious, healthy & fruity pancakes that your kids would love to eat too.
Let's learn to cook Toothsome Banana Pancakes in easy to understand quick steps.
---
Ingredients:
ripe banana – 2
egg – 1
vanilla extract – 1 tsp
all purpose flour – 1 cup
sugar – 1 tbsp
butter/vegetable oil for batter – 2 tbsp
margarine/butter for cooking
milk – 1 cup
baking soda – 1 1⁄2 tsp
salt -¼ tsp
---
Ingredients for serving:
maple syrup or honey
banana, sliced
chocolate shreds
---
Method:
Take a medium sized bowl. Add banana slices, butter, egg, sugar, vanilla extract, and blend with a blender. Add flour, baking soda, and milk to the banana mixture to make a smooth batter.
Heat a pan over medium heat. Add butter to the pan, and pour the batter onto the pan, using approximately 1⁄4 cup for each pancake. Cook until a few holes form on top of each pancake and the underside is golden brown. Flip the pancakes and cook for 1-2 minutes until the bottom is golden brown and the top is puffed. Using the spatula, transfer the pancakes to a serving plate.
Wipe the pan with paper towels. add more butter and oil, and repeat with the remaining batter. Garnish with banana slices, and chocolate shreds. Serve hot with maple syrup or honey.
Enjoy!
PHOTOGRAPHY NOTES:
Camera: Nikon D7100
Lens: Nikon 35mm f/1.8G AF-S DX Lens
Setup: Used natural sunlight coming from left, and a reflector on the right side of the frame.
Props & Styling:  Used a red wooden background, and a canvas as a backdrop.  Added  some fresh leaves, and a tea cup to the layout.
Angle: I clicked these photos with 90°, 70°,  50°.
Happy Cooking 🙂
Show us your love by commenting on this post, and share your thoughts.
Liked this post, then you will like this too.
[simple-qr size="" type="url" url="http://www.mygingergarlickitchen.com/toothsome-banana-pancakes-recipe/" margin="0″ size="160″ align="center" pointer_text="Get This Awesome Recipe On Your Smartphone." pointer_color="#FF1975″ pointer_position="left"]
---