Toothsome Banana Pancakes
Toothsome Banana Pancakes are light, fluffy, and delicately flavored banana pancakes with the fragrance of vanilla. A great weekend morning breakfast.
---
« Go back
Print this recipe »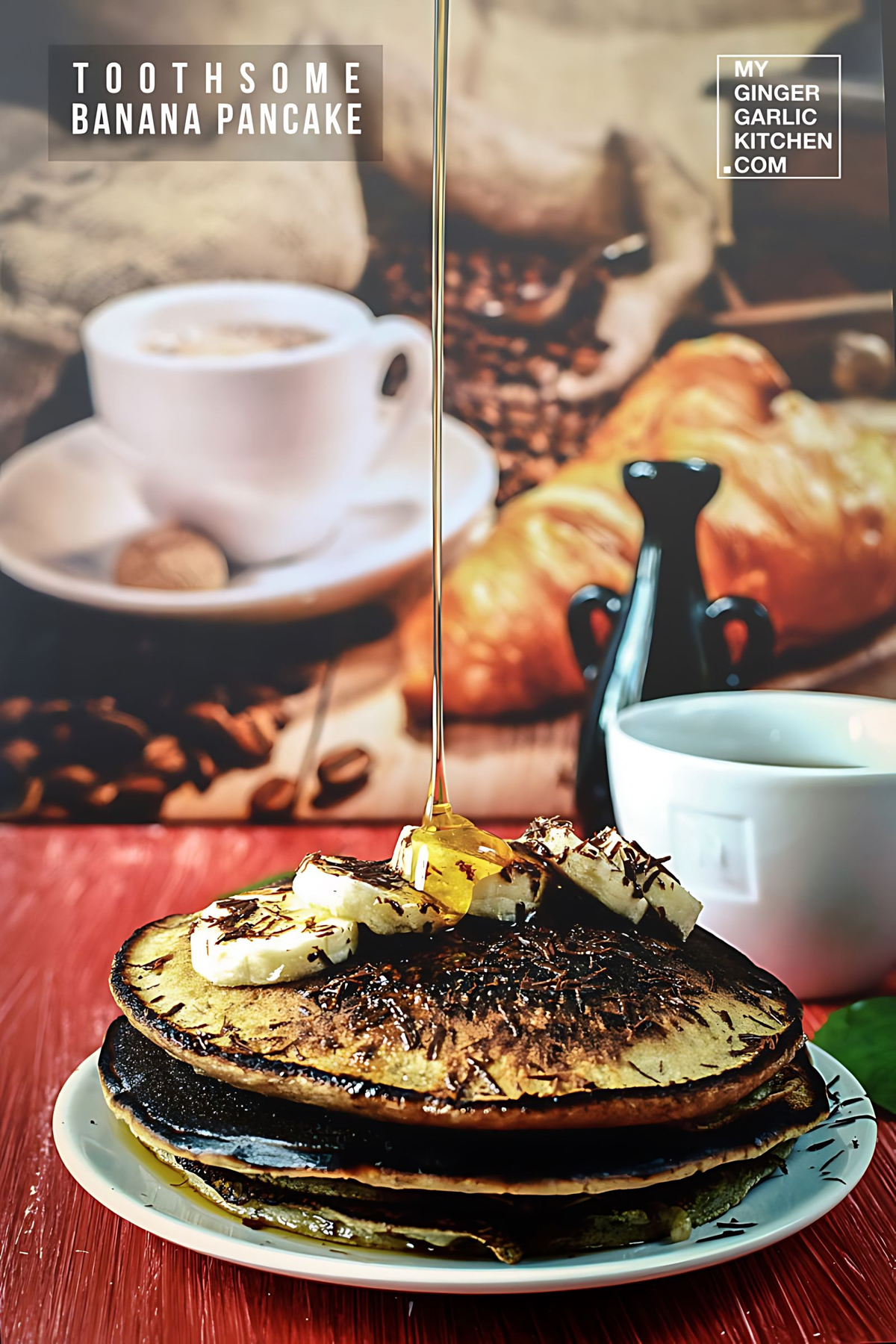 ---
Prep Time = 5 minutes
Cook Time = 15 minutes
Total Time = 20 minutes
Category = Breakfast
Cuisine = International
Serves = 5
Nutrition Info = 226 calories
Serving Size = 1 Pancake
---
RECIPE INGREDIENTS
» For Banana Pancakes //
ripe banana - 2
egg - 1
vanilla extract - 1 teaspoon
all purpose flour - 1 cup
sugar - 1 tablespoon
butter/vegetable oil for batter - 2 tablespoons
margarine/butter for cooking
milk - 1 cup
baking soda - 1 1/2 teaspoons
salt - 1/4 teaspoon
» Ingredients for serving //
maple syrup or honey
banana, sliced
chocolate shreds
---
RECIPE INSTRUCTIONS
» Instructions for Banana Pancakes //
Take a medium sized bowl. Add banana slices, butter, egg, sugar, vanilla extract, and blend with a blender. Add flour, baking soda, and milk to the banana mixture to make a smooth batter.
Heat a pan over medium heat. Add butter to the pan, and pour the batter onto the pan, using approximately 1/4 cup for each pancake. Cook until a few holes form on top of each pancake and the underside is golden brown. Flip the pancakes and cook for 1-2 minutes until the bottom is golden brown and the top is puffed. Using the spatula, transfer the pancakes to a serving plate.
Wipe the pan with paper towels. add more butter and oil, and repeat with the remaining batter. Garnish with banana slices, and chocolate shreds. Serve hot with maple syrup or honey. Enjoy!
---
RECIPE NOTES
No notes for this recipe.
---