This Romantic CHOCO-BERRY Valentine Smoothie is a perfect treat for Valentine's Day!
This smoothie is certainly one of those drinks that when people take a sip, you will get remarks like - this is the best smoothie ever.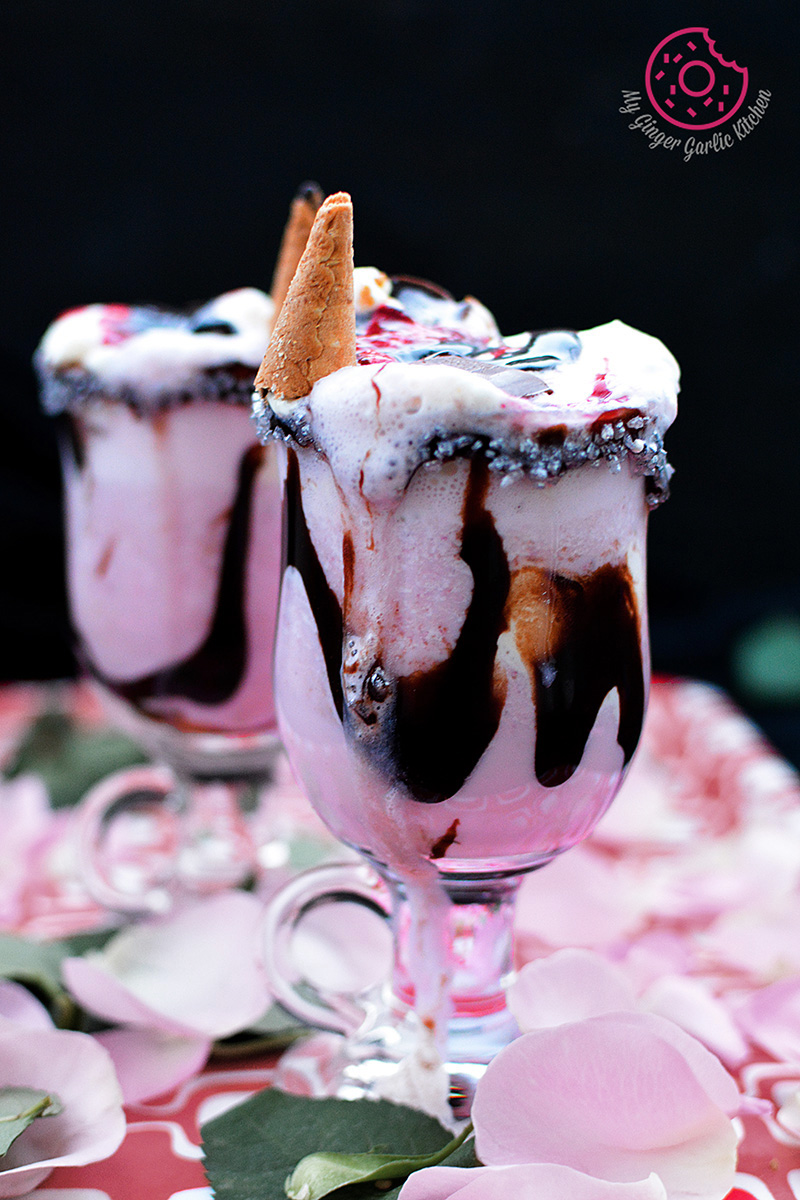 Everywhere, all I can see is the pink-red hearts, chocolates, roses, soft-toys, hanging ribbons. Feels like a wonderland! 🙂
As you all know that it's the week of chocolate, and I am truly so obsessed with chocolate. So here I am sharing my chocolate inspired healthy instant recipe for this chocolate week. NOPE, it's not the chocolate cake or muffins. Nothing like that! It's the Romantic Valentine Smoothie But hey! How can a ROMANTIC smoothie like this be complete without chocolate?
Yes, It cannot! That's why I added chocolate to make it chocolicious! 🙂 So it's chocolate plus strawberry. Thus I named it 'Romantic CHOCO-BERRY Valentine Smoothie'. How does that sound to you? Isn't it superb! 🙂
Truthfully, I am making this smoothie as an healthy addition to the Valentine's Day meal plan. It would work wonderfully, as it has some chocolate but not all chocolatey. So a perfect combination of berry and chocolate. Oh, one more thing, I am pretty much dreaming to have this smoothie again on valentine's day! 🙂
I made this smoothie for brunch yesterday. Ado was super excited to touch those alluring glasses. As there were some chocolate and all the heavenly good things lying on the kitchen counter; according to Ado. 😉 She stood all the time beside me like an attentive child, and followed me everywhere, till I finished the photoshoot!
She knows very well that I would not give her to eat untill I finish my photoshoot. She was quiet all the time, and as soon as I finished my shoot—she started with her most alluring words. Wow! Chocolate, 'MAMMA' chocolate, and that means—she wants it now, and wants it BADLY! Just to check her desperation, I gave one glass to Hubby dear and I took another one. As we took our first sip, that time she lost all her long held patience! You know what I mean. 😉 And I also think you guys can imagine the rest!:)
Let's talk about this smoothie again—it's silky, ice-creamy, chocolatey, fruity, slightly crunchy, and just perfect. It has all the right textures and perfect level of sweetness. The chocolate is still the STAR of this romantic smoothie.
And the whipped cream topping adds that sweet buttery taste to go well with every sip of this delicious smoothie.
This choco-berry smoothie is a plain strawberry smoothie with the addition of your favourite chocolate and ice cream. And topped with some whipped cream, chocolate sauce, and that's it! I added choco-vanilla cones to the smoothie for a slightly crunchy texture.
But you can use any other ice cream you want to use! I also added simple bright red strawberry sauces to complement the awesome taste.
This valentine choco-berry smoothie is exploding with flavors! Super creamy smoothie with chocolate, that erupts in your mouth with every sip. And whipped cream and sauces are just the right ingredients that your lips will touch the first. This top part is the chocolate-berry goodness.
The Chocolate is the real star everywhere and that's why it always feels shiny and bright. Chocolate makes anything so flavorous. Well!
Smoothie is everyday thing in my family, so I just made it, and enjoyed it. But this time it was a bit different—a dreamy smoothie with explosive chocolate powers!
Do I need to say more, just take a look for yourself. I know you will love it.
It's one of those things that when people taste, you will get remarks like "this is the best smoothie ever!". 🙂 But what makes this smoothie so special, or dare I say the Ultimate Smoothie? The chocolate chunks, and the chocolate sauce topping is the killer here. Absolute YUM!
This combination just speaks to my heart. And this smoothie is quite HEAVENLY, and if you ask me, you have to try this romantic smoothie ASAP because Valentine is coming !
I followed very simple steps to make this romantic & heart-stealer smoothie. Take your serving glass and flip it upside down in a plate of melted chocolate or chocolate sauce. Twist it, and cover the rim in chocolate.
Then dip the cup in a plate of your favorite decorative sprinkles. Drizzle chocolate sauce around the serving glass. To set, let the glasses rest in the fridge for about 30 mins.
Scoop some ice cream in your serving glass, and add chocolate chunks. Make a smoothie with strawberry, milk and honey. Pour strawberry smoothie into the glass, and the ice cream will float up. Add whipped cream on top, drizzle chocolate, and berry sauce. Add a piece of your favourite chocolate. That's it.
Romantic Choco-Berry Valentine Smoothie is ready to snuggle. Go to your favorite place and enjoy with your loved one. 🙂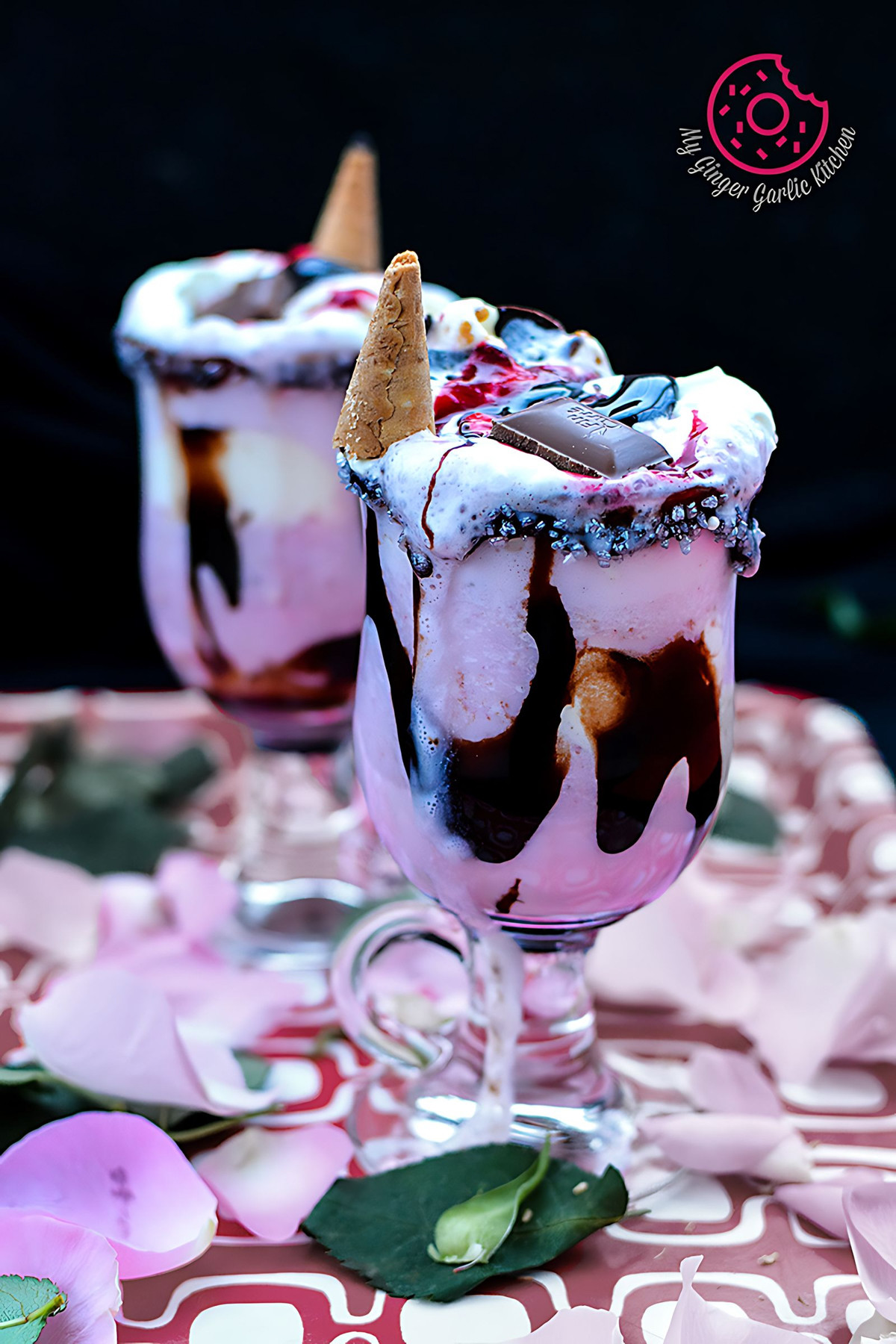 ---
Romantic CHOCO-BERRY Valentine Smoothie

[Recipe]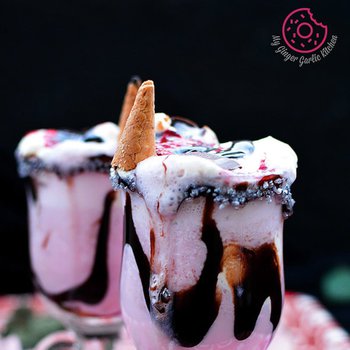 This romantic choco-berry smoothie is a plain yet addictive strawberry smoothie with the addition of your favourite chocolate and ice cream.
---
★★★★✰
(Rating:
4.1
from
58
reviews)
---
| Prep time 🕐 | Cook time 🕐 | Total time 🕐 |
| --- | --- | --- |
| | | 3 mins |
| Category ☶ | Cuisine ♨ | Serves ☺ |
| Drinks | Indian | 2 |
| Nutrition Info ⊛ | | Serving size ⊚ |
| 177 calories | | 1 serving |
---
INGREDIENTS
For Choco-Berry Smoothie
strawberries - 1 cup
honey - 2 tablespoons
milk - 1 1/2 cup
vanilla extract - 1/2 teaspoon
chocolate chunks - 1/2 cup
ice cream ( I am using 2 choco-vanilla cones) - 4 scoops
whipped cream for topping
chocolate sauce
berry sauce for topping
chocolate for topping
---
INSTRUCTIONS:
How to Make Choco-Berry Smoothie //
Combine strawberry, milk, honey and vanilla extract in a blender.
Blend all the ingredients together until smooth.
Place two scoops of ice cream, and chocolate chunks in each cup.
Pour the strawberry smoothie over it. The ice cream will float up.
Top with whipped cream, chocolate, and strawberry sauce, and a piece of your favorite chocolate. Serve immediately.
---
NOTES:
No notes for this recipe.
---
If this recipe helped you, then please spread the word by sharing and
subscribing
to us on YouTube to get more such Recipe Videos.
---
Your feedback is so helpful for me and other MyGingerGarlicKitchen readers. So, for Facebook and Instagram, please mention
@MyGingerGarlicKitchen
or
#mygingergarlickitchen
. I would love to see your photos. :)
---
Author:
Anupama
Recipe Source Link:
https://www.mygingergarlickitchen.com/romantic-choco-berry-valentine-smoothie/
Date Published:
2023-07-22
• • • • • • • • • •