I LOVE chocolate, I LOVE chocolate, I LOVE Chocolate! No matter how many times I say it. The more I say it, the more I love my CHOCOLATE. It's a secret love affair between me and my dear chocolate. 😉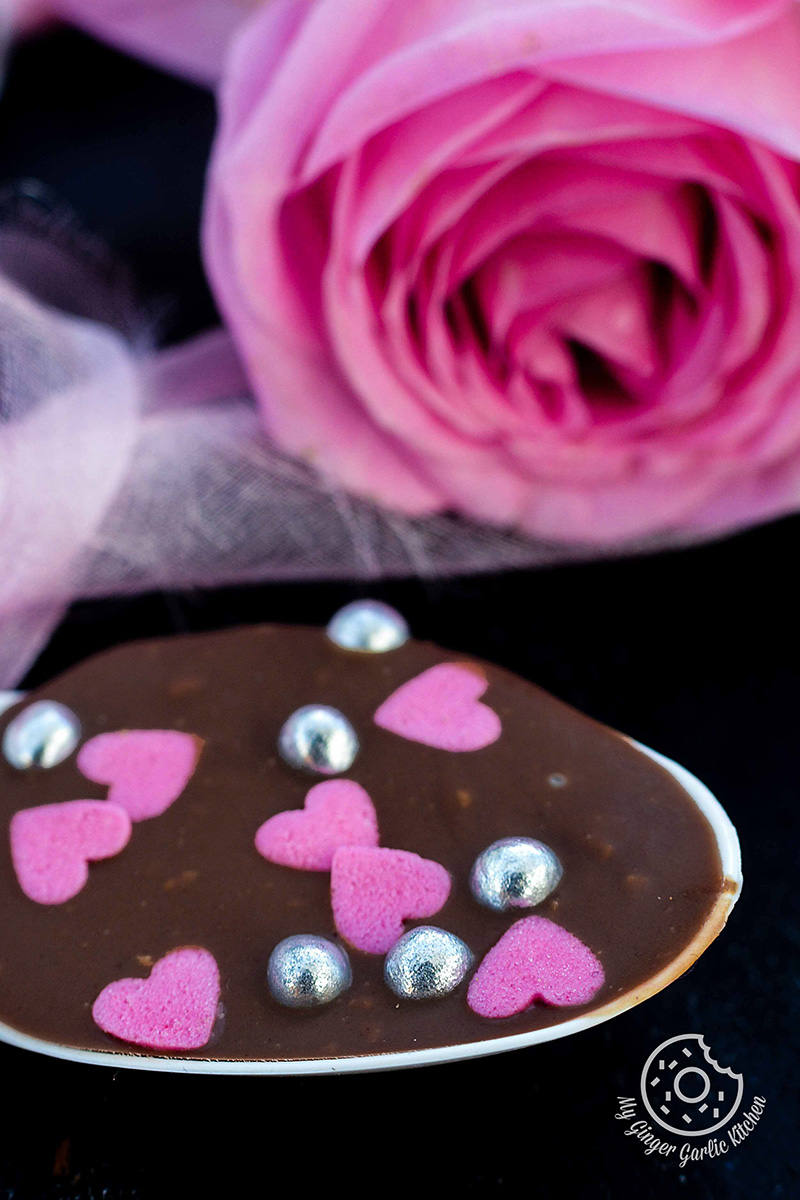 Don't worry guys Hubby dear knows about this affair, and he is indeed a very UNDERSTANDING husband I must say. As I am married to A, he loves me very much, and he also knows that chocolate is also my love. So he allowed my dear CHOCOLATE to visit us occasionally, but not quite often! 😉 🙂
Tomorrow is the Valentine's day, and I want to share with you guys an 'eleventh hour valentine recipe'. What could be more dear to my heart then the mighty chocolate. SO here I am presenting my 'Eleventh Hour Chocolate Spoons'. These are so EASY to make, and so appealing and are bursting with mind blowingness.
These spoons are HEAVEN for chocolate lovers like me. I don't know how many of you are MAD about chocolate, but I am TOTALLY mad about it.:-) So yuuuummm!
If you could see me right now—you can see a gargantuan smile on my face with my eyes all lit up simply writing about it. I am filled with pure excitement, and it is a COMBO excitement of having TGIF and Valentine's day celebration. So this is an added bonus to my HAPPINESS.:-)
What? Am I really smiling thinking about these chocolate spoons? Yes I am. You just have to LOOK AT these gorgeous spoons, so filled with love and goodness of chocolate of course.:-)
Most of the times pictures are just all you need to cherish memories. I got some decent shots of my chocolate spoons which are absolutely capable to make me smile.:-)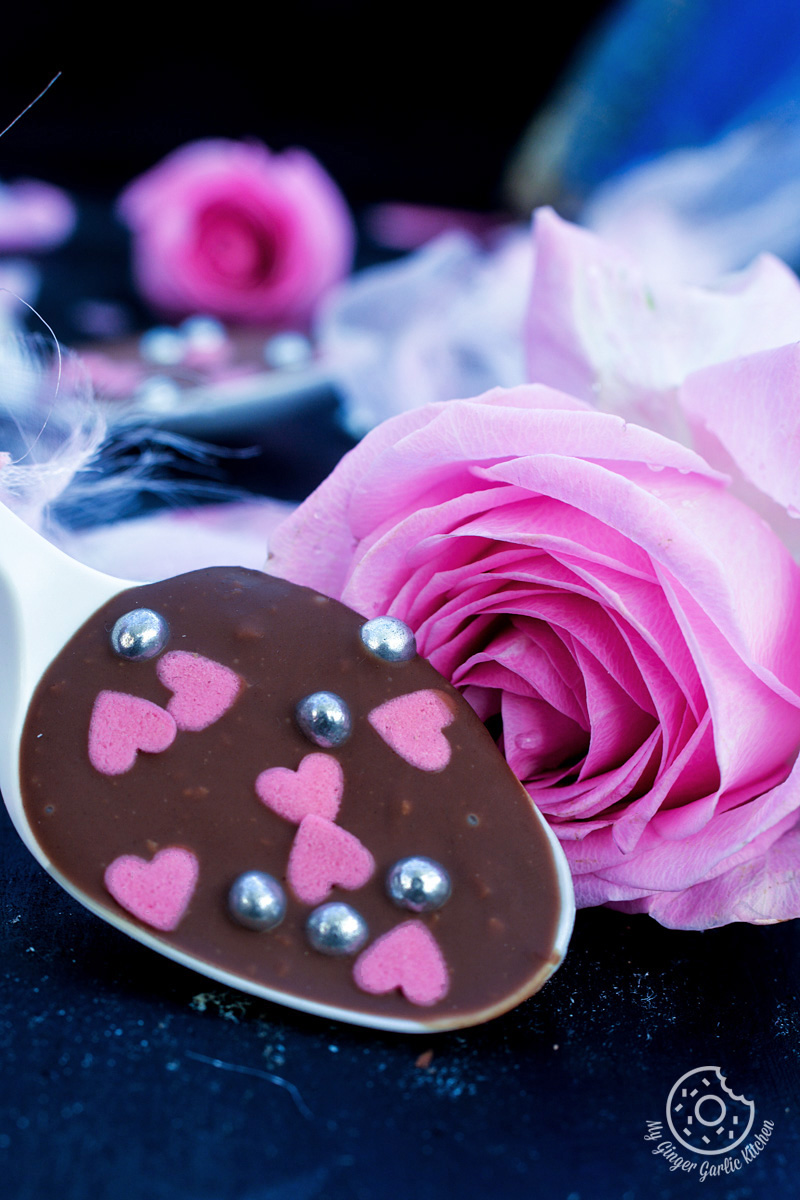 As you all know I am a COMMERCIAL ART DESIGNER, so all I ever want is a good visual presentation. For me, it is all about DESIGN and DESIGN. I want everything to look designer and beautiful to me. You may call it my WEAKNESS or STRENGTH, but this is how I am.
I don't know this thing is in my GENES or in my BLOOD or this is an invisible BODY PART which has developed over the years. 🙂 But I know one thing for sure, that design is a part of me, and I am nothing without a good design.
There are many ways to describe our happiness! And that depends majorly upon our personality types. It's all about the feel for me. If I listen to the good music that would make me FEEL so good. If I watch a mute film, that would affect me but not too much. However, if I listen to good music while enjoying the beauty of nature—I am the happiest person on this EARTH.:-)
Believe me, It's a feeling of warm fuzziness. I love doing it quite often, and that is my 'ME TIME'. Learning comes best for me by seeing and doing! 🙂
Wait, why are we talking about what kind of a person I am, instead of talking about our tiny world full of deliciousness? I told you, chocolate does something to me, and I get distracted so easily. 😉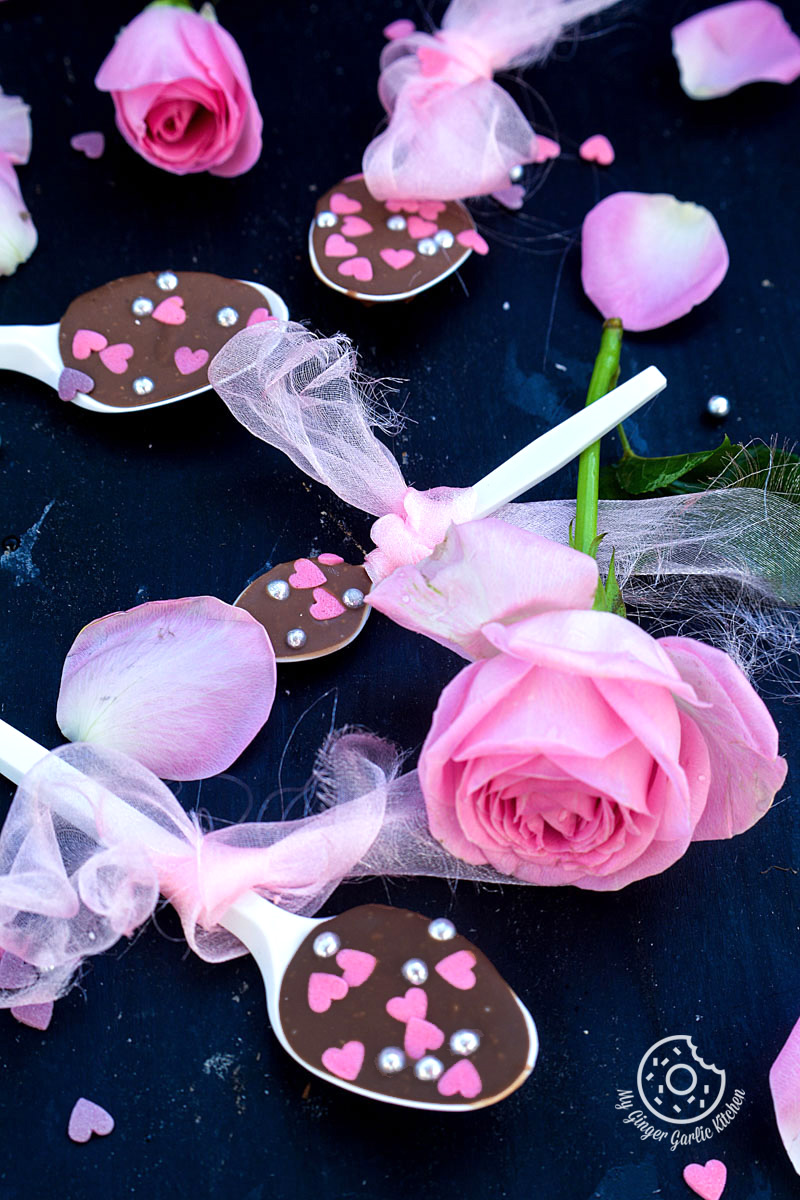 Back to these Chocolate Spoons with your favorite chocolate! WOW! A spoon filled with chocolate and topped with beautiful tiny heart sprinkles and shiny silver pearls. Just WOW! These are my favorites, at least until I make something else with chocolate. But right now I cannot think beyond the delectable, indulging, tempting chocolate spoons. 🙂
Now, speaking of Little-A; she is also having her 'Valentikes Day' today at her daycare, in her own words. And Mommy and Daddy are having Valentime today! 😉 Fair deal, isn't it! 🙂 And tomorrow is the Valentine's day for all three of us! This is what I love the most! 🙂
This time we are getting all lovey-dovey with chocolate and tiny pink hearts. After seeing pink hearts with chocolate and some shiny silver pearls, what else could have been a more beautiful sight than this for a foodie? 🙂
This is so cute, and romantic. Actually this is full of Yumminesssss & Deliciousnessssss!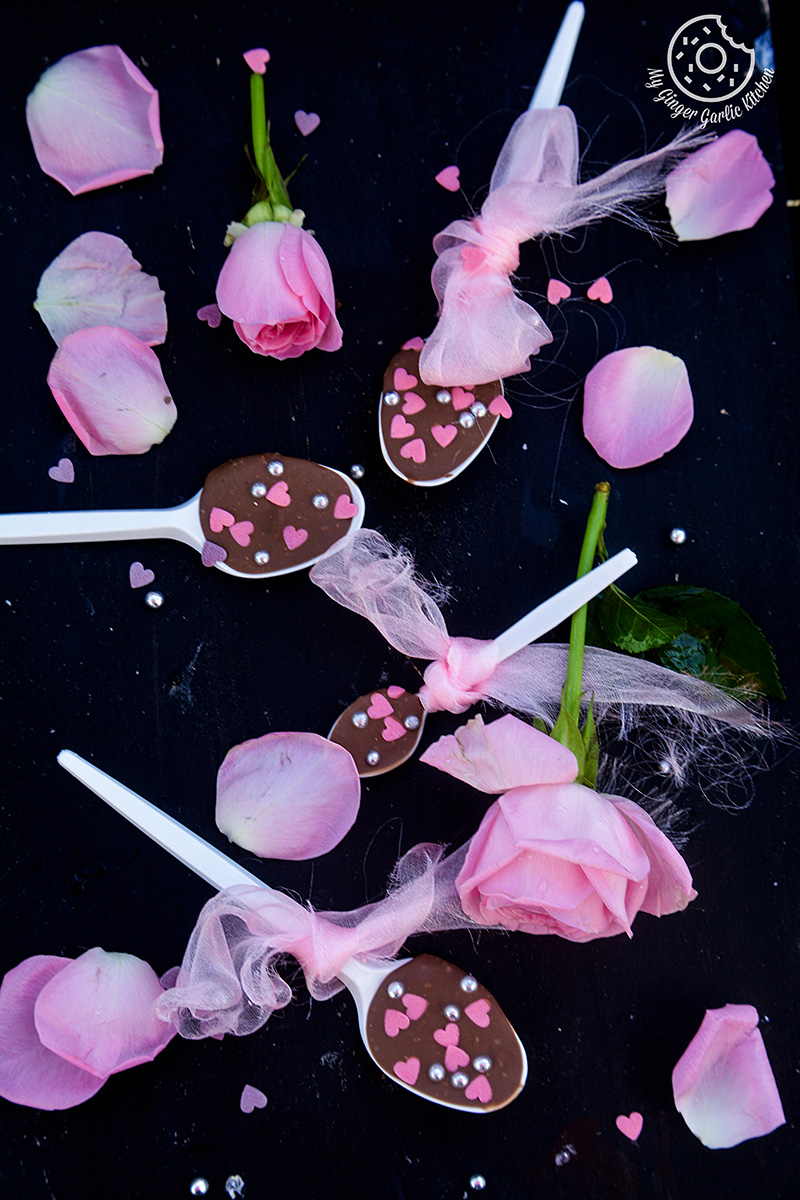 Making these chocolate spoons was the only easiest last minute thing that suited me for this Valentine LOVE theme. And this is for you all lovely human beings out here. I want to say: "I LOVE YOU MY DEAR READERS AND MY DEAR FRIENDS!"
Your backing for me and my blog, all the gorgeous comments, encouragement, and your trust for me and my work is commendable. Lovely feedback coming from you is just beyond everything. I am so grateful to you guys for your SUPPORT and LOVE I keep receiving from you. You all have made my journey just so so BEAUTIFUL, and it feels like all my hard work has paid of in terms of your TRUST. It's all totally nothing without you.
I want to thank you all from the BOTTOM of my HEART. I am so emotional right now, and I just want to sing for you guys one of my favourite bollywood songs. This song is very close to my heart. Whenever I play this song, Little-A comes to me and forces me to dance with her! 🙂 It's a mommy-baby bonding SONG! 🙂 This very same song, I want to dedicate to you guys to SHOW my entire love for YOU! 🙂
Here are the original words in Hindi and their meaning in English.
"Bin poochhe mera naam aur pataa—Without asking my name and address
Rasmon ko rakh ke pare—keeping customs aside
Chaar kadam bas chaar kadam Chal do naa saath mere—please walk with me a few steps, just a few steps."
Let's talk about these AWESOME chocolate spoons again. I have used Geisha (a famous Finnish Brand) Chocolate for these spoons, you can use any of your favorite chocolates! Up to you. You can end up with pink heart sprinkles to make it look more Valentinish and cute.
I have also sprinkled silver decorative pearls for a nice contrast and festive feel. Freeze these spoons for 30-40 minutes, and then we'll have these instant delights to fill up our chocolate cravings. And all you can see is hearts, hearts and more hearts filled with your love for your loved ones.
Wait till you taste this. You might never go back to regular chocolates again! ;-).
HAPPY VALENTINE'S DAY!
Love,
-Anu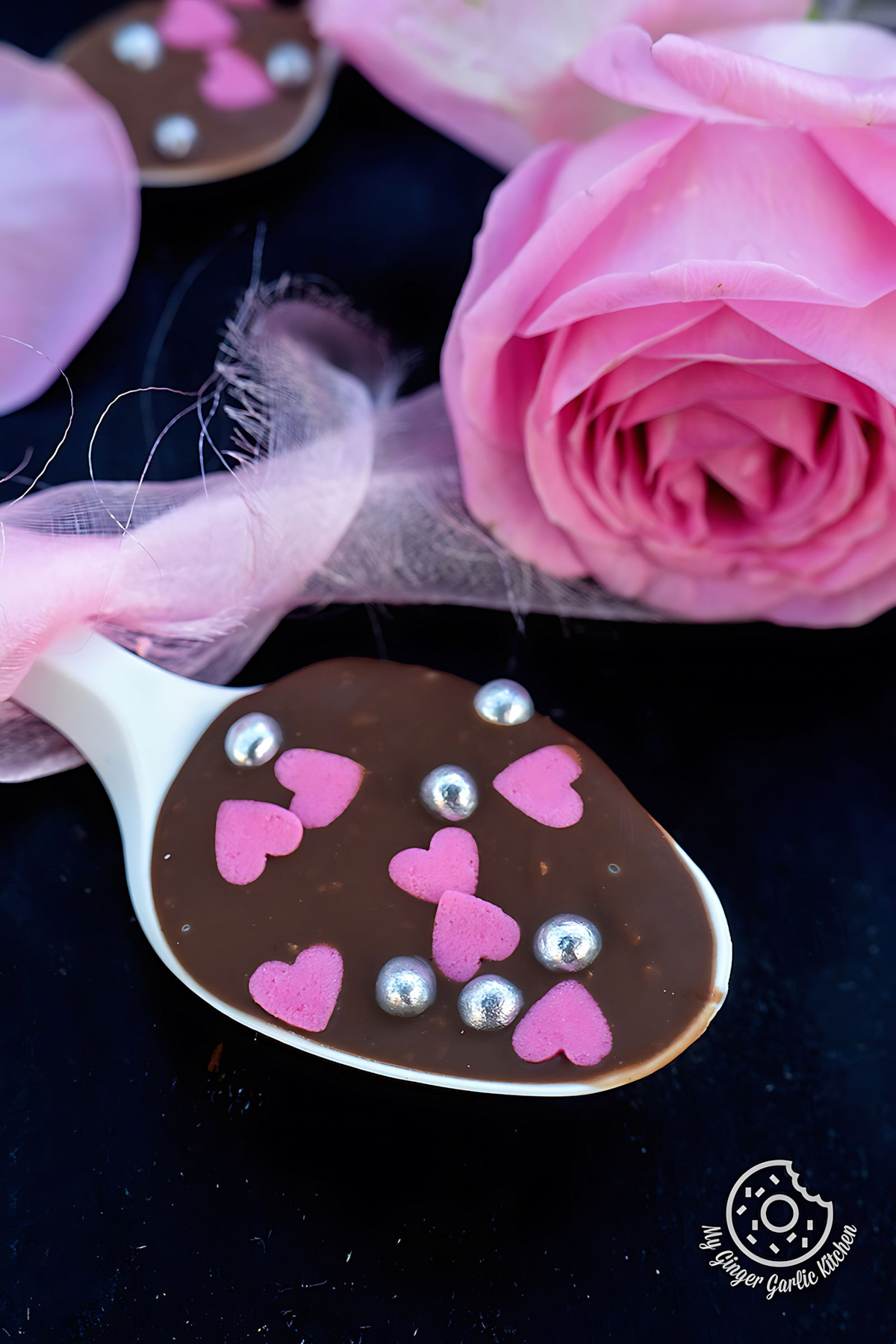 ---
Chocolate Spoons Recipe

[Recipe]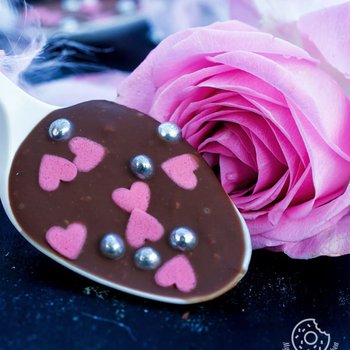 I LOVE chocolate, I LOVE chocolate, I LOVE Chocolate! No matter how many times I say it. The more I say it, the more I love my CHOCOLATE. It is a secret.
---
★★★★✰
(Rating:
4.4
from
65
reviews)
---
| Prep time 🕐 | Cook time 🕐 | Total time 🕐 |
| --- | --- | --- |
| | | 35 mins |
| Category ☶ | Cuisine ♨ | Serves ☺ |
| Dessert | American | 20 |
| Nutrition Info ⊛ | | Serving size ⊚ |
| 299 calories | | 1 serving |
---
INGREDIENTS
For Chocolate Spoons
any of your favorite milk chocolate - 250g
your favorite sprinkles
plastic spoons - 20
---
INSTRUCTIONS:
How to Make Chocolate Spoons //
Line a baking sheet with parchment paper and line up your plastic spoons.
Chop the chocolate into small pieces and melt in the microwave on full power in short 30 second. Repeat the process time until chocolate is completely melted. Stir until smooth.
Using a small spoon, carefully pour a little melted chocolate to fill each spoon three forth full, then decorate with sprinkles.
Place the tray of filled spoons into the fridge to set. Take out and enjoy with your loved ones!
---
NOTES:
No notes for this recipe.
---