Chocolate Spoons Recipe
I LOVE chocolate, I LOVE chocolate, I LOVE Chocolate! No matter how many times I say it. The more I say it, the more I love my CHOCOLATE. It is a secret.
---
« Go back
Print this recipe »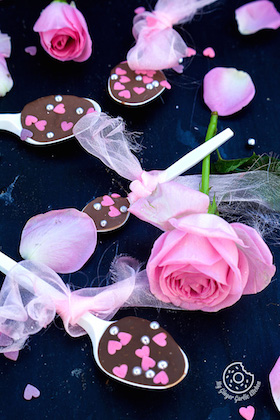 ---
Prep Time = 30 minutes
Cook Time = 5 minutes
Total Time = 35 minutes
Category = Dessert
Cuisine = American
Serves = 20
Nutrition Info = 299 calories
Serving Size = 1 serving
---
RECIPE INGREDIENTS
» For Chocolate Spoons
any of your favorite milk chocolate - 250g
your favorite sprinkles
plastic spoons - 20
---
RECIPE INSTRUCTIONS
» How to Make Chocolate Spoons //
Line a baking sheet with parchment paper and line up your plastic spoons.
Chop the chocolate into small pieces and melt in the microwave on full power in short 30 second. Repeat the process time until chocolate is completely melted. Stir until smooth.
Using a small spoon, carefully pour a little melted chocolate to fill each spoon three forth full, then decorate with sprinkles.
Place the tray of filled spoons into the fridge to set. Take out and enjoy with your loved ones!
---
RECIPE NOTES
No notes for this recipe.
---