When you're in the mood for a sweet treat, you don't have to settle for the classic bowl of ice cream or fro-yo. Even brownies, cake slices, and cookies can get old. Adding some variety to your dessert plate is easy by pairing  together.
The combination of fruits and chocolate can take your palate to a new level. The exciting pairing can tantalize your taste buds and leave you wanting more.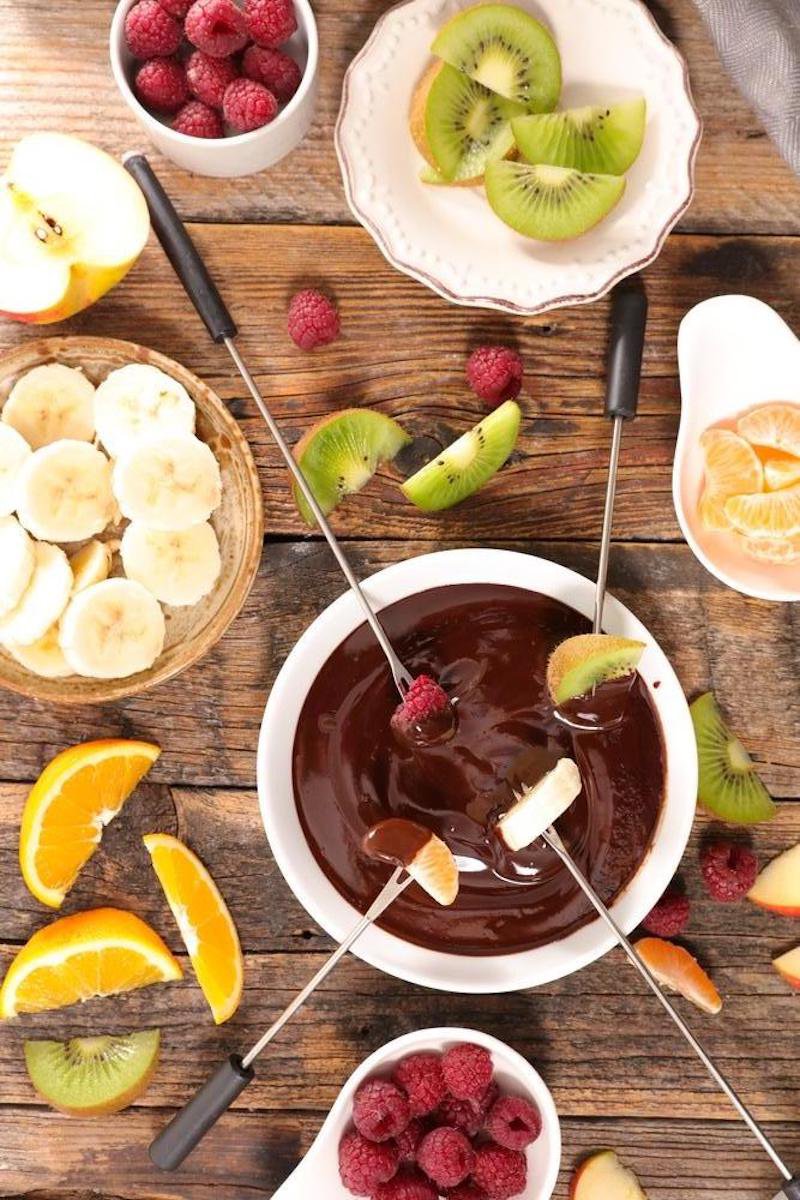 However, you might be surprised to learn that some types of chocolate and fruit flavor pairings are better than others. Whether you want to celebrate a special occasion with a loved one or enjoy a treat for one, the fourteen combinations below will delight your taste buds. Keep reading to see what they are!
1. Dark Chocolate and Strawberries
Dark chocolate and strawberries are a classic pairing. The intense sweetness of the berries balances out dark chocolate's somewhat bitter and rich taste. This combination is reminiscent of Valentine's Day. It's almost like it's the first thing in mind when you want to celebrate the day of hearts with your special someone.
To give you an idea, you may look at the rose of many specialty stores. It usually contains a bottle of rose and an assortment of the best dark chocolate beautifully wrapped in Valentine-themed wrappers. All you need to do now is to buy the freshest and sweetest strawberries from the grocery.
It's also easy to dress up this pairing or make it more interesting by ordering a box of chocolate-covered strawberries. A FruitFlowers bundle comes with a gorgeous flower bouquet to add a colorful touch to a celebratory evening or holiday.
2. Milk Chocolate and Apples
Did somebody say Halloween? Coating apples with milk chocolate is a great way to celebrate fall and have fun participating in activities like bobbing for apples, carving pumpkins or decorating chocolate covered apples. The nice thing is milk chocolate goes well with different types of apples, including Red and Granny Smith. For those who prefer to balance tangy and sweet flavors, be sure to use Granny Smiths.
Kids and kids at heart will love this pairing. The sweetness of milk chocolate pairs perfectly well with the crisp and juicy texture of the apples.
3. White Chocolate and Blueberries
Blueberry lovers know this fruit has a lot of health benefits. These  from the antioxidants. While blueberries have some sweetness to them, they can also be a bit tart. Pairing them with white chocolate helps add a bit more sweetness.
4. Dark Chocolate and Pineapples
For those who love tropical fruit, try mixing in dark-chocolate covered pineapples. Ask to have a touch of sea salt added to the top for a sweet and salty treat. Plus, pineapples can after a big meal.
This is a unique and delicious flavor experience. Some restaurants offer this on their menu, but you can kick it up a notch by grilling the pineapples first to caramelize them. The toasty flavor of the fruit is heightened when you try it with dark chocolate.
5. Milk Chocolate and Kiwis
Kiwis are one of those polarizing fruits because they're so acidic. They will make anyone perk up in the morning with their tangy flavor. Combining kiwis with white chocolate will reduce some of that acidity and still add a tropical twist to a flavorful dessert. This pairing does require a bit of work since most people prefer to peel off kiwis' fuzzy skin.
You can enjoy this combination in many ways. You may dip the sliced kiwis in melted milk chocolate. You can put the kiwis on a stick together with marshmallows and grapes for a fun presentation. You can even top a kiwi salad with shaved chocolate.
6. White Chocolate and Mangoes
This combo is for satisfying a sweet tooth! Mangoes and white chocolate are known for their sugary tastes. However, this is also a somewhat unique pairing and can add some new flavors to a fruit plate. Just be sure to point out there's tropical fruit under that white chocolate covering. For some people, it may be an acquired taste!
7. Dark Chocolate and Cherries
Cherry lovers can unite over this chocolate and fruit pairing. In fact, one of the more popular chocolate bar flavors contains dark chocolate with bits of cherries. So, you can either buy some bars and give them as gifts or break them up into smaller pieces on a dessert tray. Those who are more ambitious might buy fresh pitted cherries and dip them in dark chocolate fondue. 
8. Milk Chocolate and Oranges
Orange-flavored chocolate is a popular thing in some parts of the United States. You might find it in West Coast amusement parks or at your local grocer as a candy delicacy or bar. But you can make your own version at home by dipping orange wedges or slices in milk chocolate. Try this pairing during the spring and summer weather for a refreshing after-dinner treat.
9. White Chocolate and Raspberries
Even though pieces of raspberries can get stuck between the teeth, they're still one of the top berries for flavor. They also have some of the same  as blueberries, and they can lower blood pressure. White chocolate and raspberries make a good pairing in a fruit gift box. 
10. Dark Chocolate and Pears
Pears are another fruit that is often put into fruit baskets. Jazzing up that basket with some pieces of dark chocolate gives loved ones the option of eating the fruit and chocolate together. You can also make a dessert at home for one or more by drizzling pears with dark chocolate syrup and honey or cinnamon.
11. Milk Chocolate and Pomegranates
It wasn't too long ago that pomegranates were all the rage for their anti-inflammatory effects. However, you may need to visit a health food store or farmer's market to find the fruit. In mainstream grocers, it's more common to find pomegranate juice or juice products. That being said, milk chocolate-covered pomegranate gifts are easy to find online.
12. White Chocolate and Peaches
You might want to balance the sweetness of this dessert with some nuts. Walnuts make a tasty addition to a sliced peach and some white chocolate chunks. Put together a basket of fresh peaches, white chocolate candy bars, and jars of walnuts.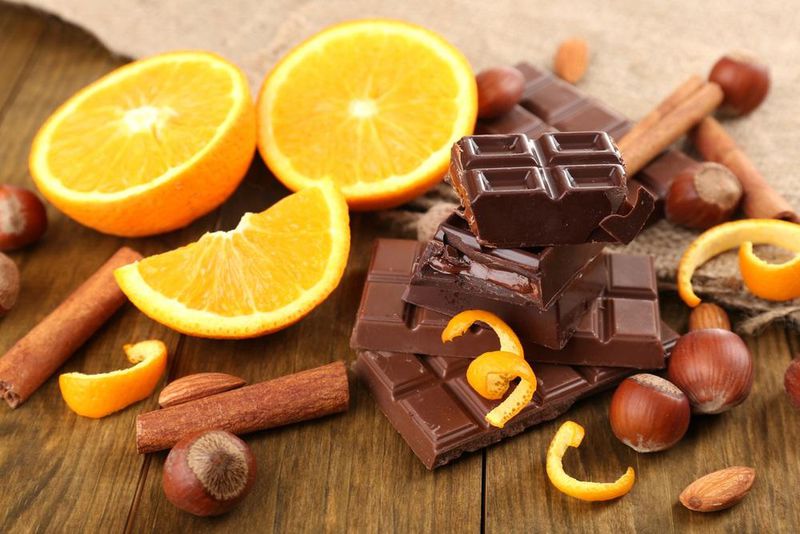 13. Dark Chocolate and Bananas
Since bananas have a lot of potassium, they can  and balance electrolytes. This fruit can also help with digestive problems, similar to avocados. Dark chocolate and bananas make a great frozen or fresh dessert when someone doesn't have a lot of prep time. You can also add some nuts and ice cream if you want to make a banana split. Another way to pair these flavors is to bake something scrumptious like .
14. Milk Chocolate and Cranberries
Cranberries are another comforting fall dessert, especially around Thanksgiving. Mix things up a bit at this year's table by dipping cranberries in milk chocolate. You can still offer the classic chilled cranberry sauce. But now, you'll have another yummy way to treat your guests.
Final Thoughts
Pairing different fruits and chocolates together can be fun and delicious. You can make desserts for home gatherings or include fruit and chocolate combinations in your gifts to friends and family. Whether you've got someone who prefers the flavors of the tropics or berries and fruits, there is a combination for everyone. The only limit is your imagination!