Nestled in Culinary Excellence: Rovagnati Partners with Acclaimed Chef Tommaso Iorio
The aroma of Italian cuisine wafts enchantingly when eminent forces of the gastronomy world join hands. , an epitome of Italian charcuterie splendor since 1943, has entwined its legacy with the internationally celebrated Chef Tommaso Iorio. This collaboration is set to adorn our tables with magnificence this festive season.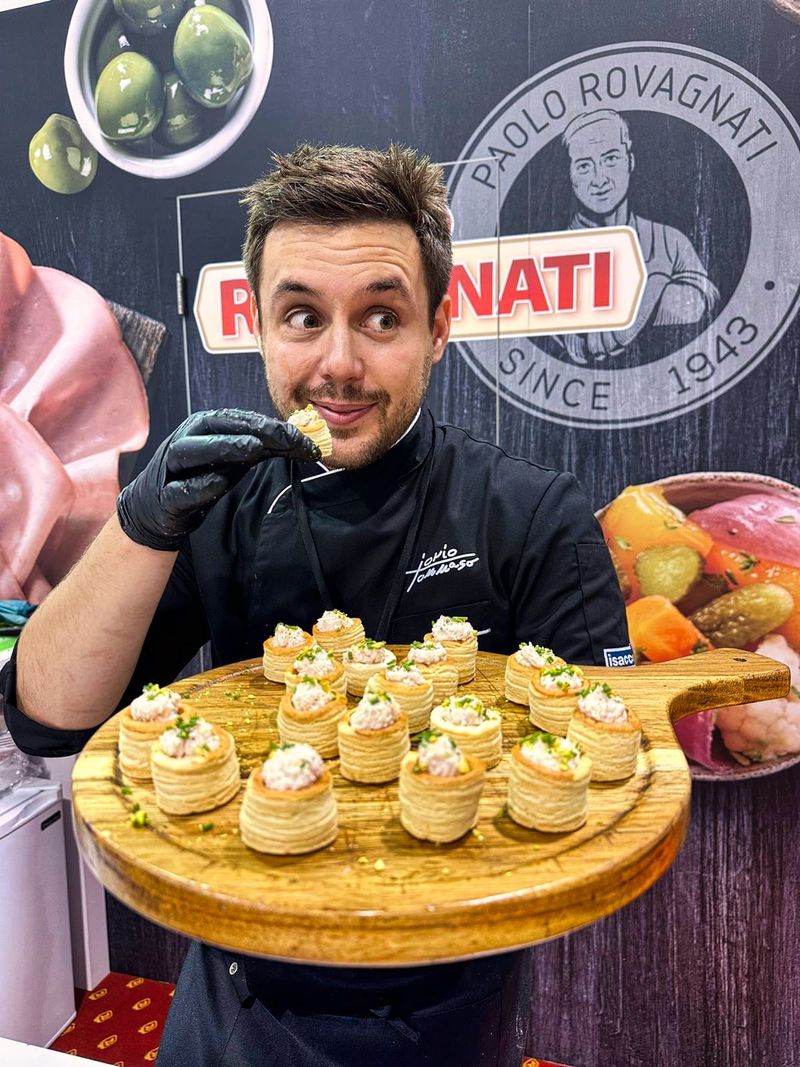 Born amidst the picturesque vineyards of Chianti, Italy, Chef Tommaso Iorio was cradled in the warm embrace of his grandmother's rustic kitchen. This space witnessed the budding of his passionate love affair with . Drawing from the traditions of Tuscany, Chef Iorio's culinary journey progressed from the esteemed halls of Istituto Technico Agrario di Firenze alle Cascine in Florence. Merging his Tuscan culinary roots with contemporary innovations, he conceived 'Tuscany at Home', a seamless blend of traditional Tuscan dining and the allure of celebrity dining experiences.
Now based in Los Angeles, Chef Iorio infuses his global acclaim into crafting a sumptuous array of dishes featuring Rovagnati's distinguished Paolo Rovagnati Line. Among these delights, one dish stands as a testament to this synergy: Puff Pastry Shells with Paolo Rovagnati Mortadella Mousse and Toasted Pistachios. This recipe, suitable for a myriad of celebrations, encapsulates Chef Iorio's culinary expertise and Rovagnati's unwavering commitment to quality.
Ingredients:
10 oz sliced Paolo Rovagnati Mortadella

½ cup fresh ricotta

1 or 2 spoons of grated Parmigiano Reggiano aged 18 months

1 spoon of fresh cream

2 tbsp roasted shelled pistachios, chopped

10 ready-to-use puff pastry shells

Fresh chives
Directions:
1. Combine diced Paolo Rovagnati Mortadella, fresh ricotta, and grated Parmigiano Reggiano in a mixer.
2. Blend until achieving a smooth and consistent texture.
3. Add fresh cream and continue blending to create a velvety mousse. Adjust seasoning with salt.
4. Lightly toast pistachios and mix a portion into the mousse, reserving some for garnish.
5. Prepare puff pastry shells or toasted bread slices.
6. Transfer the mortadella mousse into a pastry bag, fill the pastry shells, or top the croutons. A spoon can be used alternatively.
7. Garnish the mousse with remaining chopped pistachios and, optionally, finely chopped chives.
Beyond this exquisite dish, Rovagnati has pioneered a new chapter in its journey, unveiling the No-Nitrites Ever Salami Line. This strategic move reflects a conscious nod to health without sidestepping the trademark taste and quality. Reflecting on the partnership, Chef Tommaso Iorio notes, "Rovagnati's heritage and its matchless meats inspire my culinary imagination, guiding me to craft dishes that are truly unforgettable."
To immerse yourself further in Rovagnati's world of culinary delights, do visit rovagnati.us.