Mini Berry Pavlovas are meringue-like cookies topped with berries sauce whipped cream, and fresh strawberries. It has egg whites, sugar, corn flour, and of course, berry sauce. It is more egg-ish.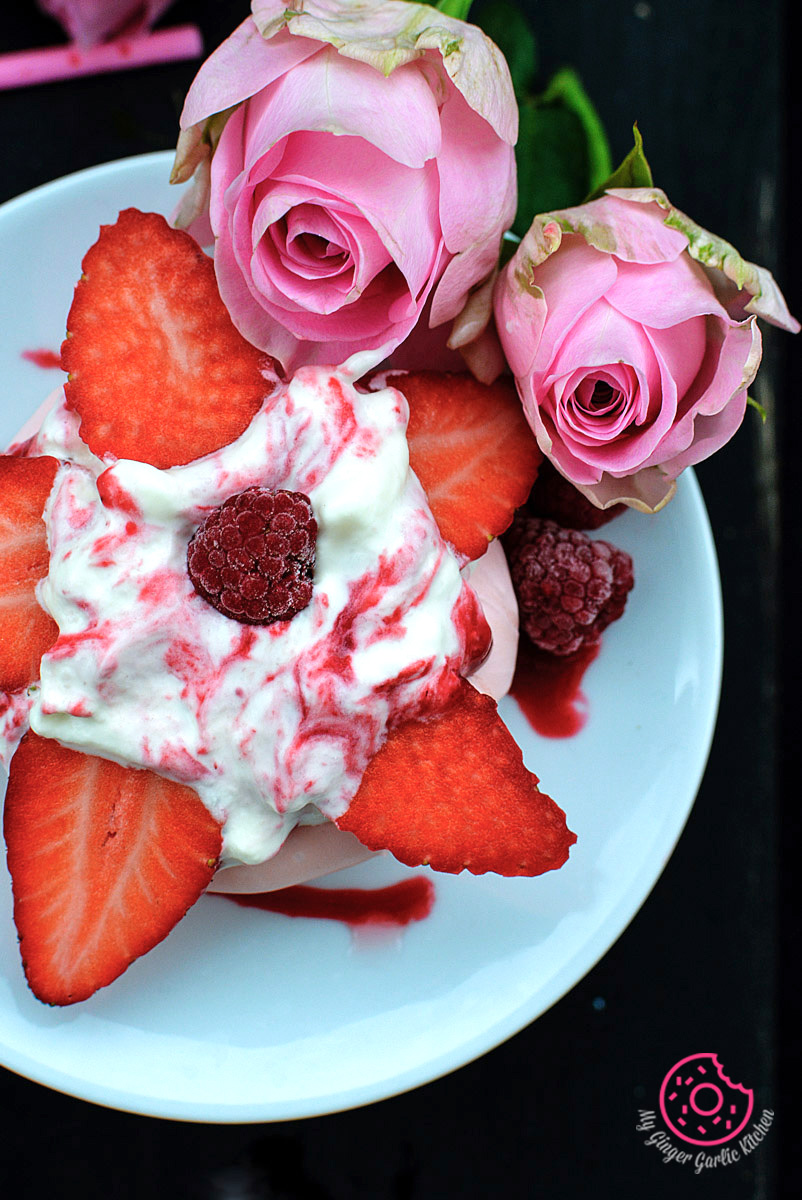 February is the "MONTH OF LOVE," and everyone knows that.
I know, I am not the first one telling you about this! 😉 For me, it demands desserts and more and more desserts. I am so in love with desserts these days, or maybe I am obsessed!;-) You must be thinking—is it healthy to eat too much sweets??? I know eating too much sweet is not good for anyone. And that's why I always try to keep my diet BALANCED, if I have too much of anything sweet.
Sometimes cheat days are much needed, because if we will not have enough cheat days, we would not value our regular HEALTHY eating days. So having cheat days once in while is not okay—but it's a MUST. Everyone should have cheat days sometimes. Anyways, you are not shackled to that, but is my philosophy of a HEALTHY lifestyle. 🙂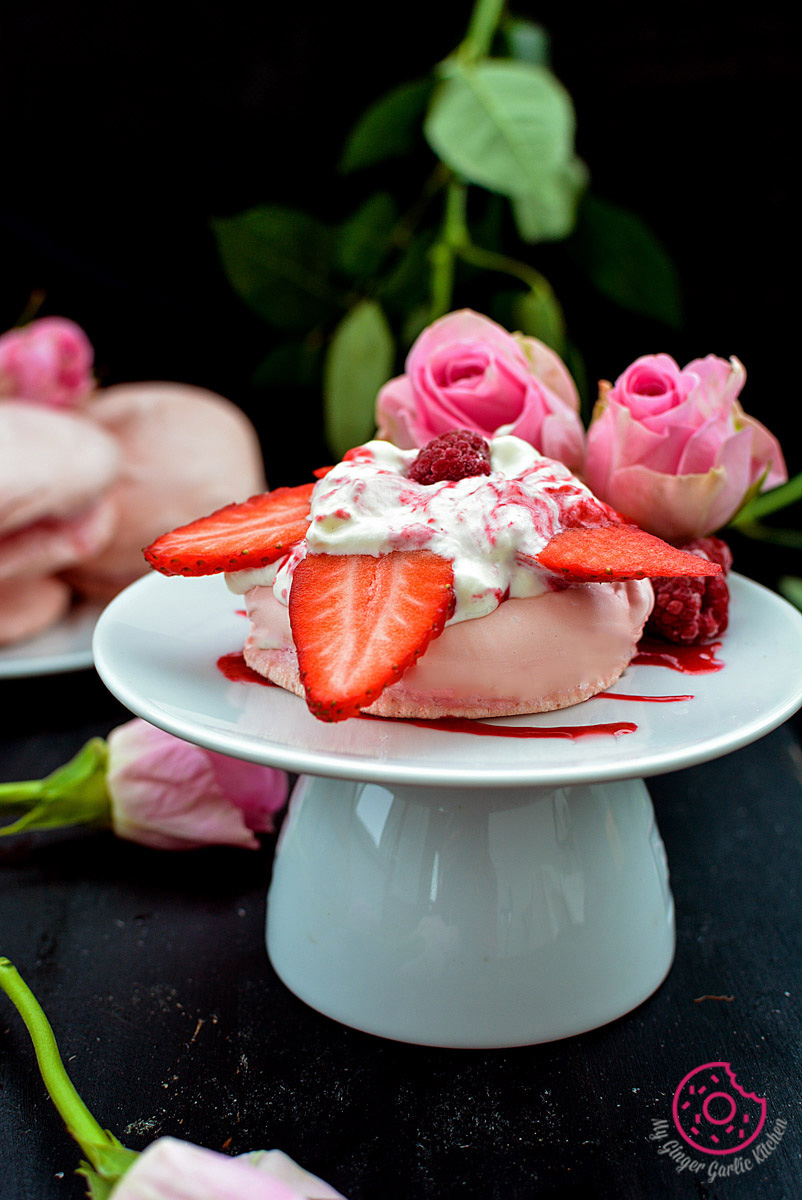 I am up for all SINFUL desserts for V Day. And I promise, I will have a healthy diet routine after that! 😉 And you don't have to worry, as they say—we will get 'another bite at the cherry', when we eat healthy food again 😉
You remember this saying about HAPPINESS—'You are truly happy when you have someone to love, something to do, and something to hope for'! V Day is one of those few occasions for me, where this phrase fits EXQUISITELY. I have someone to LOVE, I will do something (many things ;-)) for HIM, and I will hope that would MAKE HIM HAPPY. Since I have got all these three things—this is my humble duty to make this occasion special for the one I LOVE SO much!!
It's 13th of the month today, and only a day left for V Day. So here I am sharing one more dessert recipe with you guys. A dessert that has been causing jaw-dropping at my home. This is none other than Mini Berry Pavlova. And when you will taste this—this would leave you and your loved one in an utter amazement.
And good thing is that, "anyone can make it, it's as easy as pie.":)
If you plan to make this on Valentine's Day to surprise your partner, please do it! He/She would make you feel like a culinary genius. Hubby dear gave me those CHEERFUL expressions right after he saw this mini berry pavlova. 😉 It was a heart winning dish for my spouse, and "he was as keen as mustard because he really wanted to know how I made it."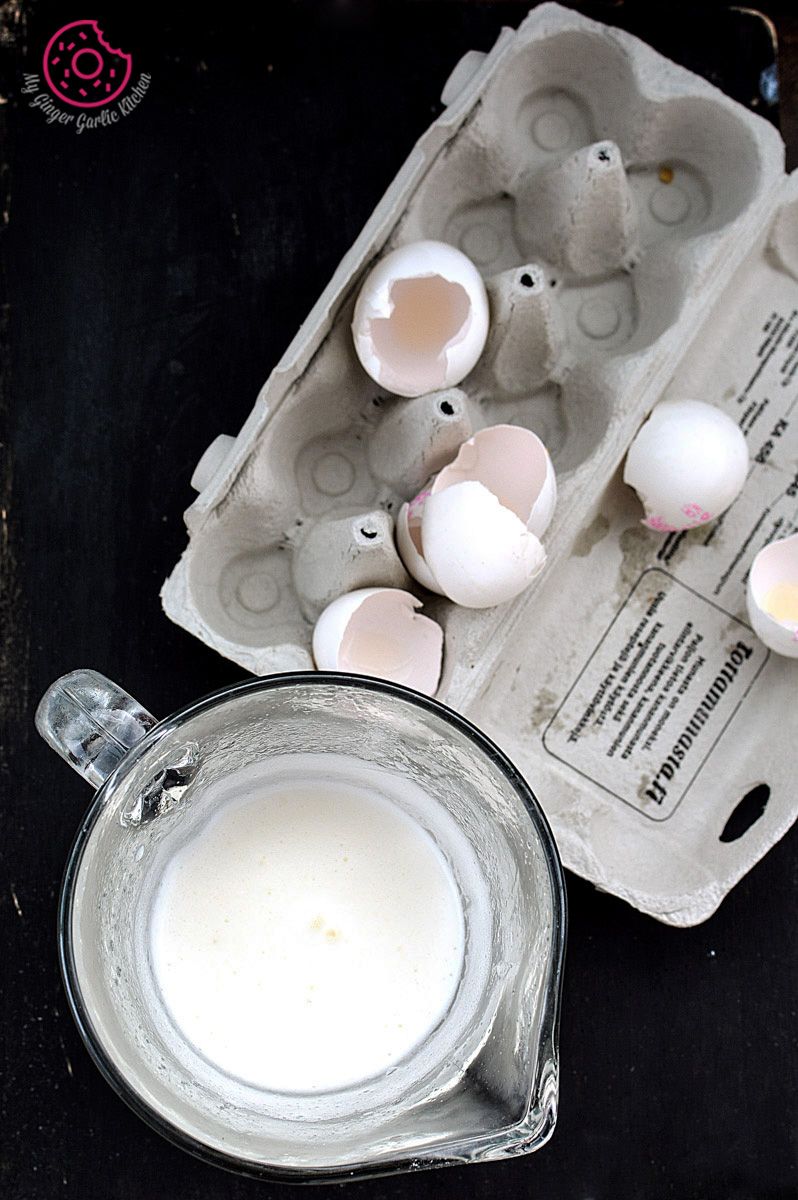 As soon as he finished one pavlova, he gave me those cute and mischievous looks, which clearly meant he wanted one more! 🙂 We laughed out loud, and I gave one more to him. Sometimes Ado and her Daddy both are so CUTE, that it is really hard for me to understand who is more naughty and kid like.;-)
'Like Father like daughter', Ado tasted, also wanted more. I stared at both of them with questioning expressions, and Daddy's expressions said that he wanted me to give one to Ado as well. I could not resist their sweet expressions for long, and gave up ultimately with my smile. I could clearly listen to their giggling voice of Victory from my kitchen! 😉
I headed back to them and when I gave a tiny piece of Pavlova to Ado, her eyes turned bigger, mouth wide open in JOY! She gave me a big HUG, and that was endless FUN! 🙂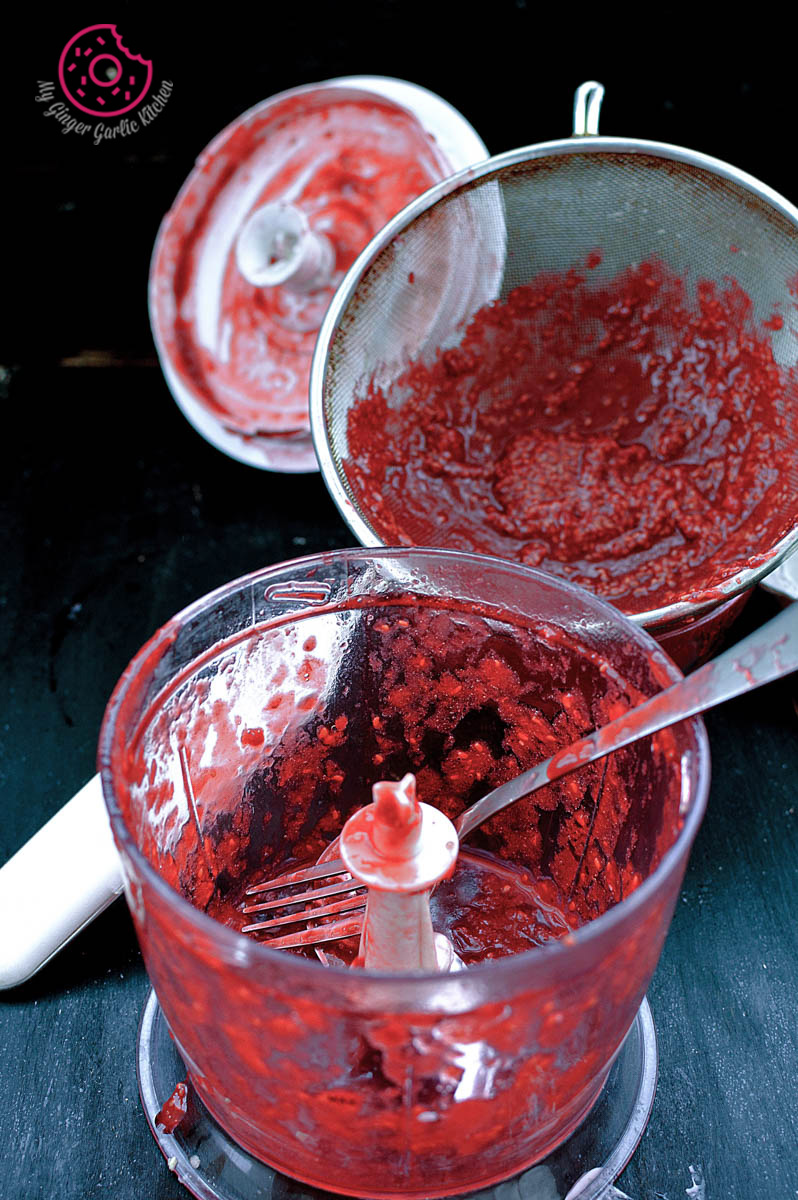 This Pavlova is so simple and looks absolutely gorgeous. So I can really say that it's A LOT simpler than it really looks. If you have guests coming over, DO make it for them.
This pavlova which is innocently sitting on a plate, will blow everyone away with its magical charm as soon as the drizzle of raspberry sauce with whip cream tantalizingly lands on the surface of Pavlova.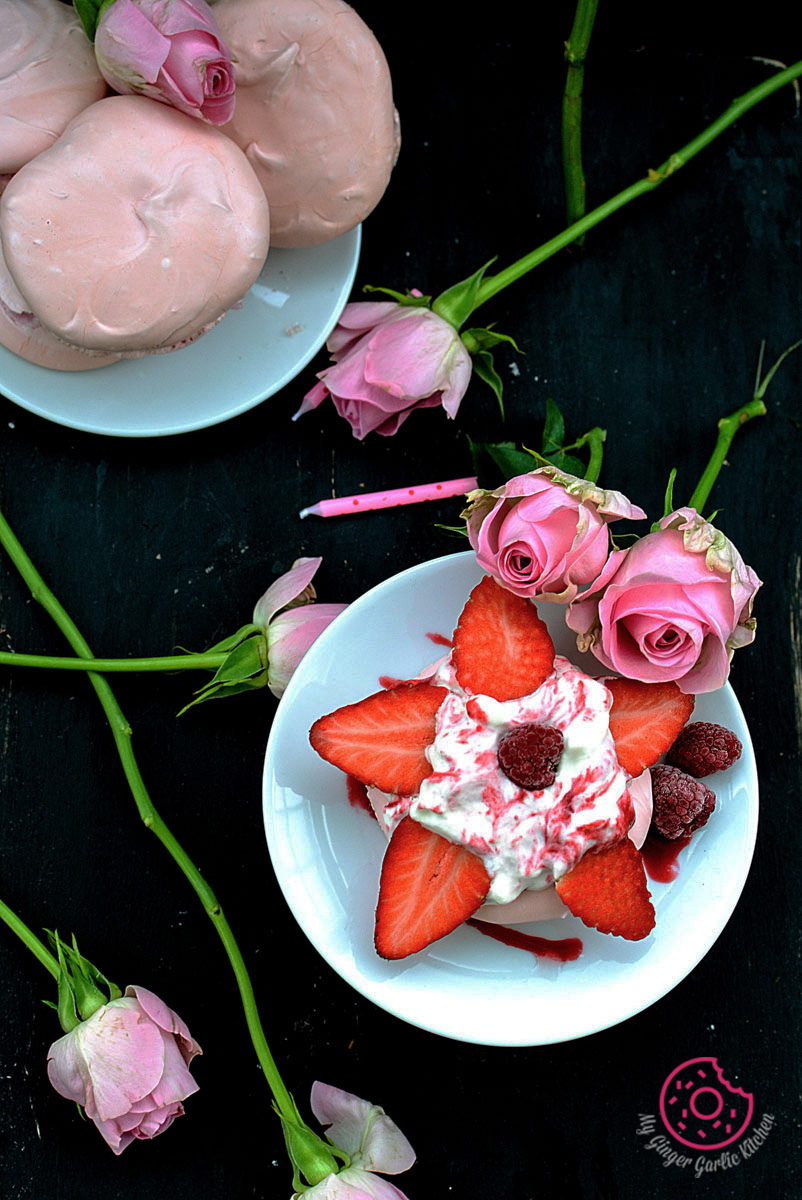 It actually has a flavor, an insanely good one. It has egg whites, sugar, corn flour, and of course, berry sauce. It is more egg-ish, which in my opinion = YUM YUM YUM! That also makes it go perfectly with the Berry sauce.
I baked them with a food color to give it a Valentine feel. Bake pavlova, and let them cool for 2 hours. Gently fold in raspberry sauce whipped cream.
Pour this luscious Raspberry whipped cream sauce on top. Top with strawberries and raspberry. And you would only hear—NOM NOM NOM. 🙂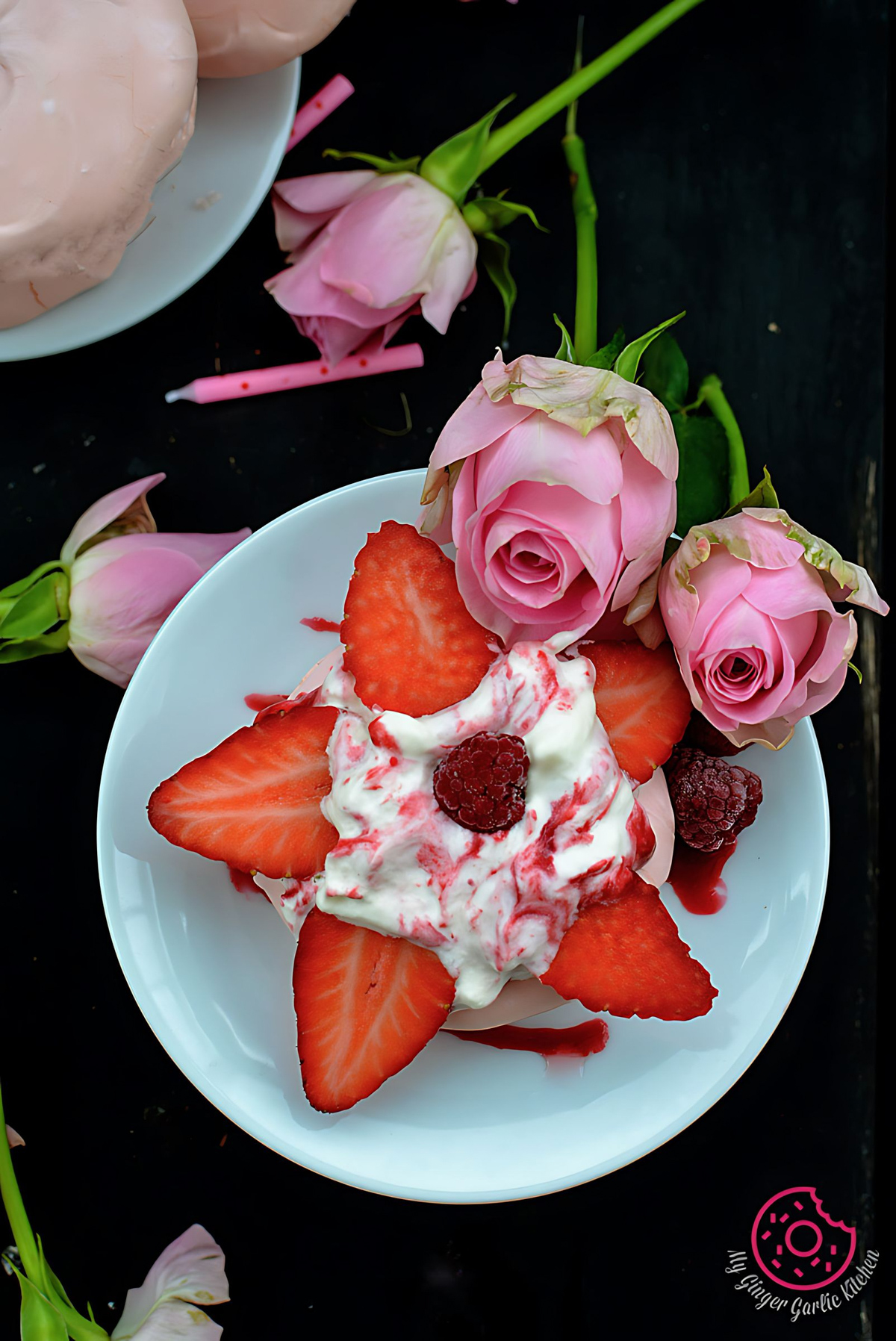 ---
Mini Berry Pavlova

[Recipe]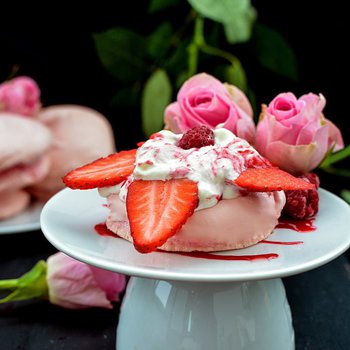 Mini Berry Pavlovas are meringue-like cookies topped with berries sauce whipped cream, and fresh strawberries. A perfect dessert for anyday.
---
★★★★✰
(Rating:
4.1
from
91
reviews)
---
| Prep time 🕐 | Cook time 🕐 | Total time 🕐 |
| --- | --- | --- |
| | | 1 hours 15 mins |
| Category ☶ | Cuisine ♨ | Serves ☺ |
| Dessert | Russian | 6 |
| Nutrition Info ⊛ | | Serving size ⊚ |
| 241 calories | | 1 serving |
---
INGREDIENTS
For Mini Berry Pavlova //
Egg whites, at room temperature - 4
Pinch of salt
Icing sugar - 1 cup (220g)
White vinegar - 1 teaspoon
Cornflour - 2 teaspoons
Red food coloring - 1/2 teaspoon
Vanilla extract - 1 teaspoon
For Raspberry cream //
Raspberries - 3/4 cup
Icing sugar - 1 1/2 tablespoons
Whipped cream - 1/2 cup
---
INSTRUCTIONS:
How to Make Mini Berry Pavlova //
Preheat it to 110°C. Line a large oven tray with baking paper, and place the oven tray in the lower third row.
Whisk the egg whites in a large bowl using an electric mixer with a whisk attachment on medium speed until foamy.
Add the salt, vinegar and cornflour and whisk on medium speed for about 1 minute.
Add the sugar a spoonful at a time, whisking well after each addition, until all the sugar has dissolved and the mixture is very thick. This will take about 4-5 minutes.
Add the vanilla extract, red food color and whisk to combine.
Use a spatula to stir the meringue mixture to 'loosen' it slightly. This will get rid of any excess air in the mixture and give it a smoother, less 'foamy' texture.
Spoon 6 large circles of mixture onto the lined tray and use the back of a metal spoon to make an intent in the center of each.
Bake in preheated oven for 50-60 minutes, until the meringue is crisp and hard to touch, but not coloured. Turn off the oven, leave the door slightly open and cool completely in the oven for about 2 hours.
Method to make the Raspberry Cream //
Place raspberries and icing sugar in a small food processor, and process until pureed. Press the raspberry puree through a sieve and discard the seeds.
Gently fold half the raspberry puree through the whipped cream. Fill each pavlova with the Raspberry Cream and then top with the Strawberries, and raspberries.
Serve immediately with the remaining berry puree passed separately.
---
NOTES:
The unfilled pavlova shells can be kept in an airtight container in a cool place, for up to 1 day.
---