Indian Chapati With Peppery Garlicky Avocado Spread With Veggies is a delightful meal in itself. This is more delicious when topped with loads and loads of basil leaves. Whenever you are in a hurry, this Indian Chapati With Peppery Garlicky Avocado Spread would come to your rescue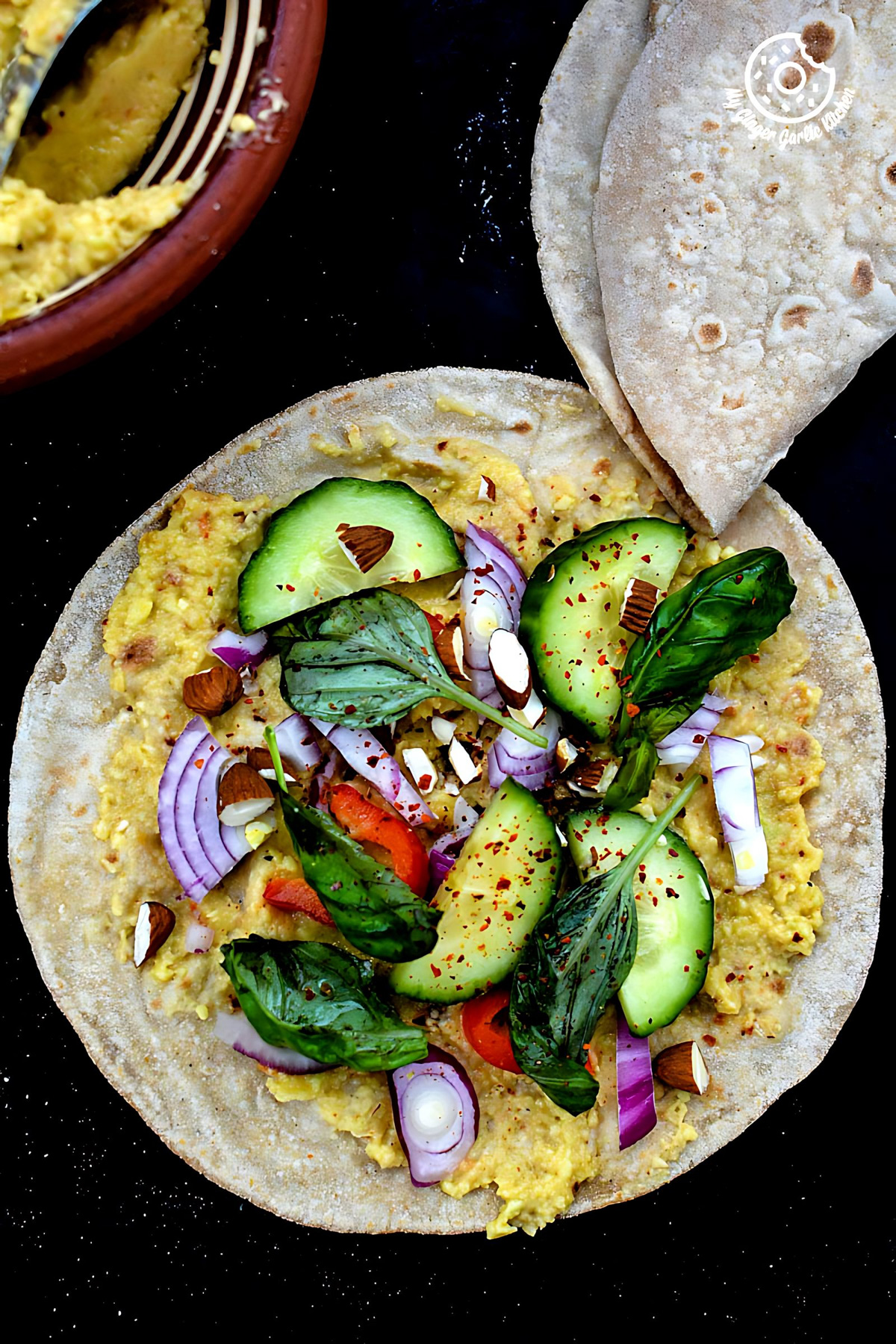 That usually happy little girl is so fond of Avocado.
I still remember the first time we met; I saw her in my apartment building while I was going to drop little Ado to her Day care. Her name is Lilia, and she is about 6 years old.
She was wearing a pretty pink frock, and her golden brown shoulder length hair were tied beautifully in a cute high ponytail. In addition to that she also wore a matching pink headband along with pink matching leggings and shoes. Indeed, she looked as cute as a button. Seemed like she was ready for school.
The little girl was playing on the 1st floor stairs. She saw Little-A and waved her hand enthusiastically and said hello in her bubbly voice.
Anyone could easily tell that she was a real charmer. Her dancing eyes spoke more than her words. She told me her name, and asked about my little girl's name?
I told Lilia that my little girl's name is Little-A. She said, "Wow! Pretty name." And we both gave each other smiles.
She came forward towards us at the gate with a beaming face and opened the door for us in a polite manner. I thanked her genuinely and said good bye with a waving hand.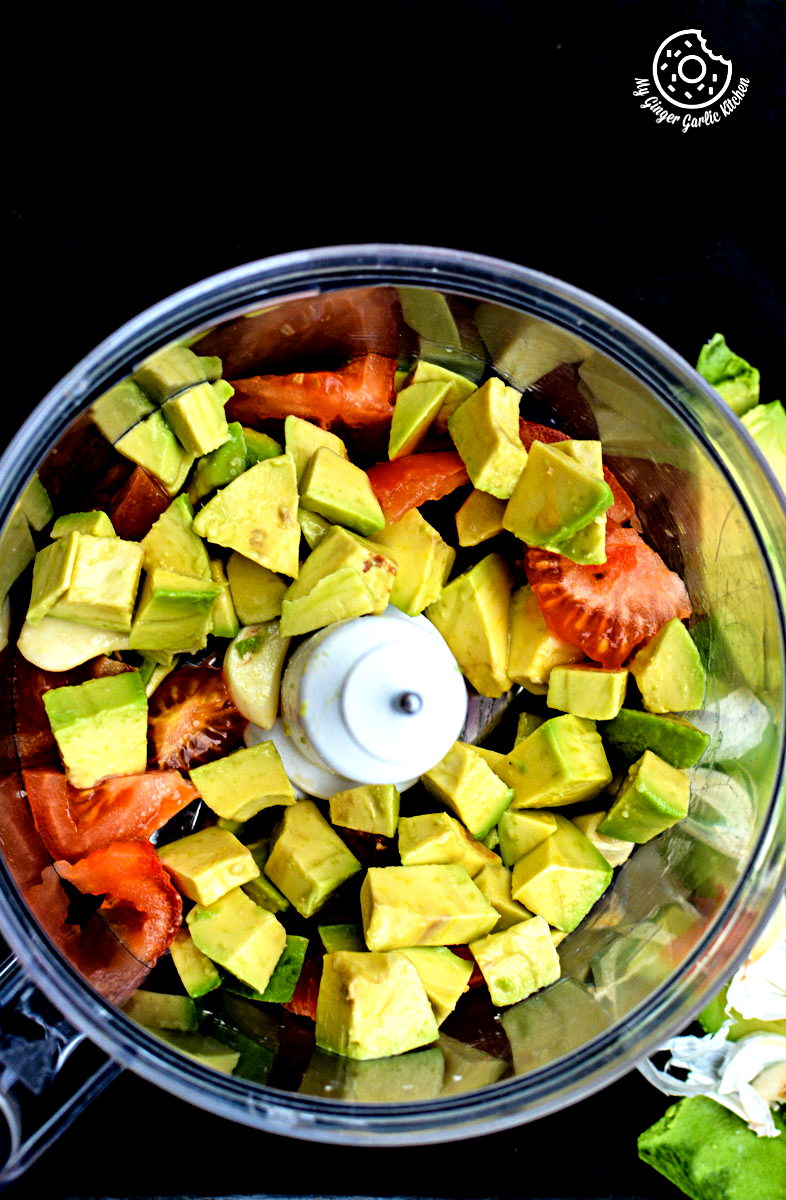 It was shivering at about 3:30pm two days later, when I seriously needed some warmth, I said to myself, "Girl, go and get your steaming hot coffee, you are craving for it." I listened to my pampering self and made some coffee.
I then put on my white furry comfortable jacket and went out in the balcony. Our balcony is covered from all three sides with big glass windows. So, it was all bright in the balcony. I then just took my favourite red giant mug filled to the brim with coffee in my hands to get some warmth. It felt so warm and good.
I stood near the front glass window to see the the gorgeous view. I closed my eyes to soak the sunlight and and took a deep breath. It was my gratitude for the nature's beauty in its simplest form.
Sunshine is so precious in Nordic countries. In Finland, it feels like a blessed day when sun shines, and when bright light rays touch our skin. And on such bright days, I try to gather all the blessings of nature I can get.
Contemplating all about life, I had my first sip of steaming hot coffee, and it felt like heaven.
Then I saw Lilia's Mom down from my balcony. I could only see her back, as it seemed she was going somewhere. She carried a pink kick-scooter in one hand, and her other hand was winging in joy. Looked like she was humming.
I saw this interesting sight for a while. However, I could neither see her face nor could listen to her song, but I sensed from her gestures that she was in a jolly mood. My eyes couldn't stop following her. I looked and looked till she disappeared from my sight.
I soaked sunlight for some more time sipping my coffee. After finishing my coffee I planned to go back inside. Just at the time I was about to turn and leave, something stopped me. I got a glimpse of little Lilia riding her pink kick-scooter happily.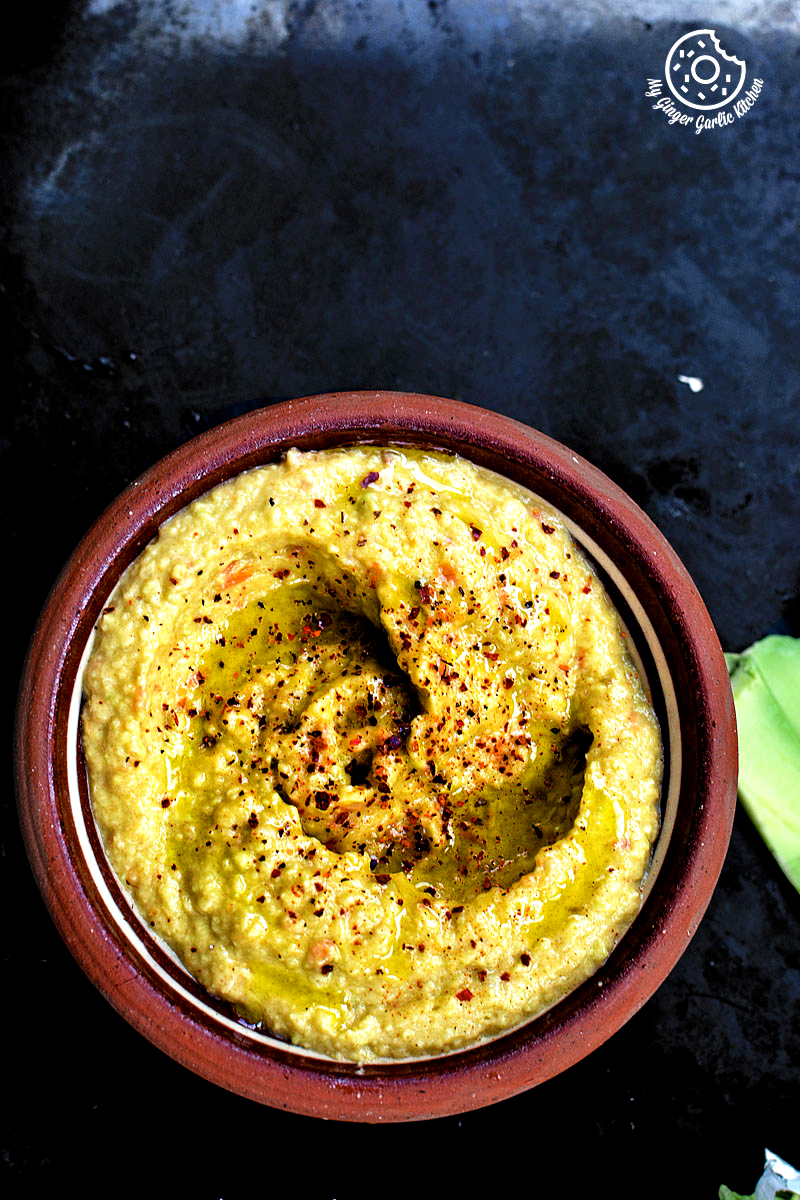 She rode for a while and looked back. Then she stopped for her Mom who was a bit behind her. When her Mom came nearer, Lilia said something to her Mom and they both Hi5ed and laughed. I could sense that they talked something really interesting.
When Lilia looked up at me, she waved her hand at me and I waved mine at her. I then came back inside.
Two days later, I saw little Lilia at a nearby grocery store with her Mom. They were very happy together, and anybody can say that they share a great bond. Lilia's Mom followed her, as Lilia was the one who was leading and choosing groceries that day.
While busy shopping, they came across the fresh vegetable section. The sight was so pleasant for Lilia. She screamed loudly when she saw some fresh green and beautiful avocados staring at her from the rack.
She immediately picked up 2 avocados and showed them to her Mom. I was far behind, so I could not hear anything. However, I could see that her mom said something. After hearing that, Lilia lowered her head looking down, shrinking her neck, in sadness.
Her Mom tried to cheer her up, but her chirpiness was gone for the time being. They moved ahead but Lilia's heart was still with avocados. She looked back at them again and again.
I think her Mom sensed her sadness, so she told Lilia to move further away from Avocados.
At that time, I reached close to them. Her mom said to Lilia, "I am coming in 2 minutes, you go and wait at the counter desk." Lilia nodded yes with a dull head shake.
Little Lilia waited at the counter for her Mom. After a while her Mom came with her hands hiding behind her back. Lilia asked her mom about what she was hiding?
And her mom said, "nothing, girl". But Lilia sensed something else. So she ran towards her Mom and seeing this, her mom mysteriously brought her hands in front and showed Lilja a plastic bag full of Avocados. Lilia started bouncing foot to foot. And hugged her mom to say, 'Thanks, I love you Mom'.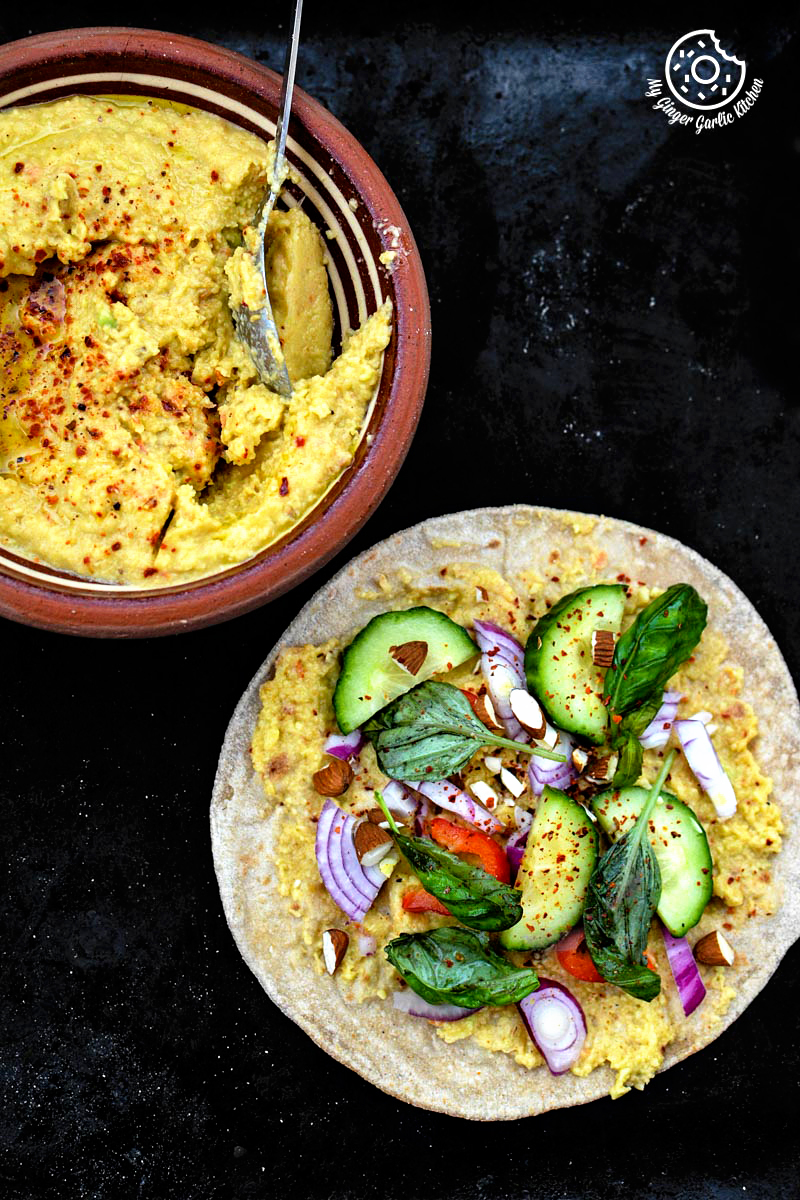 This naturally made me wonder about my own little girl, and suddenly I started missing Little-A so badly.
After seeing Lilia's love for Avocados I also decided to buy Avocados too. I went to the vegetable section and grabbed 4 avocados. I then rushed back home and had some mamma-baby time with Little-A.
Even today, I am a big fan of avocados. Can't avoid having it. 🙂
Just thinking about Lilia's love for this mighty fruit, I thought to eat something light made with Avocado yesterday after having so many heavy meals on the Easter.
So, I started talking to myself, "How about some healthy and nutritious spread today?". I liked this idea.
I rushed to the kitchen—opened the fridge and checked for the possible ingredients. There you go. I found this fresh green and beautiful looking avocado in my fridge along with some fresh tomatoes. I took out these two veggies without giving a single thought. And my mind knew the rest of the action plan undoubtedly.
Friends, what would be your first thought, when you have avocados in your hands? Personally, making a dip or spread would be my immediate response.:)
So I followed my guts, and made this alluringly refreshing avocado spread with the hint of garlic and pepper.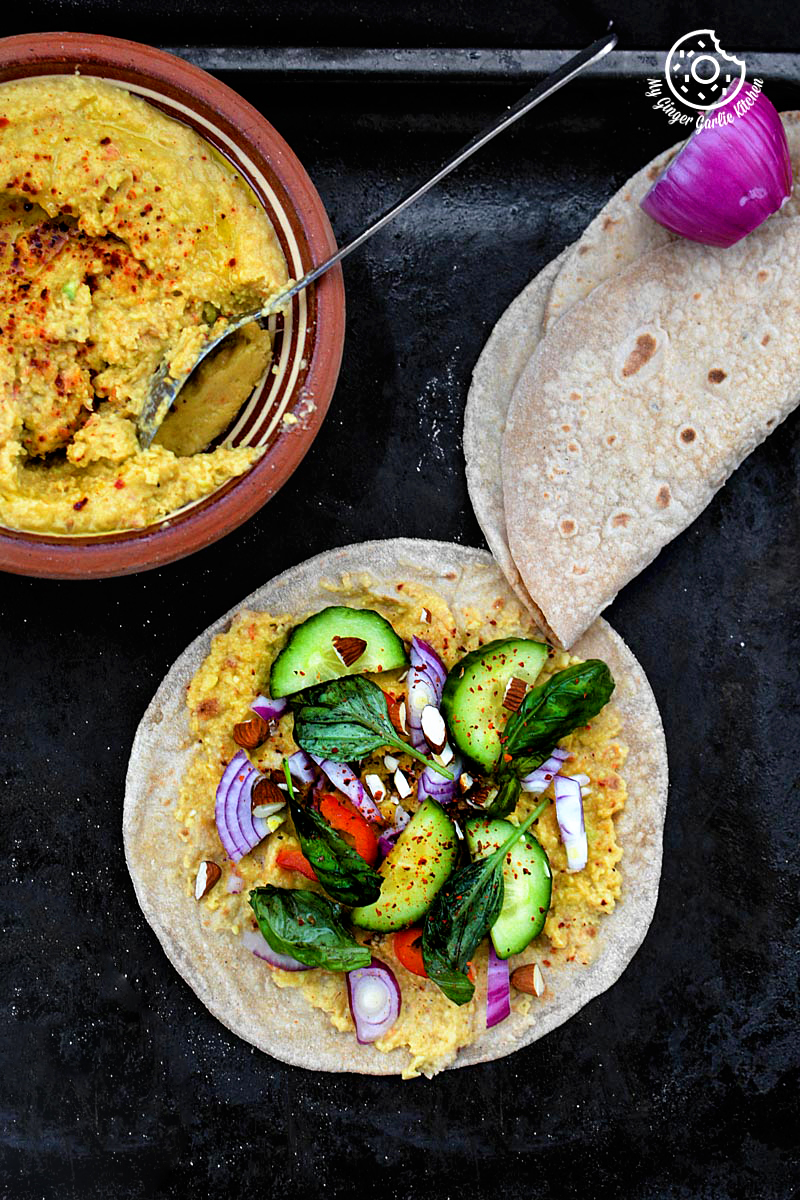 I thought that sharing this avocado spread with the touch of pepper and garlic would be a great idea, especially after my much appreciated recipe of avocado mousse. YUM!
Lately I have been dreaming of avocados day and night. 😀
And today, sunshine is here again. Soaking up every bit of the sunlight feels SO good. I feel sunshine and avocados have a strong bond, at least from my point of view! 😉 I feel so connected with sun. Whenever sun is up, I get fully charged to make new and exciting recipes.
And when it comes to a healthy meal on a sunny day, what could serve the purpose better than an avocado spread. Right?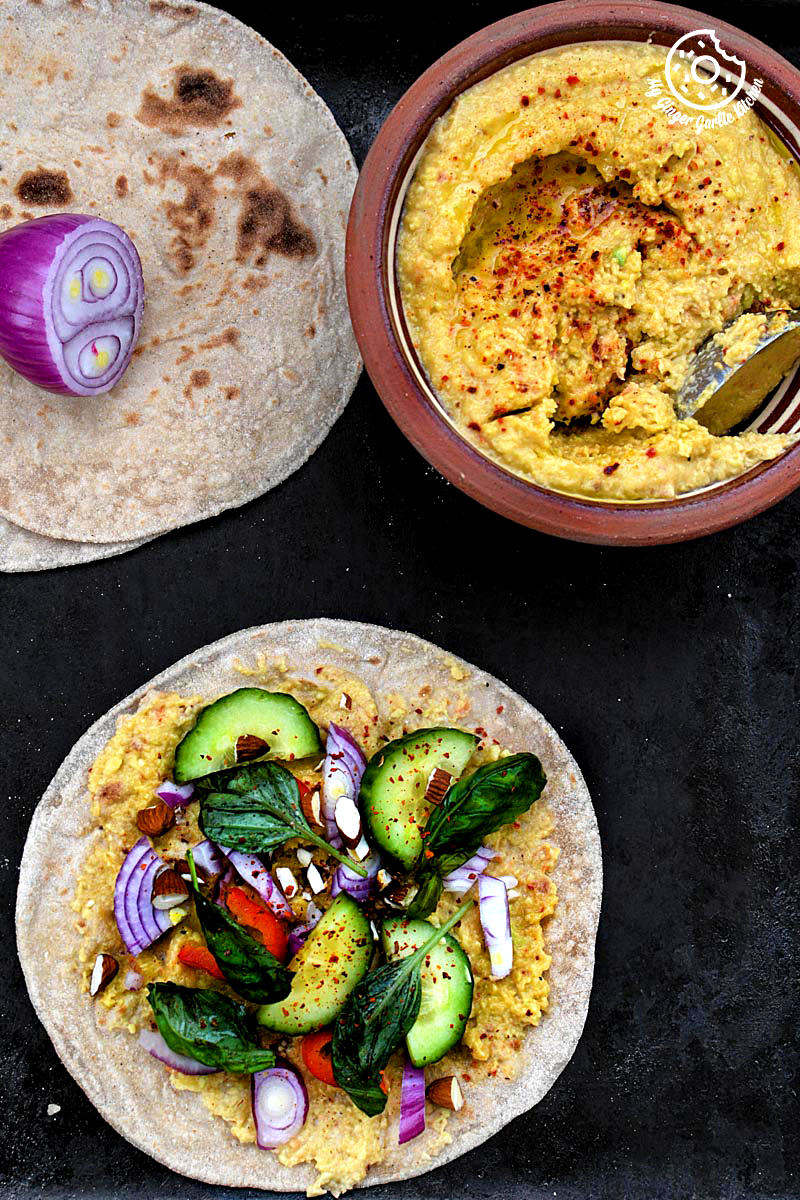 It's plain Indian chapati (tortilla) with avocado spread and veggies. This is a full meal, which would not require any fork and knife. It is so much better for me when such food comes handy.
And I think that's why burgers and wraps are so popular. You would not even need a plate. Just grab the deliciousness in your hands and go. Perfect for take away picnic lunches or even a regular weekday lunch. This is super quick, luscious and healthy summer meal. What else would be considered so much refreshing in the summer heat and humidity?
So once you have the avocados, you need to make some quick delish green spread. It is just DELISH. And this is more delicious when topped with loads and loads of basil.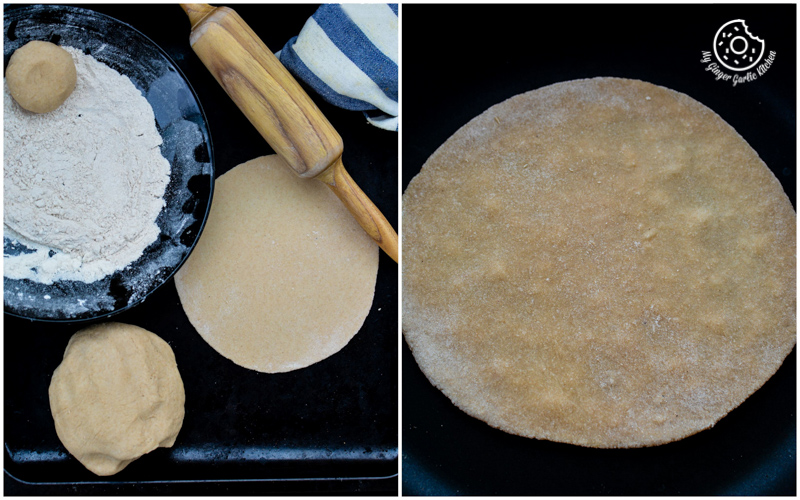 Once tortilla is ready, you simply add the spreads and veggies. Sprinkle some chilli pepper, pepper sauce, and squeeze some fresh lemon juice. And you are done. Eat it like that, or make it into a wrap or eat in anyway your heart desires. After all, it's food that we are talking about.
Whenever you are in a hurry, this Indian Chapati With Peppery Garlicky Avocado Spread would come to your rescue. And this wrap would serve itself very adorably to you by saying "Aye Aye Captain! I am ready to follow your orders. Come and savour me!" 🙂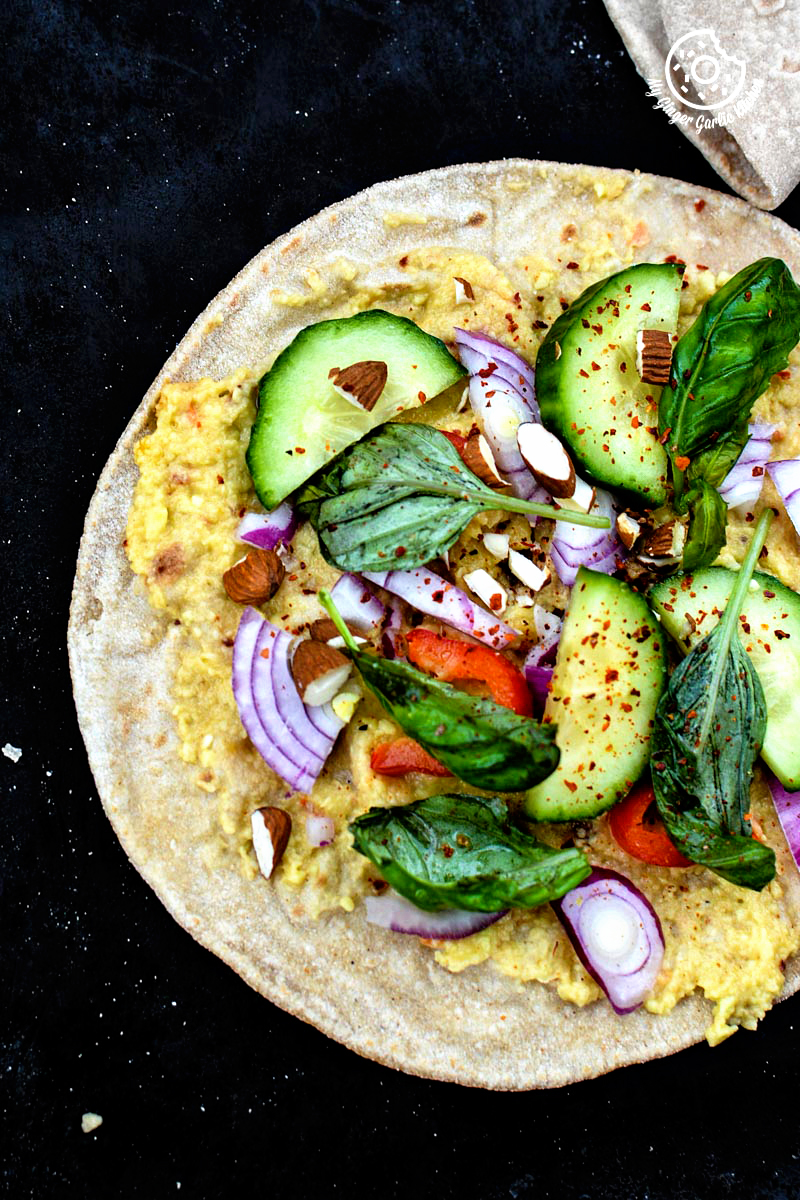 ---
Indian Chapati With Peppery Garlicky Avocado Spread

[Recipe]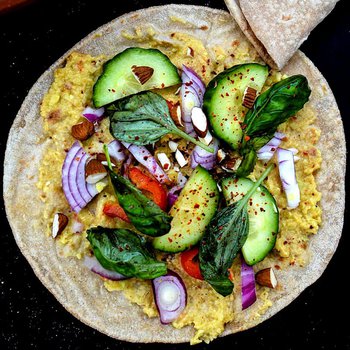 This Chapati with Avocado Spread and veggies is a simple yet delightful, healthy, delicious and filler meal in itself. Make this whenever you are in a hurry.
---
★★★★✰
(Rating:
4.1
from
89
reviews)
---
| Prep time 🕐 | Cook time 🕐 | Total time 🕐 |
| --- | --- | --- |
| | | 30 mins |
| Category ☶ | Cuisine ♨ | Serves ☺ |
| Main | Indian | 6 |
| Nutrition Info ⊛ | | Serving size ⊚ |
| 246 calories | | 1 serving |
---
INGREDIENTS
For chapati:
1 cup whole wheat flour (ghenun ka atta)
water to knead soft dough (around ½ cup)
pinch of salt
1 teaspoon oil
For avocado spread
2 ripe avocados, pitted, peeled, and sliced
1 mediu.sized onion, chopped
1 large tomato, chopped
4-5 garlic cloves
1/4 teaspoon cayenne pepper (or as per taste)
2 teaspoon pepper sauce
1 small green chili, chopped
1 tablespoon lemon juice
Sea salt to taste
2 tablespoon olive oil
1 teaspoon chili flakes
For serving //
1 cup cucumber sliced and halved
1 medium-sizedc red onions, roughly chopped
1/2 cup basil leaves
1/4 cup almonds, chopped
1 red chili, chopped
2 teaspoon chili flakes
---
INSTRUCTIONS:
Make Avocado spread //
Add avocados, tomatoes, onions, green chili, garlic cloves, salt, lemon juice, cayenne pepper, and pepper sauce to a food processor or blender.
Blend for about a minute or until smooth. Add a little bit of water if needed.
Sprinkled with chili flakes and drizzled with olive oil.
Make chapati //
Take a large mixing bowl. Add wheat flour, oil, salt.
Mix well knead into a soft dough, using enough water. Cover with a cling film and keep aside it for 30 minutes.
Divide the dough into 6 balls.
Roll each ball into a tortilla like at, about ⅛″ thick.
Put rolled tortilla on it, and let it cook for about 1 minute. Some small bubbles should just start to form at this point. Turn and cook the second side for 2 minutes until small bubbles form.
Turn again and cook the first side pressed lightly with a towel. It would puff at this stage.
Remove from heat and repeat the process with remaining dough balls.
For serving //
Lay the chapatis (tortillas) flat on a clean work surface.
Spread the avocado spread equally among the tortillas.
Top each with an equal amount of the onion, cucumber, basil leaves, red chili, and almonds. Sprinkle with chili flakes.
Fold in both sides and the bottom of each tortilla up over the filling; then roll to close.
Serve at room temperature or cover with plastic wrap and refrigerate for up to 1 hour. Enjoy!
---
NOTES:
No notes for this recipe.
---