I know it is weekend already, and less than a week to go for Christmas.
It is going really good. In my holiday list everything is ticked — shopping, gifts, meal plans, house cleaning…:-) I think that's it. So, I am ready. Now the question is — who actually is not ready at this time for a big celebration? Well! I don't not see any hands rising. That means, everyone else is ready too 🙂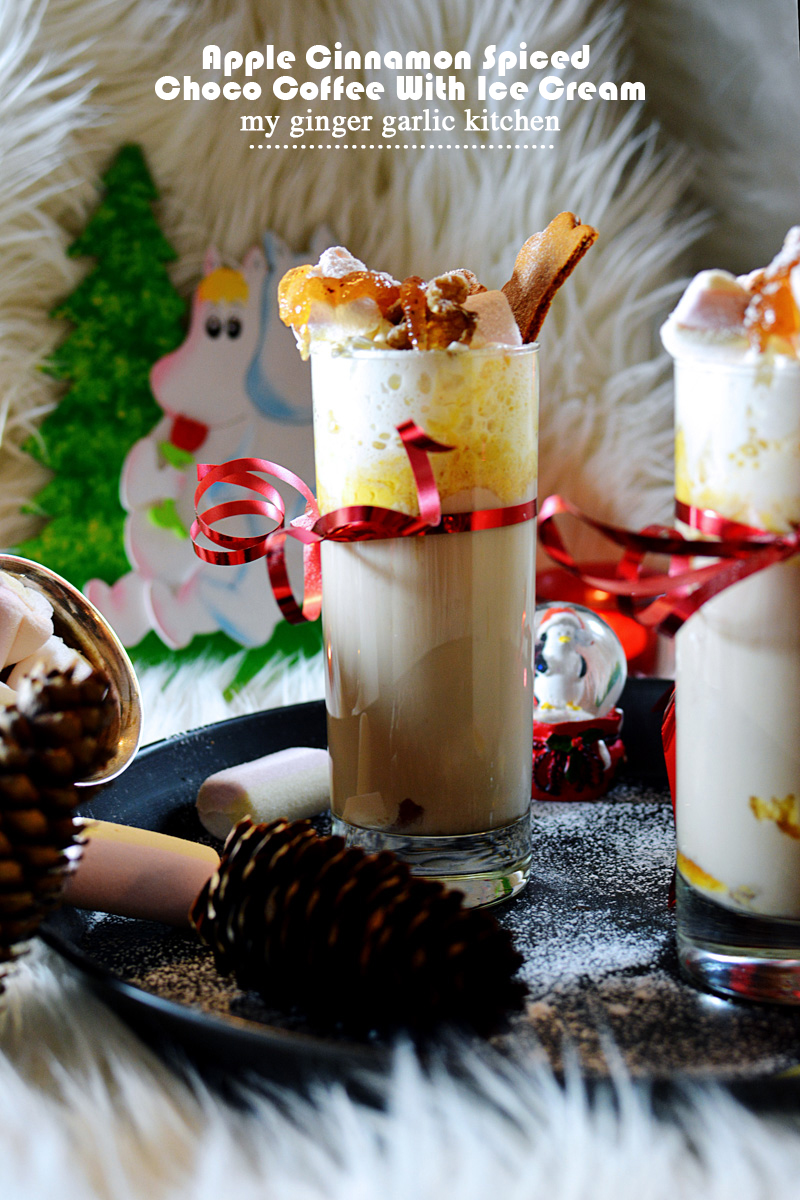 This time is super exciting for me, and I suppose for everyone else too. No matter how stressed or busy a festival makes us, we do LOVE them. And we want to do all good when we feel good.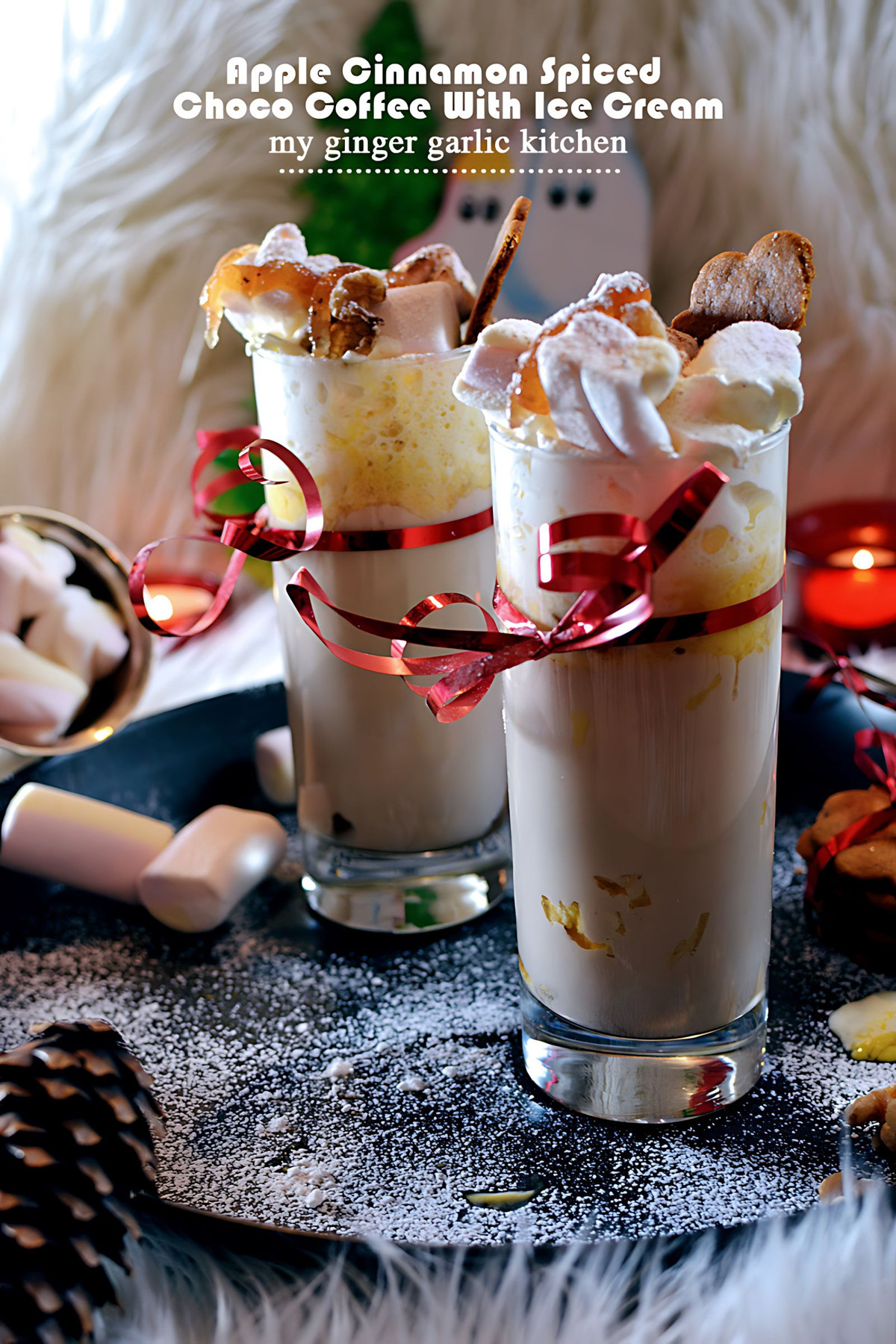 So here I am with my newest recipe of Apple Cinnamon Spiced Choco Coffee with Ice Cream. I am going to make it again for Christmas, and could totally dream about this. Oh, this is so my kind of stuff.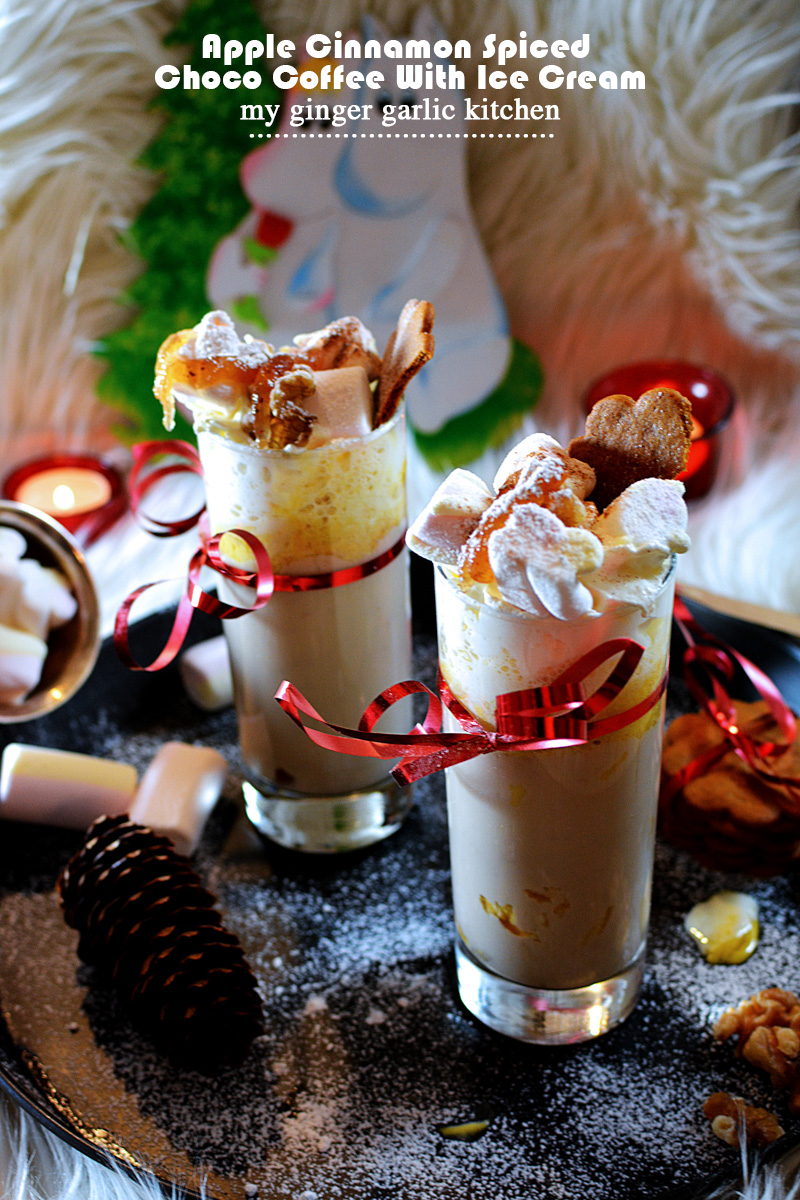 There could be nothing wrong in making a steaming hot beverage in a cold month of December. And yeahhh, if it is on Christmas, it sure should be FUN! I made this sweet drink with chocolate powder, cinnamon, coffee, and boiled it with rich creamy milk. That's it. I did not do anything else.
The magic took place by itself. OH! And imagine the favorite flavors of ice cream, apple cinnamon marmalade, whipped cream, icing sugar, marshmallow, and many more for topping. Woah, reading about these delicious ingredients itself is so much indulging. Just feel it when you have that steaming hot mug full of deliciousness — yourself sitting on a cozy couch and a quilt. This is so addictively good; easy and fast.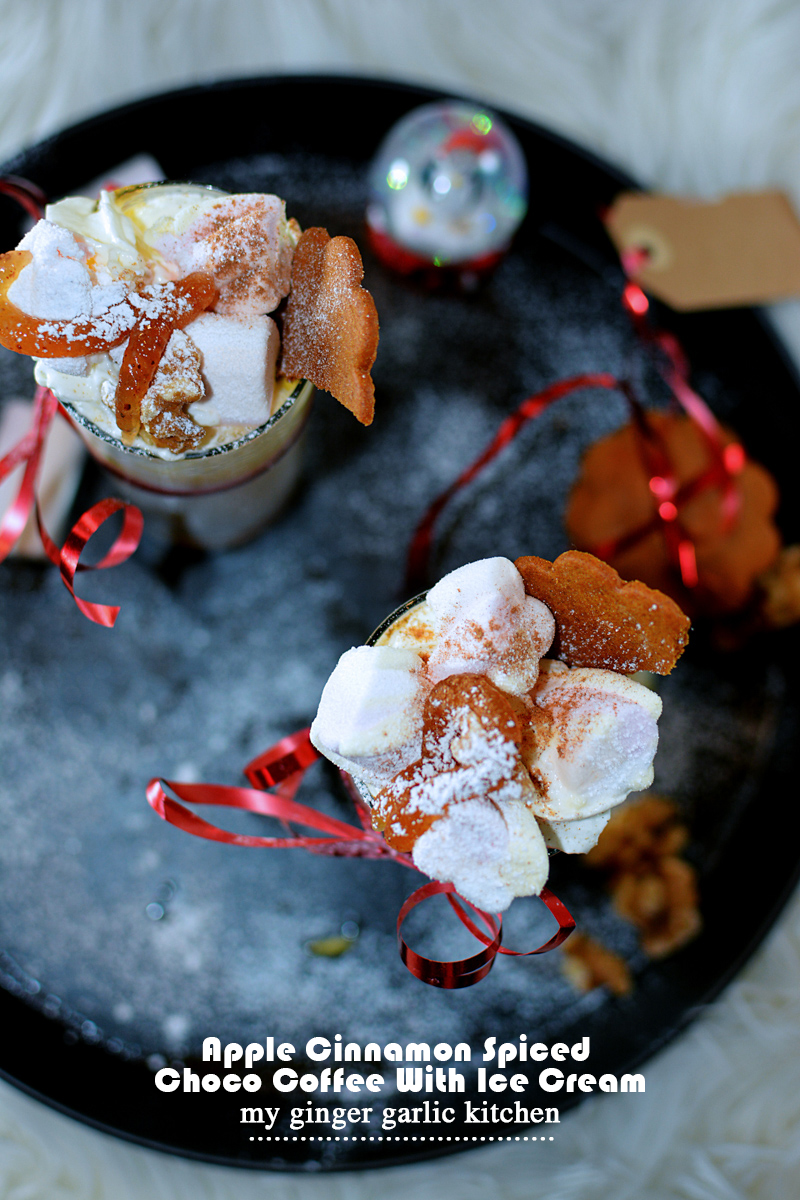 Apple Cinnamon Spiced Choco Coffee With Ice Cream is perfect for all the holiday parties. On the plus side, you don't have to prepare anything in advance for this. Simply heat the stove, place a saucepan, and grab your ingredients and add to the pan. Let the mixture come to a boil, and cook on a low heat for 5 minutes. There you have it. Your beverage is ready.
Enjoy holiday! Have Fun! Cherish Memories!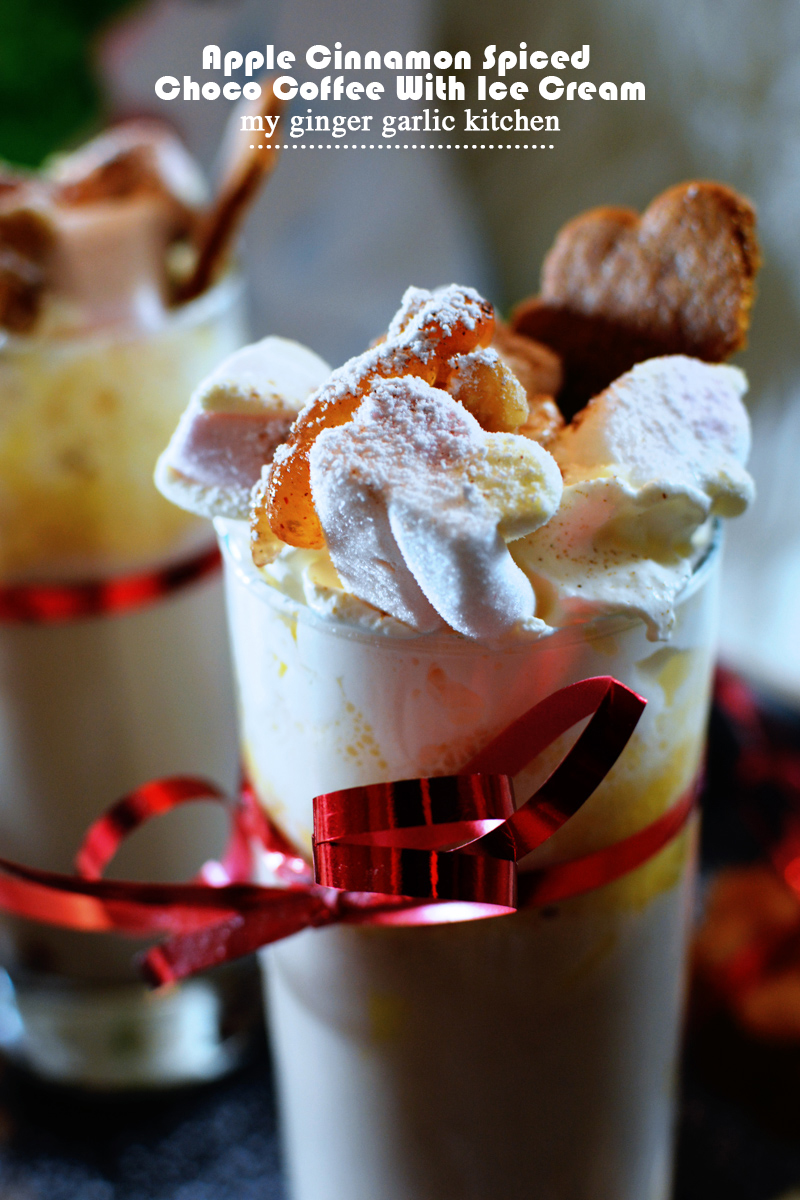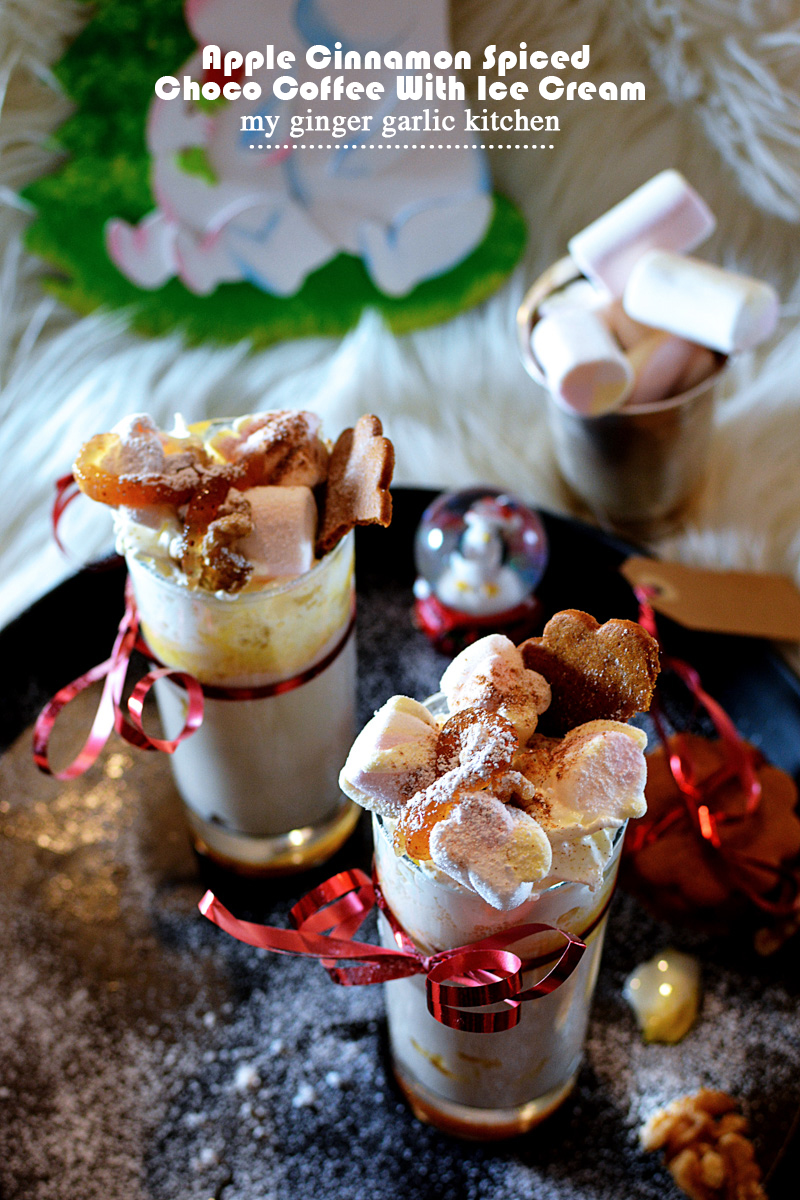 ---
Apple Cinnamon Spiced Choco Coffee with Ice Cream

[Recipe]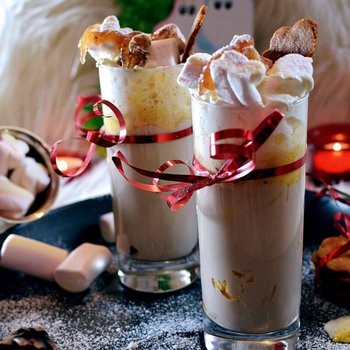 Apple Cinnamon Spiced Choco Coffee with Ice Cream is a steaming hot beverage. It is sweet, and perfect for christmas and holiday parties.
---
★★★★✰
(Rating:
4.1
from
57
reviews)
---
| Prep time 🕐 | Cook time 🕐 | Total time 🕐 |
| --- | --- | --- |
| | | 12 mins |
| Category ☶ | Cuisine ♨ | Serves ☺ |
| Beverage | World | 2 |
| Nutrition Info ⊛ | | Serving size ⊚ |
| 239 calories | | 1 serving |
---
INGREDIENTS
For Apple Cinnamon Spiced Choco Coffee with Ice Cream
Cocoa powder - 2 tablespoons
Ground cinnamon - ½ teaspoon
Instant coffee powder - 1 ½ tablespoons
2.5% fat milk - 2 cups
Vanilla extract - 1 teaspoon
Brown sugar - 1 tablespoon
for serving //
Apple cinnamon marmalade
Whipped cream
Marshmallow
Nuts (I have used walnuts)
Gingerbread cookies
Cocoa powder
Icing sugar
Marshmallow
Ice-cream of your choice (I have used apple cinnamon flavor)
---
INSTRUCTIONS:
How to Make Apple Cinnamon Spiced Choco Coffee with Ice Cream //
In a small bowl, mix together the chocolate powder, sugar, cinnamon, instant coffee powder. Heat a large pan over medium heat.
Add milk, all spices, and bring it to a boil. Let it boil id 5-7 minutes.
Remove from heat.
Take serving glass. Add 1 tablespoon apple cinnamon marmalade. 2 dollop of ice-cream to it.
Pour hot spiced coffee and top with whipped cream, chocolate powder, icing sugar, gingerbread cookies, nuts, marshmallow and marmalade.
Serve hot & enjoy!
---
NOTES:
No notes for this recipe.
---
If this recipe helped you, then please spread the word by sharing and
subscribing
to us on YouTube to get more such Recipe Videos.
---
Your feedback is so helpful for me and other MyGingerGarlicKitchen readers. So, for Facebook and Instagram, please mention
@MyGingerGarlicKitchen
or
#mygingergarlickitchen
. I would love to see your photos. :)
---
Author:
Anupama
Recipe Source Link:
https://www.mygingergarlickitchen.com/apple-cinnamon-spiced-choco-coffee-ice-cream/
Date Published:
2023-07-12
• • • • • • • • • •