Zucchini Chickpea Flour Pancake - Zucchini Chilla Recipe
Zucchini Chickpea Flour Pancake is a savory crepe prepared with gram flour, zucchini, onion and other spices. This is best served as breakfast.
---
« Go back
Print this recipe »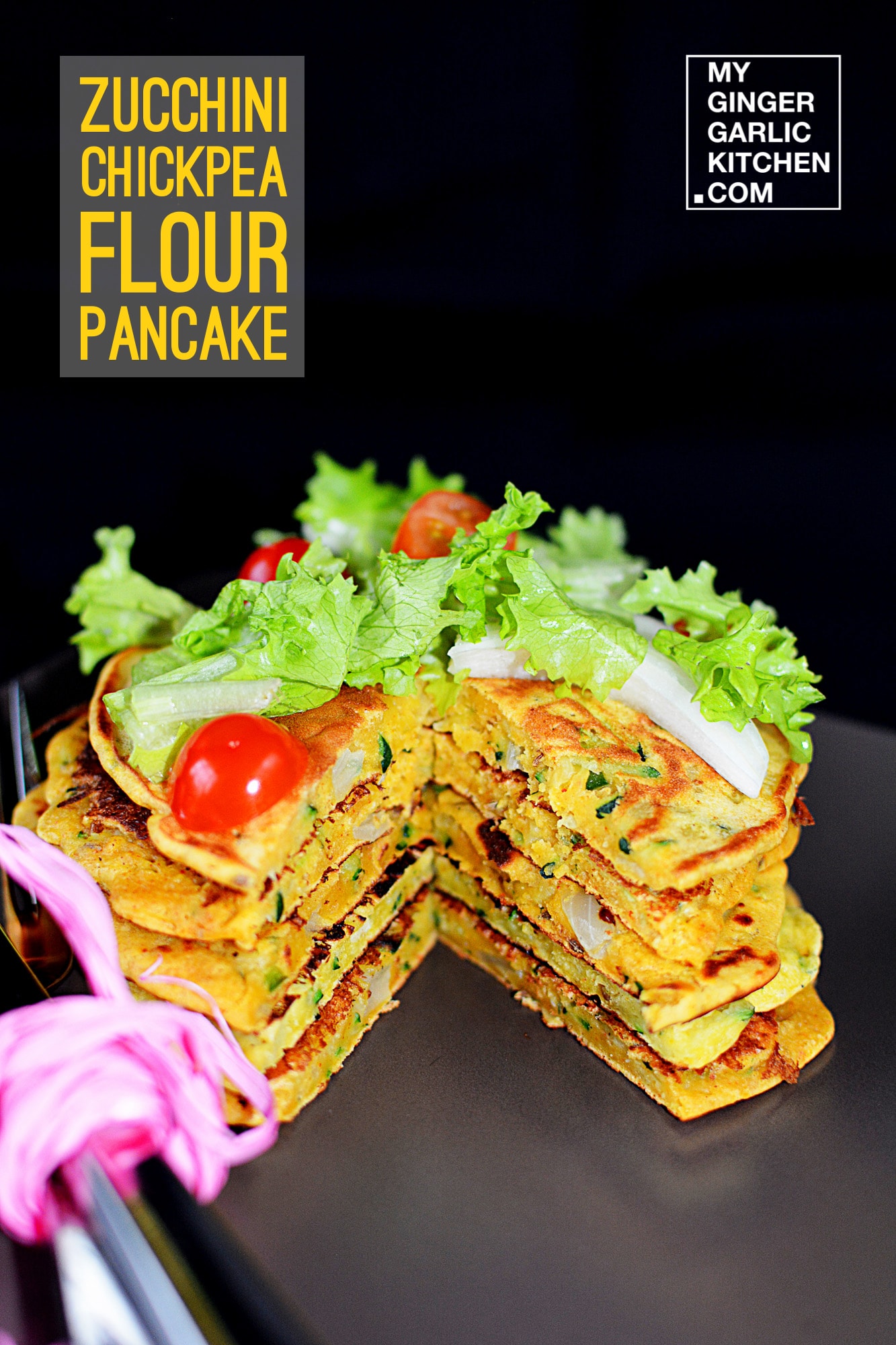 ---
Prep Time = 5 minutes
Cook Time = 10 minutes
Total Time = 15 minutes
Category = Breakfast
Cuisine = Indian
Serves = 12
Nutrition Info = 85 calories
Serving Size = 1 Pancake
---
RECIPE INGREDIENTS
» For zucchini chickpea flour pancakes //
2 cups gram flour (besan)
1 cup grated zucchini
1 onion, chopped
4 garlic cloves, chopped
1 tsp cumin seeds
1/4 tsp chaat masala powder (optional)
2 tsp red chili powder
1/4 tsp garam masala powder
1 1/2 cups milk (I used almond milk)
Pinch of baking soda
Oil for cooking
Salt as per taste
---
RECIPE INSTRUCTIONS
» How to Make Zucchini chickpea flour pancakes //
Take a large mixing bowl. Add all the ingredients in the bowl, and mix well.
Now add milk to the dry ingredients and make a smooth batter. Check the consistency, add more milk if needed.
Let the batter marinate in spices for 15 minutes.
Heat a pan on high heat. Once, the pan is hot enough, turn the heat on medium.
Spread 1 tsp oil in the pan and spread 2 tbsp batter evenly on it.
Cover the lid, and let it cook for about 2 minutes. Now remove the lid, and apply some more oil on the topside of pancake.
Turn it upside down. Let it cook for 2 minutes, until it becomes brown and crispy from both sides.
Repeat the same process with rest of the batter. Your delicious Zucchini Chickpea Flour Pancake is ready.
Serve hot with salad, and serve with a dollop of sour cream. Enjoy!
---
RECIPE NOTES
No notes for this recipe.
---