Instant Whole Wheat Naan - No Yeast
This Easy Instant Yeast Free Whole Wheat Naan is basically a simple naan recipe made on tawa with yogurt and some baking soda.
---
« Go back
Print this recipe »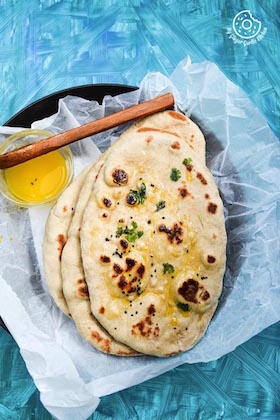 ---
Prep Time = 30 minutes
Cook Time = 15 minutes
Total Time = 45 minutes
Category = Side
Cuisine = Indian
Serves = 8
Nutrition Info = 270 calories
Serving Size = 1 Naan
---
RECIPE INGREDIENTS
» For Yeast Free Instant Naan:
1 cup all-purpose flour
1 cup whole-wheat flour
1 tablespoon oil
1 teaspoon sugar
1 cup natural yogurt
1/4 cup warm milk or water for kneading the dough, use more if needed
1/2 teaspoon baking soda
1 teaspoon baking powder
1/2 teaspoon salt
sesame seeds or nigella seeds for topping
coriander, chopped for topping
melted butter or ghee (clarified butter) for brushing and to drizzle on the top
---
RECIPE INSTRUCTIONS
» How To Make Yeast Free Instant Naan:
Sift the flours in a kneading bowl.
Add sugar, salt, baking powder, and baking soda. Mix well.
Now pour yogurt and oil right to the bowl.
Start mixing together, and add about 1/4 cup of warm milk/water to knead a smooth dough.
Once the dough is ready, cover it with a kitchen towel or plastic wrap and keep it aside for 30 minutes.
When ready to cook divide the dough into 8 equal balls.
Top each dough ball with seeds and cilantro (coriander) leaves. You can also do this after rolling the dough ball. Repeat the same method with the rest the dough.
Dust each dough ball with dry flour, flip it, and roll into an oval shape about 1/8 inch thick. Make all the naans in a similar way.
Brush both sides of the naan with ghee/butter.
Place the naan on the hot pan, and cook for 1 minute, until you see bubbles starting to form.
Brush with some ghee. You can also use a lid, to cover the pan.
Flip and cook for 1 minute on the other side, until you see the upper side is fully cooked, and dark brown starts to appear.
Remove cooked naan from the pan and brush with some more butter, if you want Butter Naan. (You can also rub this naan bread with halved garlic clove, or with melted butter mixed with minced garlic to make it garlic butter naan.)
Cook rest of the naans. Once all naans are done, place them in a towel­ lined dish and serve. Serve it hot with some curry on the side.
---
RECIPE NOTES
Cover no yeast naans with kitchen tissue and wrap them in a foil paper for later use.
---