Whole-wheat Peach Mushroom Pizza with Feta and Fresh Basil
This pizza has peaches, mushroom, onion, bell pepper slices, olives, and a whole lot of cheese. Stay in your comfort zone and make this easy peasy pizza.
---
« Go back
Print this recipe »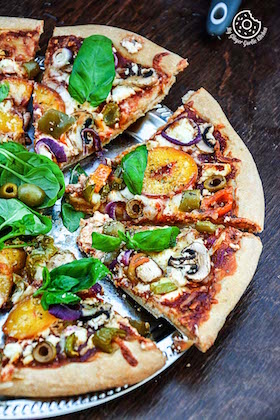 ---
Prep Time = 20 minutes
Cook Time = 25 minutes
Total Time = 45 minutes
Category = Main
Cuisine = Italian
Serves = 4
Nutrition Info = 294 calories
Serving Size = 1 serving
---
RECIPE INGREDIENTS
» For Pizza Dough //
1 teaspoon brown sugar
1 1/2 cups warm water
1 tablespoon active dry yeast
1 tablespoon olive oil
1 teaspoon salt
2 cups whole wheat flour
1½ cups all-purpose flour
» For Whole-wheat Peach Mushroom Pizza with Feta and Fresh Basil //
2 medium-sized nectarines or peach, sliced thin
3/4 cup crumbled feta cheese
1 cup shredded mozzarella cheese
1 large-sized green bell pepper, diced
1/4 cup olives, sliced
1 orange chili pepper sliced and deseeded
1/2 cup mushroom sliced
1 medium-sized red onion, sliced
Honey balsamic glaze for drizzle
Basil leaves for topping
---
RECIPE INSTRUCTIONS
» For Pizza Dough //
In a bowl, dissolve sugar in warm water.
Add yeast to it, and let it stand for about 10 minutes, until foamy.
Stir the olive oil and salt into the yeast mixture, then mix in the whole wheat flour and 1 cup of the all-purpose flour until dough starts to come together.
Tip dough out onto a surface floured with the remaining all-purpose flour, and knead until all of the flour has been absorbed, and the ball of dough becomes smooth, about 10 minutes.
Place the dough in an oiled bowl. Cover the bowl with a towel, and let stand in a warm place until doubled in size, about 1 hour.
When the dough is doubled, tip the dough out onto a lightly floured surface.
If you want thin crust divide the dough ball into 2 pieces, and leave whole to make one thick crust.
Form into a tight ball. Let it keep in refrigerator for about 2-4 hours.
» Making Whole-wheat Peach Mushroom Pizza with Feta and Fresh Basil //
Preheat the oven to 425°F /220°C.
Roll a ball of dough with a rolling pin until you have a flattened disk.
Place the pizza on a greased baking sheet and then use your hands to gently tug, pull and push the pizza dough into your desired shape.
Spread the sauce over pizza. Now add the ¾ cup shredded mozzarella cheese and crumbled feta.
Now top with sliced peaches, sliced onions, sliced mushrooms, olives and some chili pepper.
Sprinkle rest of the mozzarella cheese on top.
Sprinkle garlic powder and pepper powder.
Bake in the preheated oven for 15-20 minutes (depending on thickness) or until the cheese is golden at the edges, and cheese is melted and gooey.
Remove and allow to cool 5 minutes.
Sprinkle some fresh basils and dried oregano and slice.
Serve with the honey balsamic drizzle. Enjoy!
---
RECIPE NOTES
No notes for this recipe.
---