Christmas Rocky Road | White Chocolate Rocky Road Recipe
White Chocolate Rocky Road is the perfect treat for you and your friends and family on these holidays. These squares are fabulously festive and delicious.
---
« Go back
Print this recipe »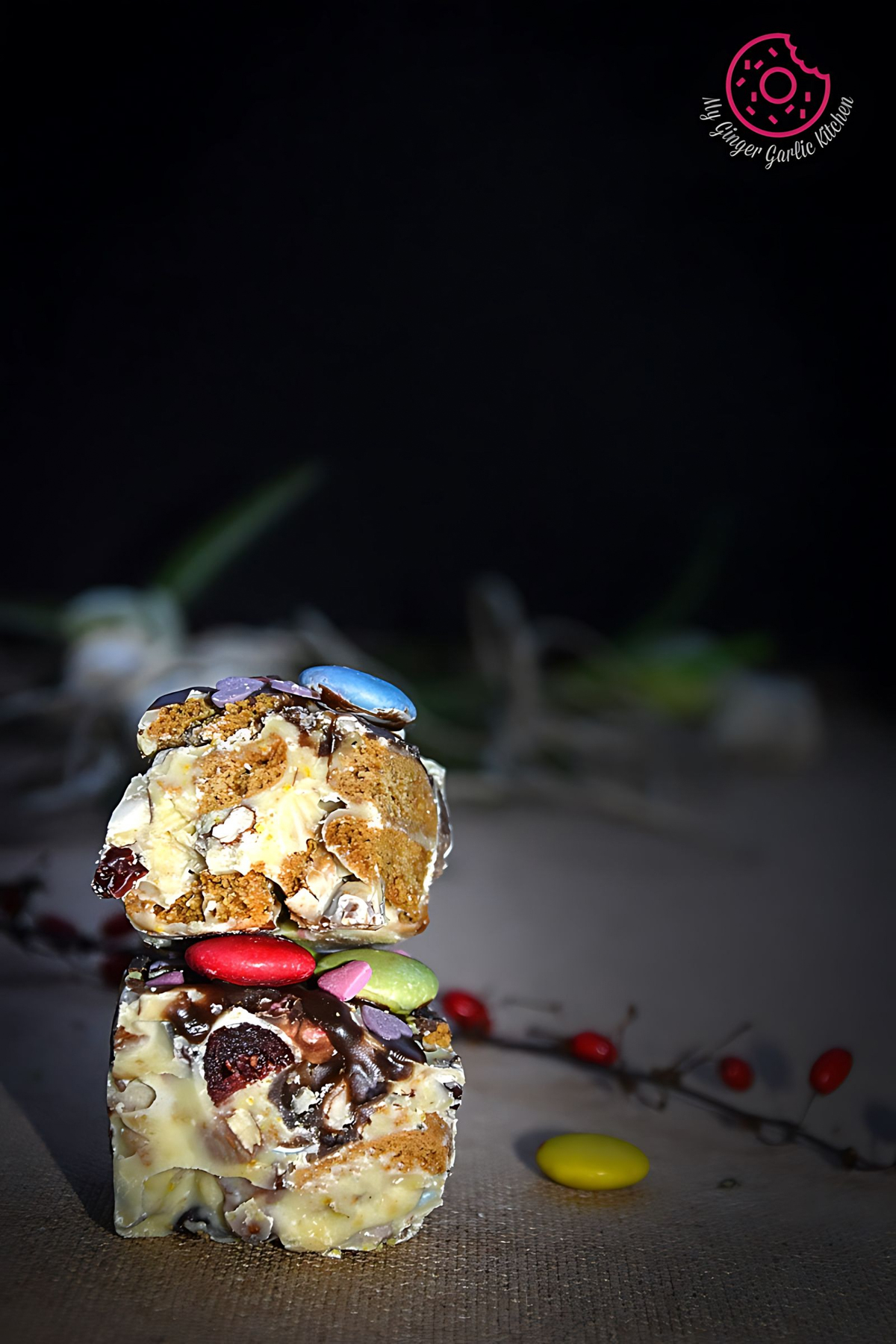 ---
Prep Time = 10 minutes
Cook Time = 2 minutes
Total Time = 20 minutes
Category = Dessert
Cuisine = Indian
Serves = 6
Nutrition Info = 455 calories
Serving Size = 100 g
---
RECIPE INGREDIENTS
» For Christmas Rocky Road //
Good Quality White Chocolate, broke into pieces - 250 grams
Dried Cranberries - 1/4 Cup
Almonds, Chopped - 1/4 Cup (You Can Also Use Pistachios, Walnuts, Or Cashewnuts)
Gingerbread Cookies, Roughly Crushed - 1 Cup
Orange Zest - 1 Tablespoon
Chocolate Gems - 1/2 Cup (You Can Also Use Jelly Candies, Turkish Delight, Or Fruit Gems)
Sprinkles For Topping
Chocolate ganache for drizzle (optional)
---
RECIPE INSTRUCTIONS
» Hor to Make Christmas Rocky Road //
Put the broken chocolate pieces in a clean, dry microwave-safe bowl. Then melt chocolate in a microwave or double boiler. For Microwave Method, microwave the chocolate at high for 30 seconds. Remove the bowl and stir. Microwave it again for another 30 seconds. Remove and stir again. (You can microwave for 30 seconds more if the chocolate is not completely melted after stirring.)
For Double Boiler Method, add 1 cup of water to a medium saucepan or pot and bring to a very gentle simmer. Place a heat-proof bowl on top of the pan so that the bottom of the bowl. Stir occasionally with a spatula until smooth and melted. (If the chocolate starts to become too hard, just put the bowl back over the simmering water.)
Once melted, stir well.
Take another bowl and add in the cranberries, melted white chocolate, gingerbread cookies, chopped almonds, gems chocolate and orange zest to it.
Stir with a spoon until completely combined.
Line a heat-proof pan/dish with parchment paper.
Pour the mixture into the lined dish, and spread the mixture out to the corners.
Drizzle with chocolate ganache diagonally across the tray.
Top with chocolate gems and sprinkles. Refrigerate this for at least 2 hours or let it sit at room temperature for about 3 to 4 hours, until hardened.
Lift the hardened rocky road out of the pan, and remove the parchment paper.
Slice your candy into small 6-8 squares using a sharp knife.
Enjoy as a dessert or a snack.
---
RECIPE NOTES
No notes for this recipe.
---