Vegetarian Pan Pizza Recipe
This veggie loaded simple, quick, easy and appetizing pizza makes a delectable meal for a weekend or a busy weeknight. It tastes better than a take out.
---
« Go back
Print this recipe »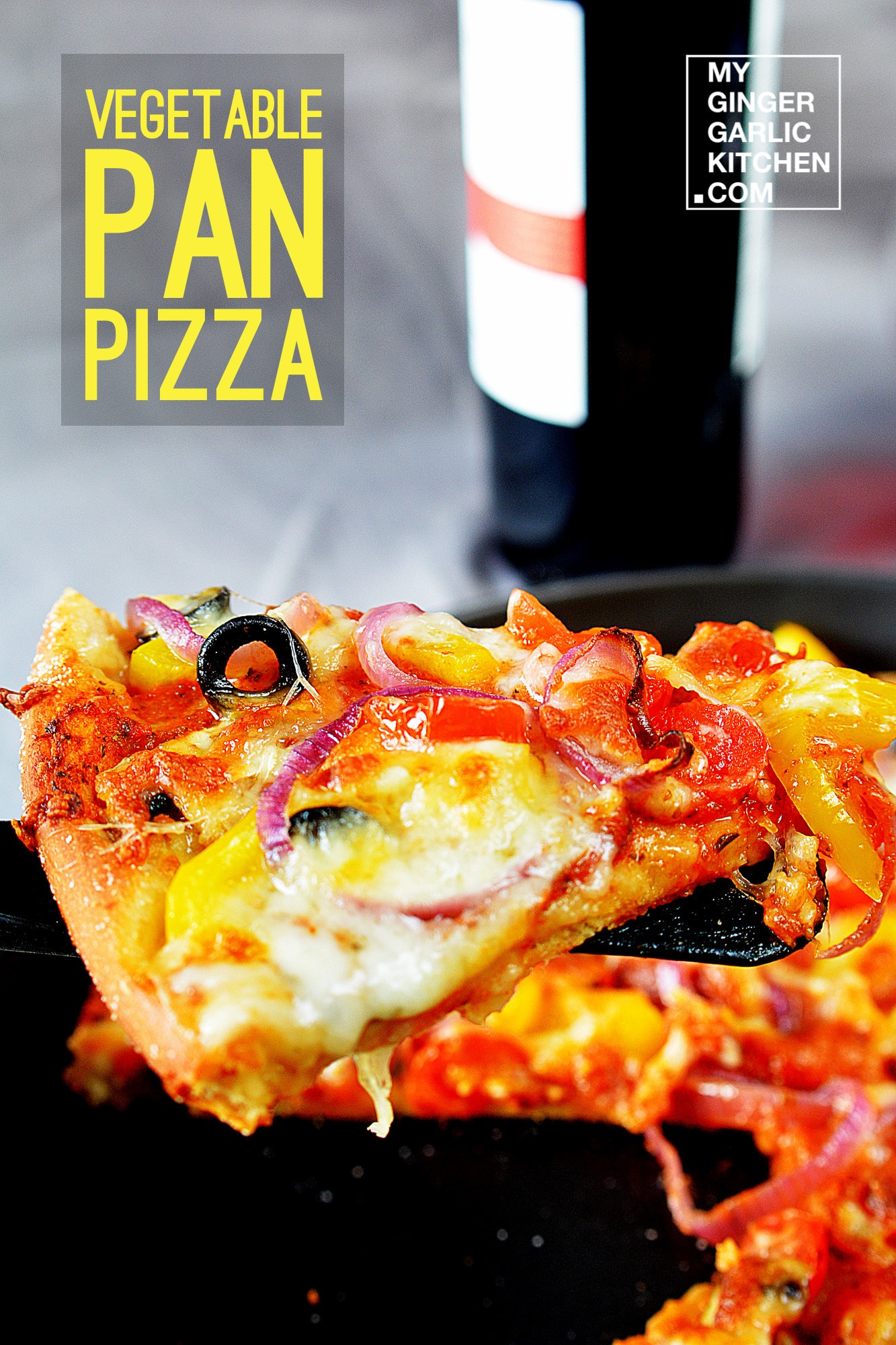 ---
Prep Time = 10 minutes
Cook Time = 30 minutes
Total Time = 40 minutes
Category = Main
Cuisine = Italian
Serves = 2 Pizza
Nutrition Info = 458 calories
Serving Size = 1 Pizza
---
RECIPE INGREDIENTS
» For Pizza Dough //
1 1/2 cups warm water
1 package of active dry yeast
3 1/2 cups bread flour or all-purpose flour
2 tbsp olive oil
4 tbsp semolina for dusting
2 tsp salt
1 tsp sugar
» For Pizza Sauce //
1 cup tomato puree
1 tsp dry oregano
1 tsp marjoram
1 tsp dry basil
1 tsp garlic powder
» For toppings //
mozzarella cheese, shredded
mushrooms, thinly sliced
bell peppers, thinly sliced
onions, sliced
cherry tomatoes, sliced
black olives, sliced
1 tsp oregano
---
RECIPE INSTRUCTIONS
» Making Pizza dough //
Take a small mixing bowl. Add yeast, sugar, salt, oil, water and mix well. Let it rise for 10 minutes.
Take a large mixing bowl. Add flour, and yeast mixture. Knead well for about 5 minutes to make a smooth dough.
Cover the dough with cling film, and let it rise in warm place for 2-4 hours.
Method for sauce //
Take a mixing bowl. Add all of the sauce ingredients, and mix well. Let it set for at least 1 hour.
» Making Pizza //
Preheat oven at 475 degrees F/246 degrees Celsius.
At this point pizza dough would have doubled in size. Divide dough into two balls. Dust dough with semolina, and roll out each dough ball to a 9? circle.
Add oil to the pan. Place rolled dough circles in cooking pans.
Spread sauce on dough and spread to within 1? of edge. Spread all of the vegetables toppings. Spread shredded mozzarella cheese. Sprinkle oregano on top.
Bake on the lower rack for first 20 minutes, or till outer crust is brown. Bake on the top layer for few minutes.
Serve hot with any of your favorite beverages.
---
RECIPE NOTES
No notes for this recipe.
---