Vegetable Teriyaki Noodles - Teriyaki Stir Fry Noodles
Learn to make Vegetable Teriyaki Noodles Recipe with a simple video tutorial. It's a completely vegan noodle dish, and perfect for a healthy lunch/dinner.
---
« Go back
Print this recipe »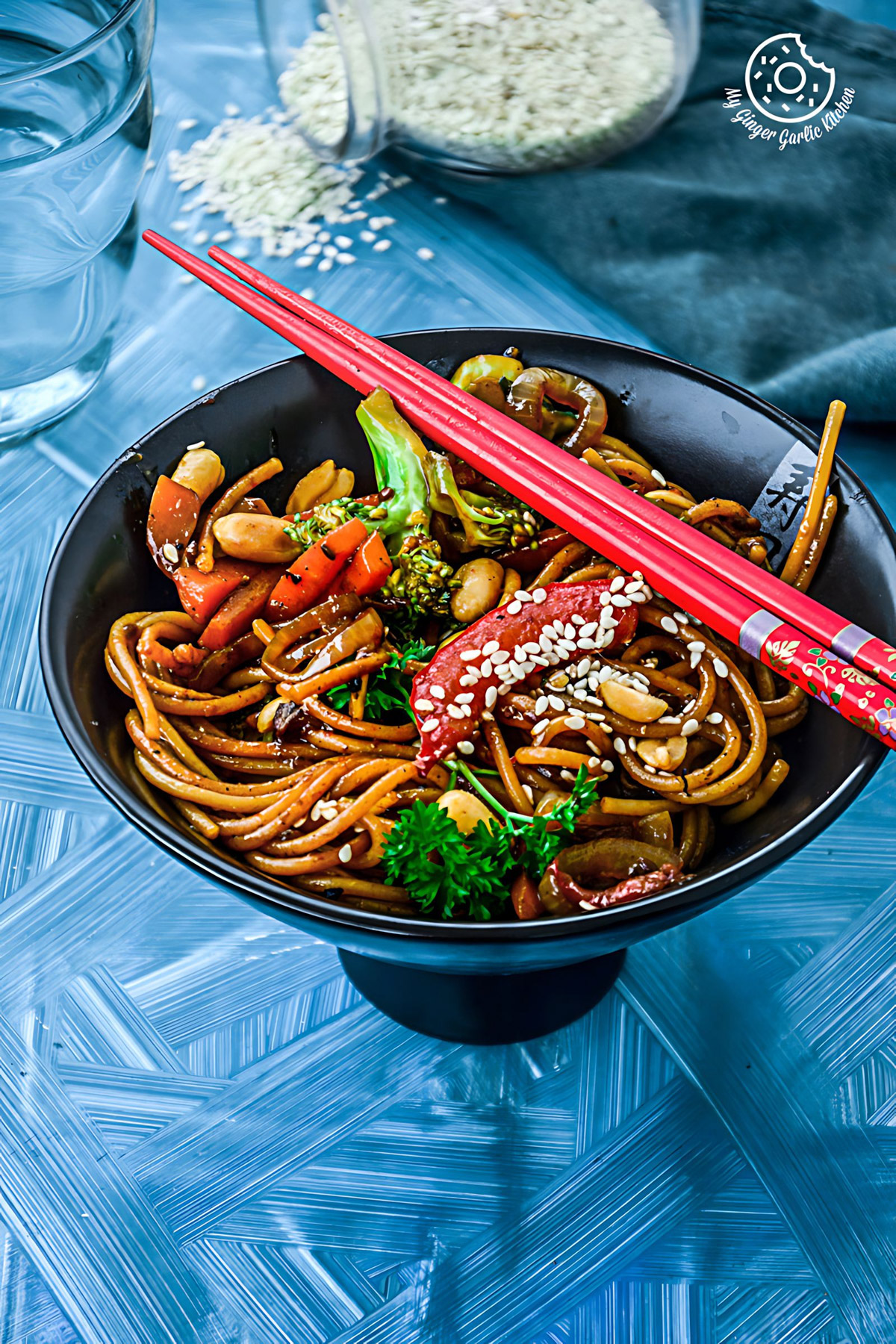 ---
Prep Time = 5 minutes
Cook Time = 15 minutes
Total Time = 20 minutes
Category = Main
Cuisine = Asian
Serves = 4
Nutrition Info = 105 calories
Serving Size = 1 serving
---
RECIPE INGREDIENTS
» For Vegetable Teriyaki Noodles:
2 tablespoons + 2 teaspoons vegetable oil or sesame oil
3/4 cup bell pepper, julienned, (i have used red, green and yellow)
1/4 cup broccoli florets
1/2 cup mushrooms, sliced
1 medium sized onion, sliced
1 medium sized carrot, julienned
Handful of whole-grain spaghetti (or other noodles)
50g teriyaki sauce
1/2 teaspoon freshly ground black pepper
1/4 teaspoon red chili flakes
Salt to taste
1 tablespoon garlic, finely chopped
1 1/2 tablespoons hot sauce (optional)
» For Garnish:
Sesame seeds
Roasted peanuts
---
RECIPE INSTRUCTIONS
» How To Make Vegetable Teriyaki Noodles:
First, put a large pot of water on to boil. When it boils, add in the noodles.
Once the noodles are cooked, drain them in a colander or strainer. Rinse noodles under a running tap with some cold water, and then add in 2 teaspoons of vegetable oil and mix well, so they don?t stick together.
Heat 2 tablespoons of oil in another pan, and add chopped garlic. Mix well and saute for a minute.
Add all the vegetables, ground pepper and chili flakes, and saute them till vegetables are almost cooked but still crunchy.
Add in the teriyaki sauce and let everything soak up the sauce for a few minutes.
Now add in the cooked noodles, mix well and let them soak up the remaining sauce.
Add hot sauce and salt to taste. Mix well and cook for a few more minutes.
Garnish Vegetable Teriyaki Noodles with some sesame seeds and roasted peanuts. Enjoy!
---
RECIPE NOTES
No notes for this recipe.
---