Strawberry Chia Pudding
This 5 ingredients Paleo, Gluten-Free Strawberry chia pudding is a quick, yet so divine and healthy pudding recipe made from chia seeds.
---
« Go back
Print this recipe »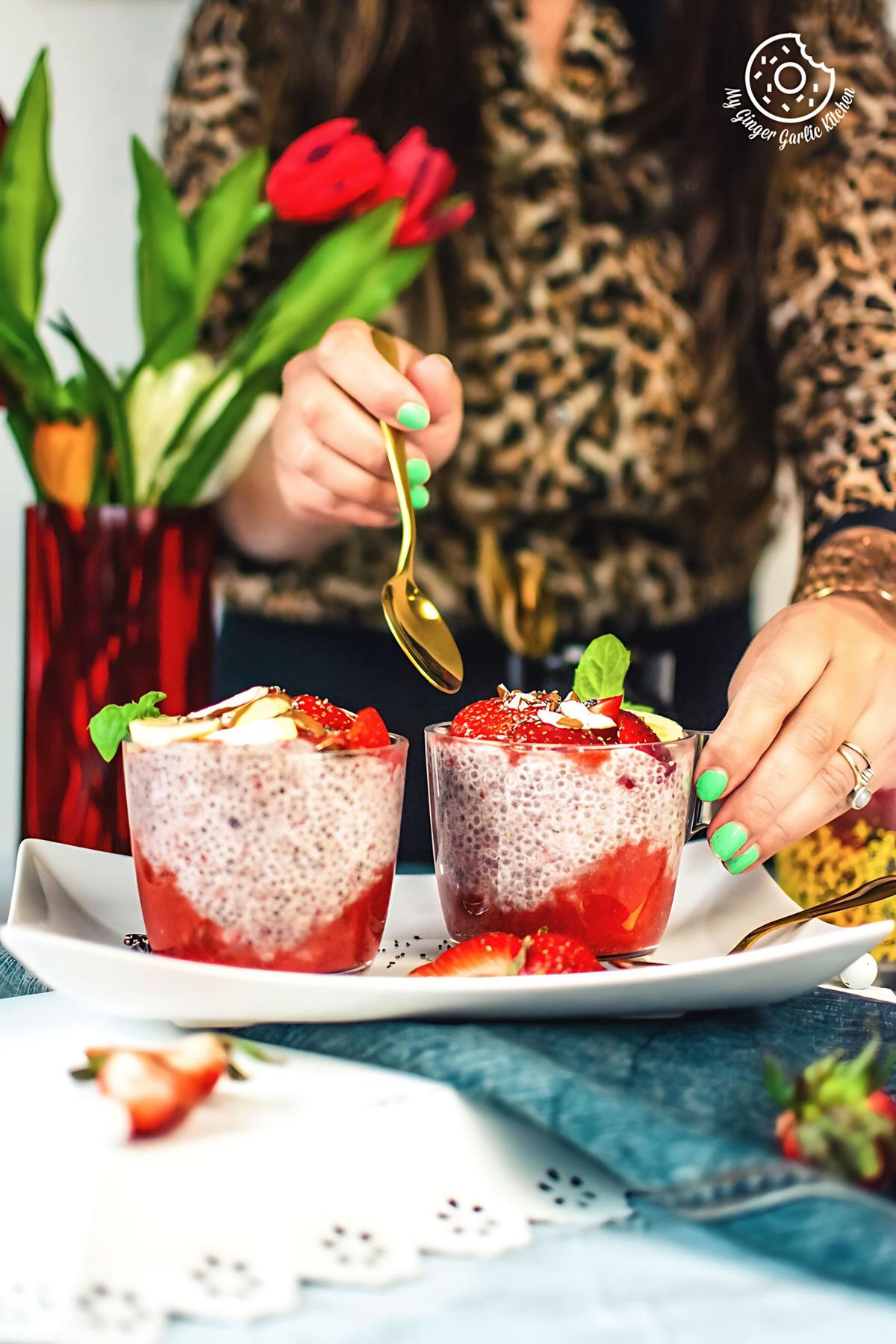 ---
Prep Time = 4 hour(s) 0 minutes
Cook Time = 05 minutes
Total Time = 4 hour(s) 5 minutes
Category = Breakfast
Cuisine = USA
Serves = 2
Nutrition Info = 117 calories
Serving Size = 1 serving
---
RECIPE INGREDIENTS
» For Pudding //
1 1/4 cups milk, I used almond milk (you can use coconut or any other milk of your choice)
5 tablespoons chia seeds
3 tablespoons honey/maple syrup, or taste
3/4 cup chopped strawberries
3/4 teaspoon vanilla extract
» For Serving
Chopped bananas
Sliced strawberries
Sliced almonds
Chia seeds
---
RECIPE INSTRUCTIONS
» Making Strawberry Chia Pudding //
Add chia seeds, vanilla, milk, and honey to a mixing bowl.
Stir well to combine.
Cover and refrigerate to set for at least 4 hours or overnight.
Mix the pudding well
Add strawberries and honey to a blender jar and blend until smooth.
Strawberry puree is ready.
Add strawberry puree to the pudding and mix well to combine.
» Assembling pudding //
Add about 1 tablespoon strawberry puree to 2 individual serving glass or jars.
Fill each glass with chia pudding.
Drizzle with some strawberry puree.
Top with sliced bananas, strawberries, almonds, and some chia seeds.
Serve Strawberry Chia Pudding chilled!
---
RECIPE NOTES
I have used fresh strawberries for this pudding recipe, but you can also use frozen strawberries here, they work well too.
You can also add 1-2 tablespoons of Greek yogurt or dairy-free yogurt to this pudding recipe.
To make it fuller, you can also use some granola or muesli toppings for this pudding.
Always add topping right before serving.
Instead of pureeing strawberries, they can also be pureed along with milk before soaking chia seeds. I personally like the bright red color of the strawberry puree in the pudding, so I generally add it in the end.
You can also replace honey/maple syrup with 2 tablespoons of pureed dates.
---