Spinach Kofta Biryani - Vegetarian
Spinach Kofta Biryani is a highly seasoned dish which is layered with fragrant long-grained rice and cooked with tomato gravy, vegetables, and spinach koftas.
---
« Go back
Print this recipe »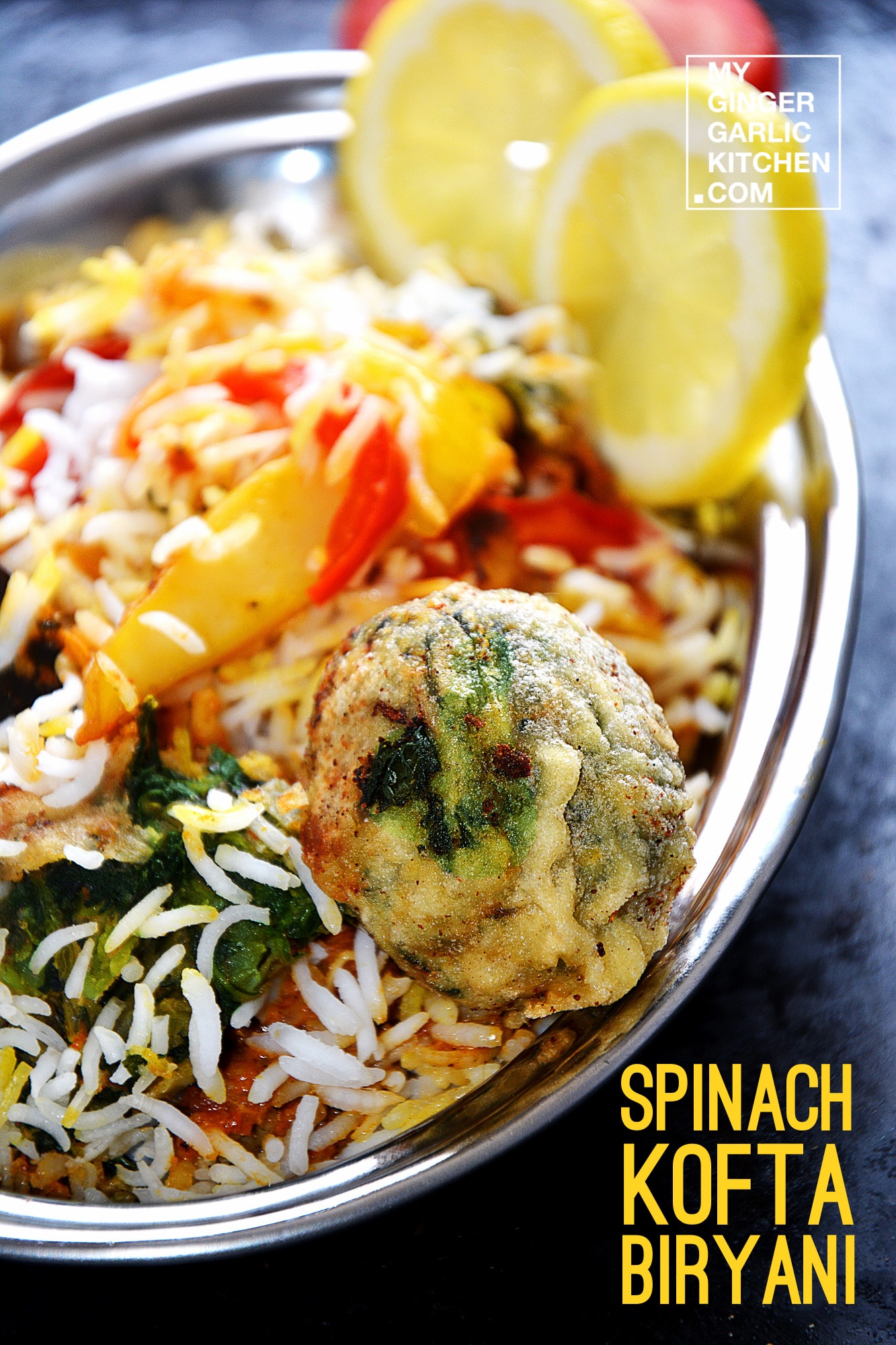 ---
Prep Time = 20 minutes
Cook Time = 1 hour(s) 0 minutes
Total Time = 1 hour(s) 20 minutes
Category = Main
Cuisine = Indian
Serves = 4
Nutrition Info = 368 calories
Serving Size = 1 Serving
---
RECIPE INGREDIENTS
» For the gravy layer //
1 onion, finely chopped
1/2 cup, tomato puree
1 tsp ginger-garlic paste
1/2 tsp turmeric powder
1 tsp red chili powder
3/4 tsp garam masala powder
1/4 cup cream
2 bay leaf
2 tbsp olive oil
1 tsp cumin seeds
salt to taste
» For Rice Layer //
2 cups basmati rice, boiled till almost cooked
» For vegetable layer //
1 red bell pepper, sliced
1 potato, layered
a pinch of salt
1/4 tsp turmeric powder
1 onion, sliced
1 tbsp oil
---
RECIPE INSTRUCTIONS
» Making Vegetable Layer //
Heat oil in a pan. Add sliced potato along with turmeric powder, and salt. Let them cook for 4 minutes.
Now add the bell pepper, and sliced onions. Let them sauté for 3 more minutes. Remove from heat and keep aside.
» Making Biryani //
Pre-heated oven at 200°C (400°F).
Take an oven safe bowl, and grease it with oil.
Take 1/4th of rice and spread to form layer 1.
Now add half of the sautéed vegetables to form layer 2.
Take other 1/4thof rice and spread to form layer 3.
Add all of the gravy to form layer 4. Slice koftas in half and arrange on top of the layer 4.
Spread remaining rice to form layer 5.
Spread remaining sautéed vegetables to form layer 6.
Cover the bowl with foil or lid. Bake for 20 minutes.
Remove from the oven, and serve hot with any raita or plain yogurt. Enjoy!
---
RECIPE NOTES
No notes for this recipe.
---