Spiced Pumpkin Chai Latte Smoothie Recipe
Spiced Pumpkin Chai Latte Smoothie made with chai latte, pumpkin and spices is a blend of ecstatic flavors. This chai smoothie is all you need to start a day.
---
« Go back
Print this recipe »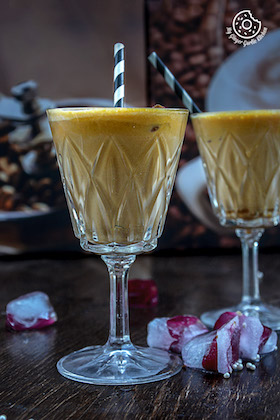 ---
Prep Time = 5 minutes
Cook Time = 7 minutes
Total Time = 12 minutes
Category = Drinks
Cuisine = World
Serves = 2-4
Nutrition Info = 286 calories
Serving Size = 1 serving
---
RECIPE INGREDIENTS
» For Spiced Pumpkin Chai Latte Smoothie
honey - 2 tablespoons or as per taste
pumpkin puree - 2 tablespoons
2.5% milk - 1 1/2 glass
black tea leaves - 1 tablespoon or 2 bags
chai spice (1/4 teaspoon cinnamon + 1/4 teaspoon ginger +1/4 teaspoon cardamom + 1/4 teaspoon cloves) - 1 tablespoon
vanilla extract - 1/2 teaspoon
ice cubes
caramel sauce
roasted peanuts (optional)
pearls sprinkle (optional)
---
RECIPE INSTRUCTIONS
» How to Make Spiced Pumpkin Chai Latte Smoothie //
Heat a saucepan. Add milk, chai and spice mix to it.
Stir well and bring it to a boil.
Reduce the heat and let it boil on low heat for about 2 minutes. Remove from heat.
Strain and let it cool down completely.
Add pumpkin puree, chai mixture, honey, and vanilla to a jar.
Blend for 30 seconds or until smooth.
Add ice cubes to the glasses, and pour smoothie into glasses.
Drizzle smoothie with some caramel sauce.
Sprinkle cinnamon, peanuts and pearls. Enjoy.
---
RECIPE NOTES
No notes for this recipe.
---