Spanish Style Omelette Recipe - Tortilla Española
Tortilla Española is traditionally made from eggs, potatoes, onions and chorizo or tuna. To make it vegetarian I added vegetables instead of chorizo or tuna.
---
« Go back
Print this recipe »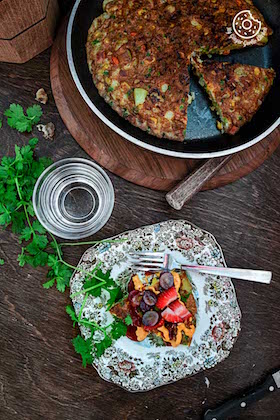 ---
Prep Time = 10 minutes
Cook Time = 35 minutes
Total Time = 45 minutes
Category = Main
Cuisine = Spanish
Serves = 2
Nutrition Info = 213 calories
Serving Size = 1 serving
---
RECIPE INGREDIENTS
» For Spanish Style Omelette
Potatoes, peeled and diced - 3 medium
Eggs - 4 Large
Onion, peeled and diced - 2
Pinch of salt to taste
Chopped vegetables of your choice - ½ cup
Olive Oil - 3 tablespoons
Ground pepper, to taste
Salt to taste
» For serving //
Fruits or vegetable of your choice
Freshly ground pepper
Any sauce of your choice
---
RECIPE INSTRUCTIONS
» Making Spanish Style Omelette //
Boil water in a medium sauce pan.
Add potatoes to the water and parboil them for 5­-7 minutes.
Now drain the potatoes (make sure you don?t overcook them - they should be cooked partially only to speed up the process) and add them to a bowl.
Heat up 1 tablespoon of olive oil in a frying pan.
Add the onions, and saute? for about 5 minutes.
Add potatoes and vegetables and cook till all the vegetables are cooked.
Keep stirring occasionally.
Break the eggs into a bowl. Add a pinch of salt and ground pepper.
Beat until eggs are light and fluffy.
Once the vegetables are cooked, pour them over the beaten eggs and mix well.
Heat 2 tablespoons oil in a non-stick pan.
Pour over the egg mixture and flatten with a fork to shape into an omelette.
Reduce the heat to medium low and cover with lid. Cook slowly for 10-12 minutes or until almost set and golden brown underneath.
Remove the lid.
Now it is time to turn it over. For this, use a plate. Cover the pan with the plate.
Flip the pan over.
Transfer the omelette back onto the pan.
Cover nad cook for further 8-10 minutes. Remove from heat.
Cut the omlette.
Top with your favorite salad, drizzle some sauce, sprinkle some pepper and serve with a slice of bread.
---
RECIPE NOTES
No notes for this recipe.
---