Seviyan Kheer - Rose Flavored Vermicelli Pudding
Seviyan kheer or Rose Flavored Vermicelli Pudding is a very delicious and popular Indian dessert prepared with thin vermicelli, milk, sugar, and rose water.
---
« Go back
Print this recipe »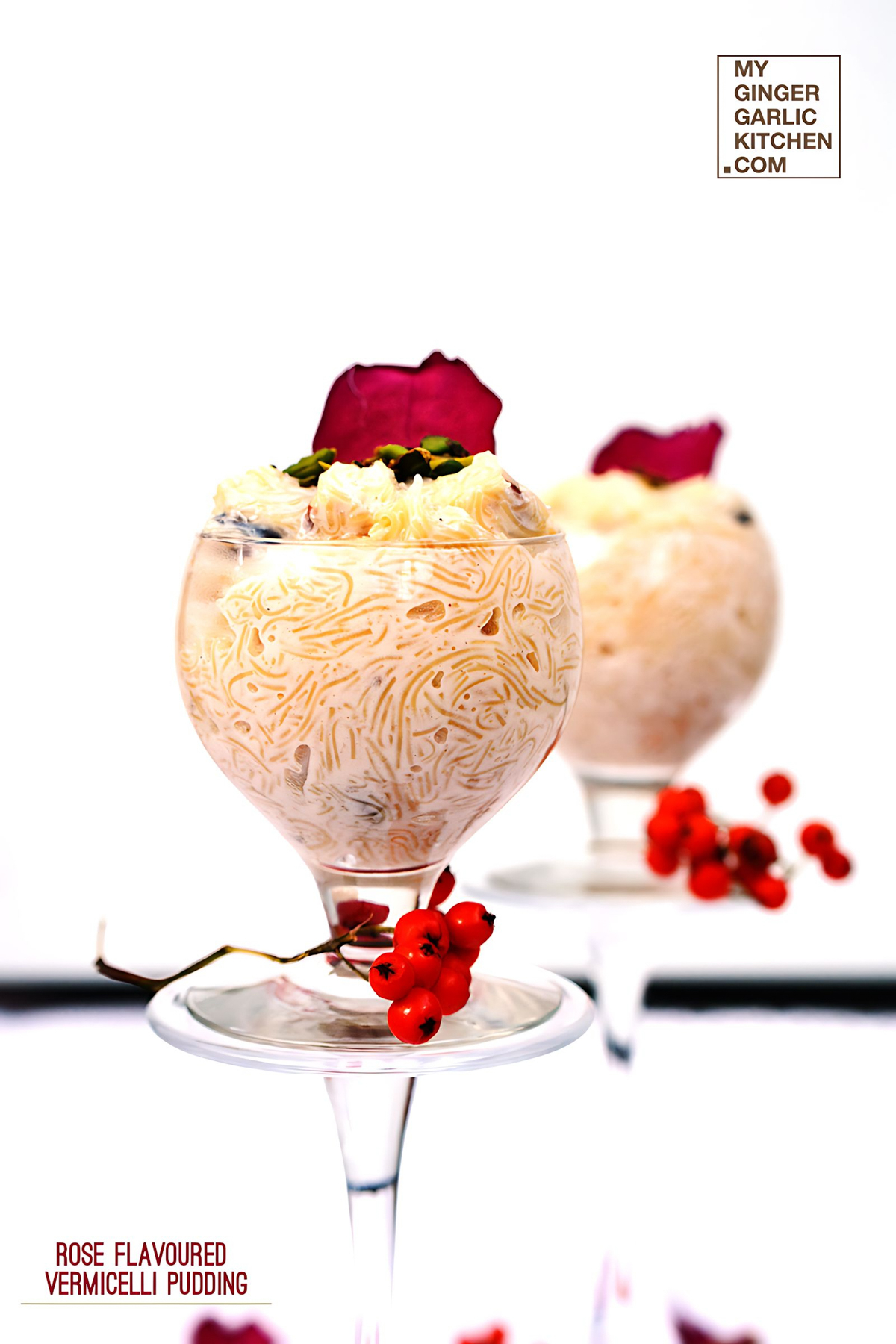 ---
Prep Time = 5 minutes
Cook Time = 25 minutes
Total Time = 30 minutes
Category = Dessert
Cuisine = Indian
Serves = 4-6
Nutrition Info = 233 calories
Serving Size = 1 serving
---
RECIPE INGREDIENTS
» For Seviyan Kheer - Rose Flavored Vermicelli Pudding //
3 1/2 cups full cream milk
1 teaspoon ghee or butter
1 cup roasted vermicelli, broken into rough 2? pieces
4 tablespoons sugar, or as per taste
1 teaspoon cardamom powder
2 tablespoons rosewater
2 tablespoons raisins
1 tablespoon almonds, chopped
1 tablespoon cashew nuts chopped
1 tablespoon pistachio, chopped for garnishing
dried rose petals for garnishing
---
RECIPE INSTRUCTIONS
» How to Make Seviyan Kheer - Rose Flavored Vermicelli Pudding //
Heat a pan, and add 1 teaspoon clarified butter to it. Add broken vermicelli and roast for a minute.
Heat another pan, and add milk to it.
Once the milk has reduced, add the roasted vermicelli to the milk and cook on medium heat for 10-15 minutes, or until the vermicelli is soft.
Add sugar, cardamom powder and cook for 5 minutes.
Remove from heat, add rose water along with almonds, cashew nuts, and raisins.
Mix well, and let it cool. Pour into a serving glasses.
Garnish with chopped pistachio and rose petals.
Refrigerate for 4-5 hours. Served chilled after main meals. Enjoy!
---
RECIPE NOTES
I added rosewater in this kheer. That is completely optional.
You can also replace rose water with saffron strands to make Saffron flavored Seviyan Kheer.
---