Roasted Cornflakes Chivda
This 10-minute crispy, easy, delicious, and healthy roasted cornflakes chivda or namkeen is a perfect snack to munch on. Perfect with hot tea or coffee.
---
« Go back
Print this recipe »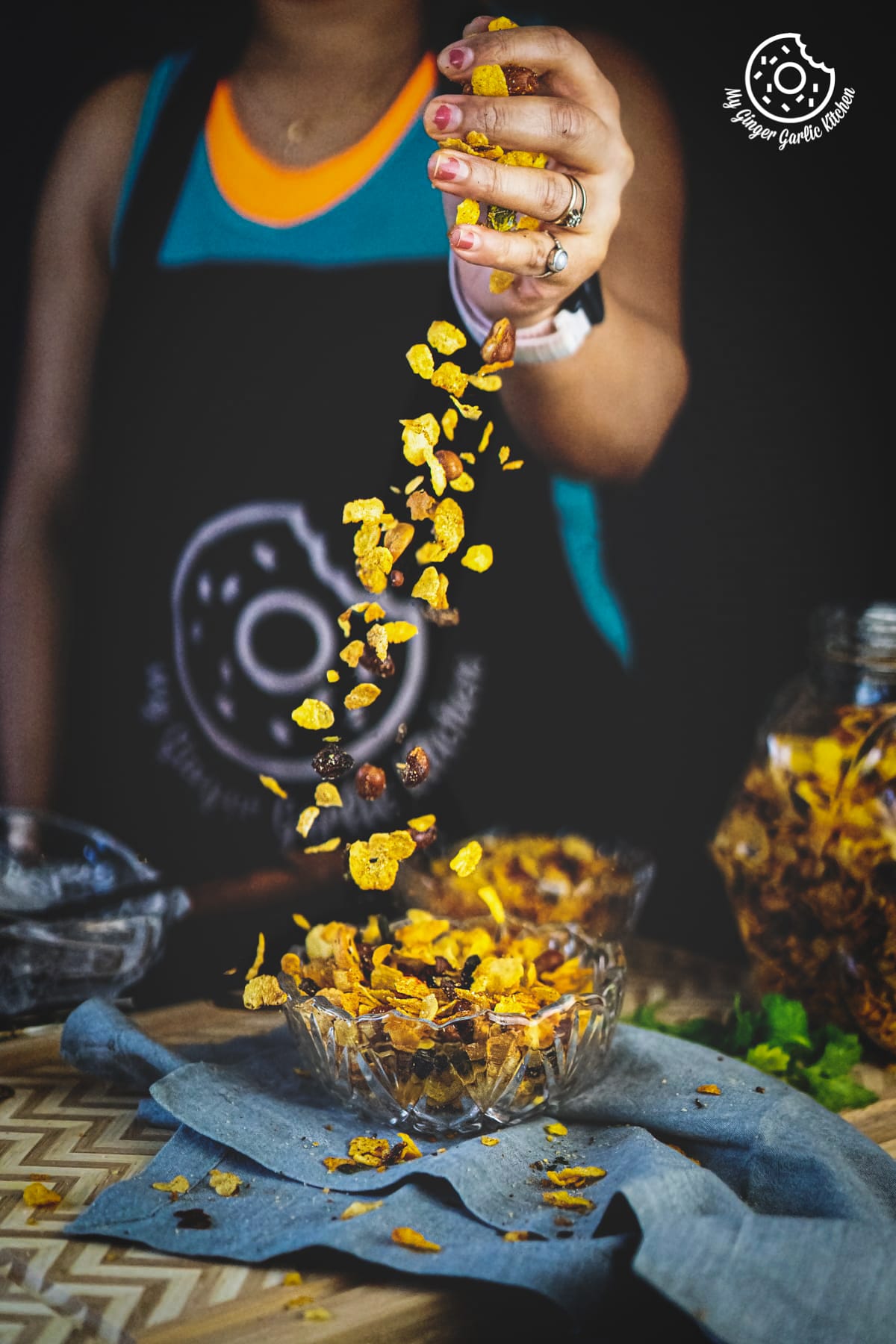 ---
Prep Time = 05 minutes
Cook Time = 10 minutes
Total Time = 15 minutes
Category = Snack
Cuisine = Indian
Serves = 20
Nutrition Info = 90 calories
Serving Size = 1 serving
---
RECIPE INGREDIENTS
» For Cornflakes Chivda //
3.5 cups cornflakes (instant)
2 tablespoons powdered sugar (optional)
3 tablespoons oil
1.5 cups peanuts
1/2 cup cashews
1/4 cup raisins
1 tablespoon split chickpeas (chana dal)
1 tablespoon fennel seeds (saunf)
2 tablespoons green chillies, roughly chopped
3 tablespoons chopped coriander (cilantro) leaves
3 tablespoons curry leaves (dried or fresh)
1/2 tsp haldi/turmeric powder
1/2 tsp citric acid powder or 1 tablespoon amchur/dried mango powder
2 tsp kashmiri red chilli powder (you can also use cayenne pepper powder)
Salt as per taste
1/2 teaspoon chaat masala powder
---
RECIPE INSTRUCTIONS
» How To Make Roasted Cornflakes Chivda //
Heat 3 tablespoons oil in a heavy bottom pan over low heat.
Once hot, add the peanuts and sauté until they are golden and crispy.
Drain using a slotted spoon and transfer fried peanuts onto a plate. Keep it aside.
In the same pan, add cashews and sauté until they are golden.
Once done, drain them using a slotted spoon and transfer fried peanuts onto a plate. Keep it aside.
Next, add raisins to the same pan and sauté them until they plump up & swell.
Drain onto a plate. Keep it aside.
In the same pan, add chana dal and sauté for a few seconds.
Then add fennel seeds and sauté for more seconds.
After that add green chilies, coriander leaves, and curry leaves. Stir well and sauté for a minute.
Add turmeric powder to the pan and mix everything well. Sauté until all the ingredients are crisp.
Once done, add fried peanuts, fried cashews, and fried raisins.
Next add salt, red chili powder, chaat masala powder, and cornflakes.
Toss everything well to combine. Make sure not to break the cornflakes.
Turn off the heat. Then add citric acid powder and toss again.
Allow the mixture to cool completely in the pan.
Once cooled, store in an airtight jar/container.
Serve cornflakes chivda as a teatime snack with some masala chai!
---
RECIPE NOTES
I only used peanuts and almonds in this chivda recipe, but you can also use other nuts like almonds, and sliced coconuts.
Do not use raw cornflakes for this recipe. Since the cornflakes are not deep-fried here, you need to make sure to use instant cornflakes or the ones we use as a breakfast cereal.
You can easily customize the flavorings according to your taste preference.
For seasoning, I opted for a simple and well balanced salty, spicy, sweet, and tangy flavors. But feel free to choose your own spice blend. You can simply go with salt and pepper.
Or use the spices like salt, turmeric, red chili powder, chaat masala powder, and citric acid powder.
The addition of powdered sugar adds a nice sweet aftertaste to this chivda which balances with the spicy flavors. Again it is entirely optional. You can omit it completely.
I used citric acid powder in this recipe, which adds a nice tang to this spicy and sweet snack. But if you dont find citric acid powder then you can also add dried mango powder or skip it completely.
Raisins (kishmish) add a nice sweetness to this rich, delicious, and exotic chivda. So it is recommended to add it to the chivda recipe.
I used 3 tablespoons of oil for making this chivda, but you can also make it in a lesser amount of oil.
This chivda is easy to pack and carry. Just transfer it into a ziplock bag and you are good to go.
Let the chivda cool completely before storing it. Dont store chivda mixture while it is hot or warm, or else it would lose crush and turn soggy.
The addition of chaat masala adds a nice flavor to this chivda. If you dont want to use it, then you can skip it.
This chivda stays fresh and crispy for up to 1 month. But if for some reason it turns slightly soggy, then place it in a baking tray, and bake it for about 10-15 minutes in a 120°C preheated oven. Let it cool completely and then store it again in a clean airtight jar.
For ease, keep the ingredients handy before making the chivda.
Fry nuts over low heat. Do not fry nuts over medium or high heat, otherwise, they will burn and will ruin the taste of chivda.
---