Beetroot Kebab Recipe
Beetroot Kebab Recipe is packed with goodness, full of yummy flavors, and pan fried. And yes, they taste more delish when paired with beetroot dip.
---
« Go back
Print this recipe »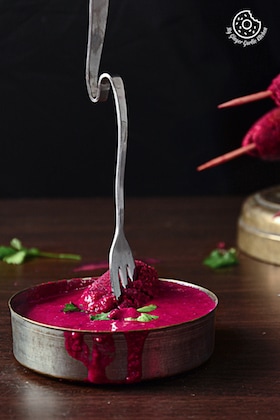 ---
Prep Time = 10 minutes
Cook Time = 1 hour(s) 30 minutes
Total Time = 1 hour(s) 40 minutes
Category = Appetizer
Cuisine = Indian
Serves = 6
Nutrition Info = 315 calories
Serving Size = 1 kebab
---
RECIPE INGREDIENTS
» For roasted beetroots:
10-12 medium sized beetroots
» For beetroot dip:
1 cup roasted beets, peeled and chopped
1/4 cup onion, chopped
2 tablespoons honey
2 tablespoons garlic cloves, chopped
2 tablespoons vinegar
3/4 cup greek yogurt or quark cheese
Salt to taste
» For kebabs:
4 roasted beets
2 tablespoons oil
5-6 cloves
2 teaspoons cumin seeds
1/2 tablespoon coriander seeds
8-10 cashews
1/2 cup onion, chopped
1 cup black beans, cooked
1/4 cup unsweetened desiccated coconut
1 teaspoon garam masala powder
2 teaspoons cumin powder
Salt to taste
1/2 cup parsley, chopped
1/3 cup bread crumbs
Oil for roasting
---
RECIPE INSTRUCTIONS
» Roasting Beetroots:
Pre-heat oven to 200°C/400°F. Place the beets in the center of a piece of aluminum foil.
Now, wrap the foil paper around the beets.
Place the foil on a baking tray and bake for 45-60 minutes or until you can easily slide a knife in and out of the beets.
Remove the foil.
Once the beets are cool enough to handle, rub the skins off and wash them under some cold water. Delicious roasted beets ready.
» Making Beetroot Dip:
Add all of the beetroot dip ingredients into your food processor.
Puree until the mixture is smooth. Beetroot dip is ready.
» For Kebabs:
Roughly chop all the roasted beets.
Heat 2 tablespoons of oil in a pan.
Once hot, add the cloves, cumin seeds, and coriander seeds and saute for a few seconds.
After that, add cashews and sauté for 1 minute.
Add onions and saute for 5 minutes.
Add roasted beets and cook for 2 minutes.
Now add cooked beans and cook for 3 minutes.
Add desiccated coconut, garam masala powder, cumin powder, and salt. Mix well and cook for a few minutes.
Add parsley and cook for one more minute.
Remove from heat and let it cool slightly.
When cooled, add the spiced beets and beans into a food processor and pulse until smooth.
Transfer the mixture to a mixing bowl.
Add bread crumbs, and mix well to make a smooth dough.
Take about 3 tablespoons mixture into six equally-sized balls.
Slowly spread the mixture on the skewers to make kebabs 8-10cm long. Press the ends firmly.
Similarly, shape all the kebabs.
Heat 1 tablespoon oil in a pan or or heat a grill.
Place kebab skewers on pan.
Cook from all sides for 3-4 minutes, or till lightly colored all around.
Serve hot with beet dip and lemon and onions.
---
RECIPE NOTES
If you don't want to use roasted beetroots, then feel free to use boiled or steamed beetroots for this recipe.
You can customize the spices according to your taste.
---