Roast Beetroot Falafel Recipe + Green Tahini Dip
Easy to make delicious Roast Beetroot Falafels are packed with healthy goodness of Middle Eastern flavors. Green Tahini Dip is bonus with this recipe video.
---
« Go back
Print this recipe »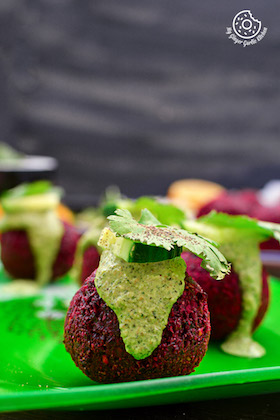 ---
Prep Time = 15 minutes
Cook Time = 25 minutes
Total Time = 40 minutes
Category = Snacks
Cuisine = Middle Eastern
Serves = 20
Nutrition Info = 147 calories
Serving Size = 1 serving
---
RECIPE INGREDIENTS
» For Tahini Paste //
1 cup sesame seeds
olive oil - 2 tbsp or as needed
» For Green Tahini Dip //
Cloves, crushed - 2
Coarsely chopped, cilantro - ¼ cup
Coarsely chopped fresh parsley - ¼ cup
Ground pepper - ? tsp
Salt to taste
Tahini - 2 tbsp
Natural yogurt - ½ cup
» For Beet Falafel //
Garbanzo beans/chickpeas, soaked in water overnight - 2 cup
Roasted beet - 1 cup
Onion, diced - 1
Fresh parsley + cilantro - 1 cup
Garlic cloves - 4 large
Cumin powder - 2 tsp
Bread crumbs - 5 tbsp or more as needed
Salt to taste
Baking soda - ¼ tsp (optional)
Tahini paste - 3 tbsp
Green chilies, chopped - 2
---
RECIPE INSTRUCTIONS
» Making Tahini Paste //
Toast raw sesame seeds until they are lightly colored and fragrant, about 5 minutes.
Place the sesame seeds in a grinder and grind until the sesame seeds form a crumbly paste.
Add 2 tbsp olive oil and process for 1 minute or, until the mixture forms into thinn and fairly smooth paste. Add more oil if needed.
Transfer the tahini to an airtight container and store it in the refrigerator for a month or longer. If the mixture separates, stir the tahini to redistribute the oil.
» Making Green Tahini Dip //
Pulse garlic, cilantro, mint, pepper, salt, tahini paste and yogurt in a food processor until similar in texture to pesto.
Gradually drizzle in some water and process, adding more water to thin if needed, until dip is light green and the consistency of sour cream.
» Making Roasted Beet Falafel //
Drain and rinse the chickpeas well.
Pour them into your food processor along with garlic, onion, parsley, cilantro, roasted beets, salt, cumin, baking soda, and green chili together in a food processor and pulse until coarse and holds together when pressed.
Add bread crumbs and process again.
Transfer mixture to a bowl.
With damp hands, shape then into lemon sized balls. This mixture would make 20 balls.
Heat oil over medium heat.
Once hot, drop falafel balls and fry for a few minutes on each side, or until golden brown. Fry only 4-5 balls at once.
Once golden, drain them on paper towels.
Drizzle falafel balls with green tahini dip. Garnish with cucumber and cilantro leave.
Sprinkle some ground pepper and squeeze some lemon juice. Enjoy!
---
RECIPE NOTES
I did not refrigerate falafal balls. But if you wish, you can refrigerate these balls for 30 minutes before frying.
---