Red Velvet Crinkle Cookies
These cakey Red Velvet Crinkle Cookies are stunning, chewy, velvety, delicious, and festive. Perfect ideal Christmas cookies with ultimate crinkles on top.
---
« Go back
Print this recipe »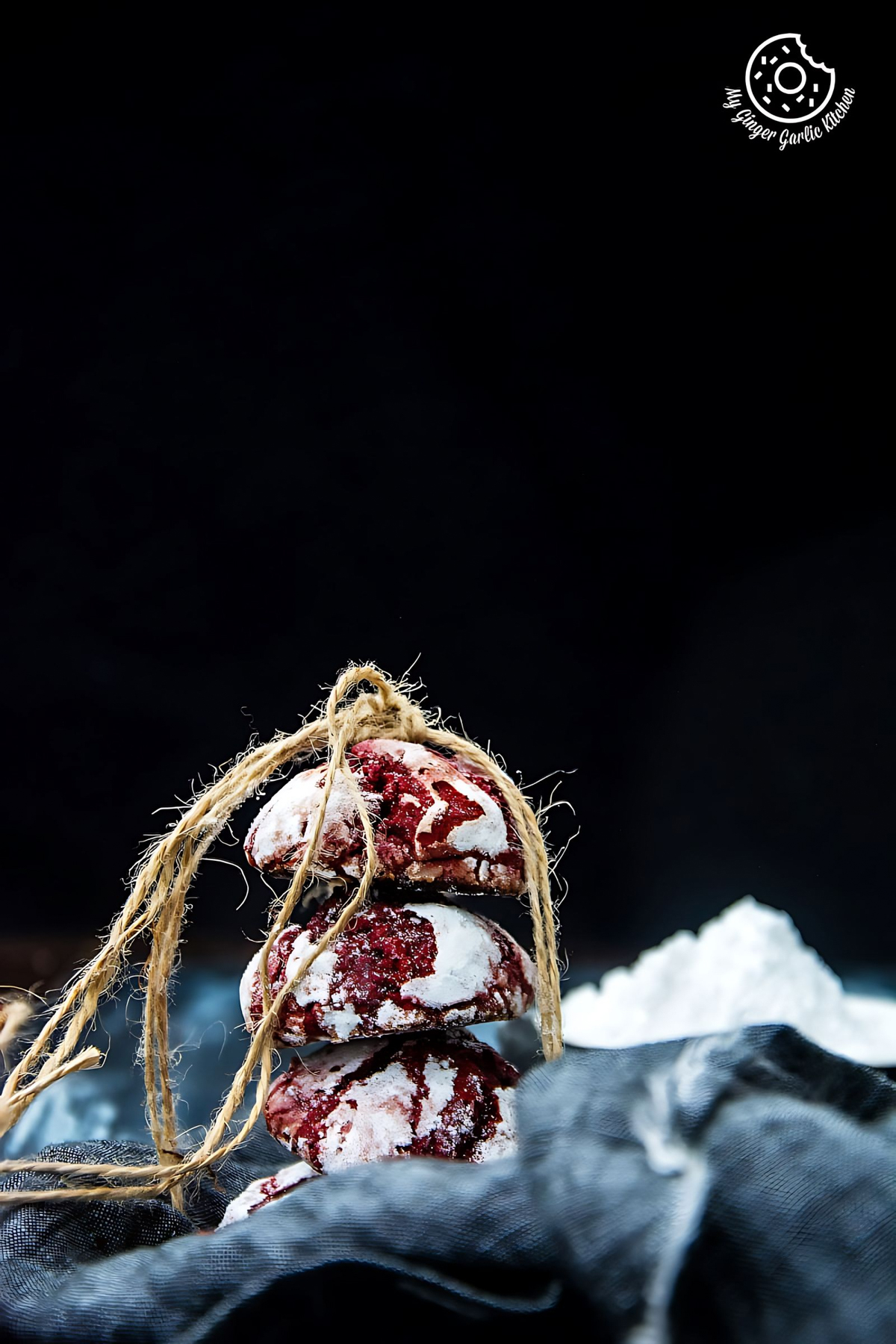 ---
Prep Time = 10 minutes
Cook Time = 12 minutes
Total Time = 22 minutes
Category = Dessert
Cuisine = America
Serves = 24-26
Nutrition Info = 170 calories
Serving Size = 1 serving
---
RECIPE INGREDIENTS
» List of Ingredients
Following are all the ingredients
» For Red Velvet Crinkle Cookies //
1 2/3 cup flour (I have used all purpose flour)
1/2 cup of unsalted butter, softened at room temperature
1 1/4 cups granulated sugar
1/3 cup unsweetened cocoa powder
2 large eggs
1 1/2 teaspoon baking powder
1/4 teaspoon salt
1 tablespoon red food coloring, or more, if needed
1 teaspoon vanilla extract
1/2 cup confectioner sugar for rolling cookies
---
RECIPE INSTRUCTIONS
» How to Bake Red Velvet Crinkle Cookies //
In a mixing bowl, sift together the flour, sugar, cocoa powder, salt, baking powder and keep it aside.
In another large mixing bowl add butter, eggs, and cream together.
Add dry ingredients and whisk well to combine.
After that, add red food color and mix well. Add more color until the dough is bright in the red color.
Wrap the bowl and chill in the refrigerator for 4-5 hours.
Preheat your oven to 175°C/350°F. Line a baking tray with parchment paper and set aside. Then shape dough into about 1-inch balls using a melon baller or a teaspoon.
Roll balls into the confectioner sugar to completely coat.
Arrange them on a baking tray 2 inches apart. Bake for 11-12 minutes or until cookies beautifully puffed.
Allow them to cool for 2 minutes.
Transfer to wire racks and cool completely.
Enjoy red velvet cookies with milk or coffee.
---
RECIPE NOTES
You can also add white or brown chocolate chips for more chocolaty flavor.
If you want to spread these cookies then only freeze for 30 minutes. Or if refrigerating the dough overnight, then you can let the dough rest at the counter for 1 hour before baking.
---