Raspberry Cre?me Frai?che Puff Pastry
These gorgeous little Raspberry Creme Puffs are easy to make and are a perfect treat. They are simple, easy to make, and so light.
---
« Go back
Print this recipe »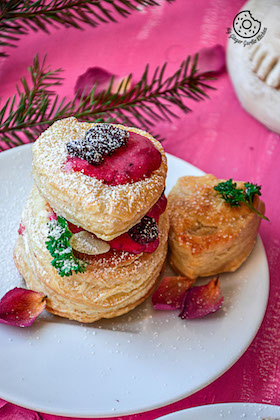 ---
Prep Time = 5 minutes
Cook Time = 15 minutes
Total Time = 20 minutes
Category = Dessert
Cuisine = French
Serves = 4
Nutrition Info = 194 calories
Serving Size = 1 serving
---
RECIPE INGREDIENTS
» For Puffs //
4 Puff Pastry sheet, thawed
1 small egg
1 tablespoon water
» For Filling //
3 chocolate chip cookies
3/4 cup creme fraiche
1/2 cup frozen raspberries
3 tablespoons granulated sugar
2 teaspoons lemon juice
» For Serving //
2 tablespoons icing sugar
1 tablespoon sliced almonds
1 tablespoon dried cranberries
Few leaves of fresh parsley
» Types of equipment //
Heart cookie cutter
Round Cookie Cutter
---
RECIPE INSTRUCTIONS
» How to Make Raspberry Cre?me Frai?che Puff Pastry //
Pre-heat oven to 180°C. Line a baking tray with baking or foil paper.
Add raspberries, sugar and lemon juice to a pan.
Let them boil till the juice thickens.
Using round cookie cutter, cut out 8 circles from the pastry sheets.
Cut out 4 hearts from 4 round circles. Place hearts on rounds.
In a small bowl, whisk egg and water together.
Brush each circle with egg wash.
Place rounds on the lined baking sheet. Bake circles until puffy and light brown about 10-12 minutes.
Remove from the heat and let it cool down completely.
Add creme fraiche to the cooked berry sauce and fold gently.
Crush cookies and add to the berry cream. Fold in berry cream to mix well.
Using a knife, gently cut the top in keeping the heart shape.
Fill the puffs with raspberry cream.
Top with dried cranberries, sliced almonds and decorate with some parsley.
Top filled puffs with heart shapes. Dust with icing sugar. Top with some more cream and dried cranberries and serve. Enjoy them with your favorite drink!
---
RECIPE NOTES
No notes for this recipe.
---