Besan Ke Cheele Ka Raita - Chickpea Pancake Yogurt
In this Rajasthani Besan Ke Cheele Ka Raita chickpea flour pancakes are dunked into chilled spiced yogurt base and tempered with cumin seeds and asafetida.
---
« Go back
Print this recipe »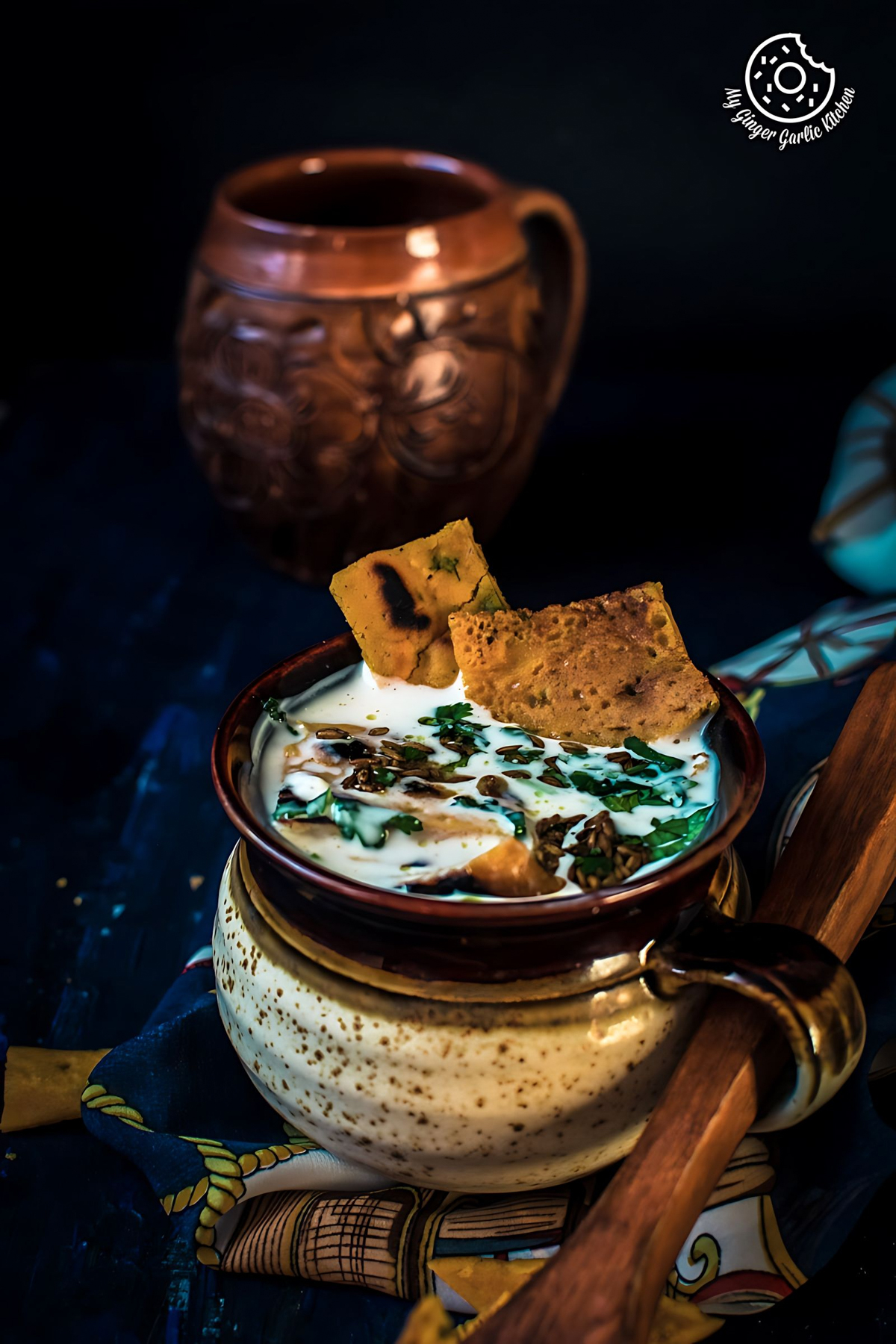 ---
Prep Time = 1 hour(s) 5 minutes
Cook Time = 20 minutes
Total Time = 1 hour(s) 25 minutes
Category = Side Dish
Cuisine = Indian
Serves = 4-5
Nutrition Info = 45 calories
Serving Size = 1 serving
---
RECIPE INGREDIENTS
» For Cheela //
Gram Flour/besan - 1 Cup
Water - 1 Cup
Pinch Of Asafetida
Cumin Seeds - 1 Tsp
Turmeric Powder - 1/4 Tsp
Red Chili Powder - 1/2 Tsp
Garam Masala Powder - 1/4 Tsp
Salt - 1 Tsp Or To Taste
Ginger-Garlic Paste - 1 Tsp
Green/red Chili, Finely Chopped - 1
Coriander Leaves, Finely Chopped - 1 Tbsp
Lemon Juice - 1 Tsp
Oil - 1 Tsp + 2 Tbsp For Frying
» For Raita //
Chilled Natural yogurt, whisked - 2 cups
water - 3/4 cup
Salt to taste
Chaat masala - 1 tsp or to taste
Roasted cumin powder - 1 tbsp
Coriander Leaves, Finely Chopped
» For Tempering/Tadka //
Pinch of Asafetida
Cumin seeds - 2 tsp
Oil - 1 tbsp
---
RECIPE INSTRUCTIONS
» How to Make Cheela Batter:
Add gram flour, asafetida, cumin seeds, red chili powder, turmeric powder, garam masala powder, salt, ginger-garlic paste, lemon juice, chopped coriander, and oil to a large mixing bowl.
Whisk it well. Add enough to make a smooth, lump-free and thick batter as shown in the video above.
» How to Make Besan Ka Cheela/Chila:
Heat a nonstick pan and brush it with oil.
Turn the heat to medium and pour a ladle full of batter on the pan.
Spread it evenly with the back of a ladle to make a thin pancake of approx 8-9 inch diameter.
Cover and cook for 1-2 minutes or cook till the cheela turns golden brown in color on one side.
Flip it over and drizzle some oil around the cheela.
Cook on medium heat for another minute or till cheela turns golden in color on the other side.
Transfer it to a plate and repeat the same with the remaining batter.
Keep them aside to let them cool.
Using a scissors, cut cheelas into desired shapes. Set them side.
» For Raita:
In a large mixing bowl add yogurt, water, salt, chaat masala, cumin powder, coriander and whisk well.
Add the cheela pieces to the yogurt and stir well.
Refrigerate cheele ka raita for 30 minutes.
» How to Make Tempering/Tadka for Raita:
Heat 1 tablespoon oil in a tadka pan.
Add cumin seeds, asafetida and sauté for few seconds. Once the seeds start to crackle turn off the heat. Once the seeds start to crackle turn off the heat.
Transfer the cheela raita into a serving bowl, and pour this tempering over the yogurt.
Garnish with coriander leaves and serve chilled.
---
RECIPE NOTES
No notes for this recipe.
---