Pineapple Salsa Papadum Cones
Pineapple Salsa Papadum Cones are a new Indianized twist to the great spanish salsa. Juicy Pineapple salsa and spicy crispy papads make a great snack.
---
« Go back
Print this recipe »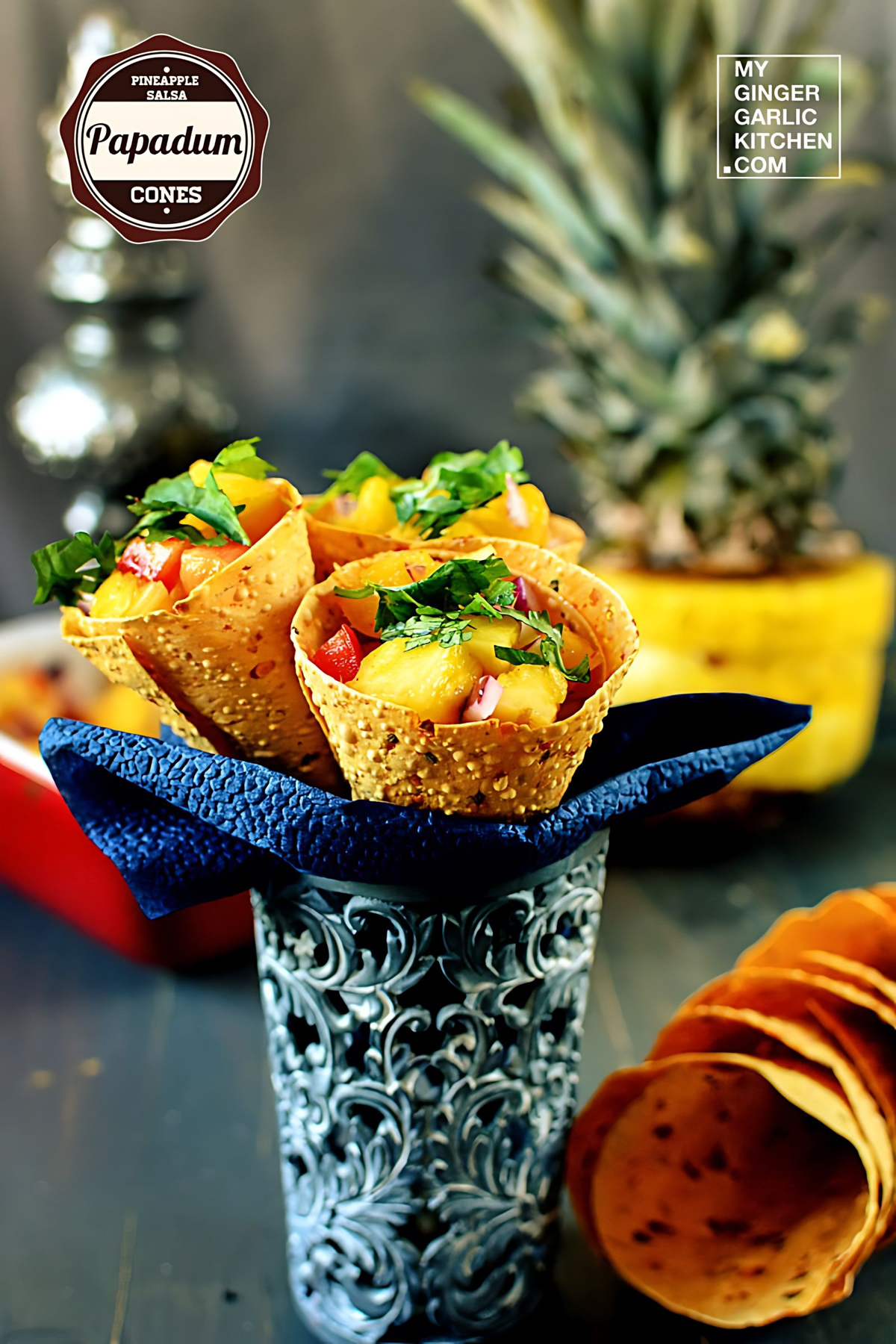 ---
Prep Time = 10 minutes
Cook Time = 10 minutes
Total Time = 20 minutes
Category = Appetizer
Cuisine = Indo-Mexican
Serves = 4
Nutrition Info = 87 calories
Serving Size = 1 Cone
---
RECIPE INGREDIENTS
» For Pineapple Salsa Papadum Cones //
pineapple, chopped - 2 cups
red onion, chopped - 1
red bell pepper, chopped - 1
cayenne pepper - 1/4 teaspoon
salt, as per taste
cilantro, chopped - 2 tablespoons
fresh lemon juice - 1 tablespoon
brown sugar - 1 tablespoon
papadum (papad) - 4
---
RECIPE INSTRUCTIONS
» How to Make Pineapple Salsa //
Take a mixing bowl. Add all the ingredients to the bowl, and mix well.
Cover the bowl with clingfilm and place it in the refrigerator for at least 30-40 minutes.
Method of papadum cones //
Cut the papadums into halves. Heat a grill pan and roast the papadums.
Shape papadum immediately into a cone. Repeat the same process with remaining papadums. Your cones are ready.
» Serving //
Stuff the pineapple salsa into the papadum cones.
Garnish with coriander leaves and serve immediately.
---
RECIPE NOTES
No notes for this recipe.
---