Peppery Hot Broccoli Cheese Dip Recipe
Make this hot, cheesy, creamy, spicy Broccoli Cheese Dip as an appetizer any day. Have this on a toasted bread as breakfast or with some flatbreads as lunch.
---
« Go back
Print this recipe »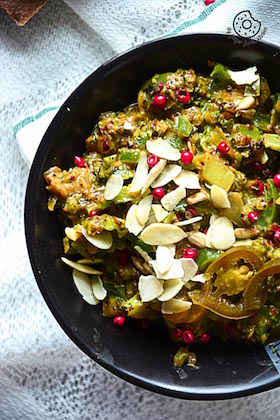 ---
Prep Time = 5 minutes
Cook Time = 10 minutes
Total Time = 15 minutes
Category = Appetizer
Cuisine = Indian
Serves = 4-6
Nutrition Info = 162 calories
Serving Size = 1 serving
---
RECIPE INGREDIENTS
» For Blanching //
Ice cold water
Broccoli florets - 1 1/2 cups
Salt - 1 tablesoon
» For Dip //
Finely chopped green bell pepper - 1/2 cup
Finely chopped yellow bell pepper - 1/2 cup
Broccoli, blanched and chopped - 1 cup
Finely chopped onions - 1/2 cup
Butter or margarine - 1 tablesoon
Milk - 1 cup
Green chili chopped - 1 tablesoon
Garlic, chopped - 1 tablesoon
Fresh cream - 1/2 cup
Shredded mozzarella cheese - 1/2 cup
Salt to taste
Crushed rose pepper or black pepper - 1 teaspoon
Oregano - 1 teaspoon
» For Serving
---
RECIPE INSTRUCTIONS
» Blanching //
Fill a pot ? of the way full with water and let it boil.
Once the water has begun to boil add 1 tablespoon of salt and cut broccoli florets into the boiling water.
Boil for about 3-4 minutes.
Fill a large bowl with cold water and a few ice cubes. Set it aside.
Remove broccoli with a slotted spoon and immediately place the broccoli in the ice water. Let them stay in water for about a minutes and strain them in the colander.
» Making Dip //
Heat the butter in a broad non-stick pan.
Add chopped green chilies and chopped garlic.
Sauté for a few seconds on a medium heat
Add blanched broccoli, yellow bell pepper and green bell pepper.
Saute for a minute and add chopped onions and saute for 3-4 minutes.
Add crushed pepper, oregano and salt.
Add the cheese, fresh cream and mix well. Cook for 2 minutes.
Add milk and mix well. Cook for another minute.
Transfer it to a bowl.
Garnish with some rose pepper, sliced almonds and sunflower seeds. Serve immediately with cracker or veggie of your choice.
---
RECIPE NOTES
No notes for this recipe.
---