Peach Lassi
This rich, creamy, sweet, and indulging peach lassi is loaded with fresh succulent peach and refreshing minty flavors. You can drink it anytime.
---
« Go back
Print this recipe »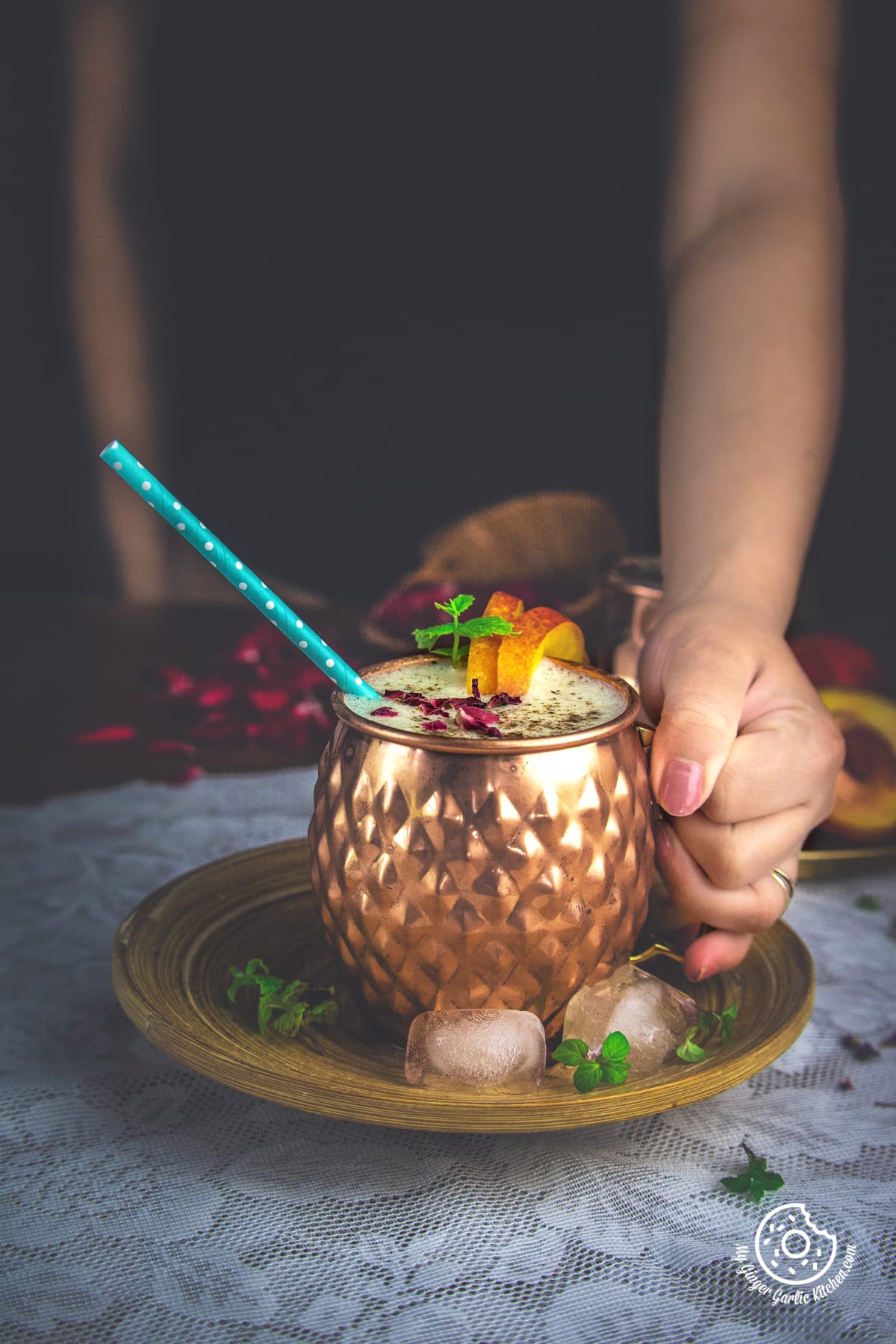 ---
Prep Time = 02 minutes
Cook Time = 02 minutes
Total Time = 04 minutes
Category = Drink
Cuisine = Indian
Serves = 2 large
Nutrition Info = 181 calories
Serving Size = 1 serving
---
RECIPE INGREDIENTS
» For Peach Lassi //
1 cup peeled peach slices (you can also use them with the skin)
1 cup any types of chilled natural yogurt (I used 2% Greek yogurt)
1/2 cup chilled milk
1-2 tablespoons fresh mint leaves
1 teaspoon cardamom powder
6-7 ice cubes
1-2 tablespoons of honey/sugar, or to taste (completely optional)
---
RECIPE INSTRUCTIONS
» How to Make Peach Lassi //
Put the peach slices in a blender and blend until smooth.
Next, add yogurt, milk, mint leaves, ice cubes, cardamom powder, sweetener.
Blend until well mixed and smooth.
Pour lassi into 2 serving glasses while nice and cold.
Sprinkle with some ground cardamom and enjoy it. You can store leftovers in the refrigerator for up to a day.
---
RECIPE NOTES
Adding sweetener is completely optional here. If adding it, then you can choose any type of sweetener in thispeach lassi recipe.
If the peaches you are adding in the lassi are too ripe and too sweet, then you probably dont need any sweetener in this lassi.
I added mint leaves for a refreshing minty flavor. If you dont like to use mint leaves, then feel free to skip it.
To make sweet and salty lassi, add a pinch of regular to kosher salt to this lassi.
If you have little ones at home who don?t like even a tiny piece of skin in their lassi, so remove peach skinfor this recipe. But you can also make lassi without removing the skin. That would also taste good.
The addition of ice cubes gives this lassi a thick, creamy, and desired texture. However, you can certainly skip the ice part, if you dont want to use them.
You can also add additional fruit to this peach lassi.
Lassis are generally made with a combination of yogurt and chilled water. To make it richer in taste, I prefer adding milk. Feel free to go with the same amount of water.
Juicier and riper peaches make the most delicious peach lassi. So always use juicy and ripe peaches for this peach lassi recipe.
Add mangoes to make mango peach lassi. Or you can also add bananas to make banana peach lassi.
---