Penne Arrabbiata - Pasta Arrabiata
This classic Italian Pasta Arrabbiata or Penne Arrabbiata is a spicy, delicious, and flavor-packed homemade pasta ready in 20 minutes.
---
« Go back
Print this recipe »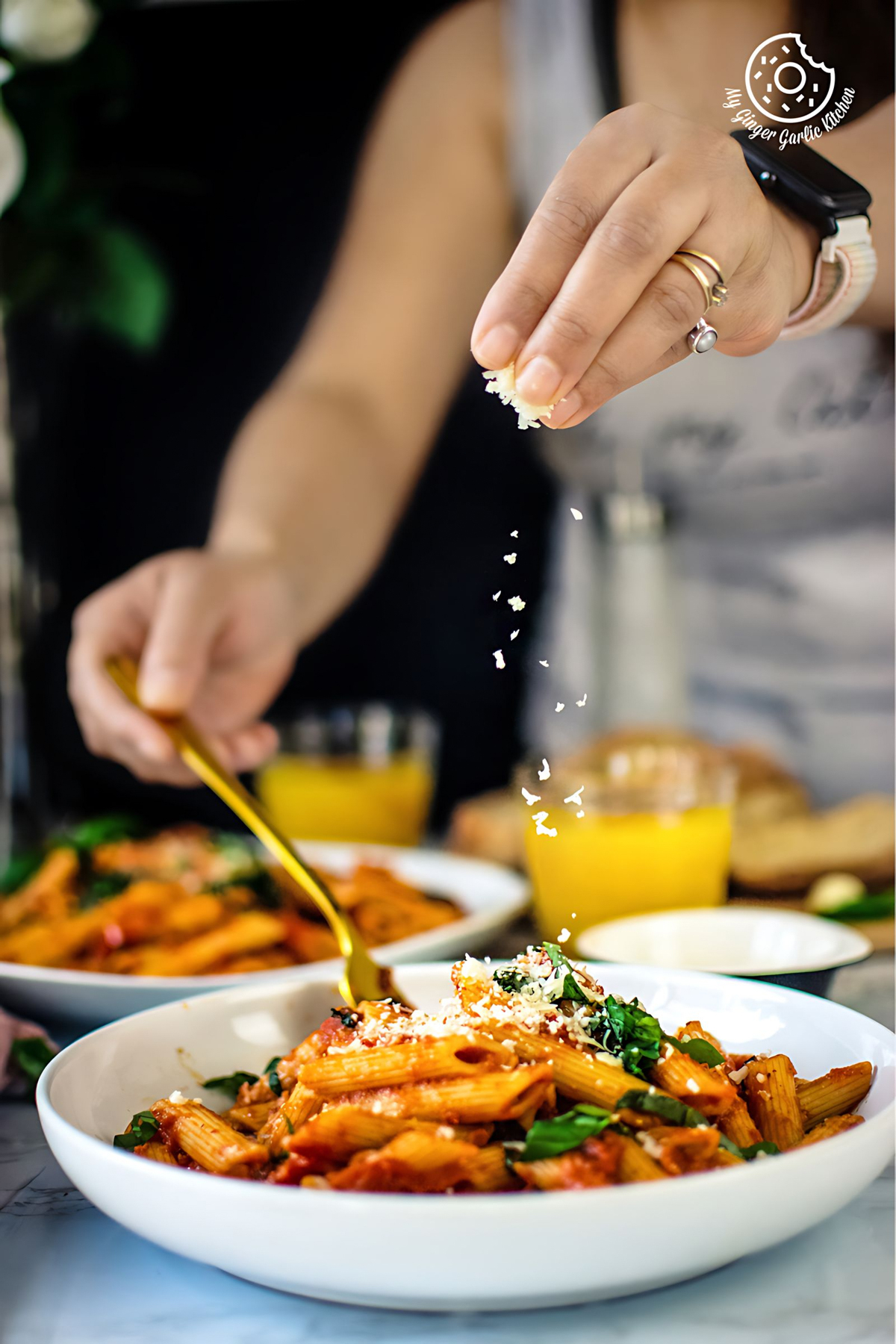 ---
Prep Time = 05 minutes
Cook Time = 20 minutes
Total Time = 25 minutes
Category = Side
Cuisine = Italian
Serves = 4
Nutrition Info = 198 calories
Serving Size = 1 serving
---
RECIPE INGREDIENTS
» For penne pasta //
250 grams uncooked penne pasta
3 tablespoons olive oil
2 tablespoons cloves garlic minced
1 teaspoon red pepper flakes
1.5 cans diced tomatoes with juices
1 teaspoon brown sugar (optional)
2 tablespoons chopped basil leaves
Salt & pepper to taste
Water for boiling pasta
» For serving
Freshly grated parmesan cheese
Chopped basil leaves
---
RECIPE INSTRUCTIONS
» How to make penne arrabbiata //
Add boiling water to a saucepan. Also add salt to it.
Now add pasta and cook it in the salted water. Cook it al dente according to package directions.
Drain the pasta and keep it aside.
Heat the olive oil in a medium-sized pan over medium heat.
Once the oil is hot, add the minced garlic and let it sauté for 1 minute. Keep stirring or else it will burn.
Next, add diced tomatoes, and tomato paste.
Mix well and cook for 5 minutes.
Stir in the red pepper flakes, sugar, and give it a mix. Simmer for 7-8 minutes, stirring occasionally.
Add salt & pepper as per taste. Also, add chopped basil leaves and mix well. Cook for 2 more minutes on low heat.
Add cooked pasta to the sauce and toss it well with the arrabbiata sauce.
Transfer cooked pasta to a serving bowl.
Top with freshly grated parmesan cheese and basil leaves. Enjoy!
---
RECIPE NOTES
This is a spicy recipe, so if you are not a big fan of spicy food, then I would suggest you halving the amount of red pepper flakes.
The texture of arrabbiata sauce should neither be too thin nor too thick. It should have a consistency like marinara sauce which is the perfect for tossing.
I have only used chopped basil here, but you can also use chopped parsley, or the combination of chopped parsley and basil..
I added brown sugar to the sauce. It balances the tangy and spicy flavors of this sauce. And it certainly enhances the flavors of pasta sauce. However, if you dont want to add sugar then you can skip it..
I have added brown sugar, but you can choose any sugar of your choice.
---