Oreo Mug Cake
These 2 minutes chocolatey, fluffy, and sweet oreo mug cakes are bursting with chocolate flavors, great textures, and warm deliciousness.
---
« Go back
Print this recipe »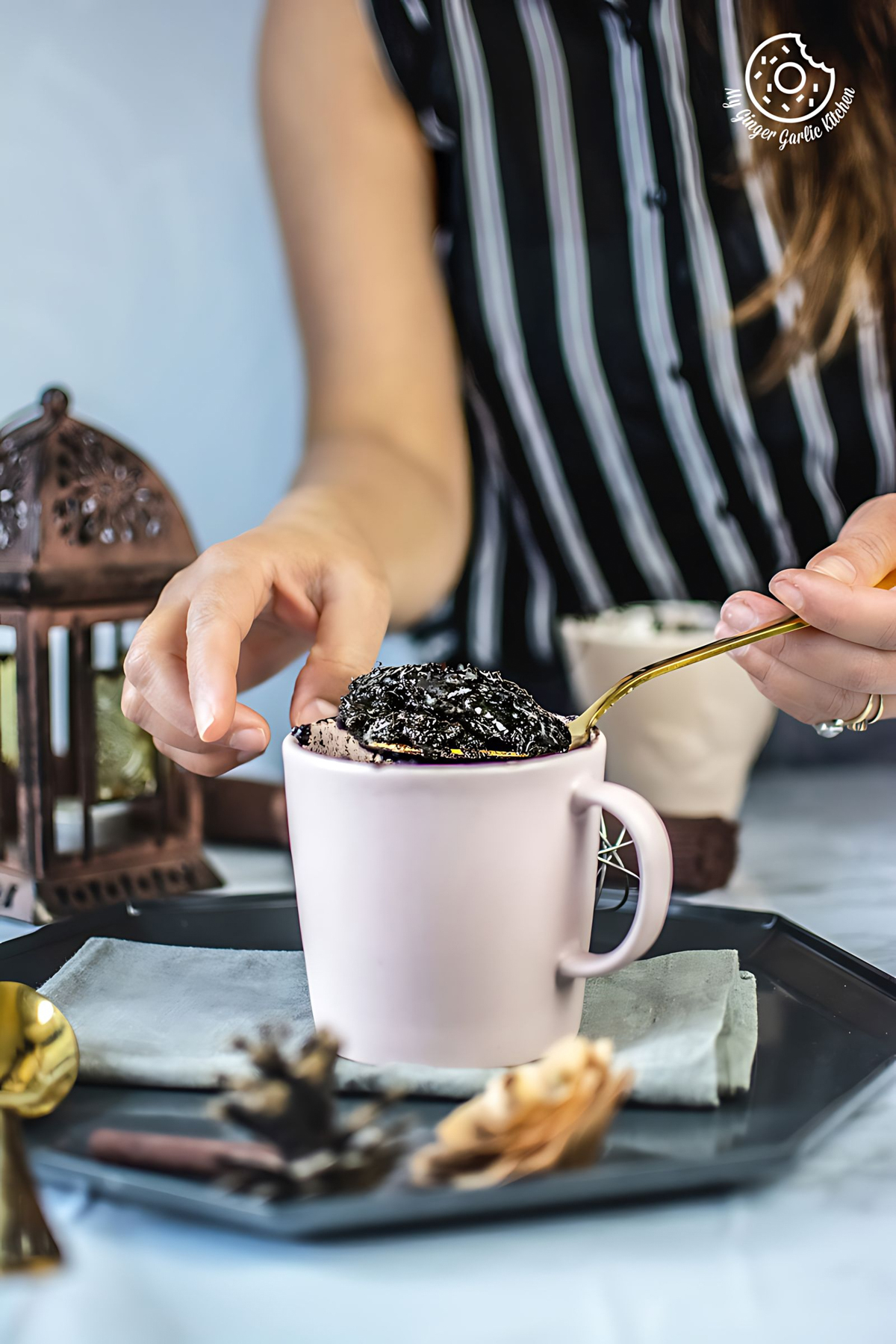 ---
Prep Time = 02 minutes
Cook Time = 03 minutes
Total Time = 05 minutes
Category = Dessert
Cuisine = Amercian
Serves = 3
Nutrition Info = 178 calories
Serving Size = 1 serving
---
RECIPE INGREDIENTS
» For Oreo Mug Cake:
10 + 15 Oreo Cookies
2 & 1/4 cups hot milk
6-9 white chocolate rectangle pieces
» For Cream and chocolate Topping:
50 grams white chocolate
Cream from 10 oreo cookies
2-3 tablespoons milk
---
RECIPE INSTRUCTIONS
» Make Cream and chocolate mixture:
Add 10 Oreo cookies to a bowl and separate the cream.
Add 50 grams white chocolate and 2-3 tablespoons milk to the cream.
Microwave for 2 minutes. Alternatively, you can melt chocolate in a double boiler.
Stir well and keep it aside. Cream and chocolate Drizzle is ready for topping.
» Make Oreo Mug Cake:
Take a ziplock bag and add 25 (10 without cream and 15 with cream) oreo cookies to it.
Crush them using a rolling pin or a meat hammer. You can also use a food processor or a blender for it.
Once crushed, transfer crushed cookies to a large mixing bowl.
Transfer 2 teaspoon crushed cookies to a bowl for topping.
Add milk and 1 teaspoon baking powder to the mixing bowl.
Mix it well until the batter is fully incorporated.
Keep it aside for 2 minutes. Give it a stir.
Divide batter into 3 large microwave-safe mugs.
Carefully drop 2-3 white chocolate pieces into each mug, one at a time on top of each other. Make sure the chocolates are fully covered in the cake batter.
Microwave for 2 minutes at 700W. Keep watching to make sure it doesn?t spillover. If it rises too much and it is about to spill then stop the cooking for 30 seconds and then cook again. All microwaves are different and require different cooking times. Also, it depends on the size of the mug. If it is not cooked after 2 minutes then cook for 30 more seconds. Once cooked, the mug cake should be a little wet at the top.
Keep it aside to cool for 2-3 minutes. After cooking, the mug cake will rise, but it will deflate a little after resting. That's perfectly fine.
Generously drizzle with each mug cake with cream and chocolate mixture.
Top with crushed oreo cookies (optional) and serve.
» How to bake mug cake in the oven:
Preheat oven to 180°C. Bake mug cakes for 15-18 minutes or until a toothpick inserted comes out clean.
---
RECIPE NOTES
You can also replace white chocolates with chocolate chips.
Always make sure to use a microwave-safe mug when making a mug cake. And use large mugs, small mugs won't work for this recipe.
I have used white chocolate in the mug cakes, you can also replace white chocolate with 1-2 oreo cookies.
---