Immunity Boosting Orange Smoothie
Immunity Boosting Orange Smoothie is a super delicious, healthy, and nourishing smoothie. It is a tasty way to charge your body with fresh fruits, and veggies.
---
« Go back
Print this recipe »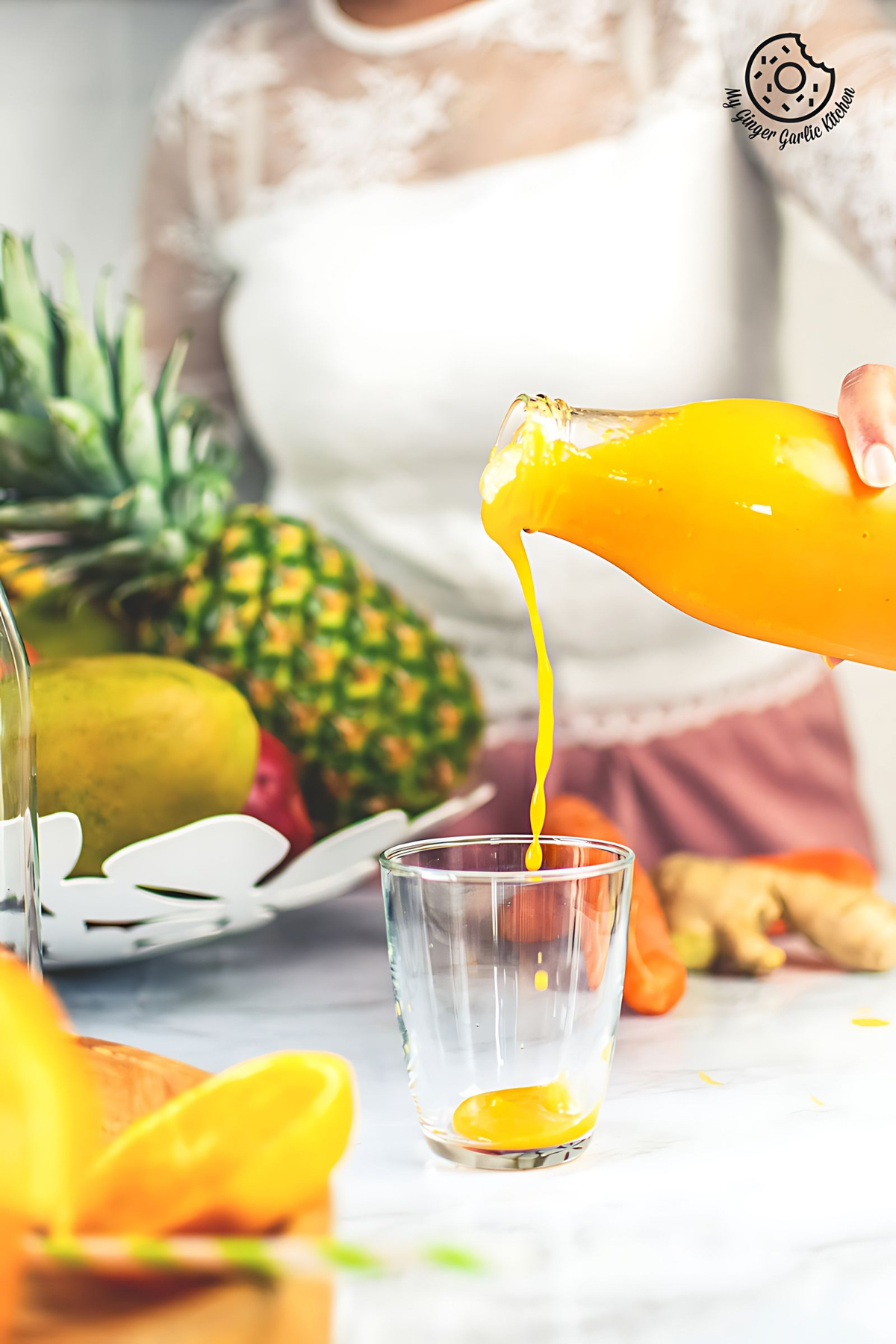 ---
Prep Time = 02 minutes
Cook Time = 03 minutes
Total Time = 05 minutes
Category = Breakfast
Cuisine = International
Serves = 2
Nutrition Info = 135 calories
Serving Size = 1 serving
---
RECIPE INGREDIENTS
» For Immunity Boosting Orange Smoothie //
3/4 carrots, peeled and chopped
1 tablespoon ginger, chopped
1 tablespoon lemon juice
1/4 teaspoon turmeric powder
2 large-sized oranges
3/4 cup frozen mango chunks
1/2 cup ice cubes
1 cup orange juice
Some chia seeds, for garnish (optional)
---
RECIPE INSTRUCTIONS
» How to Make Orange Smoothie //
Place all the smoothie ingredients (except ice) in a blender and blend until smooth. Scrape down the sides if needed. You can also add a sweetener like honey or maple syrup to the smoothie, if you want it sweeter.
Add ice cubes.
Blend again until smoothie is thick and smooth.
Split orange smoothie between 3-4 small or 2 tall glasses.
Garnish smoothie with some chia seeds. Serve Orange Smoothie immediately.
---
RECIPE NOTES
If you want some mega milky touch, then feel free to add some chilled almond milk to this smoothie.
My smoothie is super thick, but you can surely adjust the consistency of this smoothie.
This smoothie is richer on the orange flavors and tastes best when you get thick texture from the fresh oranges. So try to use heavy, juicy, and pulpy oranges.
I have used unsweetened freshly squeezed orange juice that can easily be replaced with the same amount of store-bought orange juice.
You can also add a splash of honey if you want to sweeten it up a bit.
If you want to achieve the thick texture of smoothies, then using frozen mangoes are recommended.
Feel free to add 1 frozen banana to this smoothie if you want natural sweetness and texture.
You can also add some frozen peaches or frozen pineapples to this orange smoothie.
If you want nutty tenderness, then you can also add some flaxseeds or chia seeds to this smoothie.
If you don?t have fresh ginger, then add ½ teaspoon of ground ginger.
You can substitute turmeric powder with ½ tablespoon of freshly chopped/grated turmeric root.
Some cinnamon powder or cardamom powder can also be added here for the added flavourings.
---