Onion Tomato Raita
Onion Tomato Raita is a quick, delicious, easy and one of the most popular Indian accompaniments prepared with yogurt, onion, tomato, and some spices.
---
« Go back
Print this recipe »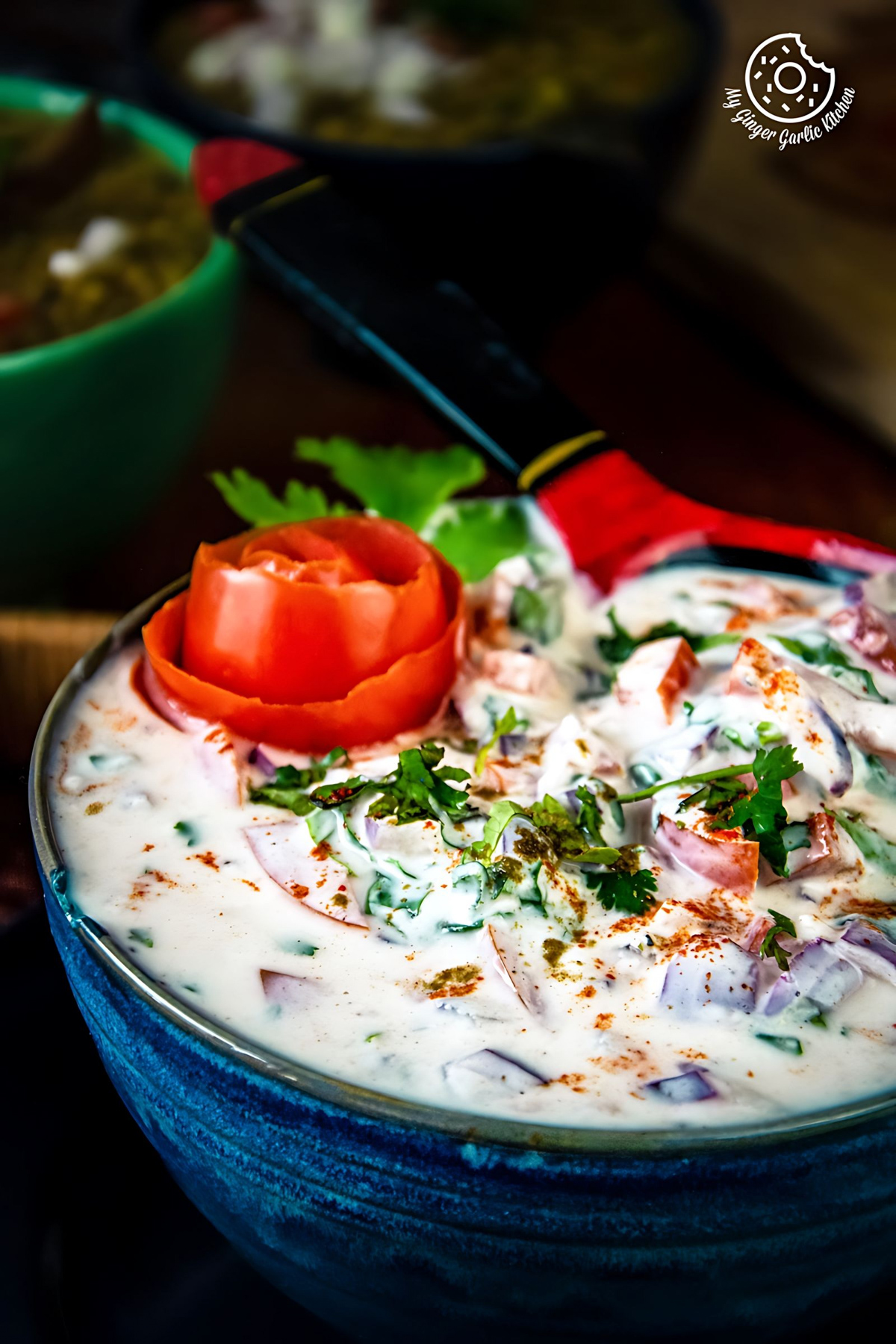 ---
Prep Time = 05 minutes
Cook Time = 05 minutes
Total Time = 10 minutes
Category = Side
Cuisine = Indian
Serves = 4
Nutrition Info = 98 calories
Serving Size = 1 serving
---
RECIPE INGREDIENTS
» For Onion Tomato Raita //
1 cup thick natural yogurt, chilled
1/3 cup water, chilled or as needed
1 teaspoon roasted cumin powder
1/2 teaspoon black salt
Salt to taste
1 teaspoon black pepper powder
2 tablespoons freshly chopped coriander (cilantro) leaves
1 large onion
1 large tomato
1 green chili (optional)
» Ingredients for Onion Tomato Raita //
Chopped coriander (cilantro) leaves
Pinch of red chili powder (optional)
Pinch of cumin powder (optional)
---
RECIPE INSTRUCTIONS
» How to Make Onion Tomato Raita //
Chop onion, tomato, green chili and keep them aside. Whisk the yogurt (dahi/curd) until smooth and keep it aside.
In a large mixing bowl, add chopped onions, chopped tomatoes, chopped green chili, and chopped coriander (cilantro) leaves.
Also, add yogurt and water and mix well to combine. You can adjust the amount of water according to your taste preference.
Next add black pepper powder, black salt, regular table salt, roasted cumin powder, and mix well to combine.
Refrigerate for 30 minutes or a few hours.
Transfer chilled raita to a serving bowl.
Garnish with chopped coriander leaves. Sprinkle with some cumin powder and red chili powder. Serve along with biryani or paratha.
---
RECIPE NOTES
You can also add some sugar or honey to the yogurt mixture to make it slightly sweet.
If your yogurt is thin, then use 5 cups of yogurt and avoid water.
Finely chopped veggies add a nice crunch to this raita. You can also grate onion tomato for this raita recipe.
I have used a combination of black salt and regular table salt. You can choose any salt of your choice.
---